I learned about this INCREDIBLE deal on baking chips today, and I wanted to be sure to let you know about it, too.
Here's the scoop:
Right now, The Prepared Pantry's 30 oz. chocolate mint chips are buy one, get one free, plus free shipping! That's 60 oz.—just under 4 pounds—of gourmet, good quality chocolate mint chips (not the cheap fake stuff) for $12.99 SHIPPED!  You'll find the deal here http://www.preparedpantry.com/mint-chocolate-chips.aspx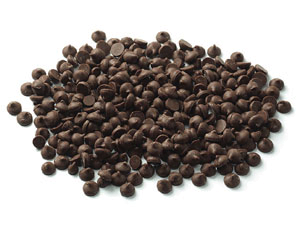 BTW, when I spoke with their customer service department this afternoon, I learned that the mint chips are selling REALLY quickly, so be sure to take advantage of this offer as soon as possible to beat the sell-out!
The rep (who, by the way, was VERY nice and helpful!) told me that they're overstocked and need to get these out before the weather gets too hot to ship chocolate. The only deal I've found online that's even close is a 10-oz. Hershey's bag for $3.99, but their 11-oz bag is cheaper than that right now too.
It's really hard to even find chocolate mint chips right now anyway, because Hershey's and grocery stores usually don't carry them except during the holidays. So, not only are these chips rare, but they're super cheap, too.
I can think of a bunch of recipes I have that call for regular chocolate chips that I'd like to substitute these mint chips for... like my sweet brownie cookies!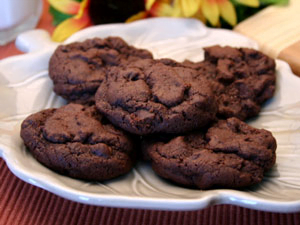 Incidentally, if you're not a fan of mint, they have a great deal on ALL of their baking chips.  Semi sweet, cinnamon, white chocolate... tons of choices!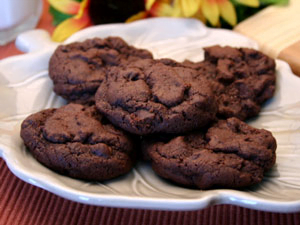 These cookies are the perfect partner to a tall glass of cold milk! Chocolatey, chewy, and absolutely DELICIOUS!
WHAT YOU\'LL NEED
8 ounces unsweetened baking chocolate
8 ounces unsalted butter
5 whole eggs
2 cups granulated sugar
1 Tablespoon vanilla extract
8 ounces (1 cup) all-purpose flour
4 ounces pecans, chopped
confectioner's sugar -- as needed for dusting
HOW TO MAKE IT
Heat oven to 325 degrees F (300 convection)
Whip the eggs and sugar with a paddle mixer attachment for 10 minutes.
While the eggs/sugar are mixing, melt chocolate and butter together over a double boiler.
Add the melted chocolate and vanilla extract to the eggs.
By hand, stir in the flour and nuts. DON'T OVERMIX!
Using a #24 scoop (3 Tablespoons), drop the cookies onto a silicone baking mat or parchment paper lined cookie sheet.
Bake for 18-20 minutes
Cool completely and dust with confectioner's sugar, if desired.
http://www.itsyummi.com/ppmintchips/
Recipe From: www.ItsYummi.com