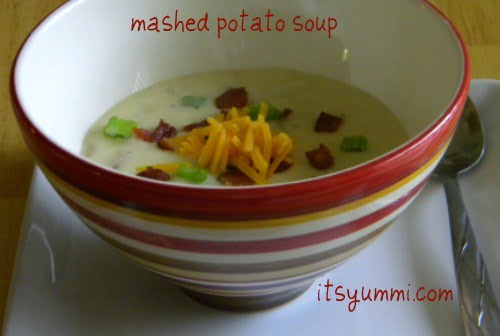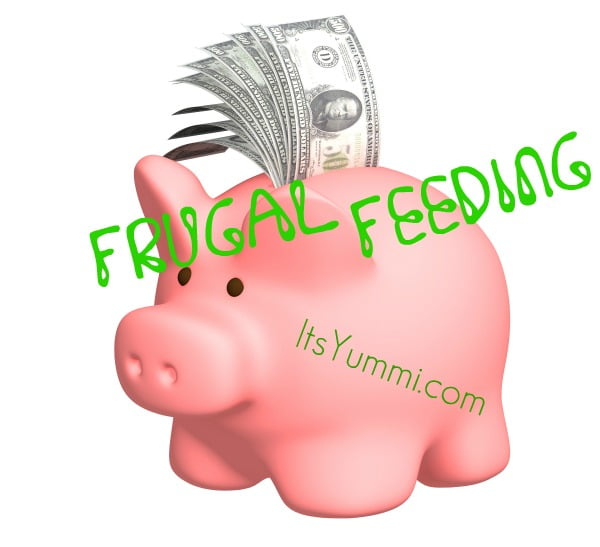 I don't know about your week, but my week has been insaaaaaanely busy!  I volunteered at my church to help bake items to serve at the Easter weekend services.  By volunteer, I mean, I got crazy in the head and offered to bake 27 dozen goodies and accept no pay whatsoever for them.  Like I said, crazy, but believe it or not, I feel incredibly blessed right now.  Getting out of the house has been a good treatment for my anxiety disorders, and besides that, the skills I learned in the culinary program at FVTC are finally being used for the good of my fellow man (and woman!)
Anyway, because I've been so busy, poor Brian has been completely neglected in the area of home cooked meals this week.  I'm grateful that I made a couple of dishes over the weekend that we've been able to reheat and enjoy, but he really deserves a nice freshly prepared meal tonight.  That's why I'm going to make a big batch of this mashed potato soup.  I love that it's hearty enough to stand up on its own if need be, and that it's super quick and easy to prepare...less than 30 minutes from stove to table.  The best news of all is that it's a frugal feeding meal of the week, coming in at $.84 per serving.  I'll serve it up with a nice tossed salad and some Lia Marie's garlic bread on my favorite sprouted grain baguette and we'll be feasting for just under $1.00 per serving!  CHA-CHING!!
The shopping and ingredient list for this soup can be found HERE, along with some printable grocery coupons and grocery store ad match-ups that will help you save even more money in the making of this dish.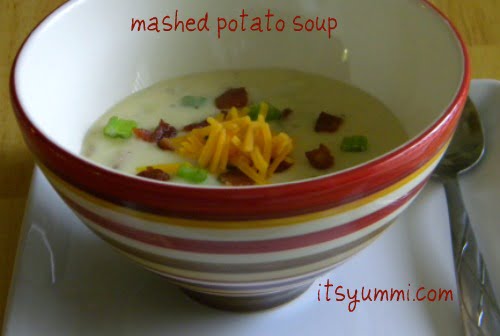 Of course, a great bowl of soup can also be complimented with a great sandwich, and when the recipe for this one arrived in my inbox, my eyes rolled into the back of my head and I started drooling all over myself.  How many ways can I say YUMMILICIOUS without sounding like a whacked out foodie?  Wait...don't answer that.  Just make this soup and enjoy the rest of your week!  :)
Frugal Feeding – Mashed Potato Soup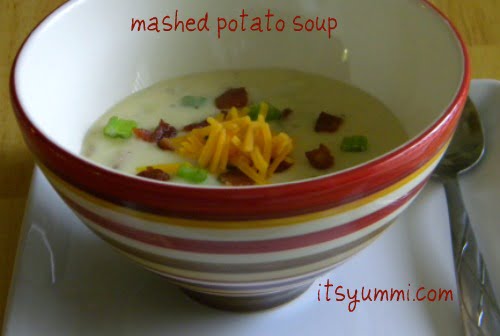 WHAT YOU\'LL NEED
4 baking potatoes (about 2 pounds)
4 slices bacon
4 Tablespoons unsalted butter
1/2 cup all-purpose flour
4 cups milk
4 ounces shredded cheddar, Monterey Jack, or similar cheese
1/4 teaspoon cayenne pepper (optional)
salt and pepper, to taste
1/2 cup sour cream
2 Tablespoons chopped chives
HOW TO MAKE IT
Prick potatoes all over with a fork; microwave on high until cooked through, turning once, 12 to 15 minutes total. Let cool slightly and scoop out flesh, discarding skins. Mash with a fork. In a large skillet, cook bacon until crisp, turning once, about 10 minutes total. Let cool, then crumble.
Melt butter in a large saucepan over medium heat. Add flour and whisk until smooth and light golden, about 2 minutes. Slowly whisk in milk and cook, whisking, until thickened, 5 to 6 minutes.
Stir in cheese, potatoes, cayenne pepper (if using) and 1/2 tsp each salt and pepper. Cook, stirring, until cheese melts and soup is heated through. Whisk in sour cream. Check seasoning and add additional salt and pepper if desired.
Divide among 6 soup bowls and sprinkle each with bacon and chives.
Notes
Recipe adapted from the April 2012 issue of All You magazine
http://www.itsyummi.com/frugal-feeding-mashed-potato-soup/
Recipe From: www.ItsYummi.com