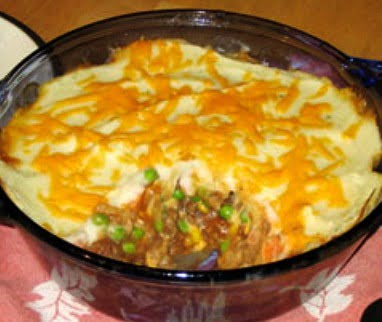 Traditionally, shepherd's pie was prepared with ground lamb, so this recipe should actually be titled Cottage Pie.  After all, how many shepherds do you know that watch over a flock of cows?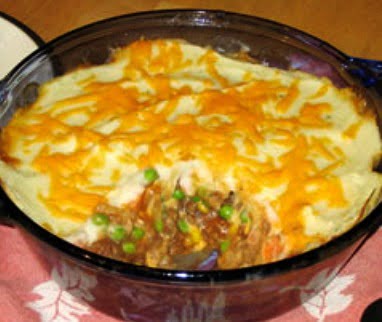 WHAT YOU\'LL NEED
2 pounds baking potatoes (about 4), peeled and diced
Coarse salt and ground pepper
1 tablespoon vegetable oil, such as safflower
6 medium carrots, halved lengthwise, quartered if large, and thinly sliced
6 celery stalks, thinly sliced
1 large onion, chopped
1/2 teaspoon dried thyme
1/4 cup all-purpose flour
1/4 cup tomato paste
2 pounds ground beef chuck
1 cup whole milk
1 1/2 cups shredded sharp white cheddar (6 ounces)
HOW TO MAKE IT
Heat oven to 450 F.
Place potatoes in a large saucepan, and cover by 1 inch with salted water. Bring to a boil; reduce to a simmer. Cook until potatoes are easily pierced with the tip of a paring knife, 15 to 20 minutes.
Heat oil in a 5-quart Dutch oven or heavy pot over medium-high heat. Add carrots, celery, onion, and thyme. Cook stirring occasionally, until vegetables are tender, 8 to 10 minutes.
Add flour and tomato paste; cook, stirring, 1 minute.
Add beef; cook, stirring occasionally, until no longer pink, 6 to 8 minutes.
Add 1 cup water; bring to a boil and simmer 1 minute. Set beef filling aside.
Drain potatoes and return to the pan. Cook over medium heat, stirring, until liquid has evaporated and a thin film covers bottom of pan, about 1 minute.
Remove pan from heat; add milk and 1 cup cheese. Mash until smooth; season cheddar-potato topping with salt and pepper.
Pour beef filling into a 13-by-9-inch baking dish.
Drop dollops of topping over filling; spread to edges with a spatula. Using a fork, make decorative peaks; sprinkle with remaining 1/2 cup cheese.
Bake until topping is browned and filling is bubbling rapidly, about 20 minutes (if you use leftover mashed potatoes, increase to 35 minutes). Let stand 5 minutes before serving.
http://www.itsyummi.com/shepherds-pie/
Recipe From: www.ItsYummi.com