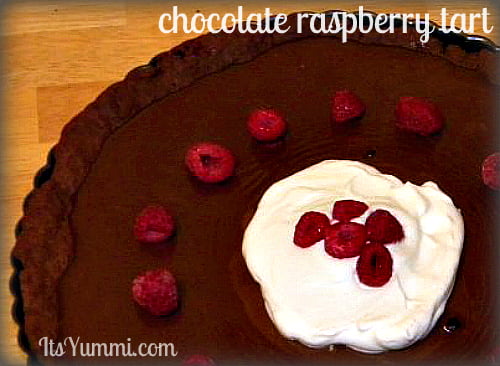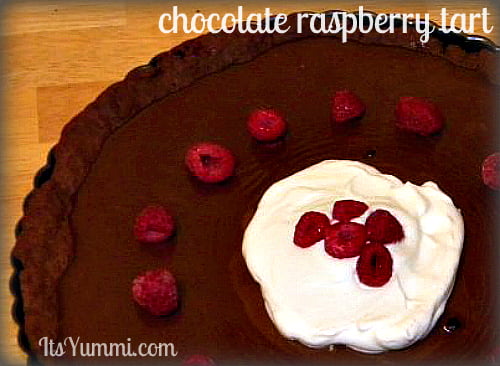 Did you know that today is National Raspberry Tart day?  It's Earth shattering news, isn't it?!
If you DIDN'T know earlier, you definitely know now, and since I'm such a food nerd, I am quite certain that I should be your go-to source for all things food...including national food holidays!
I'm a raspberry lover.  No, I don't mean that I'm head over heels for a guy who is red faced and covered with bumps....I mean that I adore those plump, juicy berries that go so well with baked goods like muffins and scones and are a perfect compliment with chocolate and whipped cream.  Hence, the reason for baking this tart.
I used a luscious, decadent bittersweet chocolate and paired it with fresh off of the vine raspberries.  Then I topped it off with some home made whipped cream.  The result...a slice of Heaven right here on planet Earth!  Bake one of these bad boys up, grab a fork, and dig in, my friend.  It's a melt-in-your-mouth sensation that your taste buds will want a repeat performance of!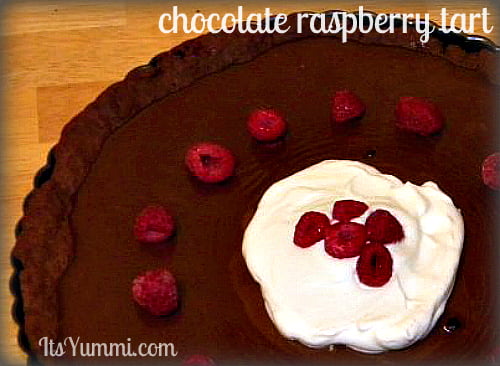 WHAT YOU\'LL NEED
For the crust

1 cup whole wheat pastry flour
1/4 cup sugar
3 tablespoons unsweetened cocoa powder (not Dutch processed)
1/4 teaspoon salt
6 tablespoons (3/4 stick) chilled unsalted butter, cut into small pieces
1 1/2 Tablespoons cold water
1 large egg yolk
6 tablespoons raspberry jam

For the filling

Filling
1 cup whipping cream
4 ounces bittersweet (not unsweetened) or semisweet chocolate, finely chopped
2 1/2-pint baskets fresh raspberries
HOW TO MAKE IT
For the crust:
Combine flour, sugar, cocoa and salt in medium bowl. Add butter and rub in, using fingertips, until mixture forms looks pebbly. add water and egg yolk and mix in with fork until well incorporated.
Gather dough and shape into a flattened circle, then wrap in plastic wrap. Chill for 20 minutes.
(Alternatively, ingredients can be pulsed in the bowl of a food processor, which helps prevent the butter from melting from the heat of your hands)
Heat oven to 375°F. (350°F for convection ovens)
Butter and flour a 9-inch tart pan with 1-inch-high sides and a removable bottom. Roll out dough between 2 sheets of waxed paper to a 10-inch circle.
Peel off 1 waxed paper sheet. Invert dough into prepared pan, press evenly to fit, including up the sides of the pan. Freeze until firm, about 10 minutes.
Peel off second waxed paper sheet and trim edges.
Line crust with foil; fill with dried beans or pie weights. Bake until crust is set, about 12 minutes. Remove foil and beans. Bake until crust just begins to darken around edges, piercing with toothpick if crust bubbles, about 12 minutes longer. Remove from oven and maintain oven temperature.
Spread jam over bottom of crust. Bake until jam is set, about 3 minutes. Transfer pan to rack; cool completely.
For the filling:
Bring cream to a boil in a small, heavy saucepan. Remove from heat.
Add chocolate and whisk until melted and smooth. Transfer chocolate ganache to bowl and refrigerate until chilled but not firm, about 30-45 minutes.
Using electric mixer, beat ganache until very thick and semifirm. Spread ganache over jam in crust.
Arrange raspberries atop ganache.
Notes
Adapted from [Epicurious.com] http://www.epicurious.com/recipes/food/views/CHOCOLATE-RASPBERRY-TART-456
http://www.itsyummi.com/chocolate-raspberry-tart/
Recipe From: www.ItsYummi.com