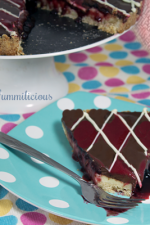 It occurred to me this week how much more of a fighter I've become over the past year, especially where the kitchen is concerned.  Not that I ENJOY fighting with my food, but past kitchen failures like this one did a great job of teaching me that it's more productive (and less expensive!) to stop throwing my disasters down the garbage disposal and start finding ways to turn them into a different but equally delicious treat!  The world will NOT come to an end just because something I made doesn't turn out looking like the photo in the cookbook.
I also learned that determination, persistence, and practice are all key ingredients to creating a successful recipe from start to finish.
Today's recipe is proof positive of that.  My intended project was to recreate Joy the Baker's dark chocolate ganache tart with fresh berries and sweetened cream.  It sounded heavenly and perfect for me to make, especially in celebration of my birthday this week.  I salivated as I daydreamed of silky dark chocolate sliding over my tongue with a tart and tangy raspberry chaser.  Yum!  I looked at the beautiful photo in  Joy's book
 and I knew it was going to be perfectly wonderful!
Christina Ferrare's version replicated Joy's version perfectly.  Take a look at this beauty...  Christina rocked it!
THAT is what I intended to make. THIS double chocolate raspberry cheesecake tart is what I ended up with: