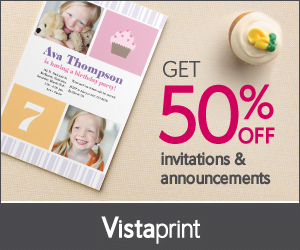 I love the spring!  Graduations, prom, weddings, Memorial Day picnics, and lots of babies being born.  It seems that there's a celebration going on nearly every weekend!
If you're one of those lucky party throwers, you'll definitely want to take advantage of this great 50% off all invitations and announcement cards deal from Vistaprint.  I plan on taking advantage of this deal myself, since Brian and I want to throw a spring BBQ picnic in May.

I've made a lot of purchases from Vistaprint and I've NEVER been dissatisfied.  They have a great range of products at affordable and reasonable prices.  In this case, you can get 10 customized invitations for as low as $3.99!
Personalize your invitations and announcements with fun photos and custom text. You can even find matching envelopes at check-out. At 50% OFF, you won't be hard pressed to find a reason to throw a party!
CLICK HERE to take advantage of this deal, or click on the photo above.
If you have any questions about this offer, don't hesitate to contact me.  I'm happy to help if I can!