It's almost the 4th of July, when nearly every self-respecting U.S. citizen will be firing up their grill for a fun summer picnic.  This poses the question, what's a picnic without potato salad?  Well, I supposed it's technically still a picnic, but why have potato chips when you can feast on fresh herb covered potatoes married with a creamy dressing?!  Meet my Tarragon Potato Salad Recipe!
I made you some potato salad.  Oh, but it's not just ANY potato salad.  This stuff belongs in the summer salad hall of fame, you guys!
One of my good friends, Chef Chris Hill, is the culinary genius behind this recipe.  Chris runs the show over at Bachelor Kitchen.  I love potato salad, but typically, I prefer cool salads to warm ones.  However, this recipe changed all of that for me.  The fresh tarragon marries with the creamy dressing and coats the warm potatoes perfectly.  It's a salad that can be eaten cold, of course, but I think the warm version will be making repeat performances at my dinner table all summer long!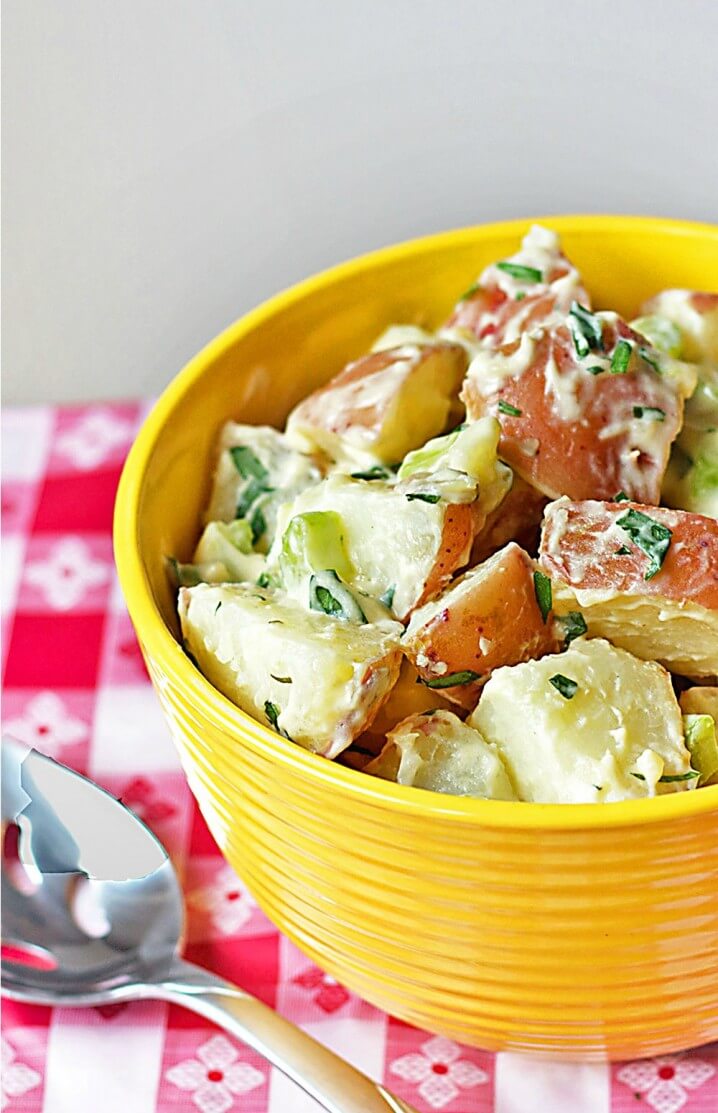 I hope you enjoy this potato salad recipe!
Tarragon Potato Salad
Created By:
Chef Becca Heflin
Recipe Category:
Side Dish
Prep time:
Cook time:
Total time: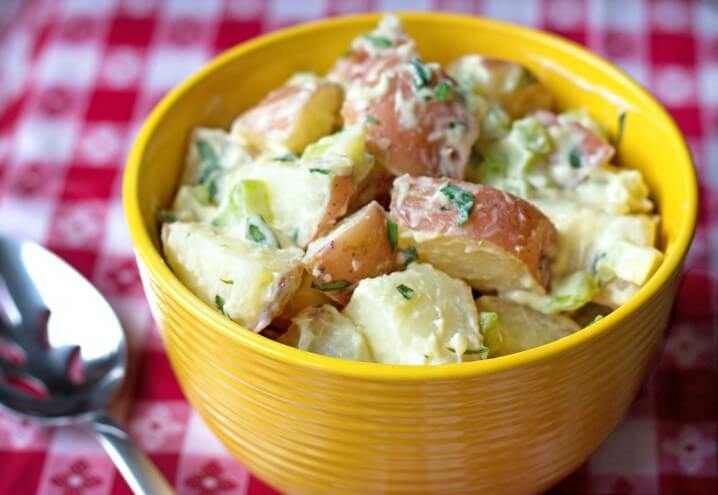 Warm baby red potatoes are covered in a creamy dressing and fresh tarragon to make a delightful warm side dish for your summer dining table!
INGREDIENTS
10-12 small red skinned potatoes, washed & diced
1/2 cup tarragon, finely chopped
1/2 cup celery, finely diced
1/3 cup scallions, finely chopped
1 lemon, zested and juiced
2 cloves garlic, minced
1 Tablespoon kosher salt
2 Tablespoons Dijon mustard
1/3 cup mayonnaise
2 Tablespoons extra virgin olive oil
INSTRUCTIONS
Bring 8 cups of water to a boil in a large pot.
Add diced potatoes to the water and boil until they can be pierced with a fork, about 7-8 minutes.
Meanwhile, in a large mixing bowl, combine remaining ingredients and whisk to incorporate.
Remove potatoes from water and drain well; place potatoes back into the warm pot briefly, to extract excess moisture.
Add potatoes to dressing and toss gently to coat.
Serve immediately, or refrigerate to chill for serving later.
If you loved this potato salad recipe, you might want to check out some of my other potato recipes!
Duchesse Potato Cakes with Parmesan Sauce