HAPPY THURSDAY!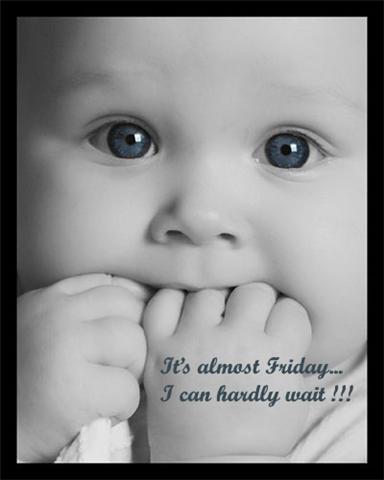 I sure wish I could explain my obsession with babies lately.  I mean, seriously... I'm nearly 50 years old and I haven't medically been able to conceive children for the past 20 years, so why oh why do I want one soooo badly?  Maybe it's because everywhere I turn, high cuteness factor in the form of little people exists!  I've never seen so many adorable babies as the ones some of you have been bringing into the world.  I just wanna gobble up those adorable toes and chubby arms and smell their baby hair... ahhhh....
Anyhoo, because I've had babies on the brain, I've also been thinking a lot about those of you with kids who will soon be going back to school.  I know that coming up with creative lunch ideas to keep the food boredom away can be a challenge.  So I'm here to help!  Here are a couple of simple things you can do to make your child's lunch box a popular one:
Keep things bright and colorful - Most kids love bright colors, especially when it comes to their food.  Remember when Heinz came out with the green ketchup?  I can assure you that it wasn't a marketing gimmick to draw in 29-year-old accountants.  The 4-10 year-olds in my my extended family BEGGED for the stuff!  If you're packing a sandwich, even things as simple as slices of colorful veggies that can be used to create a fun face onto the front of their sandwich can be a great enticement for kids to eat up their veggies.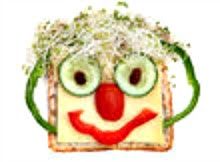 Use finger foods -
I remember my mom sending me to school with a thermos of soup.  I also remember how much I hated having to use a spoon, so I'd inevitably try to drink it from the little attached cup.  I was (and still am) quite the klutz, so 9 times out of 10, the result was tomato soup running down my chin onto my shirt.  Goodbye adorable kid and hello embarrassment in front of your friends.  40 years later, I'm still licking my wounds. To prevent that from happening to your child, pack foods that can easily be eaten with their hands... like these fun macaroni and cheese cupcakes!
The folks at Cupcake Project folded butternut squash into their mac & cheese before baking it.  While that might fool a couple of kids, I'd rather make them REALLY fun by adding crumbled bacon or even diced pepperoni along with a veggie that you know they like.  Maybe tiny broccoli florets (my nephew calls them short trees) or shredded carrot.
DIRECTIONS:
If you have a homemade mac and cheese recipe that you like, or even if you just like the blue box version, you can start there.  After the mac & cheese has been prepared, just toss in the extra ingredients you want.  Use cupcake liners that have been sprayed lightly with cooking spray and fill them to the top.  Sprinkle some seasoned bread crumbs or a little shredded cheese onto the top of each one and bake in a 350 degree oven for about 20 minutes to make everything stay together easier after it's been baked.  These can be served warm, or refrigerate and serve them cold.  If the idea of cold pasta sounds funky, think of the noodles as any carbohydrate.  Cold bread or crackers with cheese, cold pizza... get my drift?
If you do your grocery shopping at any of the following stores, you should definitely take advantage of this free website.  You can use regular printable coupons along with the clipless coupons from Cellfire to give yourself even more savings on your groceries!
Baker's City Market, Carrs, Dillons, Dominick's, Fry's, Genuardi's , Gerbes,  Hilander,  JayC,  King Soopers,  Kroger,  Owen's,  Pavilions, Pay Less,  QFC,  Ralphs, Randall's,  Safeway, Scott's,  ShopRite, Smith's,  Tom Thumb, and Vons.  Click the photo below to sign up and register your grocery loyalty card(s).