I cleaned out my fridge today.  I highly recommend it... especially if you're in the mood for soup or casserole.  There's very little that CAN'T be put into either of those treats.
I had lots of little baggies of leftover veggies.  Bits of this and that... plus a few tomatoes that were aching to be used quickly, so I pulled out some of the vegetable stock that I made last week and went to town on this soup!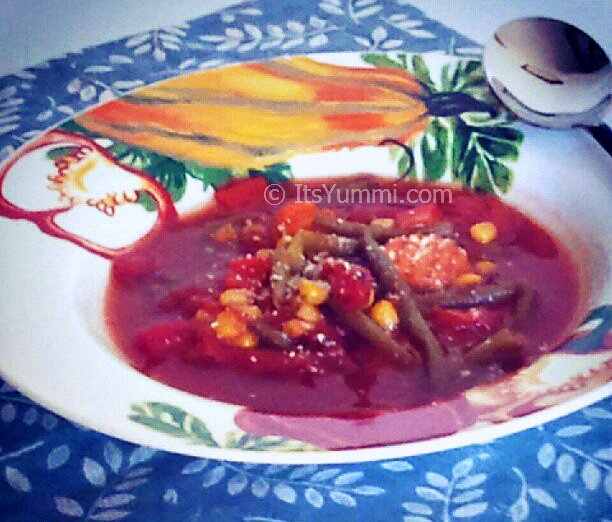 Fire Roasted Tomato Vegetable Soup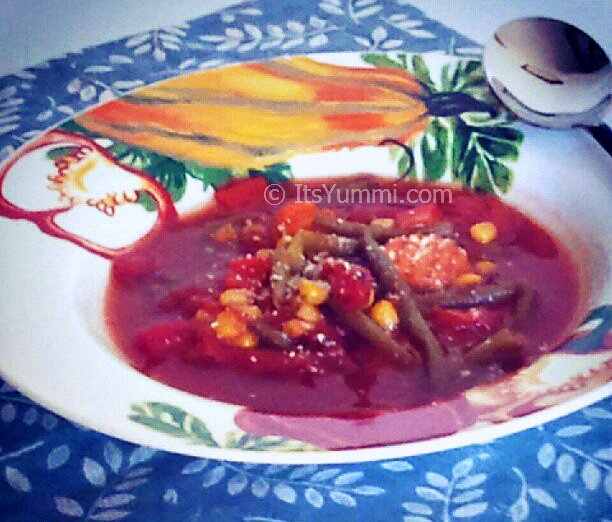 This soup is healthy, delicious, and a great way to use up veggies from your garden and/or refrigerator!
WHAT YOU\'LL NEED
1 pound (about 4) Roma tomatoes, seeded and chopped
1 Tablespoons butter
2 stalks of celery, diced
1/2 medium bell pepper, seeded and diced
2 medium carrots, bias cut or sliced thinly
1 medium onion, diced
1/2 cup frozen corn niblets
1/2 cup green beans
2 1/2 cups vegetable stock
salt, pepper, red pepper flake to taste
1/2 teaspoon dried Italian seasoning blend
1/4 teaspoon dried sage
2 Tablespoons fresh flat leaf parsley, finely chopped
HOW TO MAKE IT
Heat oven to 425
Lay tomatoes evenly on a baking sheet lined with parchment paper. Drizzle with olive oil and roast for 10-15 minutes, stirring after 5-7 minutes to prevent burning. Remove from oven and let cool slightly
Melt butter in a 3 quart saucepan over medium high heat. Add onion, celery, and carrot and saute for 2-3 minutes, until the onions are translucent.
Add stock, remaining vegetables, and all seasonings and stir to combine. Let simmer over medium low heat for 15-20 minutes, or until all vegetables are soft.
Ladle into bowls and sprinkle with a little freshly grated Parmesan cheese if desired.
Notes
You can substitute any vegetables of your choice. Adding cooked rice or noodles makes a great addition, too!
http://www.itsyummi.com/tomato-vegetable-soup/
Recipe From: www.ItsYummi.com
Come share in the tomato love at the Tomato Love Recipe Exchange, hosted by Gimme Some Oven & Bake Your Day, and sponsored this week by Kitchenaid.  Also visit Recipe for Change to learn more about how to support tomato farmers.