When it comes to food, I'm primarily a purist.  Aside of my obsession with all things bacon, I usually like to stick to tradition when it comes to holiday dishes like Thanksgiving turkey.  Even the leftovers have specific duties.  Pumpkin pie for breakfast - CHECK!  Turkey, stuffing and cranberry sauce sammies for lunch - CHECK!
When it comes to Thanksgiving leftover dinners, however, my mind and creativity usually expand and takes me to places yet discovered.  This year, I woke up on the day after Thanksgiving with a craving for Mexican food, so I set my mind into motion and started digging through the fridge to take inventory of what I had on hand to work with.
I had a little bit of cooked turkey and some cranberry sauce, celery (from my relish tray), and some shredded lettuce.  I found some flour tortillas in my pantry, along with a can of black beans.  I pulled a cup full of corn niblets out of the freezer to thaw,  put my mind into action!  The first thing I needed to do was jazz up the cranberry sauce with a bit of kick, so I made cranberry salsa.
Once I had made the salsa, I diced up the turkey, a couple of roma tomatoes, and an avocado. I drained and rinsed the black beans, warmed up my tortillas in a skillet, and assembled the little yummilicious beauties.  To take them over the top with goodness, use a bit of shredded cheese and/or sour cream.  Personally, I like the taste of the salsa so much that I skipped those extra toppings....which also avoided unnecessary fat and calorie consumption
I served the tacos with some Spanish rice, but that's just the purist in me at work again.  You could certainly serve these up with any leftover stuffing/dressing you have on hand.
No matter which way you eat them, I hope that you enjoy them as much as I did!
Turkey Tacos with Cranberry Salsa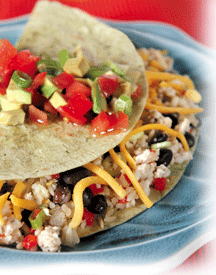 WHAT YOU\'LL NEED
For the TACOS

8-12 corn or flour tortillas
Butter or vegetable oil
Cooked turkey meat, cut into bite-sized pieces
1 can black beans, drained and rinsed
1 cup frozen corn niblets, thawed and drained
2 cups lettuce, preferably iceberg, shredded
2 avocados, peeled and sliced
OPTIONAL TOPPINGS:
Shredded Monterey Jack or Mexican blend cheese
Sour cream

For the CRANBERRY SALSA

1/2 cup cranberry sauce
1/4 cup chopped fresh cilantro leaves
Zest and juice of 1 lime
1 jalapeno, seeded and coarsely chopped CAUTION! Be careful not to touch or rub your eyes when handling jalapeno peppers. They can burn your eyes!
1/2 white onion coarsely chopped, covered and microwaved for 1 minute
1/4 cup diced red bell pepper
1/4 cup diced green bell pepper
1/2 cup Mexican-flavored canned tomatoes, drained and chopped
Kosher salt and freshly ground black pepper, to taste
HOW TO MAKE IT
Heat the oil in a large frying pan (preferably cast iron) on medium high heat.
Unless you are using freshly made homemade tortillas, you will need to soften them first.
Working one or two at a time, fry it in the hot pan for a few seconds on both sides.
NOTE: Most commercially made tortillas will bubble up a little when cooked like this.
Fill the warm tortillas with turkey, lettuce, black beans, corn, avocado, and other toppings, as desired. Top with cranberry salsa and enjoy!
To make the CRANBERRY SALSA
Place the cranberry sauce, cilantro, lime zest, lime juice, jalapeno pepper, onion, red and green peppers, tomatoes, salt, and pepper in a food processor and pulse until blended, but still chunky.
http://www.itsyummi.com/turkey-tacos-with-cranberry-salsa/
Recipe From: www.ItsYummi.com