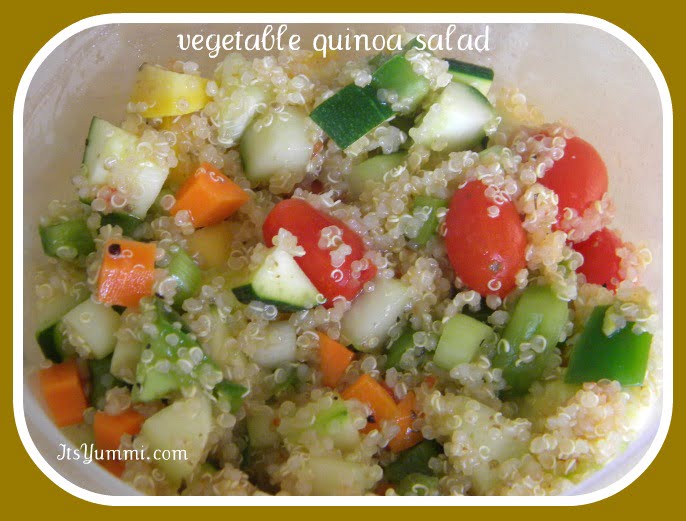 In my combined effort to eat healthier and clean out my fridge, I put together this fresh and flavorful quinoa salad.  It's packed with fresh flavors and lots of crunch.  It would make a great side dish, or even a stand-alone lunch.
If you're not familiar with quinoa, allow me to feed your mind with some information:
Quinoa is pronounced as KEEN-WAH
Quinoa is 100% whole grain and is close to being a perfect food source in the balance of nutrition it provides. Technically it's not a grain but the seed of a leafy plant related to spinach. Quinoa is an excellent source of protein - 12% to 18%. According to The National Academy of Sciences, quinoa is "one of the best sources of protein in the vegetable kingdom". Quinoa contains the amino acid lysine which helps the body produce protein. It also helps the body process the protein in the quinoa and in other foods. The World Health Organization has rated the quality of protein in quinoa to be equivalent or superior to that found in milk products.
Quinoa is a source of all essential amino acids according to the United Nations Food and Agricultural Organization. It's a great source of B vitamins containing niacin, thiamin and B6.It contains high levels of potassium and riboflavin. It's also good source of zinc, copper, and manganese, and magnesium. It contains folic acid and vitamin E.
Quinoa is a great food for people who must follow wheat-free/gluten-free diets because Quinoa doesn't contain gluten. Quinoa can be substituted for almost any other grain.
Quinoa has a nutty, smoky flavor and is less filling than other grains and pastas.
Quinoa has been one of the primary foods of the Inca Indians for more than 5,000 years. The Incas referred to Quinoa as "Mother Grain". Most quinoa is grown in the Andes in South America. Some quinoa is now being grown in the Colorado Rockies. The fact that quinoa will grow in extremely poor soil together with its great nutritional value makes it a true super grain to feed the world.
Quinoa seed are covered with bitter tasting saponins that naturally repel insects and birds. Removing the saponins is a somewhat involved process but is already done for you when you buy a quality brand like Ancient Harvest Quinoa. It's believed that the bitter tasting saponins are what discouraged the Spanish from using Quinoa.
(the above information was found here)
Because of its health benefits, you're likely to see me using quinoa in more recipes this year.  I hope you'll give it a try!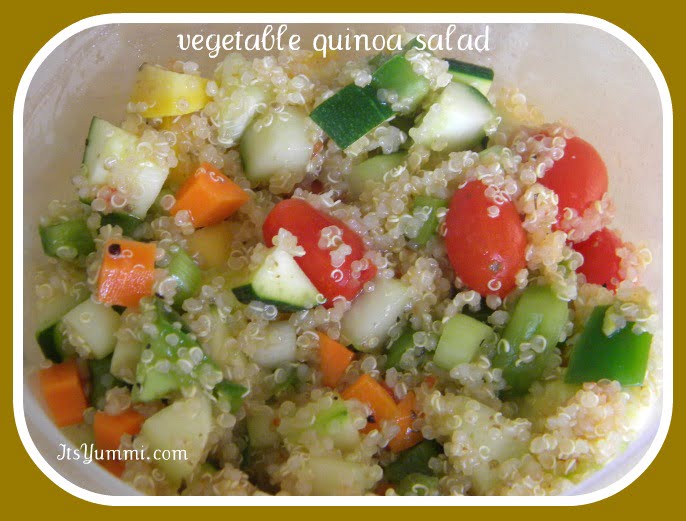 This healthy quinoa salad is fresh, flavorful, and packed with protein. It would make a great side dish with fish or chicken, or even as a stand alone dish.
WHAT YOU\'LL NEED
1 cup quinoa
1 cup water
1/2 cucumber, peeled and diced
1/2 green bell pepper, diced
1/2 red onion, chopped
1/2 large carrot, diced
1 zucchini or yellow squash, diced
1/2 pint grape tomatoes, sliced in half

For the vinaigrette

1 tablespoon red wine vinegar
1/2 teaspoon salt
1/4 teaspoon ground black pepper
1/4 teaspoon lemon juice
1 teaspoon Dijon mustard
1/4 cup olive or canola oil
HOW TO MAKE IT
Bring the quinoa and water to a boil in a saucepan. Reduce heat to medium-low, cover, and simmer until the quinoa is tender and the water has been absorbed, about 15 to 20 minutes. Scrape the cooked quinoa into a large bowl and refrigerate until cold, about 1 hour.
Place the vinegar, salt, pepper, lemon juice, and mustard into a blender or food processor. Drizzle in the oil while blending at high speed until the dressing is thick.
Add the veggies to the bowl with the quinoa. Pour the dressing overtop and gently fold until evenly mixed. For best flavor, chill for at least 1 hour before serving.
Notes
Try adding your favorite veggies to the salad.
For an extra boost of flavor, add a little freshly crumbled or grated cheese to the top!
http://www.itsyummi.com/vegetable-quinoa-salad/
Recipe From: www.ItsYummi.com
Come join The Salad Social at TidyMom sponsored by The International Olive Council's Add Some Life