The day has finally arrived.  You know, the day I've been standing on a mountaintop shouting about for the last few days. MY BIRTHDAY!  Apparently, some of you think I'm undeserving and annoying, because I even received hate mail from a couple of people, telling me to stop being the most selfish person on the planet and to stop begging for gifts.  Very weird, since I did neither of those things, but hey… with fame comes Becca haters.  I guess it's part of the world of a blogger.  Que sera sera.  You don't have to indulge in my birthday festivities if you don't want to.

Brian and I have both been sick with nasty head and chest colds for the past several days, but he's had a much worse case of the yuks than I have.  Nevertheless, I've had visions of my birthday cake stuck in my head for 2 weeks, and I was determined to get it baked.  I'm sure it will surprise quite a few of you faithful readers to learn that my cake contains NO Nutella and NO bacon.  Stepping outside the box is a 2012 resolution, so I pressed on without them.
AWFUL PHOTO DISCLAIMER:  My photos are never National Geographic quality, but in this case, my photos were taken as the sun was going down, and with my standard point and shoot camera, so this photo is probably worthy of appearing on Cake Wrecks. My apologies.  ONE of these days I'll be able to afford a DSLR camera and/or a light box.  I pinkie promise that my pics will get better with time.
Inspiration for my birthday cake came from a recipe I found on Baking Bites, and the frosting is an adaptation of the orange buttercream recipe I found on the Wilton site.  I knew my cake had to include chocolate, and I love the combination of chocolate and orange, so this really seemed like the perfect pairing for my special cake.  I don't like to use excessive amounts of food coloring, so I added freshly squeezed orange juice and orange peel to give the frosting a nice natural light orange color, and I added 2 packets of True Citrus Orange to give the cake an added boost of flavor.  The Wilton recipe called for orange oil, but to be honest, it's VERY expensive and I just couldn't afford to splurge on a bottle.  Besides, the True Orange is made from real oranges, so I was confident that the flavor would be fresh and wonderful.  The end result was an icing that looked and tasted exactly like a Creamsicle…. YUM!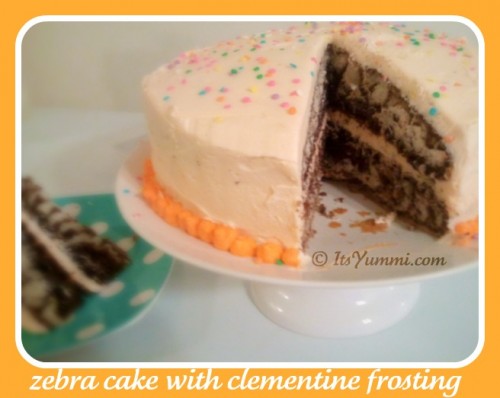 If you take a look at most of the zebra cake recipes out there, you'll find that they're usually only a single layer.  I realize now why that is.  I made 2 pans of the cake and layered them because frosting is my friend, but lo and behold, it completely ruined the zebra stripe effect.  Oh well… I still think it's a stinkin' adorable and very yummilicious cake!
[amd-zlrecipe-recipe:41]
Now it's time to fill you in on how I'm going to be celebrating my birthday.  It's time to PAR-TAYYYY!
THE BIRTHDAY GIVEAWAYS HAVE ENDED….THANKS TO EVERYONE WHO PARTICIPATED!
I want to hold a week's worth of giveaways to thank you for being such wonderful fans, and because I can't be Oprah and buy you all a Mini Cooper, I had to improvise a bit.  I'm donating a couple of these giveaway gifts at my own expense, but thanks to the generosity of True Citrus, Seneca Snacks, and Lia Maries, you are all in for chance at some awesome gifts!  Here's what's on the birthday giveaway agenda:
 Starting with this post, EVERY DAY this week I will be using Rafflecopter giveaway forms posted on this site to give away a coupon good for a free True Citrus product of your choice!  I will be announcing the daily giveaway via my Facebook and Twitter pages, so if you're not already hooked up with me there, be sure to do so now.
Seneca Snacks will be providing some of their products for me to giveaway, but their mystery box hasn't arrived at my house yet, so I can't tell you what will be included! LOL… the anticipation is KILLING me!
I will be giving away coupons all week for free Lia Marie's Garlic Spread.  They will be given away at random to fans who stop over to the Lia Marie's Facebook page and politely place a post on their wall, thanking them for providing me with the coupons Be sure to tag It's Yummilicious in the comment.  You can't have what you don't ask for, right?  :)
At some point this week, I will announce a flash giveaway good for a $5.00 Target gift card.  Who doesn't love free shopping at Target?!
Now for the best news of all!  I'll be posting a separate Rafflecopter giveaway that will be open from today through next Sunday.  That giveaway will include:
One wonderful gift box from True Lemon, including all of their products!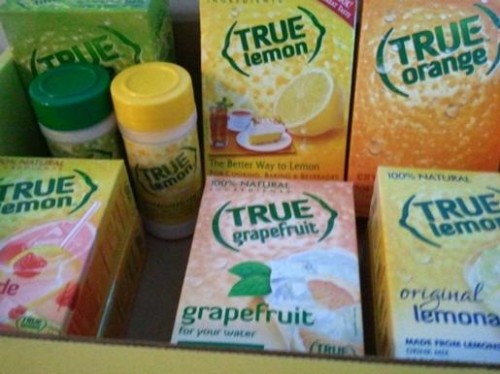 A Fat Daddio 9-inch x 3-inch cake pan, so that you can bake your own zebra cake! ($14.95 value)
An adorable cupcake apron that I purchased from Flirty Aprons ($34.95 value)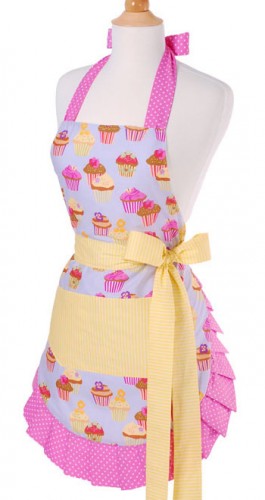 A $10 Amazon gift card, so that you can get yourself additional fun baking items, or anything else your sweet self desires!
So there you have it.  The birthday party of my dreams… it includes love from me to you, because frankly, It's Yummilicious would be nothing with you.  This is my way of saying thank you!
As always, if you have any questions or concerns, please don't hesitate to contact me at ItsYummilicious (at) Gmail (dot) com.  Let the partying begin!
True Citrus and Seneca Snacks each generously donated products and/or coupons for this birthday  giveaway, but I was in no way monetarily compensated, and all opinions of their products are my own.
It's Yummilicious is working in partnership with Lia Marie's to spread the word about their garlic spread that's sweeping the nation.  They have generously donated coupons for my giveaway, but opinions of the Lia Marie's products are my own.