Allergies to food dyes don't have to take away your St. Patrick's Day fun. Here are some naturally green recipes for St. Patrick's Day to help you celebrate, proving that sweet treats and good eats don't have to include processed chemicals and food coloring!
Just over 3 years ago, I developed a sudden allergy to artificial food colorings. Digesting any amount of them makes me violently ill. For a while, I thought that meant I would miss out on the fun rainbow of colors that appears in foods around holidays like Valentine's Day, St. Patrick's Day, Easter, and Christmas. I was bummed, to say the least.
Then I looked around and realized that God placed some naturally vibrant colored plants on this planet, and there was no good reason why I shouldn't use them to create fun holiday treats! You know, beets for a natural red color, tumeric for yellow, and spinach for green color.
I also learned that there are many other food lovers out there who feel the same way that I do, so I gathered up some of my favorite bloggers and got permission from them to share these recipes with you.
This past Christmas, I created a collection of dye free holiday cookies. Today's naturally green recipes are just as fun and delicious as those were!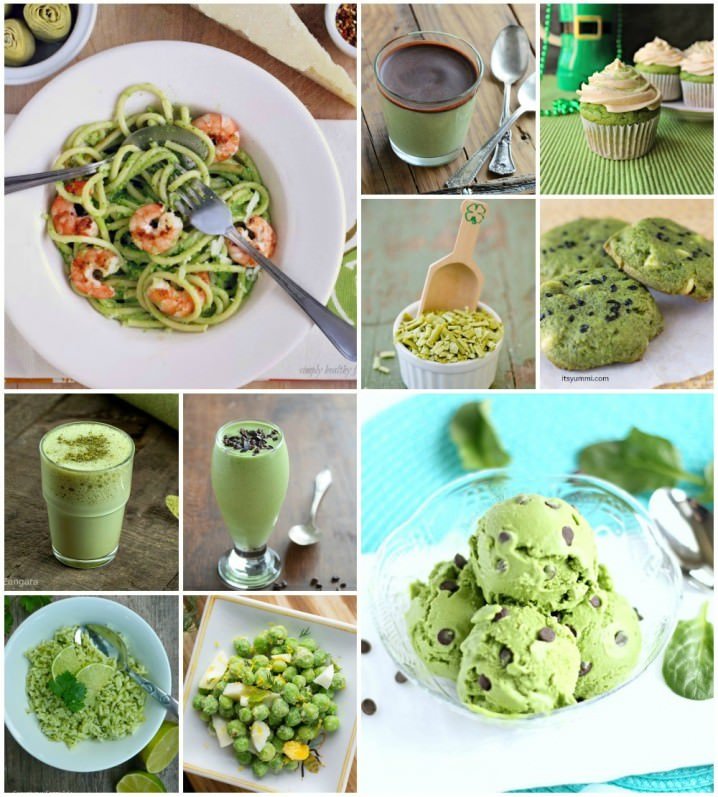 Which one of these naturally green recipes for St. Patrick's Day is your favorite??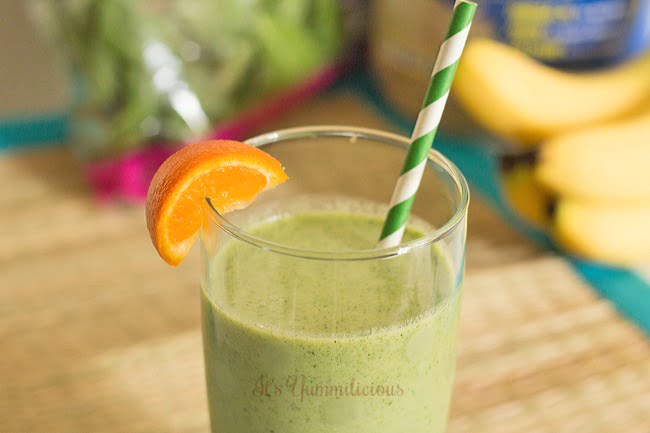 Beverages
Mint Chocolate Smoothie – I could seriously drink one of these every day and be happy!
Sunrise Smoothie – This is one of my favorite breakfast smoothies.
Simple Green Smoothie – Just like the name implies.
Healthy Shamrock Shake – This is no joke. This shake should be sold at McDonald's!
Green Tea Latte – This tea will go perfectly with my matcha white chocolate cookies.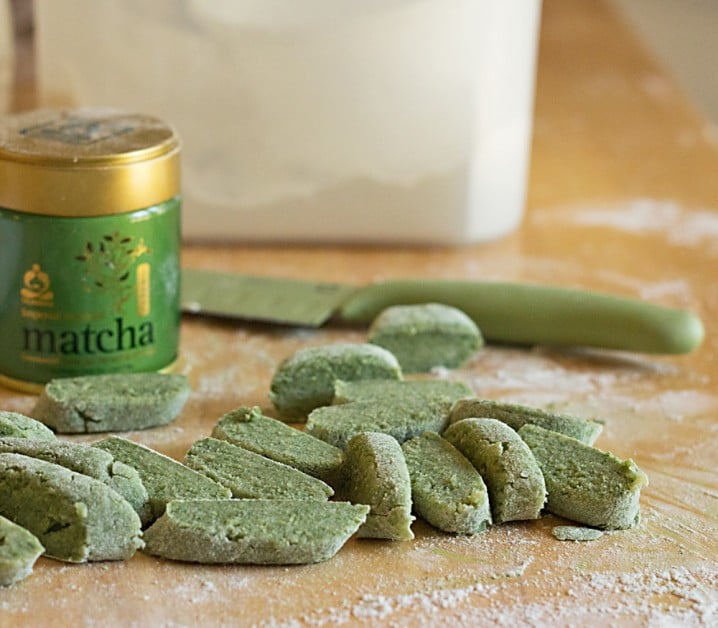 Main and Side Dishes
 Spinach Pancakes – Take a look at the stunning color on these pancakes!
Green Tea Gnocchi with Orange Butter Sauce – I had loads of fun learning how to make this dish.
Artichoke Pesto Pasta with Shrimp – I've never been a fan of traditional pesto, but this artichoke version blows my mind!
Skinny Zucchini Casserole – Zucchini is one of my favorite veggies. I can't wait to dig in to this dish.
Spring Pea Salad – This recipe shouts spring and makes me crave peas…which I rarely do.
Traditional Shepherd's Pie – OK, it's not green, but it IS delicious!
Potato Broccoli Soup – Adding potato to broccoli soup is an act of genius. It adds flavor and thickness.
Cilantro Lime Rice – Of all the carbs in the world… oh, Mr. Lime Rice, where have you been all of my life?

Desserts & Snacks
Chocolate Topped Mint Cheesecakes – Take my favorite dessert and top it with chocolate?  I want to marry this!
Green Tea Sprinkles – These are just pure, simple, green fun.  Sprinkles for everyone!
Spinach Parmesan Sable Crackers – These sables are a cross between cracker and cookie. Green crunch, for the big win.
Spinach Ice Cream – I couldn't wrap my brain around the concept of spinach in ice cream… then I saw this recipe. Wow!
Matcha White Chocolate Cookies – When I made these cookies, I couldn't stop eating them. Healthy matcha makes them special.
Mint Chocolate Chip Ice Cream – Lactose intolerance, I hate you.  But Laura made this dairy free and vegan, so I love her!
Spinach Cupcakes with Irish Cream Frosting – St. Patrick's Day just wouldn't be the same without a green cupcake.
Be sure to Pin these naturally green recipes to your St. Patrick's Day board!  
For more recipe inspiration for the holiday, check out my Pinterest boards, too.