Top 15 Restaurants are Open 24 Hour Fast Food Places (2023 Updated)
24 hour fast food restaurants are a godsend when you're feeling famished at two in the morning.
But what is the need for 24 hour fast food restaurants? They exist to serve people quick and convenient meals any time of the day.
Especially night-shift workers and truck drivers are very much appreciative of these places for a grab-and-go meal.
What Restaurants are Open 24 Hours?
McDonald's
Del Taco
IHOP
Dunkin Donuts
Jack in the Box
Whataburger
Burger King
Carl's Jr.
Waffle House
Denny's
QuikTrip
White Castle
Steak n Shake
Taco Cabana
Perkins
What all these places have in common is their 24 hour serving time, allowing you to get your food throughout the day.
All their fast-food menu items are filling, affordable, and ready for anyone who craves something greasy at an ungodly hour.
The major benefits of 24 hr restaurants include availability, affordability, easy approach at any time of the day, and multiple locations across the states.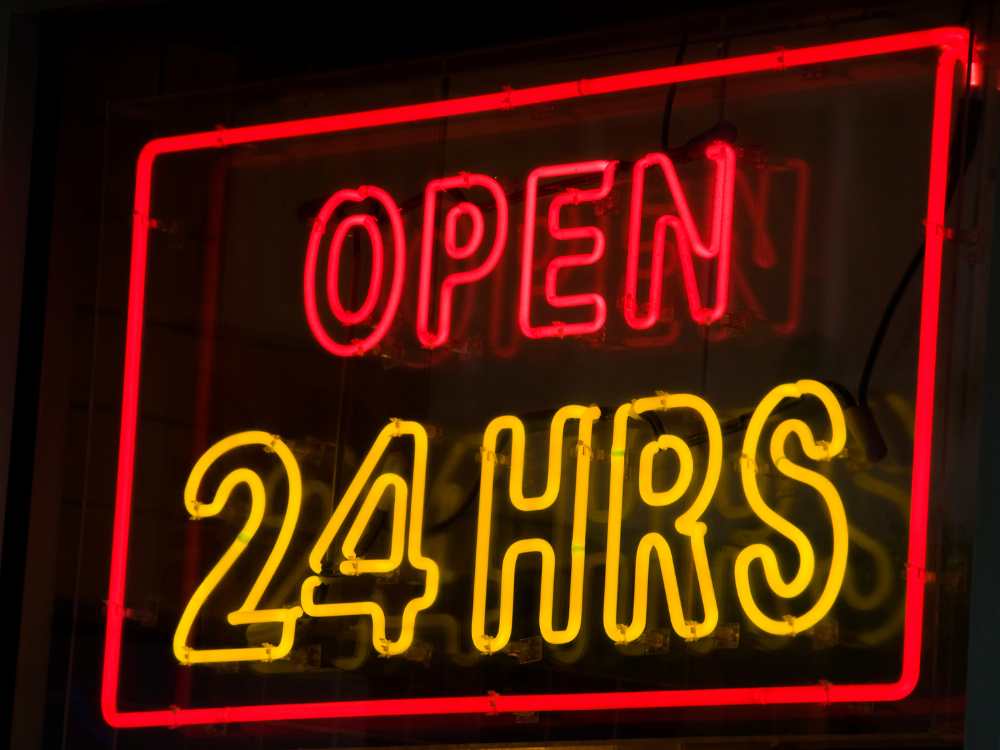 01. McDonald's
McDonald's menu includes breakfast items such as biscuits, muffins, hotcakes, hashbrowns, burritos, and breakfast platters.
They serve over five burger items, including the famous big mac. McDonald's is known for its chicken sandwiches, McNuggets, and fries.
You may also purchase happy meals, different coffee options with McCafé coffees, and some baked goodness – cinnamon rolls, blueberry muffins, and apple fritters.
McFlurry, vanilla soft-serve, multiple shakes, and apple pies are other favorite McDonald's menu items.
McDonald's $1, $2, $3 menu is also a real catch.
02. Del Taco
Del Taco specializes in 20+ tacos including their original Del Taco, and Habanero crispy chicken taco.
You could order breakfast from Del Taco with their breakfast tacos, wraps, burritos, and hashbrown sticks.
Their crispy chicken is a clear winner which creates multiple taco combos.
Del Taco has separate menus for tortas, and burritos and serves the freshest guac ever.
Del Taco's crinkle-cut fries and bacon double del cheeseburger are your top Del Taco burger and fries choices.
There are always salads, vegan and vegetarian items, and desserts on their menu.
03. IHOP
Hop along the IHOP menu to enjoy the fluffiest pancakes, four egg benedicts items, and delicious omelets made in six different ways.
IHOP serves a couple of family feasts, and other combos with eggs, chicken, pancakes, and more.
Burritos, sweet and savory crepes, and waffle are their other top breakfast items.
They have even more food listed under sides, and entrées with bacon, sausage, hashbrowns, salmon, steak dinner, etc.
There's always enough room for their greasy burgers, chicken, desserts, and beverages menu alongside gluten-free food.
04. Dunkin Donuts
Dunkin Donuts' fresh donuts vary from classic glazed donuts to chocolate frosted ones and jelly-filled donuts.
Apart from the famous donuts, you will find bagels with cream cheese, freshly-baked muffins, and croissants on the menu.
Sandwich lovers might want to taste one of their many sandwiches, others wrap with bacon, and hashbrowns.
Dunkin Donuts has a menu of coffee, tea, and many frozen drink options.
05. Jack in The Box
Jack in the Box has the best burger combos and chicken combos with the juiciest burgers and crispiest chicken.
Go for their tacos, curly fries, and stuffed jalapeno for an extra touch of flavor.
The breakfast is served with pancakes, sausage, bacon, hashbrowns, breakfast sandwiches, and other breakfast platters.
Jack in the Box sells iconic burgers, including sourdough Jack, Jumbo Jack, etc.
They prepare chicken in multiple ways from grilled chicken to chicken nuggets with salads available.
06. Whataburger
Whataburger fans adore their finger-licking-good burgers, including bacon, cheese, Whataburger, and triple meat Whataburger.
They serve chicken strips and grilled and spicy chicken sandwiches for chicken lovers while their morning goodies go from breakfast bowls to chicken biscuits and breakfast burgers.
Fries and onion rings are your sides and there are always healthy greens with salad options.
There's a kid's menu at Whataburger, and beverages and desserts are a part of Whataburger's menu, too.
07. Burger King
Burger King is infamous for their burgers ranging from Whoppers to Double Cheeseburgers.
If you're dropping by in the morning, order one of their breakfast meals with burritos, French toast, biscuit meals, and more.
Other Burger King meals are pretty famous, too with Big King meal, chicken nuggets meal, etc., there are a few family bundles, other sides, desserts with shakes and cookies, and beverages for your convenience.
08. Carl's Jr.
Carl's Jr. appeases your hungry pallet with amazing breakfast combos with burgers, grilled cheese sandwiches, biscuits, and breakfast burritos.
If you don't want to eat much in the morning, go for their multiple breakfast sandwiches, burritos, and other breakfast sweets.
Carl's Jr. is famous for their 10+ charbroiled burgers and ultra-crispy chicken sandwiches.
They have chicken stars, tenders, and many other chicken combos.
They've got your classic sides – onion rings, waffle fries, fried zucchini, and the dessert options are pure heaven with cheesecakes, chocolate chip cookies, and ice cream shakes.
Your kids will have a field day with their kid's menu and soft beverages.
09. Waffle House
Waffle House serves your favorite breakfast with eggs, hashbrown bowls, waffles, omelets, fresh biscuits, Texas melts, sandwiches, and piping hot coffee.
Waffle House isn't all about breakfast. There's a variety of lunch and dinner options with them as well.
You should check out their Angus burgers, classic dinners with T-bone, sirloin, country ham, chicken, pork chop, and delicious sandwiches.
The sides are a range of bacon, sausage, city ham, chili, country ham, toast, and salads.
Waffle House's pecan pies and triple chocolate pies are to die for, while their hot and cold beverage options will keep your thirst at bay.
10. Denny's
Denny's is where you go to enjoy the greasiest burgers including their top hits – slam burger, and double cheeseburger.
There are around six classic breakfast options, each with unique flavors such as Slamwich and Moons over my Hammy.
If you drop around a Denny's at night, your best dinner options are sirloin steak and T-bone steak.
There are value family deals, omelets, pancakes, slams, and other starters, desserts, salads, and shakes on their menu.
11. QuikTrip
QuikTrip serves you an array of BBQ sandwiches, croissants, grilled cheese, mac and cheese, wraps, tacos, and subs for lunch or dinner.
Pizzas and pretzels are also included in their menu. QuikTrip's breakfast is basic yet fantastic with tacos, biscuits, and croissants.
12. White Castle
You will have classic breakfast choices and other combos with drinks, sliders, fries, and chicken rings.
They've got sides covered with fries, fish nibblers, and onion rings.
They are known for their sliders and yummy dessert options, including shakes and cheesecake.
13. Steak N Shake
The six steakburger combos at Steak n Shake are divine including Frisco Melt and Bacon n Cheese steakburger.
You get chicken fingers combos and other specialties such as triple steakburger.
There's a myriad of milkshakes and soft drinks as well. You may as well order from their chili and sides menu for more flavors.
14. Taco Cabana
Be prepared to taste the most authentic soft and crispy tacos, enchiladas, quesadillas, and nachos.
You can have breakfast at Taco Cabana with tacos, breakfast plates, burritos, and combos with drinks included.
They also serve sides, salsas, chalupas, and desserts if there's room for more.
15. Perkins
The favorites menu includes Perkins' most-loved OREO treats and chocolate treats with silk pies, and cheesecakes made out of OREO cookies.
Lunch and dinner are lavish with entrées, burgers, sandwiches, salads, and other protein options such as sirloin steak, grilled salmon, shrimp, fish and chips, and more.
They serve platters full of pancakes, waffles, and toast. As for breakfast, they have a couple of dishes with eggs, sausage, and more.
Muffins, fresh fruits, sausages, and tots are your choice of sides.
For a lighter meal, go for Perkins' soups and salads, including Southwest avocado, and honey mustard chicken crunch.
Your appetizers are mozzasticks, onion rings, and chicken strips.
Perkins has a bakery with fresh pies, cheesecakes, and others. You'll also get your beverages and another menu for children.
Official Website of 24 Hour Fast Food Places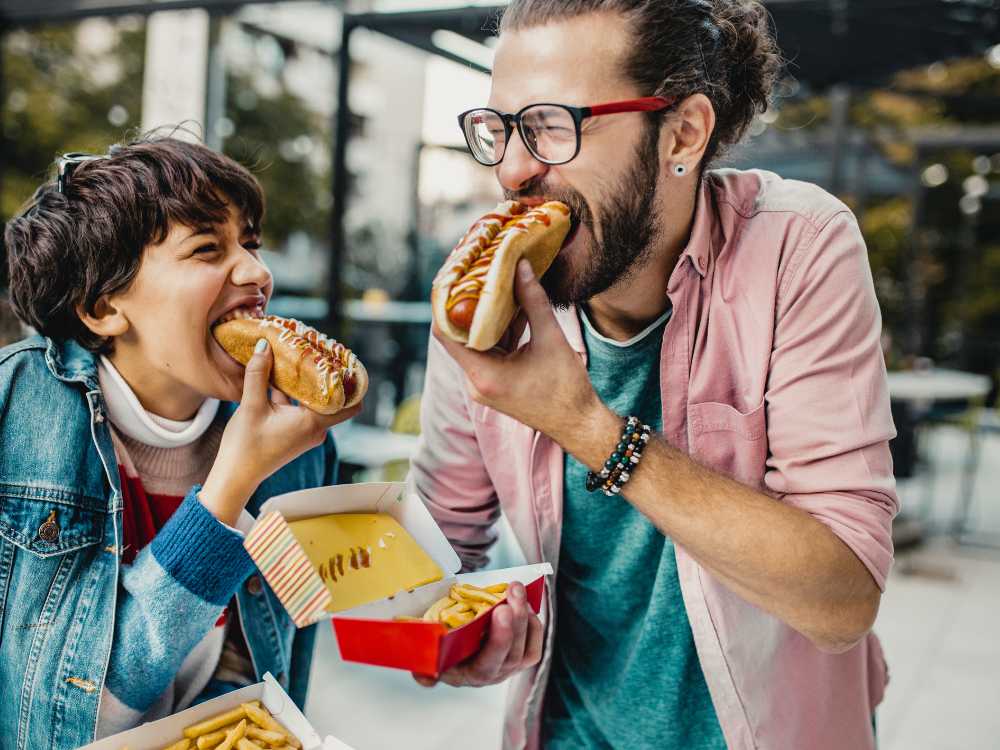 Frequently Asked Questions
What is The Most Fast Food Restaurant in USA?
McDonald's is considered to be the most prominent fast-food corporation in the USA as well as in the world.
Who Has The Most Fast Food Locations in USA?
McDonald's would be the fast-food chain with the largest number of locations.
Do Most Americans Eat Fast Food?
Yes, around 36% of Americans consume fast food around the States.
Which Gender Eats More Fast Food?
Men are reported to consume more fast food than women.
What is The Richest Fast Food Chain?
McDonald's is the richest fast-food chain with the highest brand value.
What Billionaire Eats Fast Food?
Warren Buffett is known for his affection for fast food.
Does Bill Gates Eat Fast Food?
Yes. Bill Gates is fond of most fast food including McDonald's burgers.
Who Invented Fast Food?
The fast-food system was created by William Ingram and Walter Anderson.
Why is Most Fast Food American?
Fast food became a famous American concept due to its highway system.