For those of us residing in the U. S. of A., it's the week of Thanksgiving.  In just a few short days, many of us will don our favorite stretchy pants and prepare to consume mass quantities of big birds.  No no…not the kind that have yellow feathers and talk…the headless kind that have crispy fat-laden skin and make our mouths water at the mere sight of them.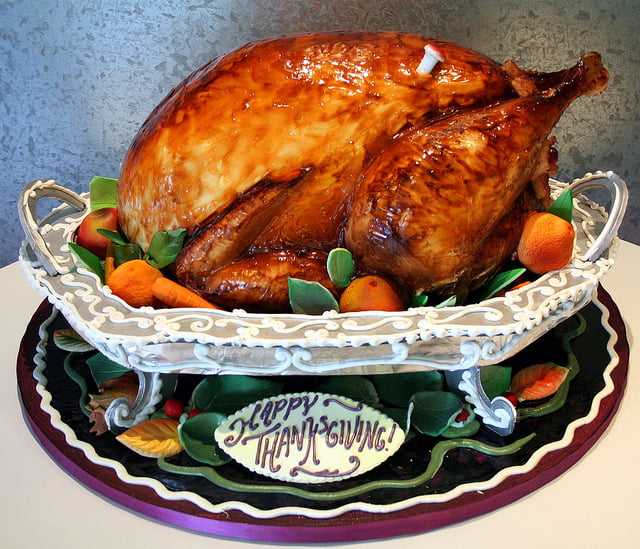 Incidentally, that gorgeous looking bird isn't a bird at all…it's 100% CAKE and ICING!  I wish to the highest heavens that I knew the name of the amazingly talented artist who created it, but sadly, I don't.  I found that photo during a Google search last year and spent a solid half hour doing searches for the original source, but I never did find it.  If you happen to have any information on where it came from, please leave me a comment, as I'd love to note the source properly.
So as I was saying, many people will spend Thursday with friends, family, and other such loved ones.  Delicious meals will be eaten, football games will be watched, and Tryptophan induced naps will commence.  However, due to the volatile economic state of our country, more people than ever before will be without a roof over their head this year.  There will also be those who are homeless and/or still recovering in the hospital due to the fury of super storm Sandy.  I wish that I could reach out and hug each and every one of you who've been affected by her.  I'm saddened for your losses… the physical and emotional ones.  I truly wish that I could do something to help ease your sorrow and worries.
Because I wear my heart on my sleeve, and because I suffer from clinical depression and anxiety, there are times that I get caught up in my compassion for others a bit too deeply.  It's at those times that I find myself filled with so much depression that I forget how blessed I truly am.  I need to remember every day to put on my attitude of gratitude.  My life has been really rough for the past few years, but there is SO much goodness in my life!
I am

genuinely

loved – I have a core group of friends who sincerely care about my well-being and who are able to look past my many, MANY flaws and love me nonetheless.  During my darkest moments, countless numbers of you reached out to me with love and compassion.  You assured me that my life is valuable to others.  I'm so sincerely thankful to each and every one of you who helped me during those moments of despair.  I also have my faith and belief in God and His son, Jesus Christ.  Without their everlasting power and grace interceding in my life, I would have fallen into a black hole of my own self pity many years ago.
I have a home – It's been said by many a lyricist that "home is where the heart is".  Figuratively speaking, that's a wonderful way to view life.  Be grateful and happy for where you are, in this moment.  Whether you're living in a 13,000 square foot brick and mortar palace or a 30 square foot cardboard box, make it your own and call it your home.  I know that realistically, that's a tough goal to accomplish, especially for those who live with abuse or are on the streets struggling to keep warm at night.  That's why I'm grateful for this old apartment with its tiny galley kitchen and poor heating system.  The fact is, I have them, and I'm able to use them.  When the heat decides to give me a struggle, I have a blanket I can cozy up with.  Others aren't so fortunate.
I have talent – While it's true that I will never have the creativity or the hand/eye coordination to pull off gorgeous works of food art, I AM an excellent cook and baker.  I've fed many a happy mouth over the past couple of years.  I'm grateful for the fact that I have a culinary education that provides me with the knowledge and skills to fry up the perfect egg or whip up egg whites to glossy perfection.  Sure, we eat with our eyes first, but ultimately, my self-esteem shouldn't be shattered because I can't properly apply royal icing to a cookie.  If it will help, close your eyes and enjoy my meals.
Where ever you will be this Thursday, I encourage you to take a quick moment to be thankful for at least one small thing in your life.  Even if it's something as simple and seemingly insignificant as the fact that you are loved by me…  Because you are <3
HAPPY THANKSGIVING.