Bacon Burger Stuffed Peppers Recipe
Bacon burger stuffed peppers is the ultimate stuffed peppers recipe! Ground bacon and ground beef are seasoned and stuffed inside of tender bell peppers with loads of cheese. It's a comfort food dinner that you don't want to miss!
In my preparations for this weekend's Superbowl festivities, I've had a couple of baking disasters in the kitchen.
For example, I completely destroyed a perfectly innocent batch of cookie dough that was loaded with beautiful bittersweet chocolate chips and mini M&M's in it. Isn't that sad? I've had a cold all week and my head was so stuffed up, I completely forgot to set the timer when I put the cookies into the oven. I know, I know… I'm AWFUL, but I have a good excuse. Really! I walked outside to get the mail and as I was walking back to the house, I stopped to be a friendly person and wave at the neighbor kids as they were getting off the school bus. Then I HAD to stop again to pet an adorable puppy, because we all know how irresistible puppy ears and tails are. Am I right or am I right?
Anyway, when I walked back into the house 15 minutes later, the cookie damage had been done. Those poor cookies didn't stand a chance. I'm glad that I was stingy enough to have eaten some of the dough when I was panning them up so at least the dough wasn't a TOTAL waste!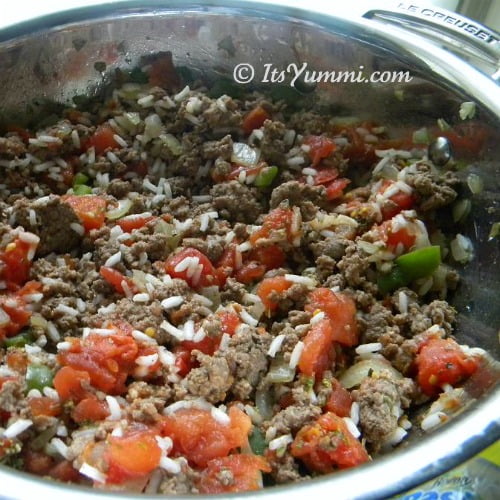 Anyway, I trudged on in my diligent effort to have a kitchen success. I took an informal poll on my Facebook page yesterday, asking if you guys wanted me to make something sweet or savory today. The result was a dead even tie, so I decided to go with savory, hoping to brush off the bad baking mojo.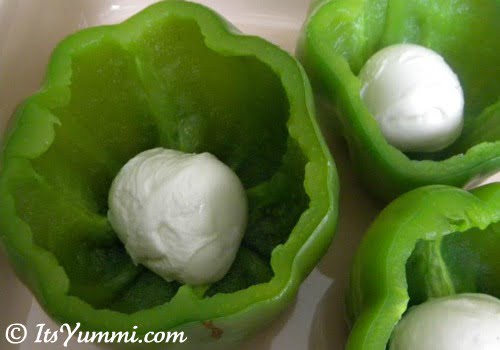 If you've been a reader of this blog for any length of time, you already know about my fanaticism for bacon. It's practically a food group in itself around this house. Since the beginning of 2012, I've been trying to eat healthier, so bacon has had to take a seat on the back burner. HOWEVER, it was my birthday this week, so I decided to splurge on the calories a bit. I made up some of these mouthwatering bacon burger stuffed peppers.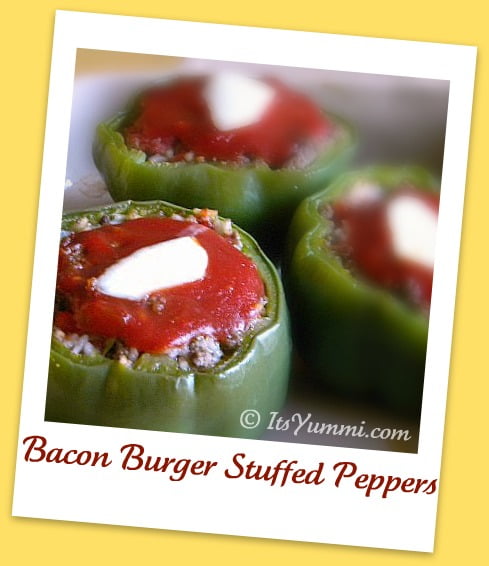 The combination of ground chuck and ground bacon with gorgeous melted cheese just screams comfort food and takes me to my happy place. Incidentally, my happy place has food with no fat or calories in it, so you really should consider making a stop there soon. Now would be a great time!
If you want to make stuffed peppers, but you're not into bacon-y goodness, use the filling in this recipe for Jack 'O Lantern stuffed peppers. It has beef, rice, and a delicious roasted red pepper sauce!
How to Make Bacon Burger Stuffed Peppers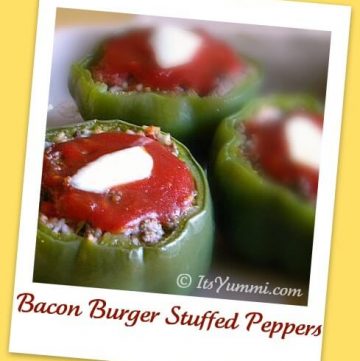 Bacon Burger Stuffed Peppers
A savory blend of ground chuck and ground bacon gives these stuffed peppers a comfort food kick that's sure to be a crowd pleaser!
Ingredients
4 to 6

large green bell peppers

3/4

pound

ground beef

1/4

pound

ground bacon (I had my butcher grind me a blend of ground chuck and bacon)

4 to 6

bite sized mozzarella cheese balls (I used a local Wisconsin cheese made by BelGioioso)

1

small onion

finely chopped

1

can (14 oz.) Italian diced tomatoes

2

Tablespoons

Worcestershire sauce

Salt and pepper

to taste

1 to 1 1/2

cups

cooked rice

1

can (8 oz.) tomato or marinara sauce

2-3

slices

of fresh mozzarella cheese
Instructions
Heat oven to 350 degrees F. (325 degrees if using a convection oven)

Cut tops off bell peppers and remove the seeds and membrane. Prepare an ice water bath and

blanch

the peppers in salted, boiling water for 4 minutes. Shock them in the ice water, drain, and cool.

Brown the meat and onion in a skillet over medium high heat. Drain off the oil. Add tomatoes,

Worcestershire, salt and pepper and cooked rice. Reduce heat to medium-low and simmer for 5 minutes.

Place a mozzarella ball into the bottom of each pepper and stand them up in a casserole dish.

Add the meat filling and top each pepper with some tomato sauce and 1/2 slice of cheese.

Bake for about 30 minutes, until the peppers are tender. Top each pepper with some tomato sauce and 1/2 slice of mozzarella cheese and continue baking for 5 minutes or until the cheese is melted.

Serve with a side of garlic bread
Nutrition