Barrio Happy Hour Prices & Time of 2023
Barrio offers Happy Hour specials from Monday to Thursday between 4 PM and 6 PM and on Friday from 2 PM to 6 PM, making it the perfect spot for an early evening gathering.
And of course, you'll have the privilege of enjoying these meals in lower prices during these times.
These are the items available for Barrio Happy Hour:
Start your meal off right with Barrio's Guacamole, available in three different variations – traditional, mango, or seasonal – for $11.
For something a bit more substantial, try the Elotes on the Cob, a dish of charred corn served with the right garnishes for just $9.
If you're in the mood for something cheesy and flavorful, the Queso Fundido is a must-try.
This dish is made with peppers, crispy leeks, escabeche, salsa, all served with heirloom corn tortillas.
For an added kick, you can even add house-made chorizo for just $3 more, bringing the total to $14.
And of course, no visit to Barrio is complete without trying their famous tacos, served on hand-pressed Masienda heirloom corn tortillas.
For a unique salsa and cheese combo, the Skirt Steak taco is a delicious option for just $5 a la carte.
If you're looking for something a bit more unique, try the Braised Jackfruit taco, made with cabbage and avocado mousse.
The chicken-lovers have their own favorite, the Chicken Al-Pastor.
Finally, wash it all down with one of Barrio's refreshing cocktails, made with premium spirits and unique flavors.
The Classic Margarita is a popular choice all for just $12.
The Ginger Mint Paloma is another favorite, made with Patron Reposado and ginger beer, for the same price.
And for something a bit more daring, try the Hot Mezz, crafted with Creyente Mezcal, also for $12.
In conclusion, Barrio's Happy Hour menu is full of delicious and satisfying dishes, each one bursting with unique flavors and made with high-quality ingredients.
From tacos to cocktails, there's something for everyone to enjoy at Barrio, all at an affordable price point.
So, gather your friends and head on over to Barrio to experience the best of creative Mexican fare!
Please note that as a standard policy, a 3% surcharge will be added to all checks during our happy hour.
However, if you prefer, this surcharge can be removed upon request.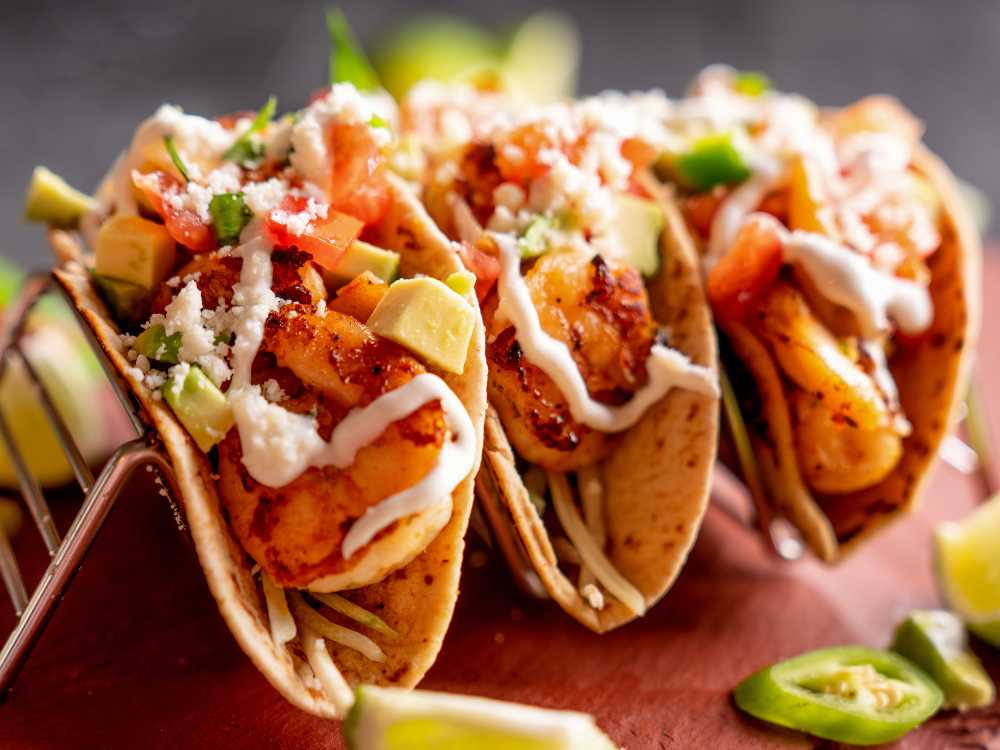 Barrio Happy Hour Time
| | |
| --- | --- |
| Days | Time |
| Monday | 4PM-6PM |
| Tuesday | 4PM-6PM |
| Wednesday | 4PM-6PM |
| Thursday | 4PM-6PM |
| Friday | 2PM-6PM |
Barrio Happy Hour Tacos
Items
Price
Chicken Al Pastor
(Pickled Red Onion, Achiote Marinated Chicken, Crispy Kale, Avocado Salsa Verde, Charred Tomato Salsa & Charred Pineapple)
$5.00
Skirt Steak
(Shaved Radish, Avocado, Charred Onion, Cilantro, Cotija Cheese, Salsa Picante & Jalapeño Crisp)
$5.00
Braised Jackfruit
(Chipotle Salsa, Cabbage, Pickled Red Onion, Avocado Mousse, Crispy Kale & Garlic Crema)
$5.00
Barrio Happy Hour Cocktails
| | |
| --- | --- |
| Items | Price |
| Ginger Mint Paloma | $12.00 |
| The Classico Margarita | $12.00 |
| Cocktail Of The Week | $10.00 |
| Hot Mezz | $12.00 |
Bites
| | |
| --- | --- |
| Items | Price |
| Elotes On The Cob | $9.00 |
| Guacamole | $11.00 |
| Queso Fundido | $14.00 |
Important Links
Frequently Asked Questions
What Are The Happy Hour Specials (Favorites) At Barrio?
Some Happy Hour favorites include $5 margaritas, $4 well drinks, $3 cans of Tecate, and $6 select appetizers.
What Days and Times Does Barrio Offer Happy Hour?
Barrio's Happy Hour is available Monday through Thursday from 4 pm to 6 pm.
And in Fridays the Happy Hour starts from 2PM and runs until 6PM. It won't vary much in other chains.
Does Barrio Have Outdoor Seating Available During Happy Hour?
Yes, Barrio has outdoor seating available during Happy Hour, weather permitting.
Are Minors Allowed During Happy Hour At Barrio?
Yes, minors are allowed during Happy Hour at Barrio until 7 pm. After 7 pm, the restaurant is restricted to adults 21 and over.
Can I Order From The Regular Menu During Happy Hour?
Yes, you can order from the regular menu during Happy Hour at Barrio, but the discounted Happy Hour specials are only available during the designated hours.