Blueberry Protein Muffins
Protein muffins will help you start your day right! Moist, fluffy blueberry protein muffins are bursting with fresh blueberries, a bit of lime, and protein powder. and they're loaded with great flavor. They're perfect for a breakfast on the go or a healthier afternoon snack.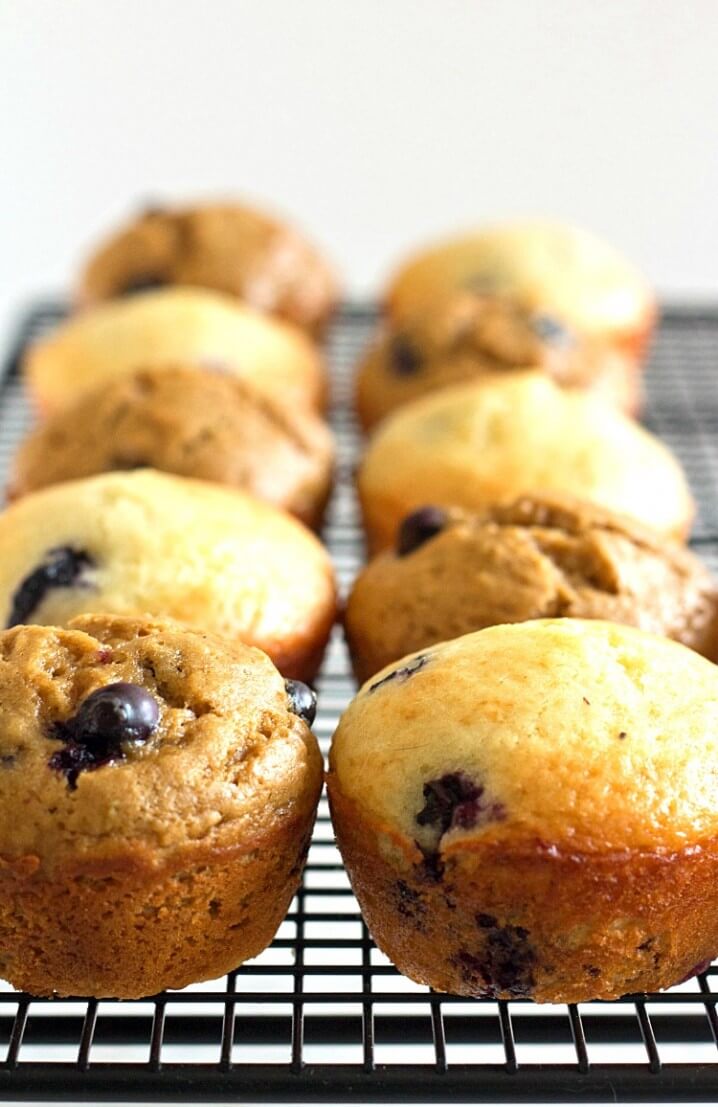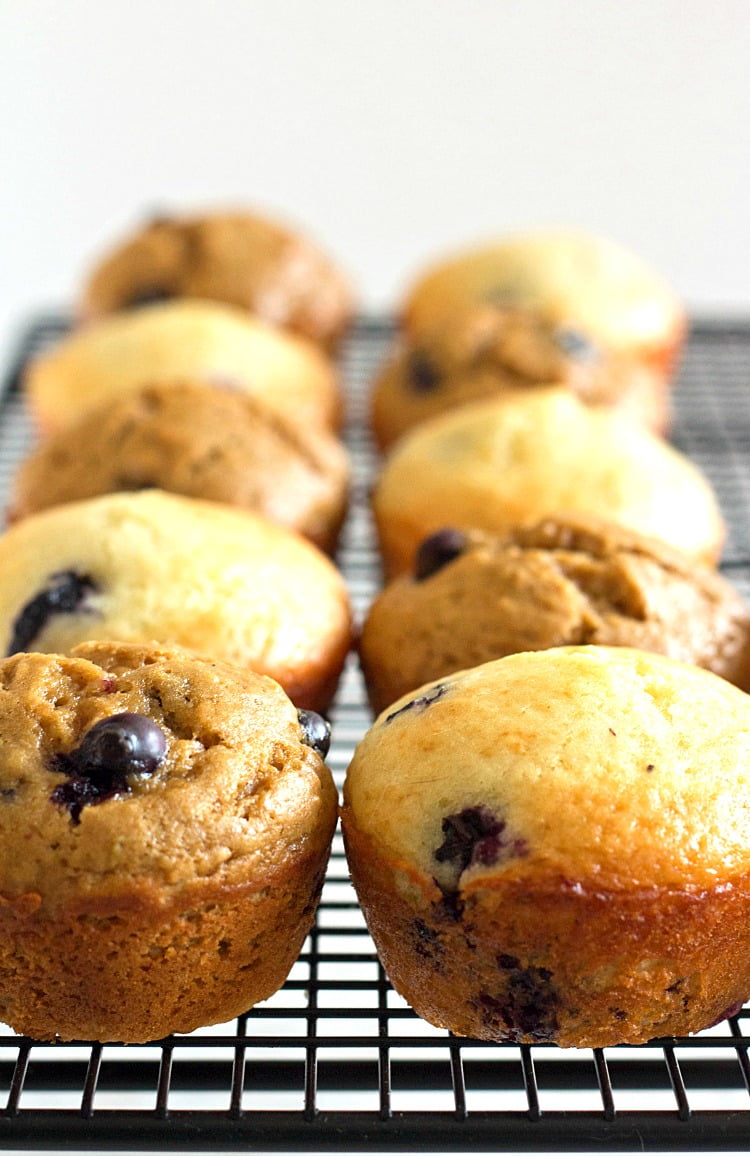 Last week, I gave you some information about Rapadura, an organic, raw sugar that I've started using instead of refined sugar.  Click here to read important health facts about it, as well as my opinions on why I think it's a healthier alternative than white granulated sugar.
Today, I'm sharing a side by side comparison of RAPADURA and WHITE SUGAR, baked into healthy blueberry protein muffins.
I started with my easy recipe for raspberry chocolate chip muffins, but I switched out the fruit, left out the chocolate, and tweaked the flavor by adding some lime to this recipe.  The main components of sugar, flour, and fats are the same.  I wanted to be able to compare the taste and texture of Rapadura to refined sugar without adding low carb baking mix or egg replacements into the formula.
Results of Sweetener Side-by-Side Baking Test
To assure that my baking test was fair, I used the same baking environment for both batches of muffins. I even baked them in the same muffin pan, and at the same time.
VISIBLE DIFFERENCES – The photo below shows both batters in the pan.
The Rapadura batter is darker in color and a tiny bit thicker than the batter made with refined sugar.
The muffins looked quite different after baking. The muffins made with refined sugar were smoother in appearance on the outside. The Rapadura muffins were darker and the exterior texture was more pronounced.
On the inside, the texture of both muffins was similar, and they were both moist.
AROMA – The Rapadura batter had a light aroma of molasses.
TASTE – I thought I'd taste more molasses in the Rapadura batter, but surprisingly, there was absolutely no difference. Both muffins were equally sweet and yummi!
NUTRITION – Both muffins contain the same amount of sugar, so they have the same caloric value.  However, as I explained in last week's article, there are some important minerals and nutrients in Rapadura that are processed out of refined sugar.
Therefore, my choice was to make blueberry protein muffins using [amazon_textlink asin='B000OSSV8G' text='Rapadura' template='ProductLink' store='chebecskit-20′ marketplace='US' link_id='6494dcf7-8159-11e8-83b8-a1383ecfa1de'] rather than refined sugar.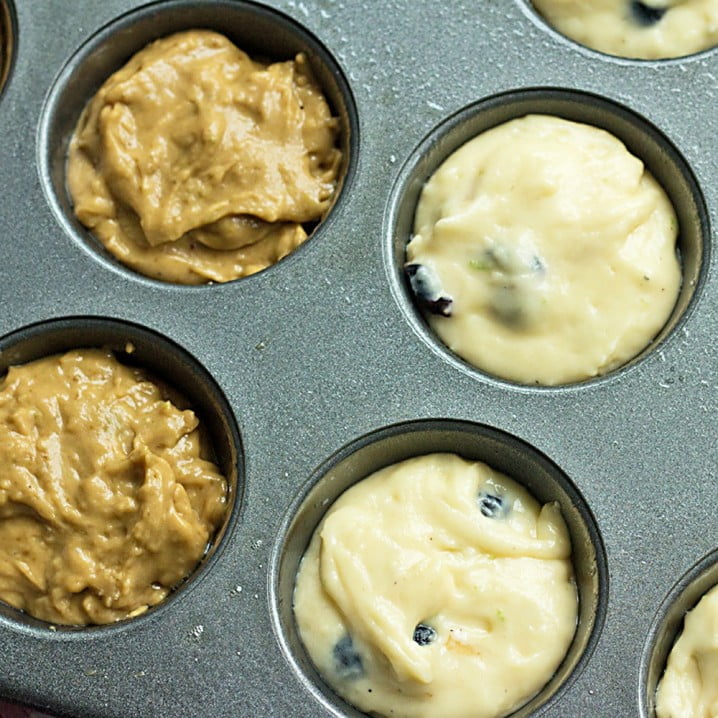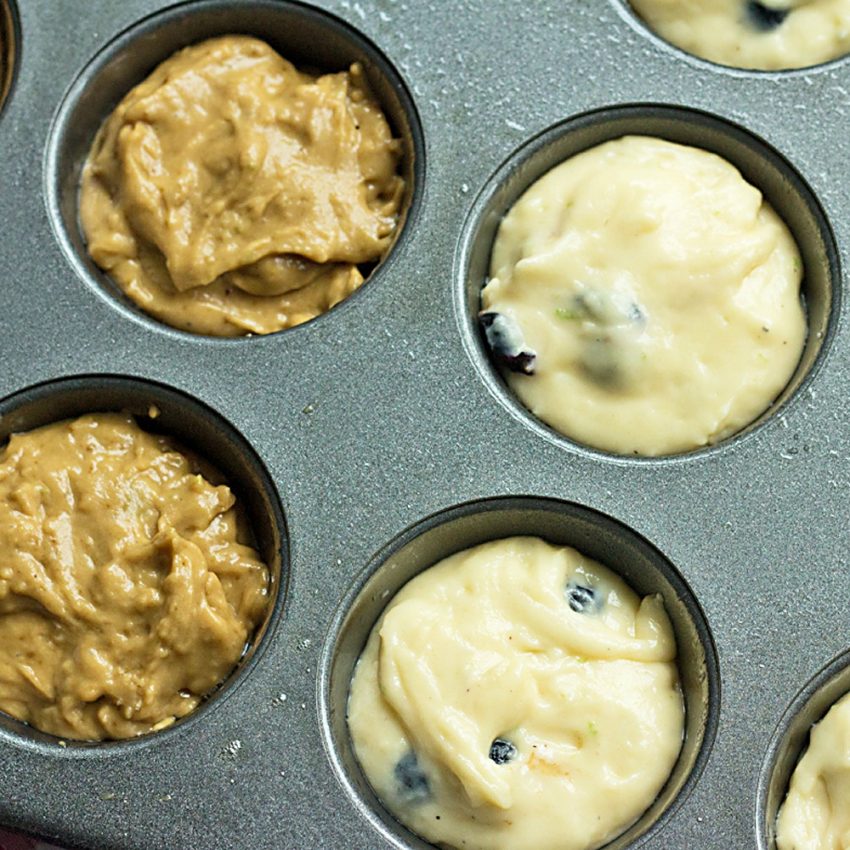 Blueberry Protein Muffins Recipe Notes:
When you bake the blueberry protein muffins, bear in mind that the recipe below yields 12 muffins made with Rapadura. If you use white refined/granulated sugar, use the same amount shown for the Rapadura called for in the recipe.  All of the other ingredients will be the same.
Because the test was designed to compare the taste and texture difference between the two sugars, I cut back on how many blueberries I added. I used 3/4 cup of berries instead of the full cup called for in the recipe.  In other words, your muffins will be more full of fruit than you see in these photos.  More fruit is a good thing 🙂
~~~~> CLICK HERE TO SEE ALL OF MY MUFFIN RECIPES <~~~~
Tools to Help You Make the Blueberry Protein Muffins Recipe:
12-cup muffin pan (I adore my [amazon_textlink asin='B001IANICS' text='USA Pan muffin pan' template='ProductLink' store='chebecskit-20′ marketplace='US' link_id='94658870-8157-11e8-bb0c-bf226dde8a4d'])
[amazon_textlink asin='B0000CDVD2′ text='2 Tablespoon sized cookie scoop' template='ProductLink' store='chebecskit-20′ marketplace='US' link_id='fd0b3d44-8157-11e8-aa6f-f3b9b0e1d46d'] or [amazon_textlink asin='B0001MSEPK' text='#30 disher scoop' template='ProductLink' store='chebecskit-20′ marketplace='US' link_id='066dbb8f-8158-11e8-8367-91b594cd4e8a']
[amazon_textlink asin='B01G2B8GVK' text='organic Rapadura sugar' template='ProductLink' store='chebecskit-20′ marketplace='US' link_id='26ad805e-8158-11e8-b67e-d9d0dd668fad']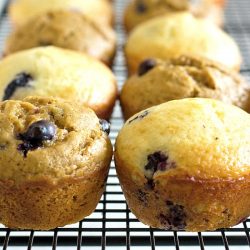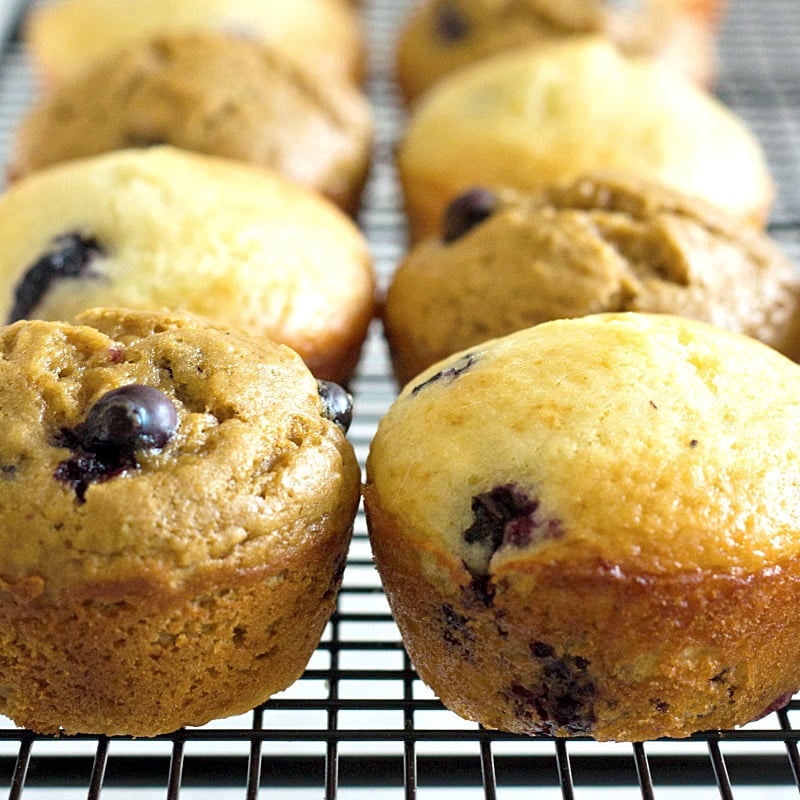 Blueberry Lime Protein Muffins Recipe
Moist, tender vanilla muffins are loaded with protein, fresh blueberries, and a tangy kick of lime in this blueberry lime protein muffins recipe.
Ingredients
5.3

ounces

(1.25 cups) all-purpose flour

plus 2 tablespoons for coating berries)

4

tablespoons

plain or vanilla whey protein powder (optional

see notes)

7.5

ounces

(1 cup) Rapadura

1

teaspoon

ground cinnamon

1/4

teaspoon

salt

1.5

teaspoons

baking powder

1

egg

1

egg white

Juice of one large lime (2 tablespoons juice)

Zest from one large lime

1

teaspoon

vanilla extract

2

ounces

(1/4 liquid cup) canola oil

1/2

cup

plain or vanilla flavored Greek yogurt (I used Stonyfield)

1

cup

fresh or frozen blueberries
Instructions
Heat oven to 350 F.

Lightly spray wells of a traditional muffin tin with non-stick cooking spray.

In a large bowl, whisk together flour, Rapadura, cinnamon, salt, and baking powder until well combined. Set aside.

In a medium bowl, whisk together oil, egg, egg white,yogurt, lime juice, zest, and vanilla until well combined.

Add wet ingredients to dry ingredients and whisk until flour is almost fully incorporated into the batter. Don't over mix or your muffins will become tough and dry.

Sprinkle 2 tablespoons flour over blueberries and toss to coat. Using a silicone spatula, gently fold berries into the batter, making sure that no dry flour remains.

Fill each prepared well two-thirds full with batter. Bake for 18-20 minutes, or until toothpick inserted into center comes out clean. Remove pan from oven and allow muffins to rest for 2 minutes before transferring them to a wire rack to cool completely.
Notes
* If you omit the protein powder in this recipe, use 3 additional tablespoons of all-purpose flour
Nutrition
Sodium:
109
mg
Sugar:
4
g
Fiber:
1
g
Cholesterol:
15
mg
Calories:
92
kcal
Saturated Fat:
1
g
Fat:
6
g
Protein:
5
g
Carbohydrates:
7
g