Top 10 Best Restaurant Who Does Breakfast Catering Perfectly
Wondering to know who does breakfast catering near you? This article would help you explore the following best options near you for breakfast catering.
Panera Bread
Dunkin' Donuts
Chick-Fil-A
Starbucks
Einstein Bros. Bagels
IHOP
Corner Bakery Café
Waffle House
McDonald's
Tim Hortons
Some of these are the best ones for those who want a variety of items for breakfast. Others are the ideal choices for those who prefer greater taste, quality, freshness, and so on.
Each one of these has its own specialties for breakfast catering. For example, Panera bread is the one that has more variety and quality items with greater taste.
Similarly, IHOP's breakfast catering also includes a great number of breakfast items with mesmerizing tastes.
If kids are coming to your breakfast event, Dunkin Donuts and McDonald's are the best choices with kid's friendly meals.
For those who want vegan or vegetarian options, IHOP and Corner Bakery Café are the best options. They don't only offer a variety of tempting breakfast items but also a variety of salads and vegan options.
Similarly, Chick-Fil-A and Corner Bakery Café offer a complete gluten-free menu with detailed nutrition information.
To decide on the best catering restaurant for your breakfast event, let's read the complete article first.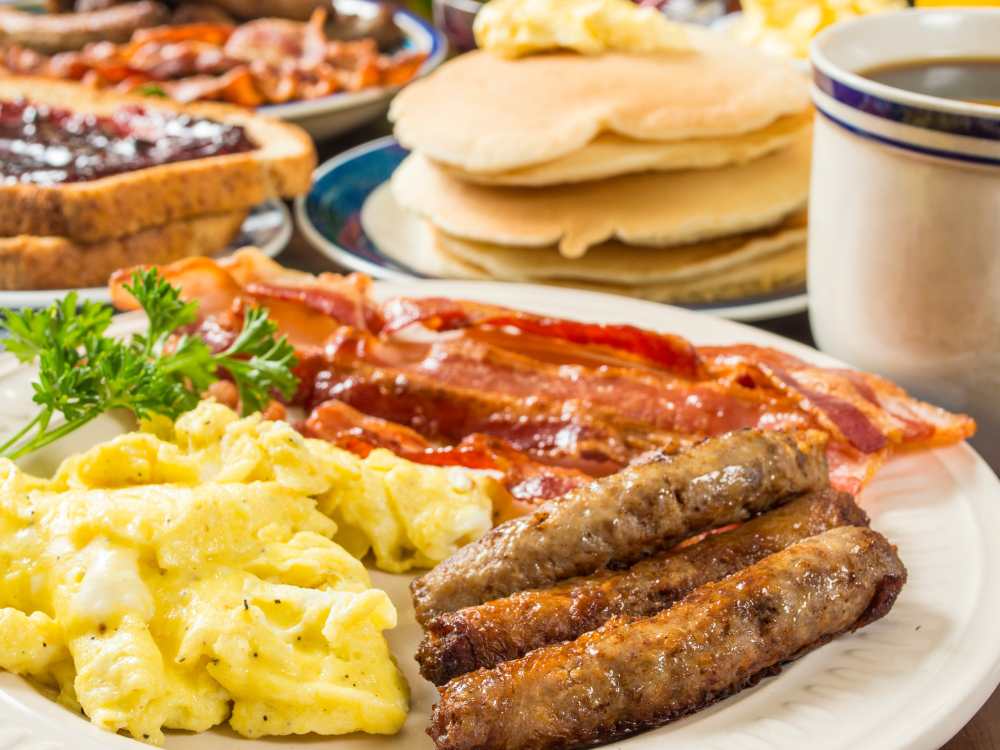 What is Breakfast Catering?
Breakfast catering is that catering which includes a great variety of breakfast options such as pancakes, breakfast casseroles, Waffles, croissants, etc.
Just like lunch/buffet catering, breakfast catering is also done to serve a large number of people on any day/event.
However, breakfast catering doesn't include any meals from the lunch or dinner menu. Even at some restaurants, breakfast catering also lacks salads and sides.
Let's explore the restaurants which are the best for breakfast catering. Here are the following ones.
01. Panera Bread
Panera Bread offers the best breakfast catering with greater taste, quality, and aroma.
Its breakfast catering menu includes several boxed breakfast options, breakfast sandwiches, Soufflés, bakery, Parfaits, oatmeal, and fruit bowls.
The most popular ones are the boxed breakfast options at Panera Bread for their mouth-watering taste, freshness, and aroma. These include the following:
Spinach and Bacon Soufflé
Vanilla Cinnamon roll
Sausage, cheese, and egg on ciabatta
Bacon, egg, and cheese on brioche
Chicken, avocado, and egg on ciabatta, etc.
Panera Bread offers breakfast catering at all of its locations. However, the prices may differ slightly from location to location.
02. Dunkin' Donuts
For all those who have a sweet tooth, Dunkin' Donuts is the best pick. Their breakfast catering menu includes a variety of sweet items such as donuts, muffins, bagels, and beverages with sweeteners.
Donuts are the most popular on the Dunkin' Donuts breakfast catering menu. If you are ordering breakfast for an event where there are lots of kids, Dunkin' Donuts is the best option.
Every child loves their donuts as they are the perfect ones with better taste, softness, freshness, and flavors.
Assorted flavors of donuts include glazed, chocolate frosted, Jelly, powdered sugar, Cinnamon, etc.
Similarly, muffins and bagels also come in a variety of flavors e.g., blueberry, cinnamon, honey raisin, etc.
03. Starbucks
Starbucks' breakfast catering menu includes tempting options which are worth trying.
In their breakfast catering, they offer mainly sandwiches, sweets and treats, bagels, croissants, and coffee.
Coffee and breakfast sandwiches are popular at Starbucks breakfast catering. Sandwiches and wraps include the following:
Smoked bacon, egg, and cheddar sandwich
Impossible breakfast sandwich
Spinach, egg, and Feta wrap
Maple, butter, and egg sandwich
Turkey, egg, cheese sandwich, etc.
Besides these, Starbucks sweets & treats including brownies and cookies are also popular for their freshness and taste. The availability of the catering items may differ at various locations of Starbucks.
04. Chick-Fil-A
Chick-fil-A serves a small breakfast catering menu but each item in the menu is worth the price and taste.
Its catering menu includes breakfast chicken biscuits with freshly baked flavorful hot biscuits with taste-rich chicken and cheese.
You can also order bacon and sausage biscuits at Chick-fil-A. Besides these, their nuggets tray, fruit cups, and parfaits are the best pick for any occasion.
For breakfast catering, many Chick-fil-A locations also offer pick-up and delivery services.
05. Einstein Bros. Bagels
As you can see from the name, their bagels are the most popular and most selling in the breakfast catering menu.
You can choose either classic or shmear bagels in any quantity i.e., half dozen, dozen, or two dozen. All bagels are served with Einstein Bros' premium whipped cream cheese to uplift the taste.
Besides bagels, they also offer cinnamon rolls, sweets, cookie boxes, pastries, breakfast sandwiches, individual meals, and beverages.
All of these items are available at all of their locations as well as on the website for order. However, call them to double-check the availability of all items at your nearest location before your occasion.
06. IHOP
Besides other restaurants, IHOP's breakfast catering includes a lot of options to delight your guests.
Its breakfast catering menu includes breakfast entrees such as scrambled eggs, pancakes, waffles, French toast, etc.
It also includes breakfast sides and sauces such as hash browns, fruits, bacon, sausage links, smoked bacon, etc.
IHOP also serves appetizers such as chicken strips, sandwiches, burgers, salads, and beverages in its catering menu.
Its sandwiches and burgers include a variety of flavors e.g. BLT sandwich, Turkey sandwich, cheeseburger, bacon burger, chicken sandwich, etc. Out of all these, BLT sandwiches and cheeseburgers are the most popular ones.
07. Corner Bakery Café
From croissants, pancakes, and Paninis to breakfast sandwiches, parfaits, and bowls, Corner Bakery Café offers everything.
Their most distinctive feature is that they have a completely separate gluten-free menu for those who ask for it.
Also, they offer a large number of items to choose from for your breakfast catering.
The most popular items on their menu include breakfast sandwiches and Paninis, breakfast salads and sides, and buttermilk pancakes.
08. Waffle House
Waffle House doesn't share its complete breakfast catering menu on its website. However, you have to fill up their catering form on the website to get the menu.
The public reviews about waffle house catering are good and reliable. The items that everyone admired about waffle hours catering are their waffles, biscuits, sandwiches, and melts.
For detailed information on their breakfast catering menu, contact them through the website or visit their nearest location.
09. McDonald's
Mcdonald's offers different breakfast bundles for breakfast catering. It also offers its customers to create customized breakfast bundles as per their needs.
Surprisingly, all of the Mcdonald's breakfast catering items are popular and most-selling.
Mcdonald's is famous for maintaining quality and freshness while serving hot aromatic breakfast. However, its sandwiches, hash browns, and breakfast coffee and worth buying.
Mcdonald's breakfast bundles are based on how many people you want to serve. You can choose either a bundle for 6, 12, or 24, and create your own breakfast bundle.
10. Tim Hortons
Just like Mcdonald's, Tim Hortons also offer different bundles/packages based on the number of people. Each of their breakfast catering bundle has three options i.e. for 10 people, for 20 people, and for 40 people.
In each of these bundles, there are different items such as donuts, sandwiches, wraps, Paninis, croissants, muffins, cookies, and beverages.
Beverages options include brewed hot coffee, yummiest fresh vanilla, and mouth-watering hot chocolate.
Tim Hortons' donuts and coffee are the most popular ones for their freshness, flavor, aroma, and quality.
What is Good For Breakfast Catering?
All of the above-discussed restaurants are the best picks for breakfast catering. If you're looking for more variety, Panera Bread and IHOP are the best ones.
For kids-friendly breakfast catering, Mcdonald's and Dunkin' Donuts are the best choices. Similarly, Tim Hortons is the best one for those who can't start their day without the best-brewed coffee.
How Do I Host a Breakfast Event?
If you want to host a successful breakfast event, look into the following factors. First, see if your potential guests are available during the breakfast hours.
If yes, choose a time of the morning for the event as the majority of the people have breakfast in the morning.
Next, decide on the best breakfast catering restaurant that suits your needs. Talk to them about the venue and finalize things.
What is Brunch Vs Breakfast?
Brunch is the one that starts late in the morning i.e. after 10 am and may continue till lunchtime.
Also, it doesn't only include breakfast items but may also include something from the lunch menu.
In contrast, breakfast is not a combination of breakfast and lunch. Instead, breakfast contains only breakfast items and is served in the early morning hours.
What Are 3 Types of The Most Popular Breakfast?
Buttermilk pancakes, Breakfast biscuits/sandwiches, and waffles are the three most popular breakfast items.
They are the most selling ones during the breakfast hours at breakfast-serving restaurants.
Besides these, breakfast casseroles, Paninis, croissants, cookies, parfaits, hash browns, and French toast are also popular for breakfast.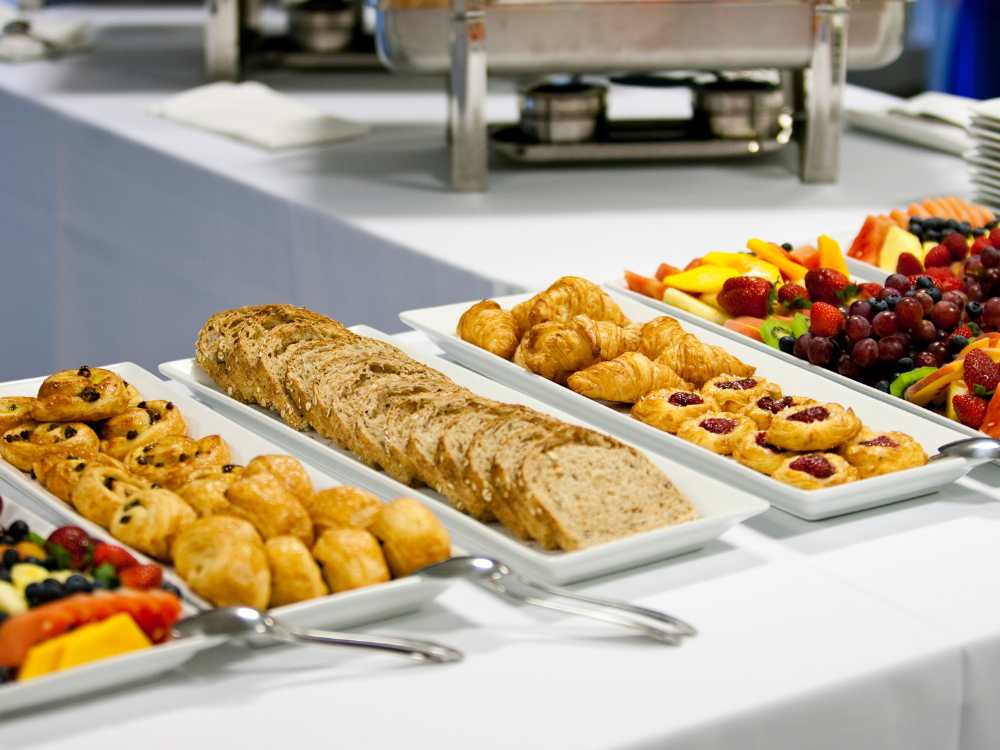 Websites of Restaurants That Offer Breakfast Catering
Final Thoughts
If you're planning to host a breakfast event, there are great options for breakfast catering around.
The top ten best breakfast catering restaurants discussed above come up with amazing breakfast catering menu.
From freshly baked breakfast casseroles and croissants, to hot buttermilk pancakes and Paninis, they serve it all.
Choose the best one among them and let your guests cherish the beautiful moments with you.