Brining Poultry for Juicy Tender Holiday Meals
Brining poultry is the key to a moist, tender holiday turkey or chicken!
I can't believe Thanksgiving is a week away. This year has flown by! Speaking of flying, did you know that turkeys are unable to fly? Domestic ones, anyway. Wild turkeys can fly for short distances, but those homely homey turkeys are too danged overweight to fly. Poor things need exercise, but if they can't fly, what's a poor bird to do? NOTHING… That's why we hunt and eat 'em. Easy prey 🙂
I've been brining my Thanksgiving turkey for the past few years with great success. But, until this mission came along, I never really thought about brining chicken.
Brine is traditionally made from equal parts sugar, salt, and citrus and sometimes fresh herbs that have been added to water.
Brining poultry keeps it juicy and tender during the cooking process. Meat can be marinated in a brine for anywhere from a few hours up to a couple of days, then it's rinsed off and the meat is roasted traditionally in the oven. Adding Soy Sauce to my brine added great flavor to the chicken I roasted.
FOOD/COOKING FACTS: Soy Sauce
The official word for the deep, savory flavor imparted by soy sauce is umami (pronounced "ooo Mommy") It's one of the tastes that our tongue experiences.
There are now six primary tastes – sweet, sour, bitter, salty, spicy, and umami. Umami is brought to our palettes by way of an amino acid called glutamate, present in many natural and processed foods.
My chicken looks like it's brining in a hot tub of deliciousness!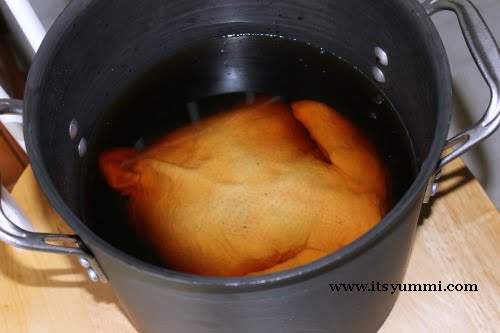 I brined the chicken for 6 hours. After removing it from the brine, I rinsed the outside of the bird and the cavity with cold water, then patted it dry with paper towel. Rub a little bit of seasoning onto the skin and slip butter between the skin and the breast meat. Then, add raw onion wedges, fresh sage leaves, and fresh sprigs of thyme into the cavity of the chicken before setting it into a roasting pan.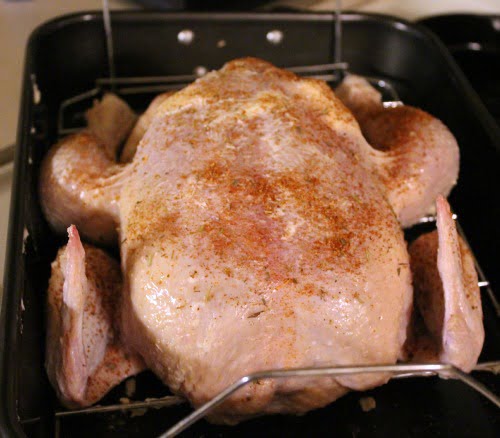 The Bird: To Flip or Not to Flip?
There are a couple of schools of thought on roasting chicken and turkey. Some people believe starting with the breast side up, flipping the bird over to finish cooking it breast side down keeps the juices in. I'm all for getting that nice crispy skin on the breast, but there are a couple of reasons that I don't flip the bird over.
Opening the oven, even for a short time, releases heat, increasing your cooking time.
If the breast sits on the bottom of the pan, even on a roasting rack, it's going to get slimy from the fat that drips down during cooking.
In my opinion, cooking a perfectly juicy chicken or turkey requires a couple of easy steps:
Preheat your oven to 425 degrees F (400 for a convection oven) and reduce the temperature to 380 when you put the bird in to cook. Place it in the pan breast side up, then after 30-45 minutes, add a piece of aluminum foil over the breast to prevent it from getting too dark.
I purchased a 6 pound, farm raised, free range chicken. Total cooking time will vary depending on the weight of the bird you're cooking and how well your oven heats. Mine took 2 hours to roast at 380 degrees. While I waited for it to cook, I set the table with my new Thanksgiving tablecloth and table runners. I love the warm colors of fall!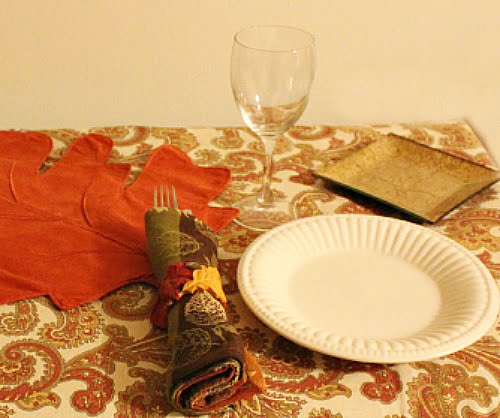 Perfect side dishes to serve with roasted turkey or chicken are garlic mashed potatoes, sweet potato casserole, and homestyle biscuits.
The yummi bird, perfectly roasted and ready to carve. I'll definitely be brining with soy sauce again!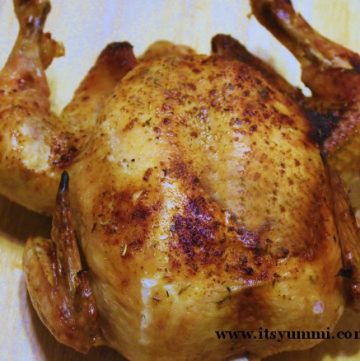 How to Brine Poultry for Tender Juicy Holiday Meals
This recipe is suitable for brining a 5-6 pound chicken.
Ingredients
5

pound

whole chicken

1

gallon

Cold Water

3/4

cup

(6 ounces) Soy Sauce

3/4

cup

kosher salt

3/4

cup

sugar

1

tablespoon

dried sage

1

tablespoon

dried celery seed

1/2

tablespoon

dried thyme
Instructions
Heat oven to 425 degrees F (400 F convection oven)

Remove giblets from chicken cavity, rinse chicken inside and out. In a large stock pot or container mix water and the remaining ingredients, stir well until the sugar and salt are dissolved.

Place the chicken in the brine, cover and refrigerate for at least 4 hours or overnight. Remove chicken from the brine and rinse well inside and out. Pat dry with paper towels.

Sprinkle with 3 tablespoons of seasoned salt and bake the chicken at 380 degrees for 1.5 to 2 hours, or until thermometer inserted into the thickest part of the breast reads 163 degrees.

Remove from oven and let the bird rest on cutting board for at least 15 minutes before slicing and serving.
Nutrition
Serving:
1
g
Calories:
510
kcal
Carbohydrates:
27
g
Protein:
37
g
Fat:
27
g
Saturated Fat:
7
g
Cholesterol:
136
mg
Sodium:
987
mg
Potassium:
418
mg
Sugar:
25
g
Vitamin A:
285
IU
Vitamin C:
3.2
mg
Calcium:
83
mg
Iron:
3.4
mg