Brown Butter Blueberry Muffins
Brown butter blueberry muffins are a delicious, sweet treat for breakfast or as an afternoon snack. The moist cake has a rich, nutty brown butter flavor, with sweetness added from plump, juicy blueberries and streusel topping.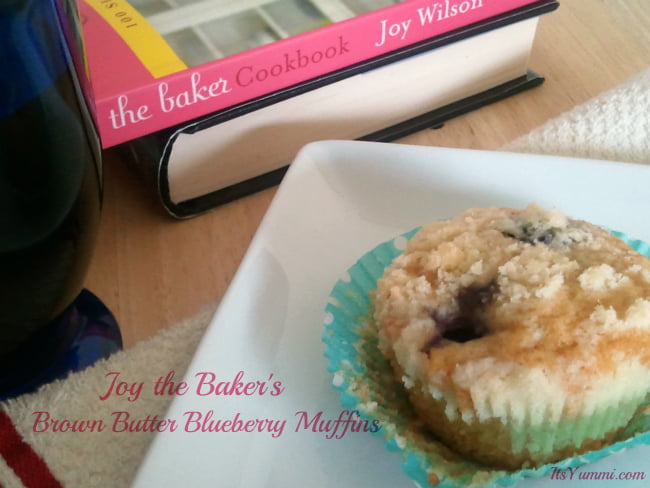 Welcome to the second week of Sundays with Joy!  As a refresher, Sundays…at least the next 98 or so, will feature one of the wonderful recipes from Joy the Baker's new cookbook "100 Simple and Comforting Recipes".  If you aren't familiar with Joy, she's a drop-dead gorgeous, seriously charming, uber talented baker.  Merely reading through a recipe of hers will put your salivation glands into high gear.  If you're anything like me, that will cause you to scour through your pantry for the ingredients needed to make that recipe immediately.  No time to feed the pets, water the plants, or take out the garbage.
"I'm sorry, _______, but I must create brown butter blueberry muffins right this very minute!
This week's treat, brown butter blueberry muffins are seriously delicious. Before I tell you more about the recipe, I encourage you to purchase a copy of Joy's book, so that you have access to all of Joy's creations!  The lowest price I could find for the book online is here (affiliate code).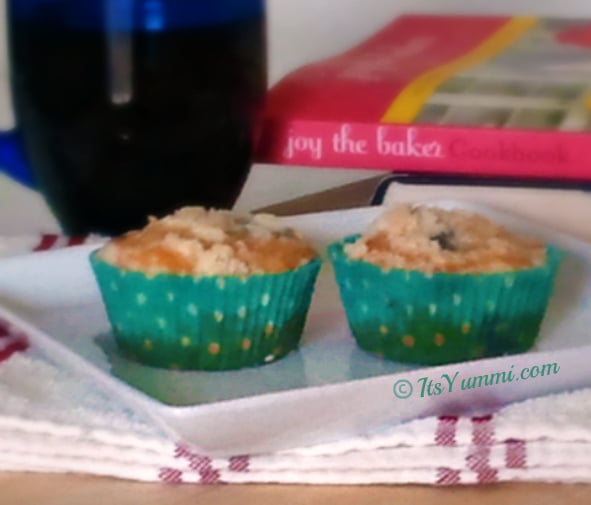 For those of you who weren't around to  read last week's post, where the heck were ya?!  You really need the recipe for those scones!
As the recipe title points out, these little beauties are made with a power ingredient called brown butter.  If you've never tried it, you simply must, because it's like liquid gold!  Browned butter adds a nutty depth of flavor to everything you add it to, and these muffins are no exception.
The deep, nutty brown butter combined with sweet blueberries will heighten your senses and leave your taste buds begging for more.  I kid you not, I ate two brown butter blueberry muffins before they had cooled. Then I had to try "just one more".  For anyone keeping a tally, that's three muffins consumed in 2 hours' time. Embarrassment is a penalty I'll live with, because the muffins are amazing!
After Hasome was home from work, I asked him to try one, and of course, I was famished and starving.  After all, it had been 2 whole hours, so I had another muffin to prevent my frail bones from deteriorating right there on the spot. Never trust a skinny cook, my friends!  I was just doing my part to make darned sure that you'll trust me for years to come.
Now please, go purchase the book, then bake some of these gorge-e-OH-so brown butter blueberry muffins.
Items You'll Want (and Love!)
The items below have affiliate codes attached to them. I make a small profit from any sales, which helps to keep this website operational. Thank you for helping to support It's Yummi!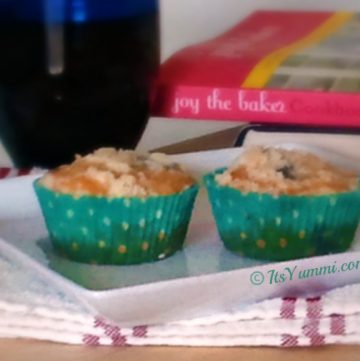 Brown Butter Blueberry Muffins
Fluffy blueberry muffins made with brown butter for a nutty flavor that pairs perfectly with the fresh blueberries.12
Ingredients
7

tbsp

(3.5 ounces) unsalted butter

1/3

cup

(3.3 ounces) milk

1

large

egg

1

large

egg yolk

1

teaspoon

vanilla extract

1.5

cups

(6.6 ounces) all-purpose flour

3/4

cup

(6 ounces) granulated sugar

1.5

teaspoons

baking powder

3/4

teaspoon

kosher salt

2

cups

fresh blueberries
For Streusel Topping
3

tbsp

(1.5 ounces) unsalted butter

cold

1/2

cup

(2.2 ounces) all purpose flour

3

Tablespoons

(1.5 ounces) granulated sugar
Instructions
Heat oven to 375 F., and prepare a muffin pan with butter, non-stick spray, or cupcake liners.

In a small saucepan over medium heat, melt the butter.

As the butter cooks, it will crackle and pop. Continue cooking until the crackling stops and the solids have turned a dark golden-brown (amber) color.

Remove pan from heat and pour the butter into a bowl to cool for at least 10 minutes.

Meanwhile, whisk together milk, egg, yolk, and vanilla extract, until fully combined. Whisk in the brown butter until combined.

In a separate, large mixing bowl, combine flour, sugar, baking powder, and salt. Stir to combine, then pour in the wet ingredients and stir gently, until barely combined.

Gently fold in the blueberries, and divide batter evenly into muffin tins.

For Streusel Topping

Use clean fingers to combine butter, flour, and sugar until crumbly. Divide among muffin cups, topping each muffin liberally.

Place pan in oven and bake for 18-20 minutes. Muffins should be golden and crisp on the top, and a cake-tester will come out clean, or with a few moist crumbs.

Let the muffins cool 15 minutes in the pan before removing.
Notes
Nutrition
Serving:
1
muffin
Sodium:
163
mg
Iron:
1.2
mg
Calcium:
41
mg
Vitamin C:
2.4
mg
Vitamin A:
350
IU
Sugar:
18
g
Fiber:
1
g
Potassium:
97
mg
Cholesterol:
56
mg
Calories:
247
kcal
Saturated Fat:
6
g
Fat:
10
g
Protein:
3
g
Carbohydrates:
35
g