Bruegger's Bagels Menu Prices 2023 – Where Every Bite is a Delight
Ah, bagels are the perfect light breakfast you can grab and eat on your way out.
Pair it with some cream cheese, and you'd understand the recent craze around these pieces of boiled dough.
But have you ever heard of smoked salmon or sriracha honey cream cheese? Well, Bruegger's customers definitely have.
Bruegger's Bagels menu is one the most extensive menus that feature over 14 flavors of bagels along with 11 different flavors of their classic made-in-Vermont cheese.
The menu features five categories: Bagels & Cream Cheese, Breakfast Sandwiches, Lunch Sandwiches, Coffee & Beverages, and Desserts & Sides.
Here's what Bruegger's Bagels & Cream Cheese section in the menu includes: Bruegger's Classic Kettle-Boiled Bagels that cover flavors ranging from Plain to Cinnamon Sugar and Pumpernickel.
This section also has Gourmet Topped Bagels like Cheesy Hashbrown, Five Cheese, and Jalapeno Cheddar.
Last but not least, their Made-in-Vermont Cream Cheeses feature creative flavors like Garden Veggie, Bacon Scallion, Honey Walnut, Onion and Chive, and many, many others.
Bruegger's sandwiches are no less than their bagels. Their menu offers both breakfast and lunch sandwiches.
For breakfast, they have their Signature Sandwiches, which have egg, brisket, bacon, or salmon.
They also have a section in their menu that offers Classic Egg Sandwiches for breakfast. All of these sandwiches can be topped with a cheese of your choice.
All these sandwiches that they offer at breakfast and lunch are held together by their bagels.
Breakfast is incomplete without caffeine. Just get your daily dose at Bruegger's. The place serves coffee and other hot beverages like French vanilla and tea.
The menu features sides like classic Sea Salt Kettle Chips and Twice-Baked Hash Browns. The place also serves desserts to satisfy your sweet tooth.
They offer freshly baked chocolate chip cookies and soft and heavily loaded blueberry muffins.
(*Price is obtained from DoorDash)
Bruegger's Bagels Fresh Baked Menu
| | |
| --- | --- |
| Items | Price |
| Single Bagel included Cream Cheese | $2.59 |
| Three Bagels | $6.99 |
| Big Bagel Bundle | $22.49 |
| Cream Cheese Tubs | $5.49 |
| Bagel Bundle | $13.79 |
| Baker's Dozen | $16.29 |
| Single Bagel excluded Cream Cheese | $2.59 |
| Half Dozen | $10.29 |
Signature Lunch Sandwiches
| | |
| --- | --- |
| Items | Price |
| Herby Turkey | $9.99 |
| Turkey Chipotle | $10.59 |
| Western Brisket | $10.99 |
| Smoked Salmon | $10.99 |
| Hot Pastrami | $10.49 |
| Leonardo Da Veggie | $9.49 |
Egg Sandwiches
| | |
| --- | --- |
| Items | Price |
| Egg, Sausage, and Cheese | $9.19 |
| Farmhouse | $10.19 |
| Western | $9.89 |
| Egg, Turkey Sausage, and Cheese | $9.19 |
| Sriracha Honey Sunrise | $9.69 |
| Smokehouse Brisket Egg | $10.39 |
| Egg, Ham, and Cheese | $9.19 |
| Zesty Egg White (Skinny) | $9.39 |
| Egg and Cheese | $8.19 |
| Pastrami, Egg & Swiss | $9.39 |
| Avocado, Skinny Bacon, and Tomato Egg White | $9.89 |
Sides & Desserts
| | |
| --- | --- |
| Items | Price |
| Blueberry Muffin | $2.79 |
| Twice Baked Hashbrown | $2.29 |
| Chocolate Chip Cookie | $2.99 |
| Sea Salt Kettle Chips | $2.09 |
Coffee & Tea
| | |
| --- | --- |
| Items | Price |
| Iced Coffee (Small) | $3.39 |
| Iced Coffee (Large) | $4.09 |
| Coffee Fresh Brewed (Small) | $3.29 |
| Coffee Fresh Brewed (Medium) | $3.69 |
| Coffee Fresh Brewed (Large) | $4.09 |
| Hot Tea (Small) | $3.39 |
| Hot Tea (Large) | $3.89 |
Juices & More
| | |
| --- | --- |
| Items | Price |
| Coke (Bottled) | $3.39 |
| OJ (Bottled) | $3.79 |
| Diet Coke (Bottled) | $3.39 |
What Reason Behind Bruegger's Bagels Popularity?
Bruegger's have perfected their bagel recipe by staying true to the traditions.
The way they honor authenticity in their recipes and processes might be one of the reasons they're so popular today. They have kept evolving and growing their menu too.
For over 15 years, they've been creating new sandwich combinations, trying new cream cheese flavors, and staying true to the classics everyone loves.
There's also the fact that they serve so many different kinds of bagels, along with so many different flavors of cream cheese that there is always something for everyone.
Bruegger's Bagels Story
Found in 1983, with now having over 260 branches in the United States, Bruegger's has one of the most extensive menus for a bagel place.
When the idea of Bruegger's came to its founders Nordahl Blue and Mike Dressel, the first thing they did was go to New York, the home of the most authentic and delicious bagels.
The company bakers then spent two and a half years with professionals to land on their current way of preparing bagels.
Bruegger's mission from then on was to introduce these New York-style bagels to the rest of the United States.
They put a twist on real, made-in-Vermont cream cheeses and make unique flavors that are pretty rare to find elsewhere.
Now they have also introduced sandwiches in their menu, along with many, many flavors of bagels, and so Bruegger's has become a place where you can satisfy any craving.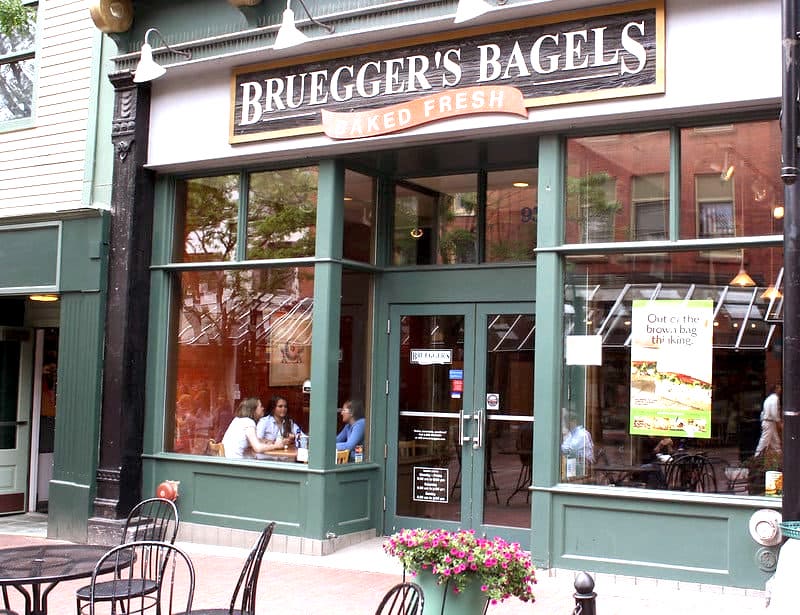 Popular Food Items on Bruegger's Bagels Menu
With so many different flavors of bagels and cream cheeses, it can be difficult to choose something from Bruegger's Bagels menu.
Luckily for you, we have gathered their most popular and loved bagels.
01. Everything
This bagel from Bruegger's might sound basic, but it nails the concept of an everything bagel.
It is baked to perfection and has nice, yeasty air bubbles inside, along with exactly the right amount of chew you're looking for.
Seasoned heavily with all the spices and seeds, this classic bagel is definitely one you should try by Bruegger's.
02. Blueberry
A good blueberry bagel is hard to find. End your search at Bruegger's. Laden with blueberries, this bagel still maintains the airiness a bagel should have.
Pair it with some cream cheese, and this item is perfect for when you're craving something sweet and fruity.
03. Sesame
Soft, chewy bread, littered with pockets of air inside and topped with sweet and aromatic sesame seeds. What more could you want in a bagel?
04. Pumpernickel
What even is pumpernickel? Pumpernickel-flavored bread consists of gently cooked rye berries and rye flour.
Sometimes, caraway seeds are also in the mix. While Bruegger's Pumpernickel Bagel does contain seeds, it does not have rye flour.
Instead, it consists of barley flour, malt extract, brown sugar, and wheat bran. It's still a weird enough combination that goes well with some sour cream cheese.
05. Rosemary Olive Oil
The earthy aroma of the rosemary, paired with the fresh and slightly fruity undertones of olive oil makes this bagel one of the most flavorful Bruegger's has to offer.
It doesn't only smell good. The Rosemary Olive Oil Bagel looks good too!
Baked to a perfect reddish-brown and with flecks of green herb, this bagel looks very fancy and high-end.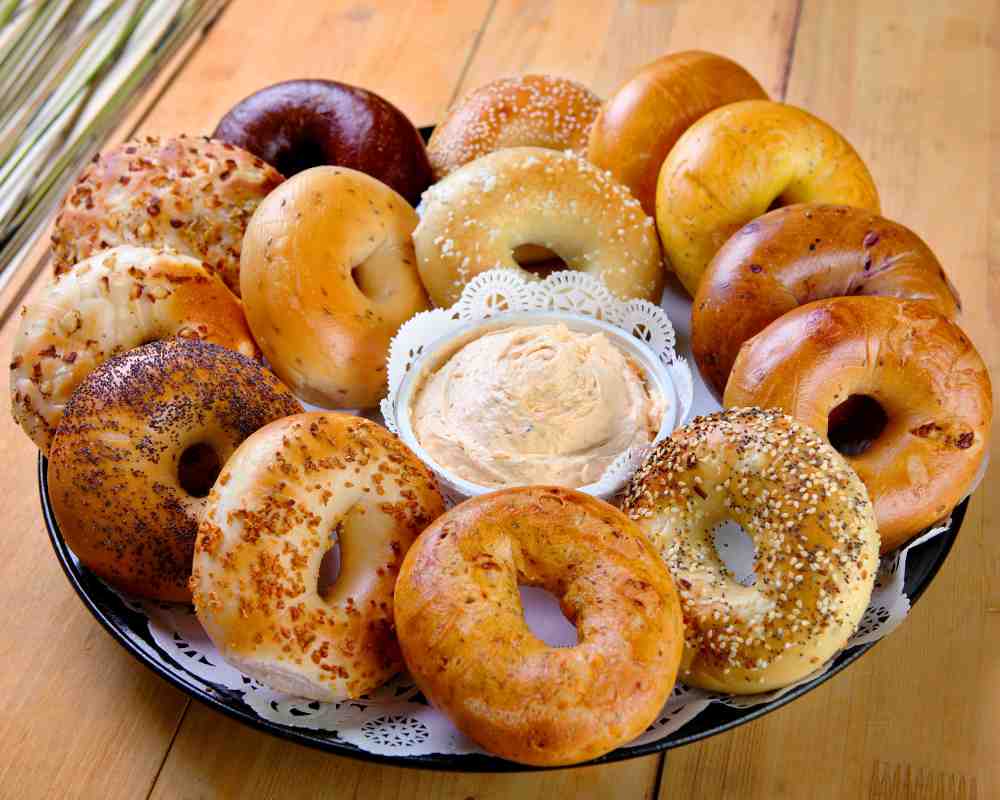 How To Order From Bruegger's Bagels Menu
Here is how you can order Bruegger's. You can either go to their website and order online or order by using third-party organizations.
Currently, both Grubhub and DoorDash offer Bruegger's. You can also order through Bruegger's apps.
Delivery Methods
Bruegger's offers drive-thru services in a few of its many locations. They also offer catering services. It's always best to contact them beforehand.
| | |
| --- | --- |
| In-Store | Available |
| Drive Thru | Available |
| Home Delivery | Available |
| Curbside Pickup | Available |
Payment Methods
What payment methods does Bruegger's accept? Here are the ways you can pay for their freshly baked bagels:
Cash
Credit/Debit Cards
Gift Cards
Rewards
Contact Info
Here are the contact details for Bruegger's Bagels:
Social Media
Here is where you can find them on social media:
FAQs of Bruegger's Bagels Menu
How Does Bruegger's Make Their Bagels?
If you've wondered how Bruegger's makes the perfect chewy bagels wonder no more.
They use only five ingredients for their plain bagels: flour, yeast, water, malt, and salt. They kettle-boil their bagels and then pop them in a stone oven.
Does Bruegger's Offer Make-Your-Own Sandwiches?
They do! They have a station where you can choose your own deli meat or just opt for a vegetarian sandwich. You can also choose what toppings you want on your bagel sandwich.
Why Does Bruegger's Hold a Guinness World Record?
Bruegger's has a Guinness World Record for making the world's largest bagel, which weighed 868 pounds and took over 10 hours to make.
Who Owns Bruegger's?
Bruegger's is owned by JAB Holding Company.
What Kind of Coffee Does Bruegger's Brew?
Bruegger's uses 100% Arabica coffee.
Final Words
Hungry for bagels or sandwiches? Bruegger's menu has many options to fulfill your demands.
Whether you're looking for a quick breakfast, a fulfilling lunch, or just a light snack, Bruegger's is the one-stop bagel shop for all.
So do not wait anymore and enjoy any of the amazing items available at your nearest Brugger's store.