Buffalo Wild Wings Fried Pickles Recipe (Tasty & Crispy Simple Appetizer)
Are you craving fries but want to adopt a healthier diet? Or maybe you just want a simple snack that doesn't require cleaning the dishes all day after preparing it.
Either way, the appetizing, golden buffalo wild wings fried pickles recipe is a brilliant way to train your cooking skills and enjoy a heavenly meal!
Top them with your favorite dip and experience fried pickles that are even better than the ones from your daily fast-food menu.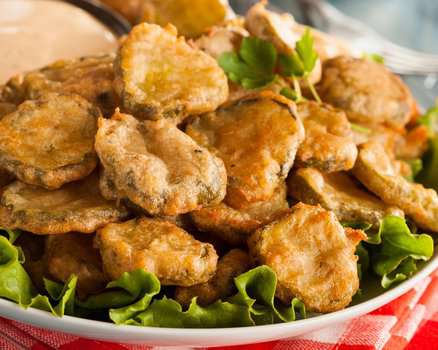 Ingredients For Making Fried Pickles
| | |
| --- | --- |
| Chopped Dried pickles | 2 cup |
| Olive/Soybean/Sunflower oil | 1 cup |
| Flour – for preparing the batter | ½ cup |
| Flour – for preparing the pickles | 115g |
| Corn Flour | ¼ cup |
| Italian Spice | ½ teaspoon |
| Cajun Spice | 2 teaspoons |
| Pepper | ½ teaspoon |
| Salt | ½ teaspoon |
| Sparkling Water | 1 cup(cold) |
Average Time Requirement For Fried Pickles
One of the main advantages of this recipe is its time requirement. The preparation process takes no more than 15 minutes, and the frying part is finished even faster.
This makes the Buffalo Wild Wings Fried Pickles an ideal snack no matter which time you want it.
| | | |
| --- | --- | --- |
| Prep Time | Cook Time | Total Time |
| 15 Minutes | 10 Minutes | 25 Minutes |
Equipment For Cooking
1 Large Bowl
1 Large Frying Pan
Paper Towel
1 Chopping Board
1 Slotted Spoon/Mesh Strainer
1 Serving Plate
How To Make Buffalo Wild Wings Fried Pickles
01. Prepare The Ingredients
This first step should be easy. All the ingredients are listed above, so all that's left is to place them in separate bowls and get ready to prepare a delicious meal in no time.
02. Heat The Oil
Before you start preparing the pickles, search for a large pan. Add the vegetable oil of your choice and heat it to around 375 degrees Fahrenheit.
This is an important step because adding the pickles to cold oil results in them absorbing the fat and gaining an unpleasant, soft texture.
03. Mix The Ingredients
There are 2 main components of this dish: the pickles and the batter. While the pickles are easier to obtain, the batter must be prepared by you.
Find a bowl and add all the ingredients from the list, except for the 4 ounces of flour and the oil used for frying.
The spices are the key to obtaining a delicious taste. Mix all the ingredients as you add them to the bowl.
04. Add The Sparkling Water
Next, gradually pour the water into the bowl, until everything becomes well-combined and creamy. The mix should be placed aside in a cool location.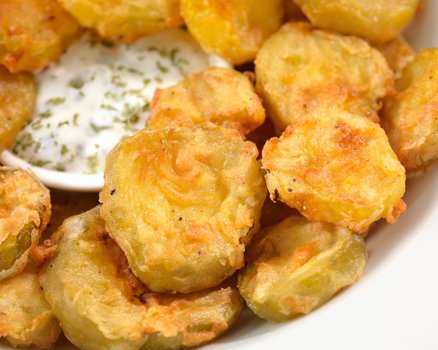 05. Prepare The Pickles
Finally, the pickles are getting some attention. Use a paper towel to dry the pickles, but make sure they are cut into thin slices before.
Add the 4 ounces of flour to a bowl, as well as the pickles, and mix them slowly.
pickles should remain intact, and only get covered in a layer of flour. Next, completely drench each slice in the batter.
06. Fry The Pickles
Now that the pickles are all covered in the tasty, seasoned batter, it's time to fry them.
This is the part where you must be careful, and keep children away from the flying pan.
With the help of tongs, take the pickles out of the bowl and start frying them, preferably one by one.
You should keep them in the frying pan until they gain a brown, golden color.
07. Cool Down The Pickles
The hard steps are all done. Now, all that's left to do is remove the appetizing pickles from the frying pan and place them on the serving plate.
To avoid any accidents and prevent the pickles from absorbing the oil, use a slotted spoon or a mesh skimmer for this step.
Once the savory pickles are on a plate, don't forget to tap them with a towel one last time!
08. Serve The Delicious Buffalo Wild Wings Fried Pickles
Add your favorite sauce and enjoy your culinary masterpiece! Even better, call your family and friends to join you for dinner.
Nutrition Benefits of Fried Pickles From Buffalo Wild Wings
Fried meals are not exactly the healthiest option out there, but we are only human, and everyone craves a delicious, fried dish sometimes.
Buffalo Wild Wings Fried Pickles are a great alternative to the classic fries and can be even tastier. Pickles have the lowest calories compared to other fried aliments.
Even more, they are way lower in carbohydrates when compared to the classic fried potatoes, and are a great source of Calcium, Potassium, vitamin A, and carotenoids.
Frequently Asked Questions
How Can You Prevent Soggy Fried Pickles?
Soggy fried pickles are one of the most common problems regarding this recipe. Drain as much oil from your pickles as you can to preserve their crispness.
To do that, you must prevent the absorption of any extra oil that would cause sogginess.
One solution is to place them in an airtight container, or easier, to tap them with a clean paper towel.
What Happens If You Let The Fried Prickles Out For More Than 24 Hours?
Generally, it's not safe to eat food items that are left out of the refrigerator for more than 4 hours.
Of course, some meals can stay on the table all afternoon and still be edible, but when it comes to pickles, there's just no solution to the problem.
Even fried, if they are left out overnight, they should surely be thrown away the other day.
Are Frozen Fried Pickles Available?
This one is exciting news for all the people who want to avoid any cooking effort.
If you've come so far in the article, and still can't manage to get yourself to prepare this delicious dish, fried pickles are also available in stores, already prepared, frozen, and ready to be placed in the oven.
In What Kind of Oil Should Buffalo Wings Be Prepared?
Opinions differ, but if a winner must be decided, Soybean oil is probably the best for preparing this dish. If it's not available, any kind of vegetable oil will do the job.
In an Air Fryer, Can Fried Pickles Be Reheated?
While certain fried foods should be consumed immediately after preparation, air-fried pickles typically retain their mouthwatering flavor for up to two days.
If there are leftovers after this delicious meal, the pickled can be reheated in the air fryer, and to give you an extra tip, it's best to set it at 375°F.
Final Thoughts
All in all, nothing compares to enjoying a tasty, healthy meal prepared by yourself.
The Buffalo Wild Wings Fried Pickles Recipe is both tasty and easily prepared, making it the perfect snack at any time of the day!
Prepare a delicious dish in less than half an hour and without any cooking skills, what can be better than this?
https://www.foodnetwork.com/recipes/food-network-kitchen/almost-famous-fried-pickles-recipe-2042799