You're about to get a recipe for pumpkin pound cake, but you're also about to be amused. Find out why people call me Pumpkin!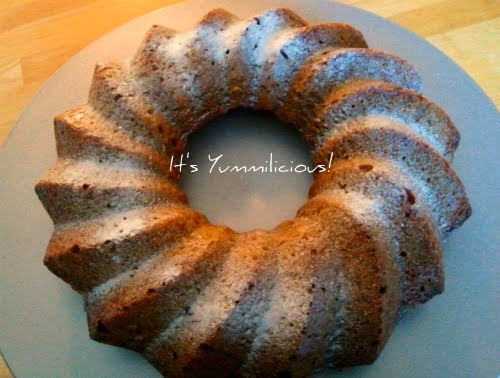 You've probably heard the saying,
you are what you eat
… but have you ever felt that way? I mean, physically. I have… just call me Pumpkin! Allow me to explain.
Let's ponder on the similarities between a pumpkin and yours truly:
Hard on the outside, but firm flesh and ooey guts on the inside.  Check.
If you don't believe me, ask Brian.  He'll confirm that I've been a ooey gooey mess lately.  I'll delve deeper into that in a future post, but for now, let's just say that I am grateful to be here writing this blog post today, and even more grateful for the love and support of so many wonderful friends.
OK, back to the list.
Usually savory, but with the right ingredients added, pumpkin can be incredibly sweet.
Yup, that's me. Check!
It's very seasonal.  It's difficult to find good pumpkin year round. Okay, maybe that's not COMPLETELY me, but I do have my best moments in the crisp, fall air.
It's highly perishable.  If you've ever carved a pumpkin and then left it out long enough for it to smell up the neighborhood, you know that it isn't intended to be disemboweled and then left alone.  I don't REALLY need to explain this one, do I? Good grief, Becca Pumpkin, get to the point!
My point is that I've eaten so much pumpkin loaded food lately, that I could easily turn into one if I'm not careful.  I can't help it.  It's called an addiction…or obsession…or highly genius.
Because pumpkin is actually quite healthy and good for us!  It's loaded with Vitamin A and fiber, and it smells heavenly and tastes divine.  So let's delve into my latest pumpkin creation… PUMPKIN POUND CAKE!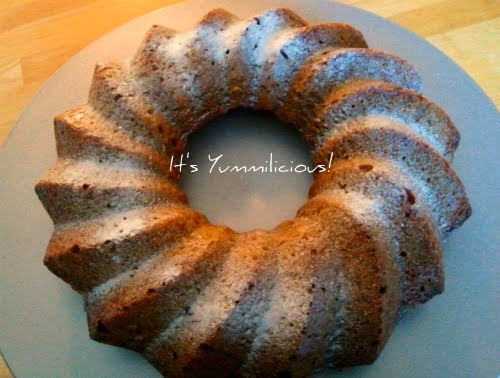 There have been plenty of recipes across the blogosphere for pumpkin breads, muffins, cupcakes, and pound cake, but for some reason, the one over at Pillsbury caught my eye a bit more than the others.  Probably because it includes pumpkin AND chocolate.  A girl like me just can't resist such a combination, so I needed to bake myself a loaf PRONTO.  But then the unthinkable happened… #PanFail
This pumpkin pound cake recipe calls for a 12-cup bundt pan, and the one I own is only a 4-cup pan!  I bought a nice small one intentionally, since it's just Brian and I in the house.  If I made 16 servings of cake, there would be 2 gigantic people living in this house, unable to fit through the doorway.
So I realized that the pan wasn't really deep enough to hold a nice thick layer of heavenly chocolate between the pumpkin layers.  Trust me…I'll be purchasing THIS PAN very soon, because I really want to make a full batch version of this pumpkin pound cake.
UPDATE: I purchased a beautiful 12-cup bundt pan and used it to bake a Double Chocolate Bundt Cake and a Pomegranate Lime Bundt Cake!
In the meantime, here's the pumpkin pound cake recipe.
I used a 4-cup bundt pan.  If you have a 12-cup pan, just triple the recipe below.  Enjoy!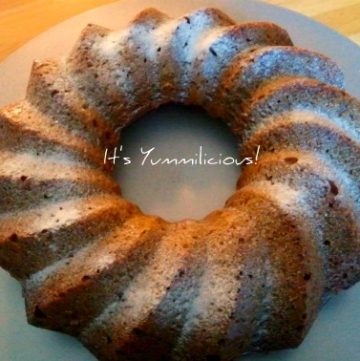 Pumpkin Pound Cake
This pumpkin pound cake is a classic fall dessert that's moist, sweet, and completely perfect any time of the day!
Ingredients
1

cup

all-purpose flour

2/3

teaspoon

baking powder

1/3

teaspoon

baking soda

1.5

teaspoons

pumpkin pie spice

1/8

teaspoon

salt

1/2

cup

(4 oz.) unsalted butter,

softened to room temperature

1/3

cup

(2.5 oz.) granulated sugar

1/8

cup

(1.3 oz.) packed brown sugar

2

large

eggs

1/3

cup

pumpkin puree (not pumpkin pie filling)
Instructions
Preheat oven to 350 degrees Farenheit

Grease and flour a 4-cup bundt pan

In medium bowl, mix flour, baking powder, baking soda, pumpkin pie spice and salt until blended; set aside.

In large bowl, beat the butter, granulated sugar and brown sugar with a stand mixer or electric hand mixer on medium speed about 2 minutes or until well blended.

Add eggs, one at a time, beating well after each addition. On low speed, beat in flour mixture in 3 additions alternately with pumpkin until well blended (batter will be thick).

Spread batter evenly into the bundt pan and bake for 40-45 minutes, or until a toothpick inserted into the cake comes out clean.

Let the cake cool in the pan for 10 minutes, then turn out onto a wire rack to finish cooling.

Dust with powdered sugar, or make a delicious glaze with powdered sugar and milk for the top!
Nutrition
Serving:
1
slice
Calories:
181
kcal
Carbohydrates:
19
g
Protein:
2
g
Fat:
10
g
Saturated Fat:
6
g
Cholesterol:
61
mg
Sodium:
82
mg
Potassium:
74
mg
Sugar:
9
g
Vitamin A:
1610
IU
Vitamin C:
0.3
mg
Calcium:
28
mg
Iron:
1
mg