Is carb free eating the best way to lose weight? Is carb free eating healthy for me?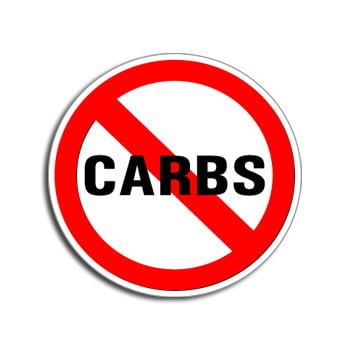 When I mentioned on my Facebook page yesterday that I will be venturing into what is practically a carb-free eating plan for 30 days, beginning May 1st, the responses varied from "are you out of your mind?!" to "good luck…you're gonna need it!" to "more power to you, girl!"
The fact is, I eat my fair share of carbohydrates, and by my fair share, I mean that I not only consume them in mass quantities throughout the day, I even gorge on them in my dreams.  I've been known to store granola in my cheeks like a chipmunk and stash sugar-laden snacks in the back of my baking cabinet so that they can be consumed undetected by human eyes (well, except for my own).  I'm an admitted carb glutton that should probably be sent to sugar purgatory to pay the consequences of my sins by eating cold lima beans and Brussels sprouts until I puke.  *shudder*
Besides all of that, my 30th high school reunion is this upcoming August and I am bound and determined to lose 35 pounds before the blessed event.  I'll be darned if I let those skinny cheerleaders walk into the room with their perfectly adorable cocktail dresses on and I'm forced to wear my cat-hair encrusted sweatpants with the broken elastic and a hoodie that hides my muffin top.  No no NO!  If I have anything to say about it, I will be walking into the room, arm in arm with my loving Hasome, wearing something like this:
John Lennon phrased it perfectly….I know I'm a dreamer… but I'm not the only one.
Anyway, I've been doing some research on how to live a low-carb lifestyle and I'm prepared to prove to the culinary world as well as to myself that there are low and no-carb recipes out there that DO taste delicious.  I'm not sure that mashed cauliflower will be one of them, but this roasted almond encrusted pork chop sounds tasty!
I plan to document and blog my way through the 30-day adventure if and ONLY IF my doctor gives me the big thumbs up of approval to go ahead with this eating plan.  I'll be seeing him tomorrow to have him give me his opinion.  Maybe HE'LL tell me I'm out of my mind to try such a thing, in which case, I will speed home as quickly as possible, stuff a few graham crackers into my pie hole, make a pan full of Nutella swirl brownies and serve them up with a scoop of vanilla bean ice cream.  The end.
If my doctor does give me the go-ahead, my plan is to consume 15 net grams (or less) of carbohydrates per day.  That's roughly one baked potato's worth.  In other words, not much.  However, by removing starchy foods and sugars from my diet, my hope is that my internal organs will have a chance to detoxify and become better equipped to do the job they are intended to do….filter out the unnecessary junk from my system on a daily basis.
I'll be consuming a LOT of protein, some dairy products, fibrous fruits and vegetables, and some healthy fats.
I found this low-carb food pyramid online that looks like a reasonable guideline to follow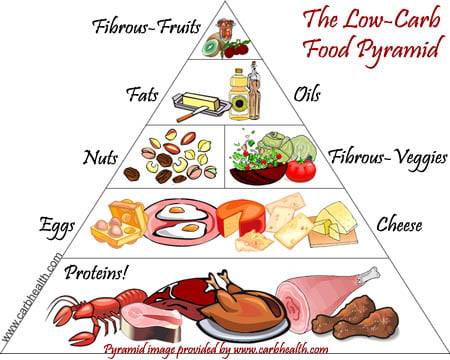 I'm absolutely sure that it won't be an easy task, but my hope is that I'll end up a healthier version of my current self.  Time will tell.  I hope you'll stick with me through this journey!
Wishing you a yummi day!
BECCA