What is Cardi B and Offset Meal at The Mcdonald's 2023
For those who are wondering about Cardi B and Offset meal – it's McDonald's latest celebrity collaboration meal.
This creative and fun meal includes the favorite McDonald's items of both rappers, consisting of a delicious cheeseburger, a quarter pounder, fries, and two drinks.
This sure comes with an apple pie as a shareable dessert
Understandably, the Cardi B Offset meal is a limited-time menu item that is meant to be shared between a happy couple as an ideal date meal.
One thing to remember is that this meal is only available in participating restaurants.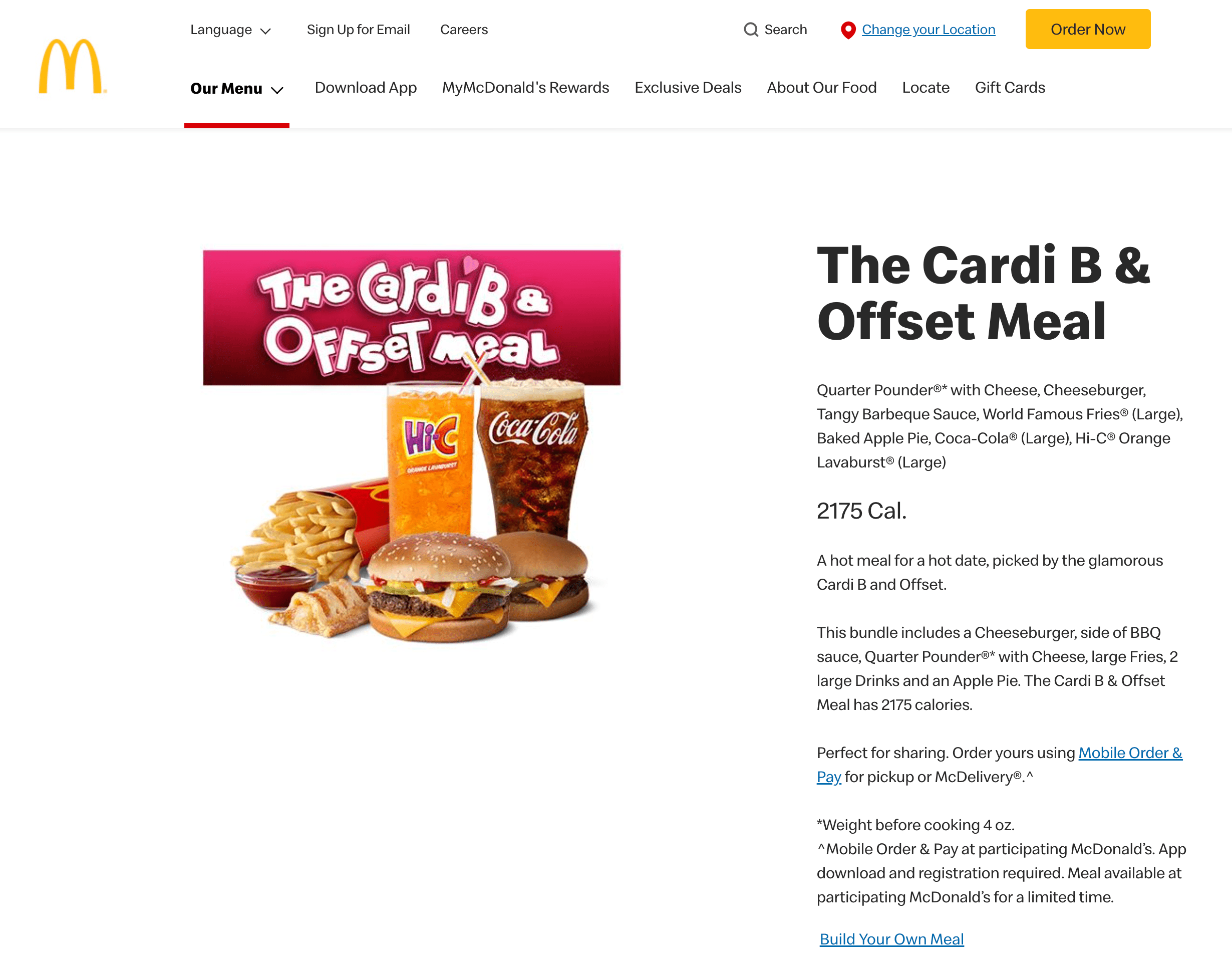 How Much is The Cardi B Offset McDonald's?
The price of this meal massively varies depending on the location of the restaurant.
You could purchase a Cardi B Offset meal for $13.45 in many areas. However, the cost could immediately reach a higher level of $20.
This means in certain Mcdonald's, this celebrity meal sells for around $20.39.
With certain delivery apps, it may cost roughly around 18 dollars to enjoy Cardi B Offset meals.
Just remember that your location could have an entirely different price from these as well.
How Long is The Cardi B and Offset Meal Available?
This special meal at McDonald's is a limited-time deal that won't be available forever on their menu.
The celebrity McDonald's meal – Cardi B and Offset meal was introduced on February 14th as part of Valentine's Day celebrations.
You get to enjoy this limited-time deal from February 14, all the way up to March 12.
That way, you get around four weeks to snatch your celebrity Offset meal from participating McDonald's restaurants.
Cardi B and Offset Meal Menu
Cardi B & Offset menu features the favorite McDonald's food of these two artists – Cardi B and Offset.
Cardi B's contribution to this meal is the delicious Mac cheeseburger, alongside the BBQ sauce.
Then, there's a large Coca-Cola as a beverage option. This does include Offset's favorite items.
Those are the hefty quarter pounder with a slice of cheese and his choice of drink – Hi-C Orange Lava burst in a large cup.
Since this meal could be shared between two people, a large McDonald's French fries including apple pie, as dessert is also packed here.
What is The Cardi B Offset Mcdonalds Near Texas USA?
Some of the participating McDonald's restaurants in Texas sell Cardi B Offset meals until 12th March 2023.
The location doesn't change the content of the latest celebrity meal there.
With this limited-time meal, you get a McDonald's cheeseburger, and a juicy quarter pounder and cheese as main potions – each respectively being the favorite McDonald's burger of Cardi B Offset.
As for the drink options, they serve a Hi-C Orange Lava burst, and a Coca-Cola, both served in a large size.
An apple pie, and a large French fry, do come as a part of this shareable meal.
What is The Cardi B Offset Mcdonalds Near California USA?
If you're from California, USA, and want to taste the latest Cardi B Offset meal, you might be able to find one in some of the McDonald's across California.
Since this meal is promoted as a couple's meal, you get two burgers and two drinks, and some shareable items.
Burgers include the classic cheeseburger and a quarter pounder (added cheese) while the beverages consist of a large Coca-Cola, and a Hi-C Orange Lava Burst.
You have the share the large fries and the apple pie with your partner here.
https://www.mcdonalds.com/us/en-us/cardi-b-offset-meal-bundle.html