Chai Snickerdoodle Cookie Bites
The flavors of chai are tucked into a bite sized cookie treat in this recipe for Chai Snickerdoodle Cookie Bites. Grab a tall glass of milk for these!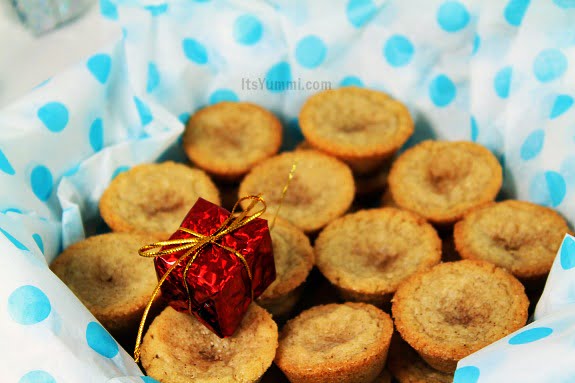 I remember when I was growing up, my mom always encouraged my siblings and I to try new foods. I also remember always being a huge whiner about it. I'd make all sorts of weird faces…you know, bat my eyelashes and pout my lip, hoping that my high cuteness factor would win her over. It never worked. Not even once. Bummer.
HOWEVER, lots of goodness came from those experimental taste tests. Goodness like crisply steamed asparagus, pickled herring in sour cream sauce (don't knock it 'til you try it!), and even calamari. Who'd a thunk that I'd enjoy breaded, crispy crustaceans? Certainly not I!
Anyhoo, times really haven't changed much. Now I'm all grown up and my friends encourage me to try new things. Like my foodie friend, Steve. Last week, he asked me to try chai in my cookies!  Whaaaa?  First of all, I'm a coffee drinker, NOT a tea drinker, Steve.  Secondly, don't be messin' with snickerdoodles, buddy.  I mean, seriously!   Because I knew that he couldn't see me, I put on a big 'ol "ewwww!" face. TEA?!  He wanted me to try something that tastes like TEA?! Ohhh man…I'm a coffee drinker! I hate tea!  Oh yeah.  I totally said that twice in the same paragraph.  That's how much I hate tea.
Then something amazing and wonderful happened.  I read Steve's recipe for his chai spiced snickerdoodle cookies, and I learned that chai isn't tea!  It's just a set of spices that is sometimes used to flavor tea.  *WHEW*  Not only that, I also learned that I LOVE the spices that make up chai!  I mean, come on…cinnamon, cloves, cardamom, and ginger…what's not to love about that?  MAJOR yum!  So I jotted down his recipe and off to the kitchen I went, with a chai snickerdoodle cookie on my brain.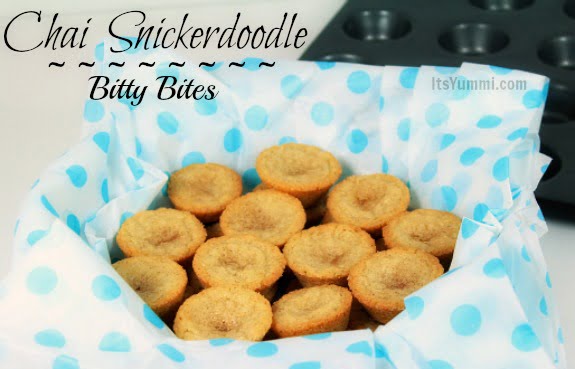 Since it was my first time experiencing chai, and sadly, I had NEVER made a batch of snickerdoodles (eaten, yes….baked, no), I decided to use Steve's recipe verbatim.  The only change I made was in my choice of a baking pan.  Instead of a traditional cookie sheet, I used my Pampered Chef mini muffin tin.  It is seriously an amazing piece of bakeware.  I don't know how it's possible, but nothing has ever stuck to that pan.  NOTHING!  I've used it for mini cupcakes, made tarts in it, I've baked mini quiches in it (just like those amazing ones you can find at Sam's Club), and plenty of other recipes too.  It's a joy to use and a snap to clean up.  So I thought making these cookies into cute little bitty bites would be a perfect use for the pan, and I was right!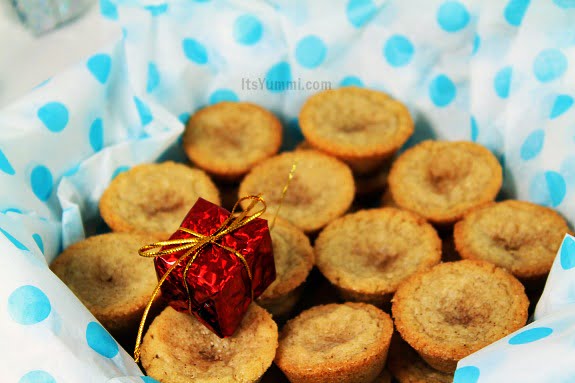 Of course, you can make these chai snickerdoodle cookie bites the traditional way by following Steve's recipe.  All I did was take the balls of dough and put them into the tart pan instead of placing them on a cookie sheet.  I just love the poppable factor of the cookies when they're baked in the Pampered Chef pan.  Good way to put some portion control into them, too.
If you want a mini muffin pan of your very own, head on over to my Facebook page and leave me a message.  I'll get you the link to purchase one…or ask me how you can get it FREE like I did!
So are you ready to experience these chai snickerdoodle cookie bites?  C'mon…Grab your apron and I'll meet you in the kitchen!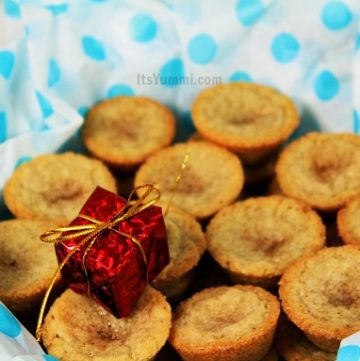 Chai Snickerdoodle Cookie Cups
The warm flavors of chai are infused into a classic snickerdoodle cookie. Crispy on the outside, tender and chewy on the inside. PERFECT with a glass of milk, coffee...or chai tea!
Ingredients
1/2

cup

unsalted butter

softened but still cool

1

cup

granulated sugar

1/4

teaspoon

baking soda

1/4

teaspoon

cream of tartar

1

large

egg

1.5

cups

all-purpose flour

(6.6 ounces)

1.5

teaspoons

cinnamon

1/2

teaspoon

cardamom

1/2

teaspoon

ground ginger

1/4

teaspoon

ground cloves

2

Tablespoons

coarse sugar

or sanding sugar
Instructions
Heat oven to 375 degrees F (350 convection oven)

In a small bowl, mix together the cinnamon, cardamom, ginger, and cloves to make the chai spice. In another small bowl, mix the coarse/sanding sugar with 1 teaspoon of chai spice; set aside.

In the bowl of a stand or electric mixer, cream the butter and sugar until light and fluffy, about 2 minutes. Scrape down sides of bowl if necessary. Add the egg and mix until combined, Add the flour, baking soda, cream of tartar, and remaining chai spice and mix on low speed, just until combined. DO NOT OVER MIX.

Roll the dough into 1-inch balls and toss them in the sugar mixture to coat.

Place balls 2 inches apart on a cookie sheet lined with parchment paper or a silicone baking mat, or place one ball into each well of a mini muffin pan.

Bake for 8-10 minutes until edges are set but middles are still slightly soft and glossy in appearance. Remove pan from oven and allow cookies to cool in pan for 3 minutes before transferring to a wire rack to cool completely.
Notes
Recipe adapted from http://www.theblackpeppercorn.com
Nutrition
Serving:
1
cookie
Sodium:
15
mg
Iron:
0.4
mg
Calcium:
5
mg
Vitamin A:
130
IU
Sugar:
9
g
Potassium:
16
mg
Cholesterol:
17
mg
Calories:
102
kcal
Saturated Fat:
2
g
Fat:
4
g
Protein:
1
g
Carbohydrates:
15
g