Cherry-Apple Baked French Toast
This baked French toast recipe takes classic pan-fried French toast and flips it on its head. It makes an impressive dish for breakfast, brunch, or breakfast for dinner. Even better, this easy breakfast casserole serves a crowd! Save time by preparing it the night before so you can get a head start on your weekend.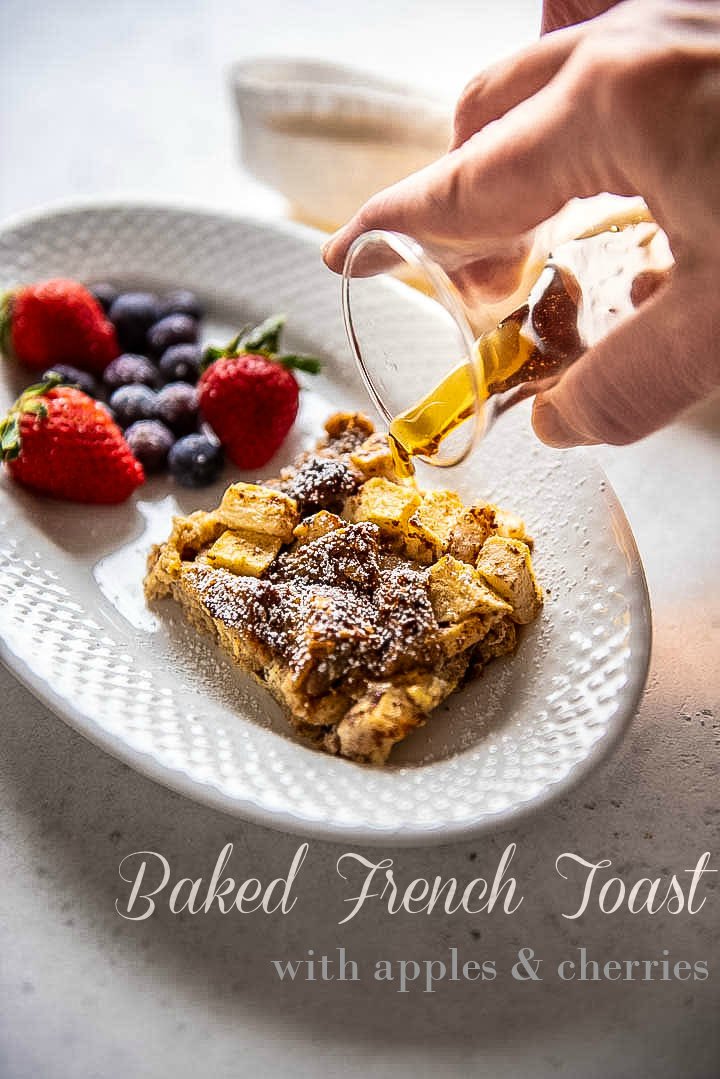 I love the versatility of easy breakfast casseroles like baked French toast. You can prepare it with thick slices of Texas toast, or kick it up a notch by using brioche. For a healthier version, use whole-grain bread.
The holidays and weekend brunches are a great time to serve baked French toast. It can be assembled ahead of time, left in the refrigerator overnight, and then baked off the morning you want to serve it.
Should you use stale bread to make French toast?
Making baked French toast with fresh bread usually means you will end up with soggy slices, although, using stale bread isn't a necessity. That being said, it is a great way to use up stale bread. As long as your bread is dry, it will be able to soak up all the eggy goodness.
Creative Cook's Tip
Another great thing to make with stale bread is bread pudding. Like French toast casserole, bread pudding is also a great option for a brunch on Mother's Day or Christmas morning!
If you don't have any stale bread on hand, no need to worry. It's very easy to dry the bread you do have. Try to use a dense bread, or go for a Challah or brioche, and make sure it's cut into thick slices.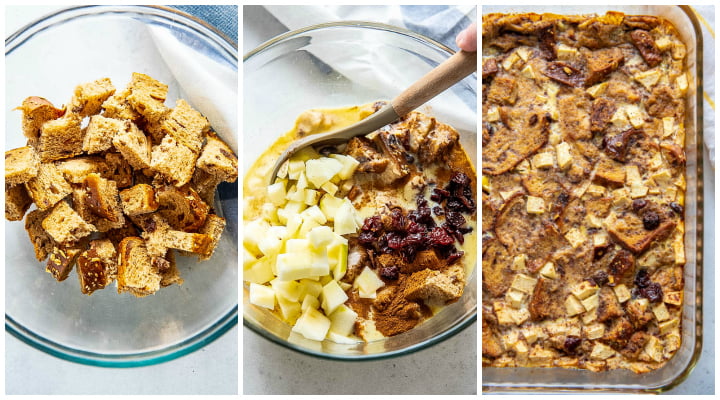 An advantage to drying fresh bread for your French toast casserole is you'll still get that freshly-baked flavor that gets lost in stale bread.
To dry out fresh bread:
Lay out the slices of bread on wire racks.
Bake in a preheated oven at 300°F for approximately eight minutes on each side.
Be sure that the slices are completely cool before you start dipping them into the egg mixture. Otherwise, your the eggs in the baked French toast may start to cook when they touch the warm bread.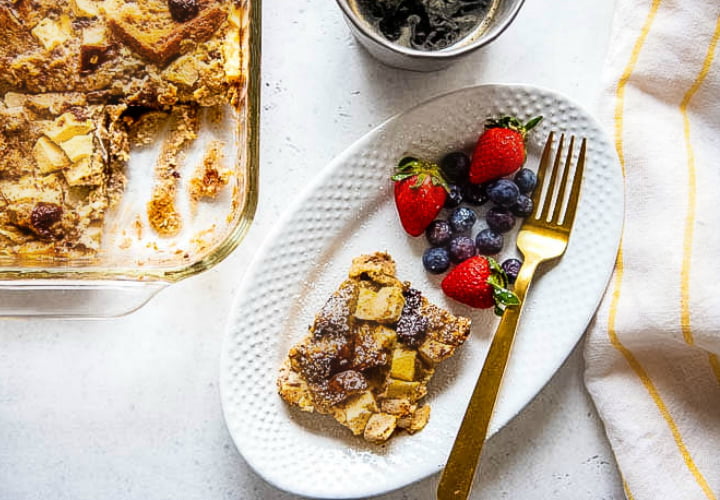 Why is my French toast soggy?
There may be a few reasons why your baked French toast is coming out soggy (and it's mostly about the bread):
Too much liquid – if there's too much liquid, the egg in the mixture will not cook properly, which will result in wet, soggy bread.
Soft bread – if the bread isn't dry enough and hasn't soaked up the liquid properly, then you will again be left with wet, soggy bread
Thin bread – if the bread is sliced too thinly, it will fall apart when dipped into the egg mixture and won't hold together properly
Thick bread – if the bread is too thick, it might not be cooking all the way through to the center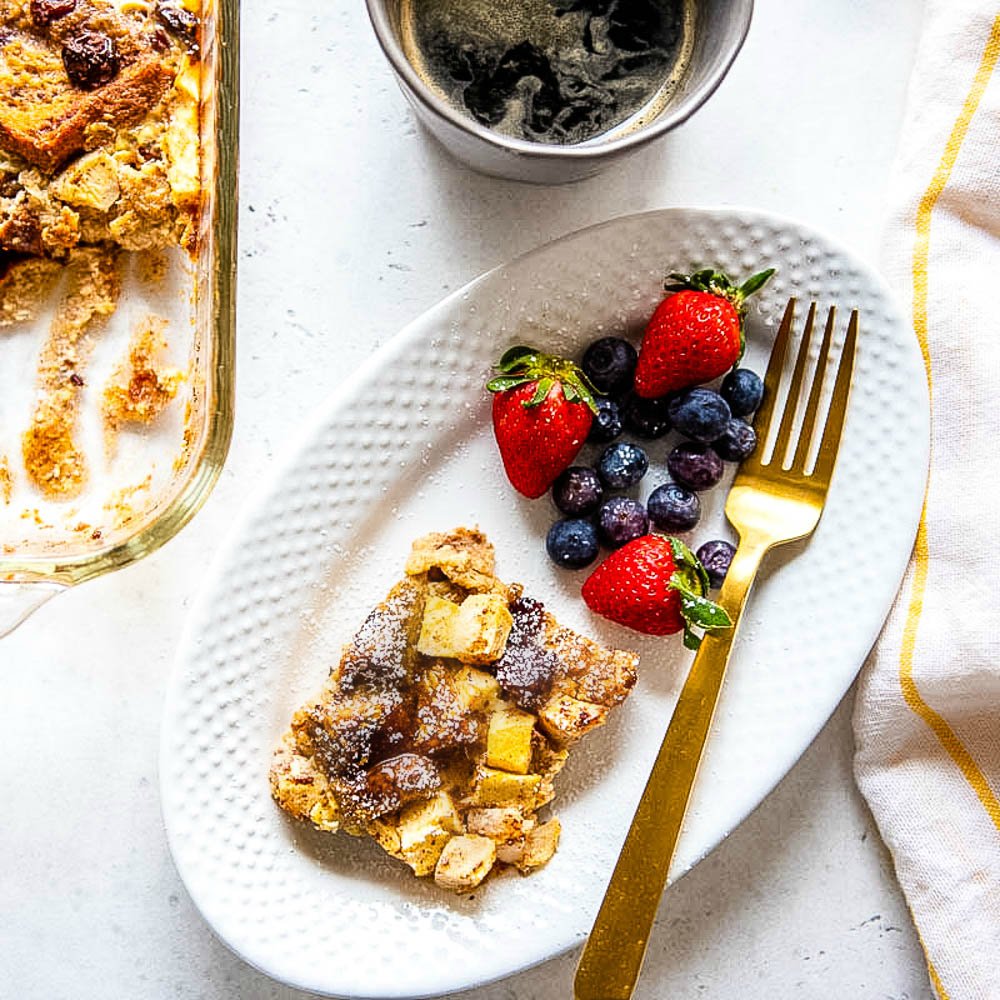 How do you store a breakfast casserole?
The great thing about making a large casserole is having leftovers to enjoy later. Let me assure you, everyone loves this baked French toast recipe!
To save the French toast bake for another day (or for a snack later on), it will need to be refrigerated. Be sure to cover the casserole tightly with foil or plastic wrap. If it's kept in the refrigerator, the baked French toast will stay delicious for up to 5 days.
If you want to keep the dish for longer, it can be frozen. To freeze, place the casserole into a freezer-safe dish with a lid, or wrap it tightly in foil.
How do I reheat this casserole?
From the refrigerator: Cover the casserole dish with foil. Preheat oven to 350 degrees F., then bake for 20 minutes, or until warmed through.
From the freezer: Cover the casserole dish with foil and bake at 350 degrees F for 1 hour. Remove the foil and continue cooking for another 15 minutes, or until the baked French toast is warmed through.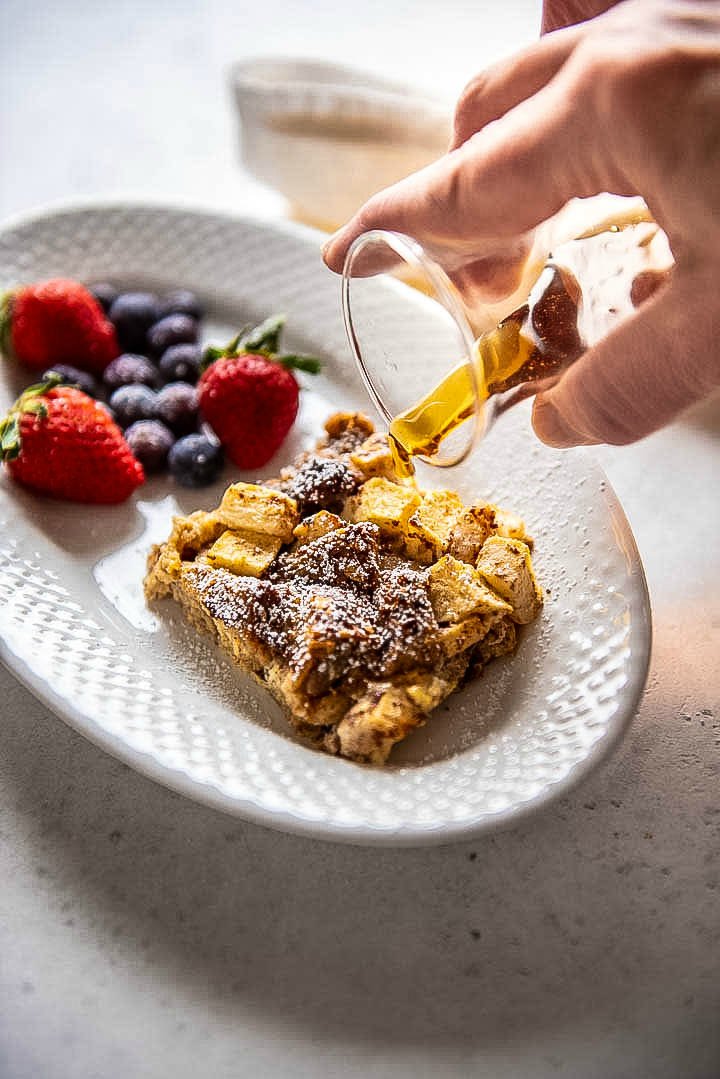 What can I put on baked French toast besides syrup?
With cherries and apples, this French toast casserole doesn't really need much else. However, if you want to top it with something besides powdered sugar and/or maple syrup, here are some great options:
Honey
Yogurt
Jam
Candied nuts
Whipped cream
Chocolate ganache – No heavy cream on hand? No problem! Make my recipe for chocolate ganache with milk.
Other easy breakfast casserole recipes to try: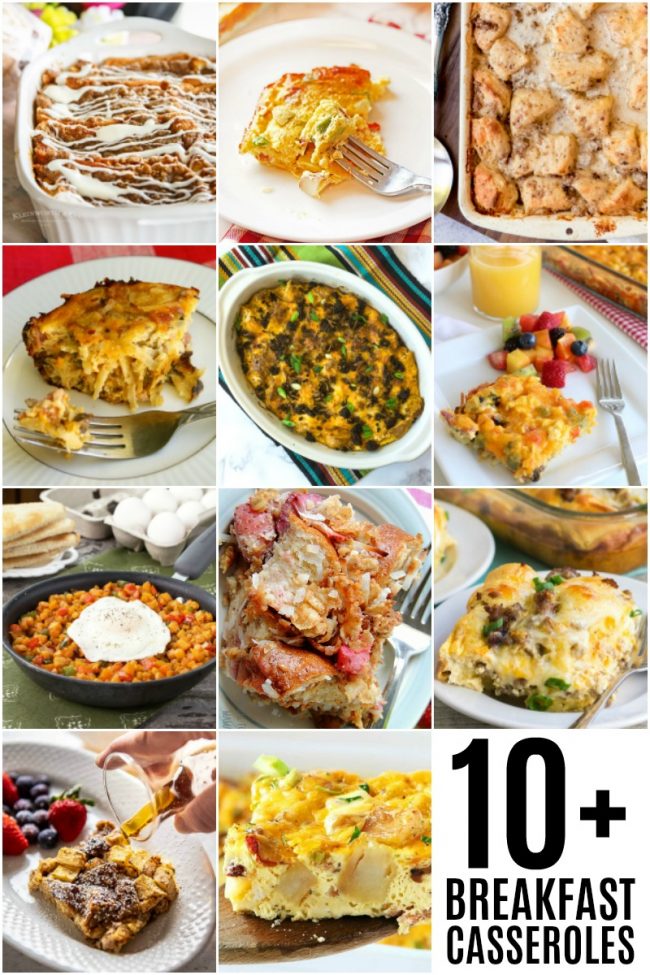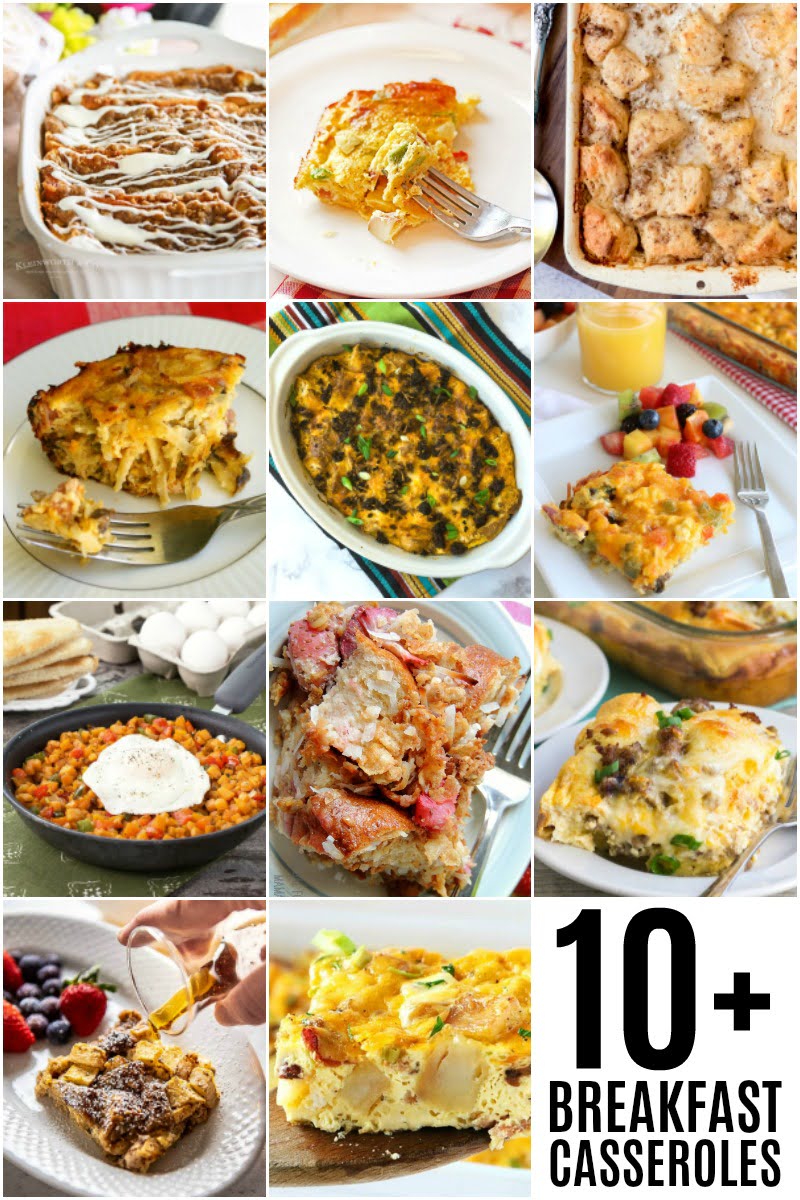 If easy breakfast casseroles make you happy, be sure to also check out my recipes for ham and cheese hashbrown casserole and sausage and egg strata.
You can see all of my breakfast and brunch recipes here.
Or try any of these breakfast casserole recipes. Yummi goodness!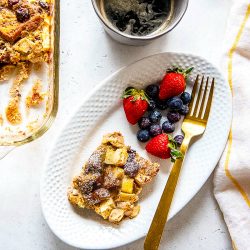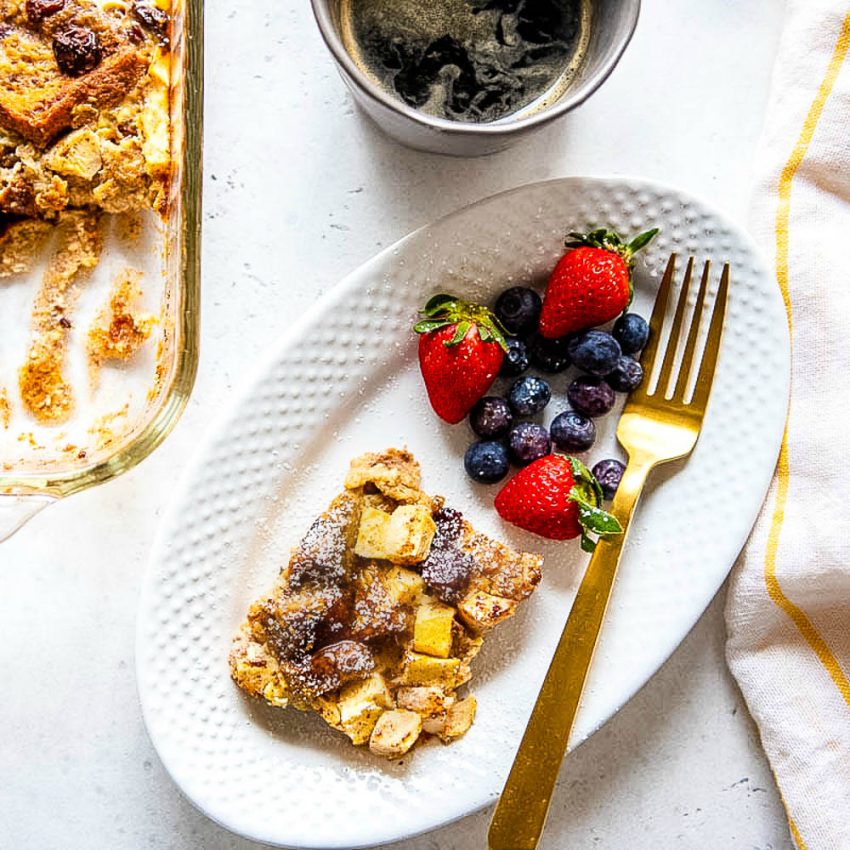 Baked French Toast Recipe with Apples and Cherries
This baked French toast recipe uses fresh apples and dried cherries. It makes an easy breakfast casserole that feeds a crowd for breakfast, brunch, or breakfast for dinner. It can be made ahead, too!
Ingredients
4

slices

thick-cut cinnamon bread

4

large

whole eggs

4

large

egg whites

2

cups

milk

or nut milk of your choice

1

teaspoon

vanilla extract

2

teaspoons

ground cinnamon

1/3

cup

sugar

or sugar substitute, such as monkfruit

2

granny smith apples

cored and diced into thin 1/4 inch pieces

1/2

cup

dried cherries

or raisins

2

Tablespoons

powdered sugar (optional)

for dusting

Maple syrup

for serving
Instructions
Cut bread into one inch cubes and place into a large mixing bowl. Add sugar and toss to coat. Set aside.

In a medium bowl, whisk together eggs, egg whites, milk, vanilla extract, and cinnamon.

Stir apples and dried cherries into the bowl with bread cubes. Place them into a greased 13×9 baking dish and pour egg mixture even over the bread. Place the casserole dish in the fridge for at least 2 hours, or up to 2 days.

When ready to bake, heat oven to 350 degrees Fahrenheit and then bake the casserole for 35-45 minutes, or until set. Let cool for 5 minutes before serving.

If desired, dust with powdered sugar and drizzle each serving with maple syrup.
Nutrition
Serving:
1
g
Calories:
294
kcal
Carbohydrates:
47
g
Protein:
11
g
Fat:
6
g
Saturated Fat:
1
g
Cholesterol:
168
mg
Sodium:
313
mg
Potassium:
230
mg
Fiber:
4
g
Sugar:
32
g
Vitamin A:
715
IU
Vitamin C:
3.4
mg
Calcium:
182
mg
Iron:
1.7
mg