Chicken fajitas are a family favorite, and transforming those flavorful ingredients into cheeseburgers makes an amazing weeknight dinner.  These burgers have sauteed peppers, onions, and spicy pepperjack cheese on top!
This recipe and post were created as part of a social shopper amplification for Collective Bias and its advertiser. I was compensated, but all thoughts and opinions are my own.
I love to grill outdoors, and I'm a big cheeseburger fan, but living in Wisconsin means that grilling is limited. Well, unless I suit up in a parka, and wrap myself in scarves like a mummy.  Yes, I admit to being a grilling wussie, which is exactly why I love my grill pan! I bought this little gem last year, and she's made me a very happy camper.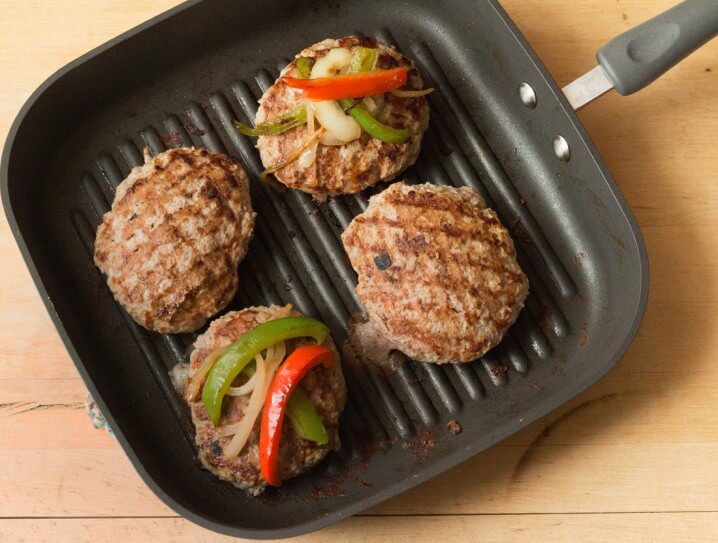 Using my grill pan has saved me from frost bite, water in my ears, and other unnecessary bodily harm caused by the elements.  It may not deliver a great charcoal taste, but just take a look at that gorgeous crosshatch marking and those little crispy bits on my burgers. It's a yummi win-win if you ask me!  I was especially happy to use it last weekend, when the torrential downpour of rain was creating a miniature lake in my back yard.  It started raining just as I came out of Walmart with 6 bags full of cookout essentials and other groceries. Oh joy.
Oh, but take a look at my happy line-up of ingredients and tell me that you're not hungry!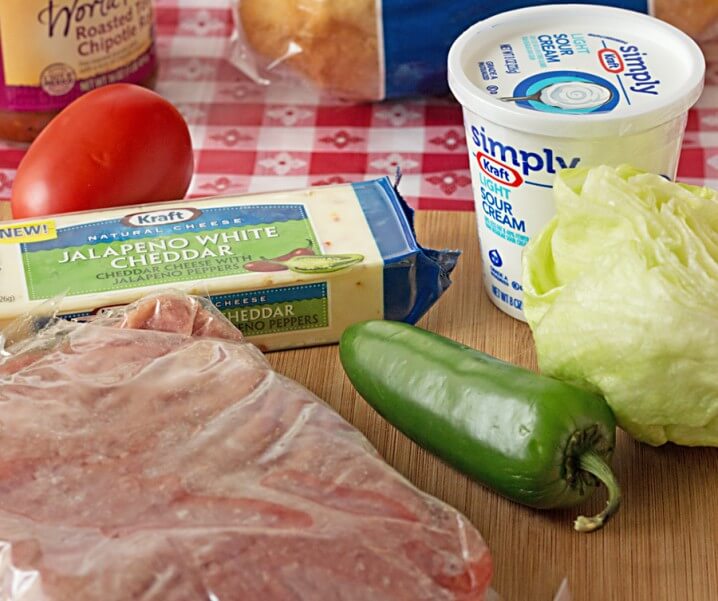 YUMMI goodness, right?  I set out to make a delicious, juicy chicken fajitas cheeseburger.  Chopped jalapeno and spicy pepperjack cheese in the center and my favorite fajita toppings on the outside.  I prepped up some colorful sweet bell peppers and crispy onions and grilled them in my pan with a little bit of olive oil.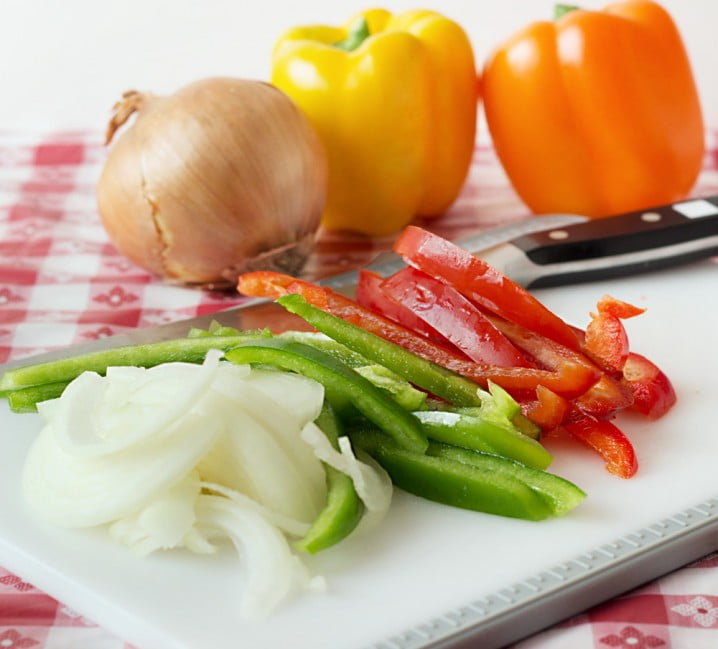 Using a grill pan isn't a whole lot different than cooking on charcoal. Actually, it's a bit easier because you can control the heat.  Just make sure that before you put the food into it, you've preheated that pan so it's scorching hot!  If you don't take that step, your burger will end up without the nice grill marks AND it won't cook properly in the middle.  You'll end up with a dry, overcooked exterior and a raw center.
Although I like medium rare beef burgers, I don't mess around when I'm cooking with poultry like turkey and chicken.  It's very unsafe to eat a chicken burger like this that hasn't been cooked to an internal temperature of 165.  There's a huge risk of foodborne diseases like salmonella. Eww and ick.
Cook your chicken fajitas burger all the way through. Make sure that a food-safe thermometer inserted into the thickest part of the burger reads at least 163 degrees Farenheit before you remove it from the pan. Let it rest for a couple of minutes, and THEN eat. You'll be a much happier camper, trust me on this.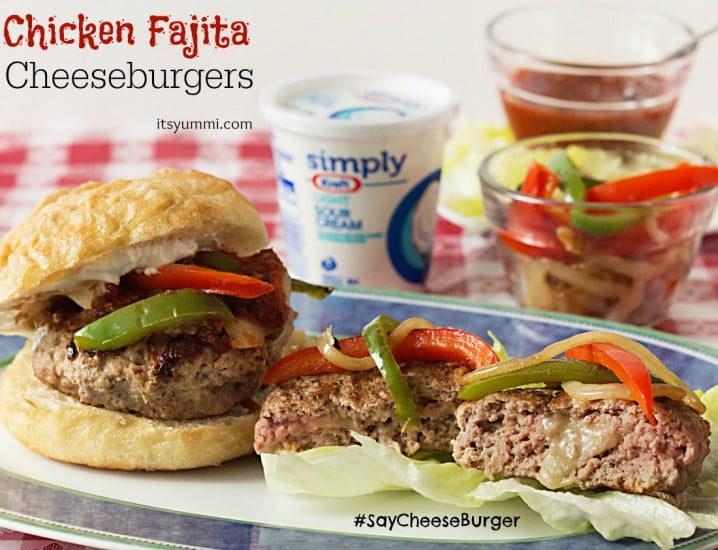 While your chicken fajitas burger is resting, you can get all of your toppings ready.  I topped mine with salsa, sour cream, and some iceberg lettuce.  Actually, I was really craving that nice garlic and onion ciabatta roll, BUT I decided to stay lower in carbs and go with the naked burger.  I still had the cheesy goodness inside and all of those awesome peppers and onions.  Oh yeah… what a meal!
This chicken fajitas cheeseburger recipe served me well!  I served it up with a side of my slow cooker BBQ baked beans.
OK, so now that you're likely drooling on your keyboard, let's make
the best chicken fajitas cheeseburger recipe you'll ever want to taste!
You're welcome!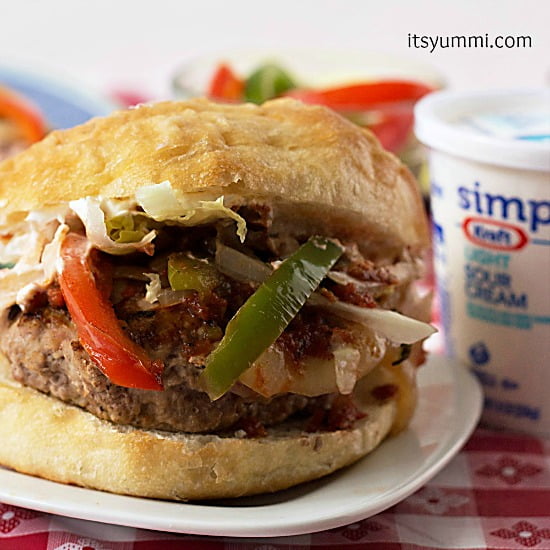 A special shout of thanks to the awesome #CollectiveBias community for allowing me to cook with foods from the brands that I love! You guys are awesomesauce!