Chocolate caramel stuffed banana bread is a sweet treat for brunches, after school snacks, or dessert. Chocolate kisses and caramel swirls make this easy banana bread recipe a special one.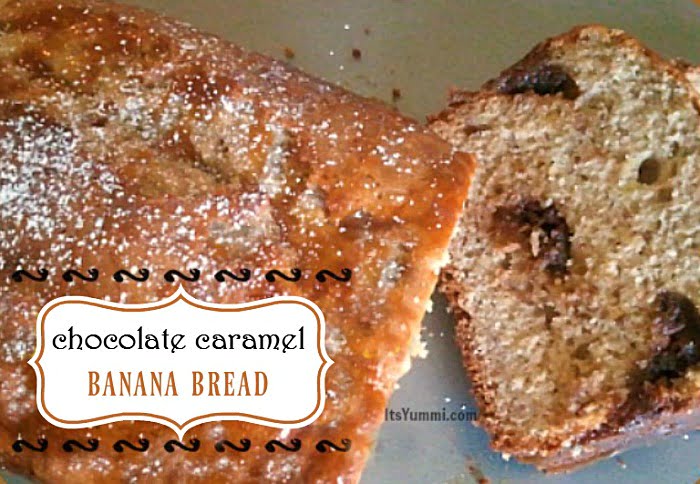 So, a few days ago, there I was, minding my own business.  I hoped to get some exercise in and to keep my mind off of food for at least 30 seconds, so I was dancing around the apartment like a female version of Kevin Bacon in Footloose. Incidentally, have I mentioned how much I adore that movie?  Aside of a completely hot Kevin Bacon, the music in that movie is da bomb! Anyhoo,  I twirled too quickly, got dizzy, and nearly fell over. A conclusion was immediately made that exercise and I don't get along, and that I should avoid it.
I love justification, don't you?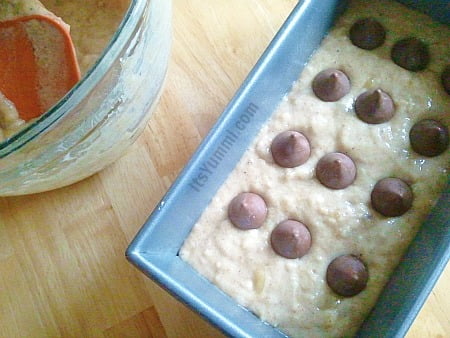 My next stop was to the kitchen for a glass of water, but I tripped over something.  Likely, it was my own two feet that caused the stumble, but I'll pretend that there was actually something trippable on the floor. Hey, don't make fun of me because I'm old, just be proud that I was making an attempt at movement.
OK, so after I looked behind me to see what I had tripped over (you do that too, right?), I looked on the counter and noticed a couple of brown spotted bananas.  As you likely know, there's not much better use for over ripe 'nanners than in banana bread!  Heck to the YES! Then my old brain reminded me of a secret stash of Hershey Caramel Kisses that I had hiding in the back of the baking cabinet.
My internal light bulb turned on, and my recipe for chocolate caramel stuffed banana bread was born.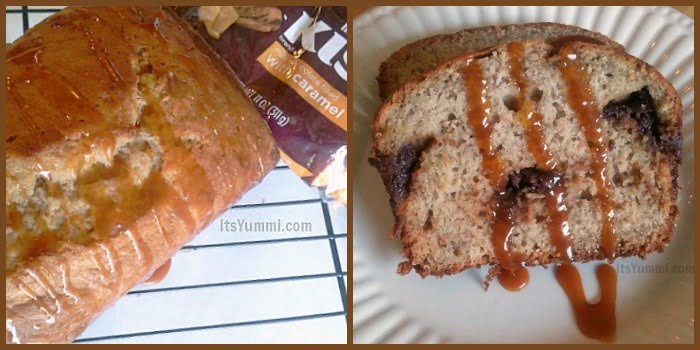 Yep… every once in a while, Bec hits a recipe idea out of the ballpark. My friend, this chocolate caramel banana bread will rock your sweet world!
The recipe ideas flowed through my brain like liquid caramel, and this banana bread was getting better with each thought.  I let three people taste test it for me, and every single one of them had the same reaction… deep, orgasmic-sounding moans.  Not a single person was able to speak to me without the delicious chocolate caramel goodness in their mouth.  It was what every chef dreams of… a gloriously happy, speechless customer.  It was a little slice of Heaven on Earth for yours truly.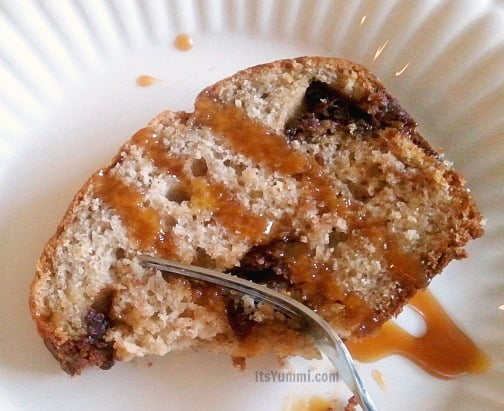 Do you want to enjoy that same kind of bliss?  Of course you do!  
Grab your apron and I'll meet you in the kitchen for some chocolate caramel stuffed banana bread!
 If you love chocolate caramel desserts, be sure to also check out these recipes:
How to Make Chocolate Caramel Stuffed Banana Bread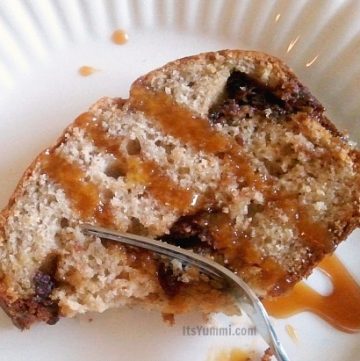 Chocolate Caramel Stuffed Banana Bread
This moist banana bread has been stuffed with Hershey's Caramel Kisses, then drizzled with a wonderful home made caramel sauce and a light dusting of powdered sugar to bring you and your sweet tooth to a happy place!
Ingredients
2

cups

all-purpose flour

(8.8 ounces)

3/4

cup

granulated sugar

(5.6 ounces)

2

teaspoons

baking powder

2

teaspoons

ground cinnamon

1/2

teaspoon

ground nutmeg

1/4

teaspoon

salt

2

medium

extra ripe bananas

(1 cup mashed bananas)

2

large

eggs

1/3

cup

oil

or melted unsalted butter

2

Tablespoons

milk

1

teaspoon

vanilla extract

3/4

teaspoon

caramel extract

21

Hershey Kisses

or caramel Kisses, unwrapped
Optional Toppings
1/4

cup

Caramel sauce

for drizzling on top (optional)

1/8

cup

powdered sugar

for dusting (optional)
Instructions
Heat oven to 350°F.

Line a 9x5-inch loaf pan with parchment paper, extending paper up sides of pan, or spray with non-stick spray; set aside.

In a large bowl combine bananas, eggs, oil, milk, caramel flavoring, and vanilla extract. Add flour, sugar, baking powder, cinnamon, nutmeg and salt to banana mixture; stir just until moistened.

Pour two thirds of the batter evenly into the pan. Place caramel Kisses on top of the batter, spacing them apart as evenly as possible. Pour remaining batter on top of the kisses and spread with a spatula to assure that all of the candy is covered with batter.

Bake 50 to 60 minutes or until toothpick inserted in center comes out clean. Cool 10 minutes in pan, then remove bread from pan by using the edges of the parchment paper to lift bread from pan, or use a butter knife to loosen sides of bread from the pan and invert pan to remove bread. Allow it to cool completely on a wire rack.

Drizzle warm caramel sauce over the top of the loaf and dust with powdered sugar. If desired, serve with additional caramel sauce.
Nutrition
Serving:
1
slice
Calories:
222
kcal
Carbohydrates:
42
g
Protein:
5
g
Fat:
3
g
Saturated Fat:
1
g
Cholesterol:
33
mg
Sodium:
103
mg
Potassium:
184
mg
Fiber:
1
g
Sugar:
20
g
Vitamin A:
60
IU
Vitamin C:
1.7
mg
Calcium:
62
mg
Iron:
1.4
mg