Chocolate Chip Banana Oat Muffins | blender muffins recipe
Chocolate chip banana oat muffins will change the way you make muffins! The quick bread batter is made in a blender instead of a bowl, so there is less mess. They're gluten free, are lower in sugar, have no oil, and no refined flour. These healthier banana muffins are perfect for lunch boxes or after school snacks, too.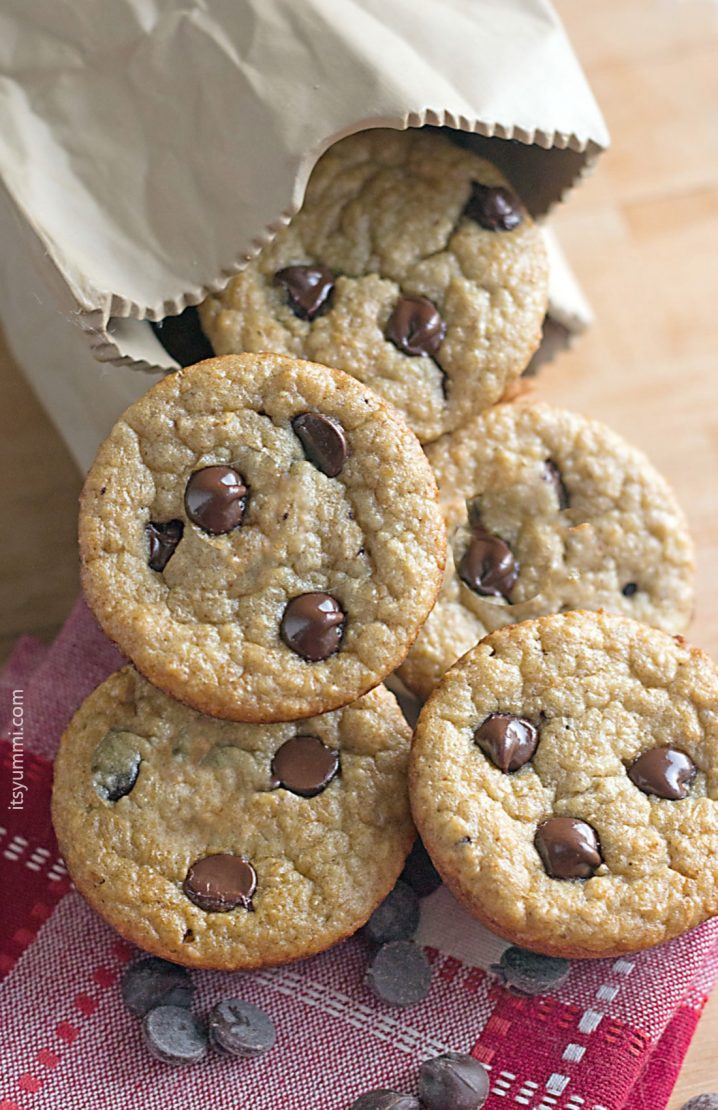 Chocolate chip banana goodness – What's love got to do with it?
One look through my recipe database is all it usually takes to realize that I'm a lover of 'naughty' carbs. Not all carbohydrates are bad for our bodies, but most often, those are the ones that I gravitate toward. Sure, I like desserts, but my true obsessions are starchy, carb-loaded foods like muffins, breads, and pasta recipes.
I also go crazy for chocolate chip banana recipes, as evidenced by recipes with chocolate chips, HERE and bananas, HERE.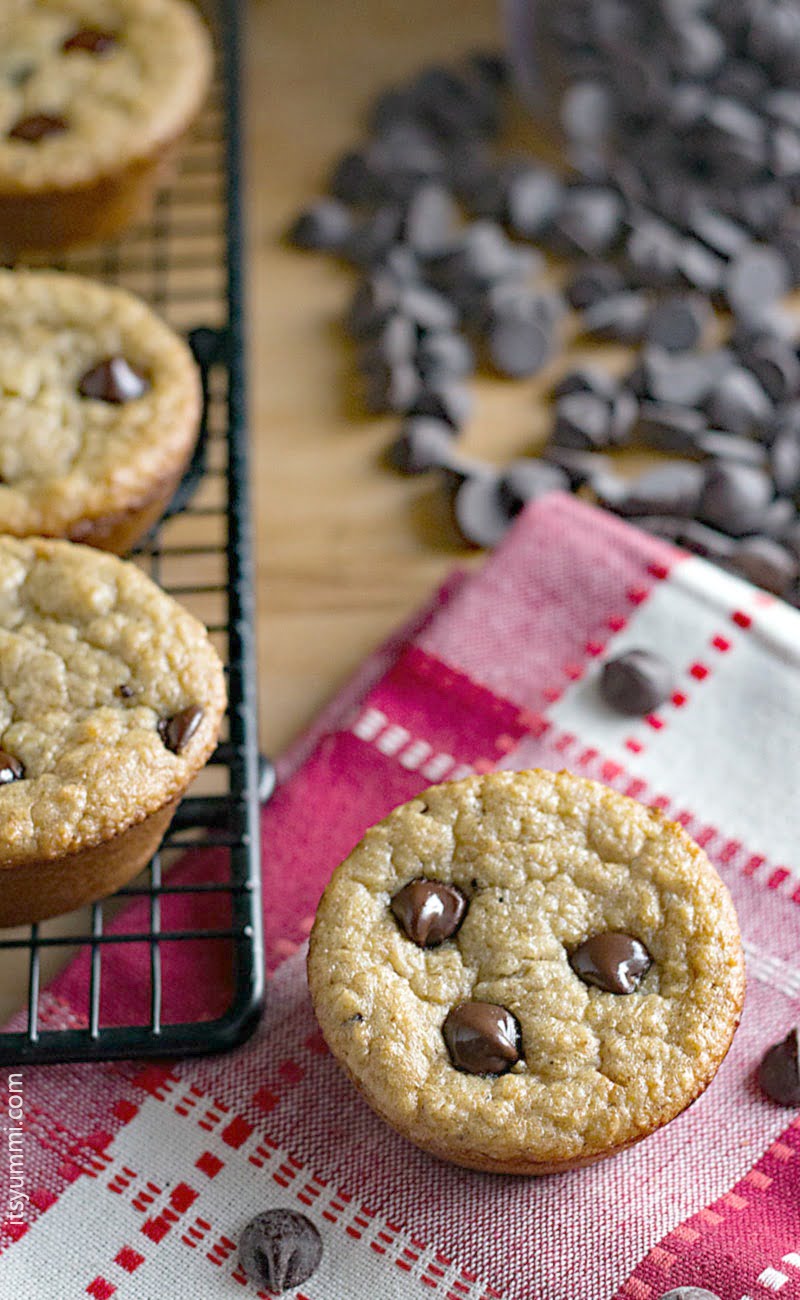 What makes today's recipe for chocolate chip banana muffins so special is the way the batter is prepared. Almost all recipes for muffins are made by placing the dry ingredients (like flour and sugar) into one bowl and the wet ingredients (like eggs and milk) into a separate bowl. That step alone means there are two mixing bowls to wash, along with spoons, measuring cups, etc.
Blender recipes, like this one, are fantastic because all of the ingredients are placed directly into a high speed blender. Because the blender has measurement markings on it, no liquid measuring cups are needed, but you will still need to weigh or measure your dry ingredients.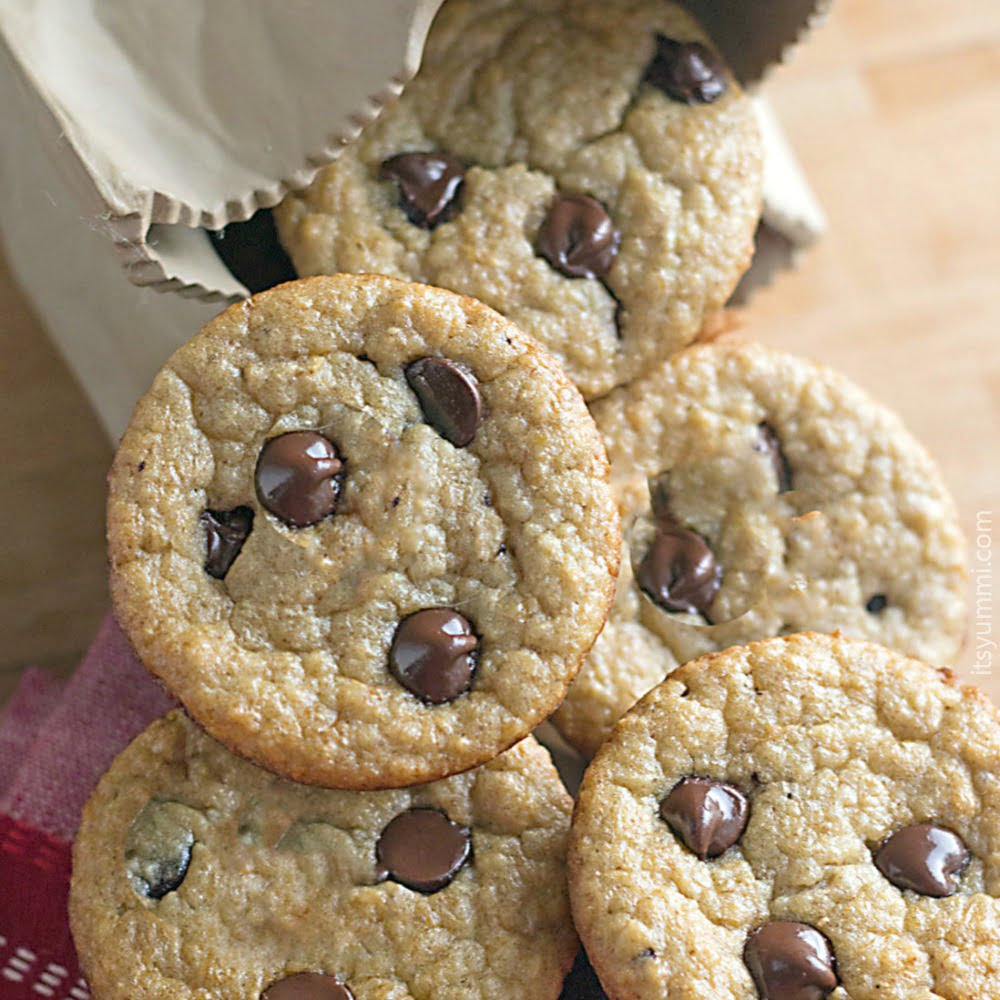 Regardless of what type of blender muffin you want to make, the recipe technique is the same. This recipe is chocolate chip banana, but if you prefer peanut butter chips, go for it! Or use almond flour or coconut flour to make a lower carb muffin recipe.
Incidentally, the next time I make these muffins, I'm going to add more chocolate chips to the top before I bake them. My blogging friend Erin did that with her blender banana oatmeal muffins  and they look so much prettier than mine!
Oh, and if you don't care for chocolate, but still want a  gluten-free banana muffins recipe, my friend Michelle has you covered!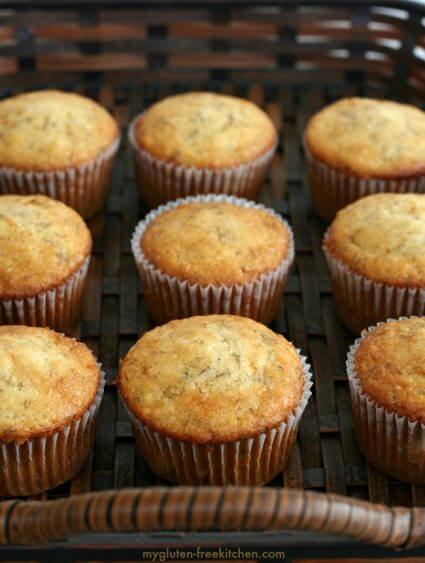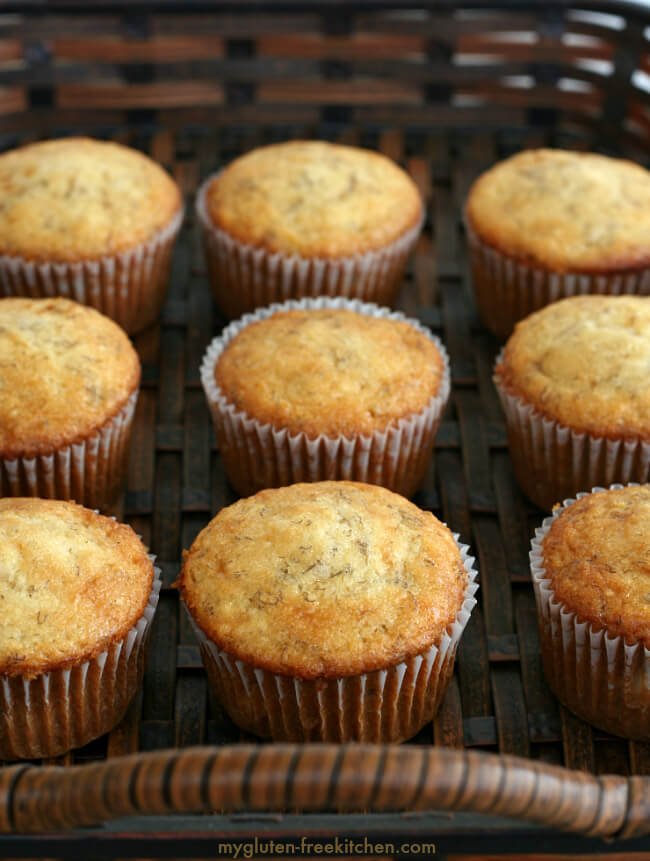 Recipe Notes for Chocolate Chip Banana Oat Muffins:
If you decide to make the blender muffins recipe, be aware of the following:
These are not bakery style muffins, so they won't have large, domed tops. Bananas are dense, as are rolled oats. The hefty weight of those ingredients will prevent the muffins from rising very much, if at all. The good news is that they're incredibly moist!
Be careful not to run the blender very long. All you want to do is incorporate the ingredients, you don't need to pulverize them. The longer you keep the blender turned on, the thicker and more dense your batter will become. The eggs in the recipe will lose their ability to tenderize, leaving you with dry, dense muffins that have the consistency of wet mud. Chocolate chip peanut butter wet mud is not a delicious treat!
The carb count will vary. Depending on the type of sweetener you use, and whether or not you choose to use chocolate chips, the total amount of carbohydrates will vary. To reduce the overall amount of sugar (carbs) in the recipe, I used Erythritol, which is an all-natural, low glycemic sweetener. You can use [amazon_textlink asin='B000HDJZWO' text='dairy free chocolate chips' template='ProductLink' store='chebecskit-20′ marketplace='US' link_id='a4e5a7d4-ec12-11e7-8e49-db81d3924279′], too.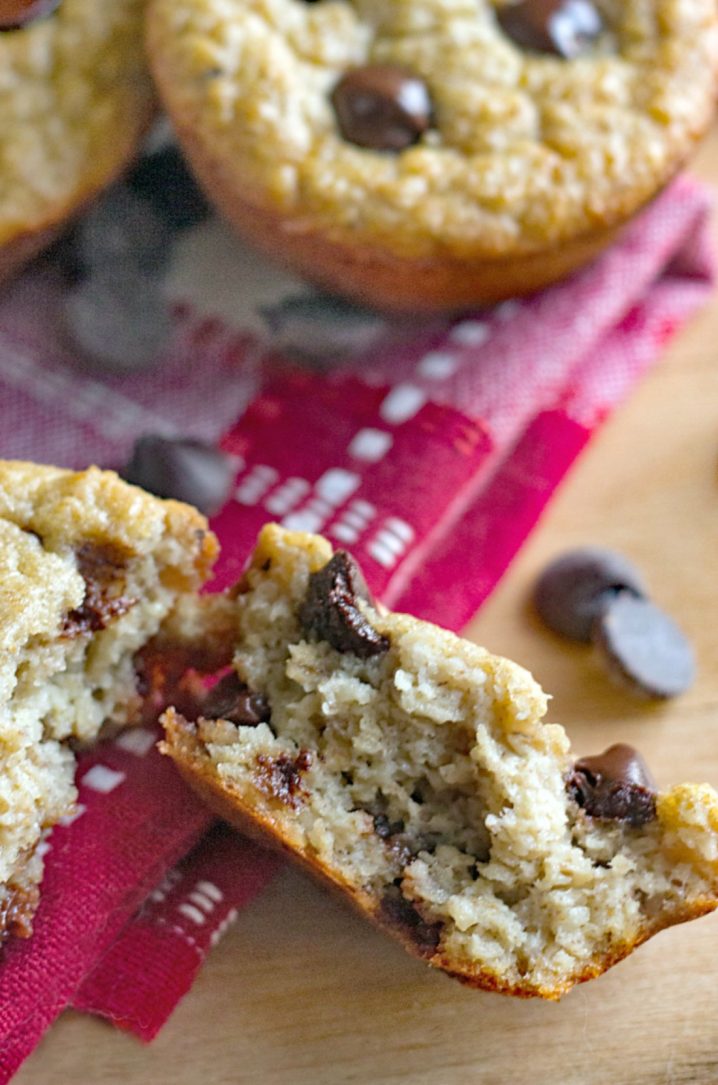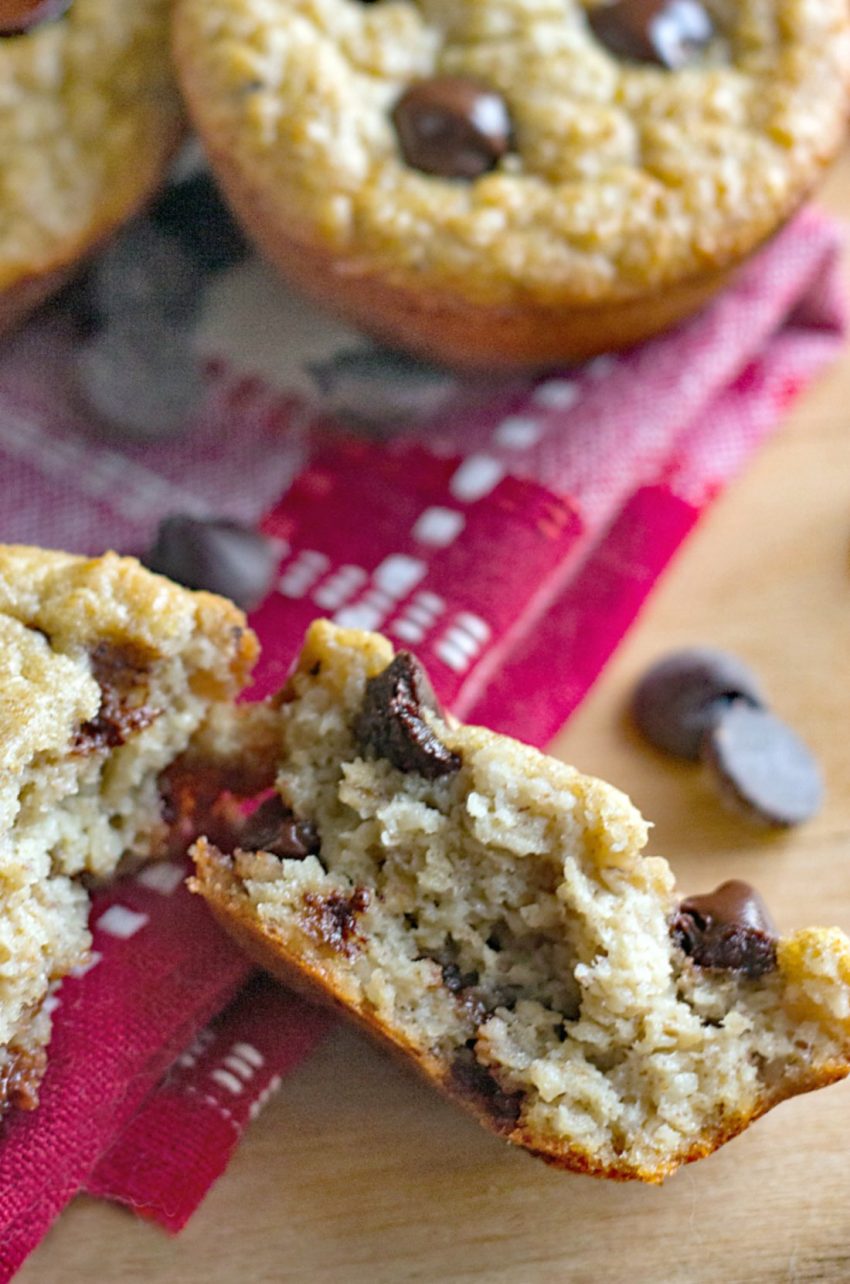 If you decide to make this recipe, please leave a comment, or share a photo with me on Facebook or Instagram. I'd love to hear from you!
Items you'll need to make the recipe:
The items below have affiliate codes attached to them. I make a few pennies from any sales, which doesn't affect your cost, but helps to keep this website operational. Thank you for helping to support It's Yummi!
[amazon_link asins='B001QZ47YS,B00NGV4E1G,B00IZGY4DA,B000VK5VTO' template='ProductAd' store='chebecskit-20′ marketplace='US' link_id='5b053cbd-3efc-11e7-abc0-1d518e1fd95f']
Enjoy your muffins!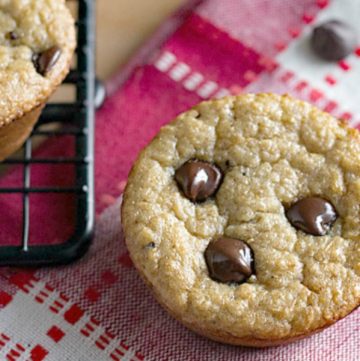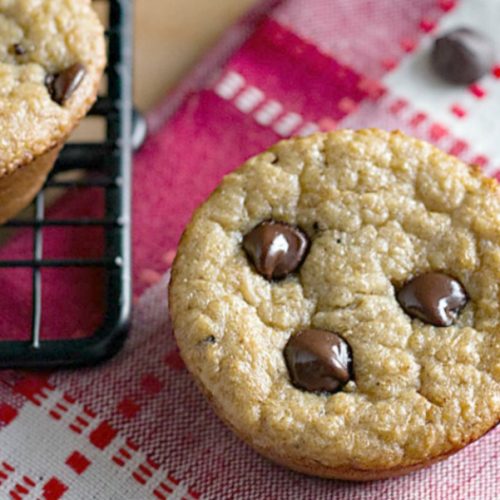 Chocolate Chip Banana Blender Muffins
Moist banana muffins, studded with chocolate chips. This recipe will make 12 standard size muffins or 24 mini sized muffins.
Ingredients
2.5

cups

rolled oats (not instant or quick-cooking)

1

cup

Greek yogurt (vanilla or plain flavor)

2

eggs

1/2

teaspoon

pure vanilla extract

1/2

cup

Erythritol*

1.5

teaspoons

baking powder

1/2

teaspoon

baking soda

1/4

teaspoon

salt

2

medium-sized ripe bananas

3/4

cup

chocolate chips (I used low sugar

dairy free chocolate chips to cut down on carbs)
Instructions
Heat oven to 400 degrees. Prepare a 12 cup muffin tin* with nonstick spray and insert paper liners if desired. (This batter will stick to paper, so you'll want to spray the liners, or use silicone liners)

To the pitcher of a high speed blender, add oats. Blend on high speed for 15 seconds, or until oats are mostly ground into flour. Add yogurt, eggs, vanilla, sugar, baking powder, baking soda, salt, and bananas. Mix until smooth.

If you are using chocolate chips, remove blender blade, then stir in chocolate chips.

Fill muffin cups about 3/4 of the way full. Bake for 16-20 minutes, or until a toothpick comes out clean or with just a few moist crumbs on it.

Remove pan from oven and allow muffins to cool in pan for 5 minutes, then transfer to a wire rack to cool completely.
Notes
*If you're making mini-muffins, reduce the baking time to 11-15 minutes.
* I used Erythritol to keep carbs down, but you can use traditional white cane sugar and regular chocolate chips if you want.
Nutrition
Sodium:
178
mg
Sugar:
12
g
Fiber:
2
g
Cholesterol:
32
mg
Calories:
181
kcal
Saturated Fat:
3
g
Fat:
6
g
Protein:
6
g
Carbohydrates:
26
g


Other Chocolate Chip Banana Recipes to Try:
Chocolate Caramel Stuffed Banana Bread