Caramel swirl chocolate chip ice cream is my contribution to Ice Cream Week 2013. Come on in… Let's have an ice cream social!
Let's play Food Blog Jeopardy!
"I'd like "Scream Makers" for $500 please, Alex."
Here's the question:
It's swirled, it's creamy, and oh so dreamy.
"What is Caramel Swirl Chocolate Chip Ice Cream?"
*DING DING DING* You are correct!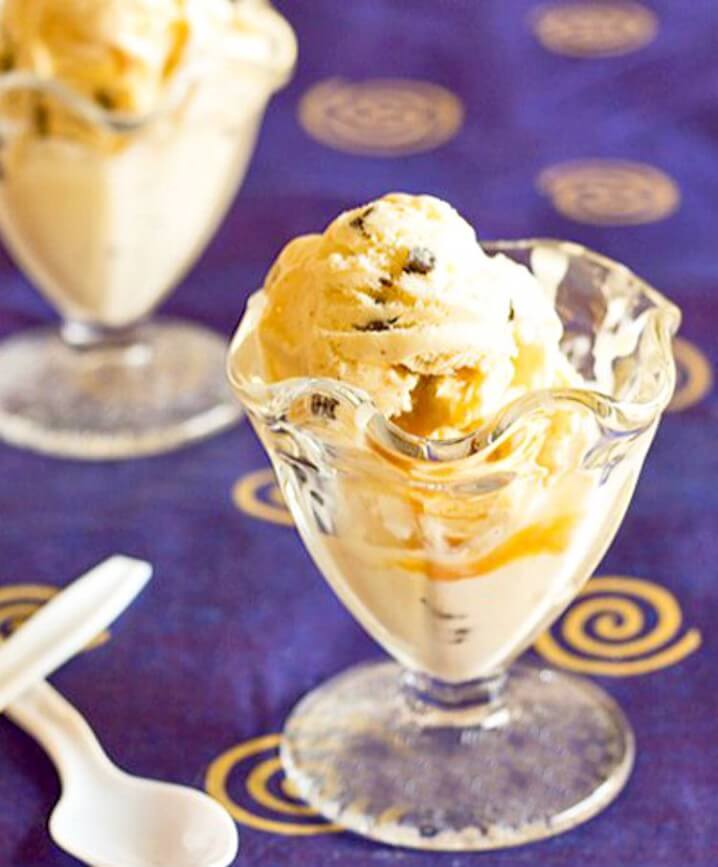 Welcome to Ice Cream Week! Kim of Cravings of a Lunatic and Jen of Juanita's Cocina have teamed up with more than 20 of their blog friends to bring you a week full of ice cream treats! Prepare to have your taste buds tempted with some of the best ice cream treats around.
I used a whole vanilla bean in the base for this ice cream, giving it adorable flecks of flavor.
Of course, I needed a bit of chocolate in it too. Because, let's be serious for a moment… it's not possible for me to go without chocolate at some point in the day. And when I made this ice cream, I hadn't ingested my daily dose yet. So there's that.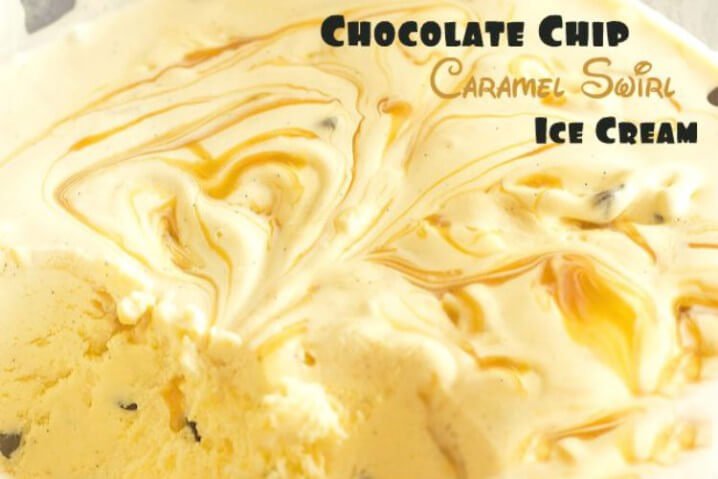 Then I needed to swing this bad boy creamy goodness over the top of indulgence, so caramel sauce was an easy answer. Not just any caramel sauce, though… it's home made caramel sauce.
You'll receive no judgement from me if you decide to buy store bought caramel sauce. I just like to avoid extra chemicals when I can. I also think making caramel is fun!
Wait… Maybe you should enjoy your ice cream with a warm chocolate peanut butter cookie to reduce the risk of an ice cream headache coming on.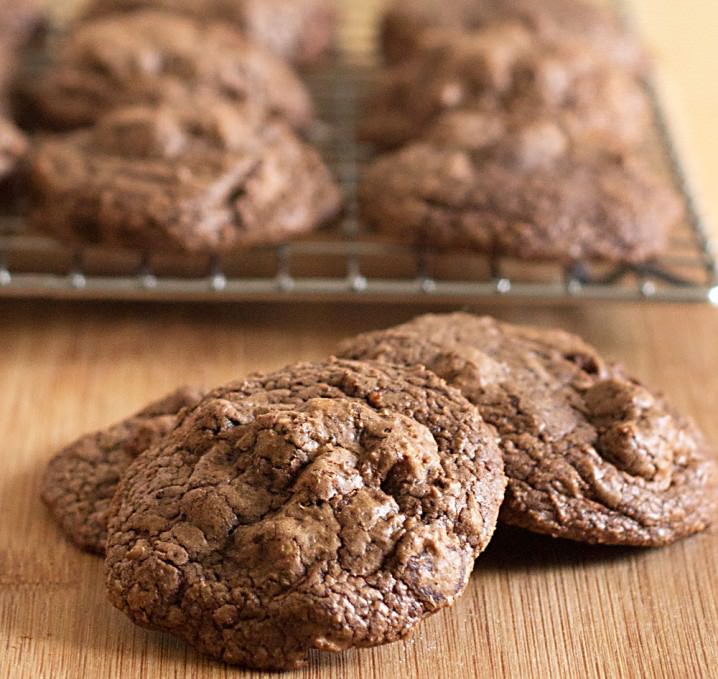 I hope you enjoy this caramel swirl chocolate chip ice cream!
Items You'll Want (and Love!)
Caramel Swirl Chocolate Chip Ice Cream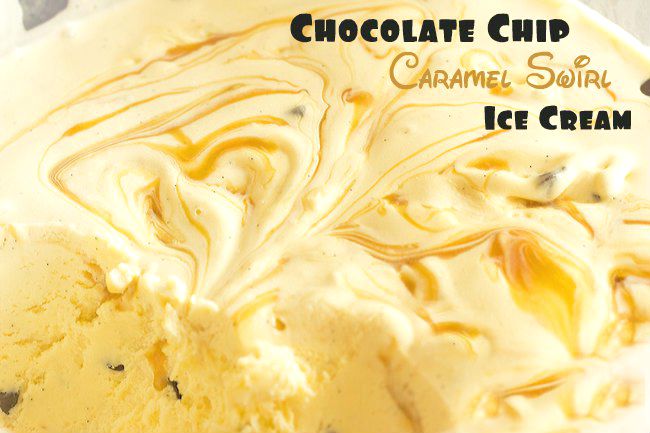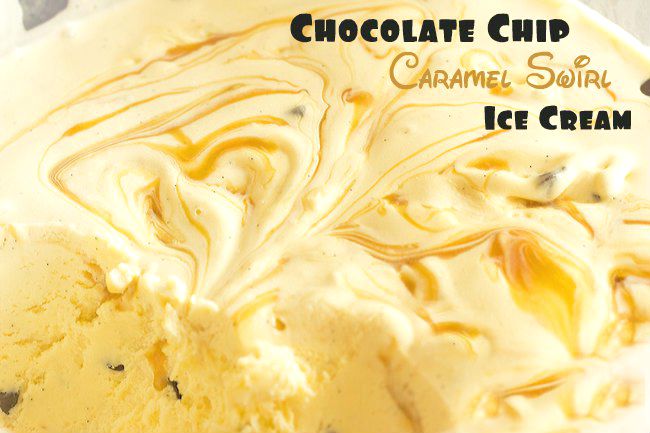 This creamy vanilla bean ice cream is loaded with mini chocolate chips and a swirl of sweet caramel.
Instructions
Heat half-and-half and sugar in a saucepan over low heat, adding vanilla bean "caviar" to the mixture. (You can also add the scraped vanilla bean to the pan for extra flavor, but be sure to discard the bean before moving to the next step.) Turn off heat when mixture is totally heated, but NOT boiling.
Beat egg yolks with a whisk or an electric mixer until pale yellow and slightly thick. Temper the egg yolks by SLOWLY drizzling 1/2 cup of hot half-and-half mixture into the eggs, whisking constantly. Pour the egg yolk/half-and-half mixture back into the pan containing the rest of the half and half mixture. Cook over low to medium-low heat until quite thick, stirring constantly. Strain custard through a fine mesh sieve, then pour into bowl with the heavy cream. Stir to combine and refrigerate until chilled completely.
Prepare in an ice cream maker per manufacturers directions. Add chocolate chips and caramel to machine during last 10 seconds of processing.
Place container in freezer until ice cream is frozen, approximately 4-6 hours.

For the Caramel Sauce

Heat sugar on moderately high heat in heavy-bottomed 2 or 3-quart saucepan. As sugar starts to turn liquid, stir gently with a silicone whisk or wooden spoon. DON'T OVER STIR! Just let the sugar work its magic and stir from time to time to assure that the sugar on the bottom doesn't burn.
As soon as the sugar comes to a boil, STOP STIRRING. You can swirl the pan a bit if you want, from this point on, but don't stir. Note: This recipe works best if you are using a thick-bottomed pan. If you find that you end up burning some of the sugar before the rest of it is melted or you have large clumps of sugar, turn the heat to low and let it sit untouched...the clumps should melt. Next time you attempt it, add a half cup of water to the sugar at the beginning of the process, OR start with lower heat to help sugar cook more evenly.
As soon as the sugar crystals have melted (the liquid sugar should be dark amber in color, like an old copper penny), immediately add butter and whisk until butter has melted.
Remove from heat, count to three, then slowly add cream to the pan and whisk to incorporate. NOTE: When you add the butter and cream, the mixture will foam up considerably.
Whisk until caramel sauce is smooth. Let cool in the pan for a couple minutes, then pour into a glass jar and allow to cool to room temperature before adding to the ice cream.
Thank you so much for visiting me today!
If you make this recipe, I'd love it if you'd share a photo and/or give your feedback over on my Facebook page, Cooking with Chef Bec!

Here are those creamy dreamy ice cream recipes from the other Ice Cream Week contributors: