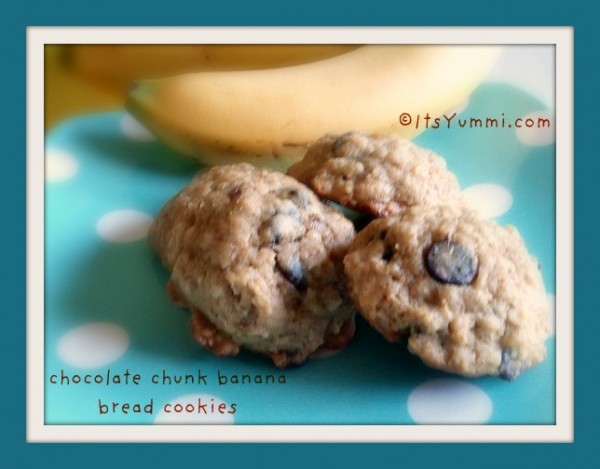 Disclosure: Affiliate links may appear in this post. If you click through and make a purchase, the cost to you is not increased, but I receive a small compensation from the merchant. I use the funds to offset the cost of running this website. Thank you for your support of It's Yummi!
When I started Weight Watchers almost 2 weeks ago, I was really hopeful that I wouldn't have to give up my love for all things chocolate.  Turns out, the program gives me a lot of flexibility to eat what I want…within reasonable guidelines.
So I was Ms. Happy Pants when I stumbled across Emile's recipe for these awesome banana cookies.  The first thing I wanted to do was find reasons to justify eating a pan full of them for breakfast.
Well lookie what we have here… heart healthy oats, protein packed eggs, and brain food bananas in them.  HELLO!! HEALTHY BREAKFAST!!  Okay, okay….maybe I shouldn't have been QUITE so enthusiastic.  After all, they do have sugar and chocolate in them…  I'll use less enthusiasm….hello healthy breakfast!
Being the educated baker that I am, I also knew that I could find ways to tweak the recipe and make it a bit healthier.  For example, substituting applesauce for some of the butter would lower the fat content and bring a nice complimentary flavor to the cookie without drying it out.  I could also easily cut back on the 2 cups of chocolate chips that were called for in the original recipe, and omitting the nuts would save LOADS of calories and fat.  So with a tweak tweak here and a tweak tweak there, I developed a recipe that is high on the heart healthy scale, moist, delicious, and get this fellow Weight Watchers members… there are only 2 Weight Watchers Plus points per cookie! If that's not a good enough reason to eat cookies for breakfast, I don't know what is!
Chocolate Chunk Banana Bread Cookies
A heart healthy snack, these cookies are soft, cake-like, and loaded with bananas, chocolate chips, and healthy oats
Ingredients
2 1/2 cups whole wheat pastry flour
1 teaspoon baking powder
1/2 teaspoon baking soda
1/2 teaspoon salt
1/2 cup (1 stick) butter, softened
1/2 cup (4 oz.) unsweetened applesauce
1 cup firmly packed brown sugar
1 cup mashed ripe banana (about 2-3)
2 large eggs
1 teaspoon vanilla extract
2 cups quick or old-fashioned rolled oats
1.5 cups bittersweet chocolate chunks
Directions
Heat oven to 375° degrees F.
In a medium bowl, stir together flour, baking powder, baking soda and salt.
In a large bowl, beat butter until light and fluffy. Slowly add brown sugar and then beat additional 2 minutes. Beat in banana, applesauce, eggs and vanilla, just until combined.
Stir in flour mixture.
Stir in oats and chocolate chunks.
Drop by heaping teaspoonfuls onto a baking sheet lined with parchment paper or silicone baking mat.
Bake 8 to 10 minutes or until lightly browned. Cool for one minute before moving to wire rack to cool completely.
Loading nutrition data...
Thank you so much for visiting me today!
If you make this recipe, I'd love it if you'd share a photo and/or give your feedback over on my Facebook page, Cooking with Chef Bec!