Chocolate Chunk Banana Bread Cookies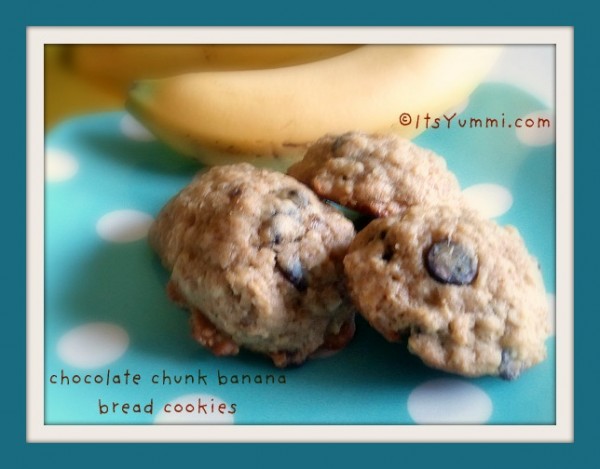 When I started Weight Watchers almost 2 weeks ago, I was really hopeful that I wouldn't have to give up my love for all things chocolate.  Turns out, the program gives me a lot of flexibility to eat what I want…within reasonable guidelines.
So I was Ms. Happy Pants when I stumbled across Emile's recipe for these awesome banana cookies.  The first thing I wanted to do was find reasons to justify eating a pan full of them for breakfast.
Well lookie what we have here… heart healthy oats, protein packed eggs, and brain food bananas in them.  HELLO!! HEALTHY BREAKFAST!!  Okay, okay….maybe I shouldn't have been QUITE so enthusiastic.  After all, they do have sugar and chocolate in them…  I'll use less enthusiasm….hello healthy breakfast!
Being the educated baker that I am, I also knew that I could find ways to tweak the recipe and make it a bit healthier.  For example, substituting applesauce for some of the butter would lower the fat content and bring a nice complimentary flavor to the cookie without drying it out.  I could also easily cut back on the 2 cups of chocolate chips that were called for in the original recipe, and omitting the nuts would save LOADS of calories and fat.  So with a tweak tweak here and a tweak tweak there, I developed a recipe that is high on the heart healthy scale, moist, delicious, and get this fellow Weight Watchers members… there are only 2 Weight Watchers Plus points per cookie! If that's not a good enough reason to eat cookies for breakfast, I don't know what is!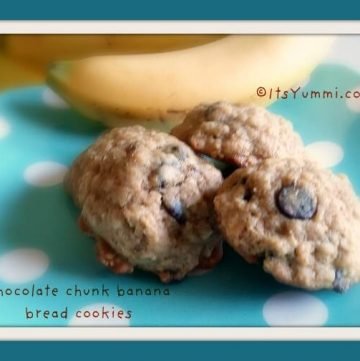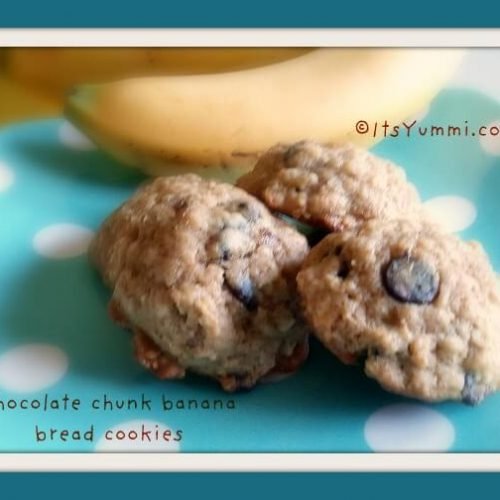 Chocolate Chunk Banana Bread Cookies
Ingredients
2 1/2

cups

whole wheat pastry flour

1

teaspoon

baking powder

1/2

teaspoon

baking soda

1/2

teaspoon

salt

1/2

cup

(1 stick) butter

softened

1/2

cup

(4 oz.) unsweetened applesauce

1

cup

firmly packed brown sugar

1

cup

mashed ripe banana (about 2-3)

2

large eggs

1

teaspoon

vanilla extract

2

cups

quick or old-fashioned rolled oats

1.5

cups

bittersweet chocolate chunks
Instructions
Heat oven to 375° degrees F.

In a medium bowl, stir together flour, baking powder, baking soda and salt.

In a large bowl, beat butter until light and fluffy. Slowly add brown sugar and then beat additional 2 minutes. Beat in banana, applesauce, eggs and vanilla, just until combined.

Stir in flour mixture.

Stir in oats and chocolate chunks.

Drop by heaping teaspoonfuls onto a baking sheet lined with parchment paper or silicone baking mat.

Bake 8 to 10 minutes or until lightly browned. Cool for one minute before moving to wire rack to cool completely.
Notes
When made to the yield designated in this recipe, each cookie = 2 Weight Watchers Plus Points
Nutrition