What happens when you combine fudgy, chewy chocolate cookies with peppermint patty candies? Snacking magic happens, in the form of chocolate peppermint patty cookies! Come in to my virtual kitchen and I'll help you whip up a batch!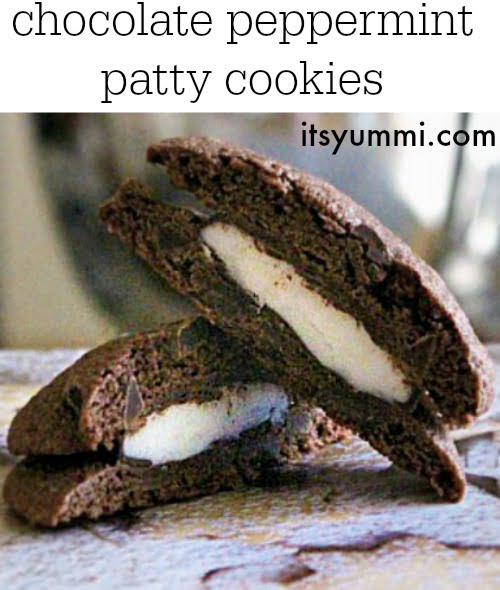 I want to test your foodie knowledge.
Before you go gettin' all squirmy and filled with test anxiety, let me just say that because you're reading my blog, I already know how incredibly smart you are! 😉
I'm also willing to bet that you must be uber smart when it comes to foodie knowledge!
OK, so here's your pop quiz:
WHAT DO YOU GET WHEN YOU COMBINE THIS GOODNESS…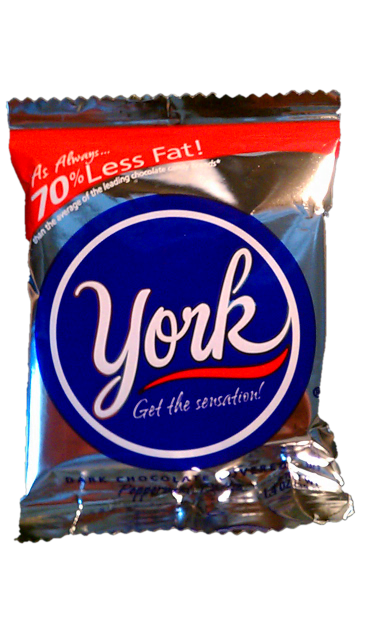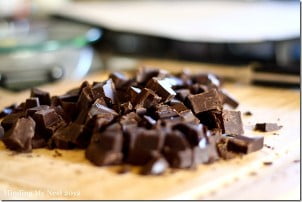 with cookie goodness…
ANSWER: A whole lot of yummi cookies!
If you've never heard of Jenny Flake or visited her incredible website, Picky Palate, you truly need to pay a visit soon. Jenny's personality is like a great big dose of sunshine on a cloudy day. Her recipes are easy to make and incredibly enjoyable to eat, too. She specializes in feeding picky eaters, so you know that the food she makes is down home simple pleasure. Oh, and her desserts? AHH-mazing! The mere sight of some of her desserts is enough to make me pop the elastic on my stretchy pants. The cookies pictured above were made by me, but inspired by THIS RECIPE of Jenny's. YOWZA! Can you believe the size of those babies?!
Jenny's been in national cooking competitions and she's even appeared on the Food Network a few times. I'm in awe of her talent! When Jenny heard that I recently celebrated my 1-year blogiversary and achieved 5,000 fans on my Facebook page, she was super excited and happy for me.
She even generously donated today's giveaway prizes…3 copies of her brand new cookbook
! Yes, Jenny has a cookbook… It was released this past October, and it's a HOT HOT HOT seller!
You can buy copies of the book at quite a few retailers, including Amazon
, Barnes and Noble, Deseret Book, and Books a Million. It would make a fantastic gift for anyone who enjoys cooking or baking. But like I said, Jenny is giving three of you lucky readers your very own copy absolutely free.
Awesome, right?! I'll give the low down on the giveaway in a minute, but first I want to give you the recipe for the chocolate peppermint patty cookies!
Jenny's recipe for Oreo stuffed chocolate chip cookies inspired me to create my own stuffed cookie. I'm crazy for York peppermint patties and I've been craving some double chocolate cookies, so it only made sense to stuff one inside of the other. Peppermint, chocolate, gooey goodness… go ahead and drool on, my friend!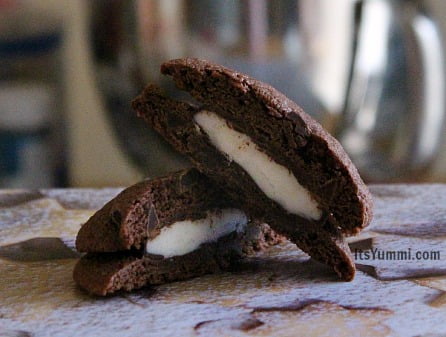 For another peppermint loaded dessert, be sure to also check out my recipe for peppermint fudge brownies.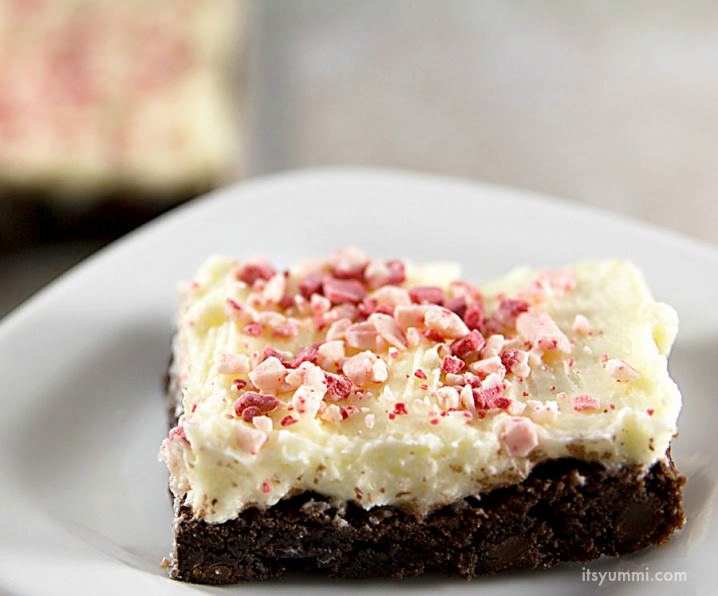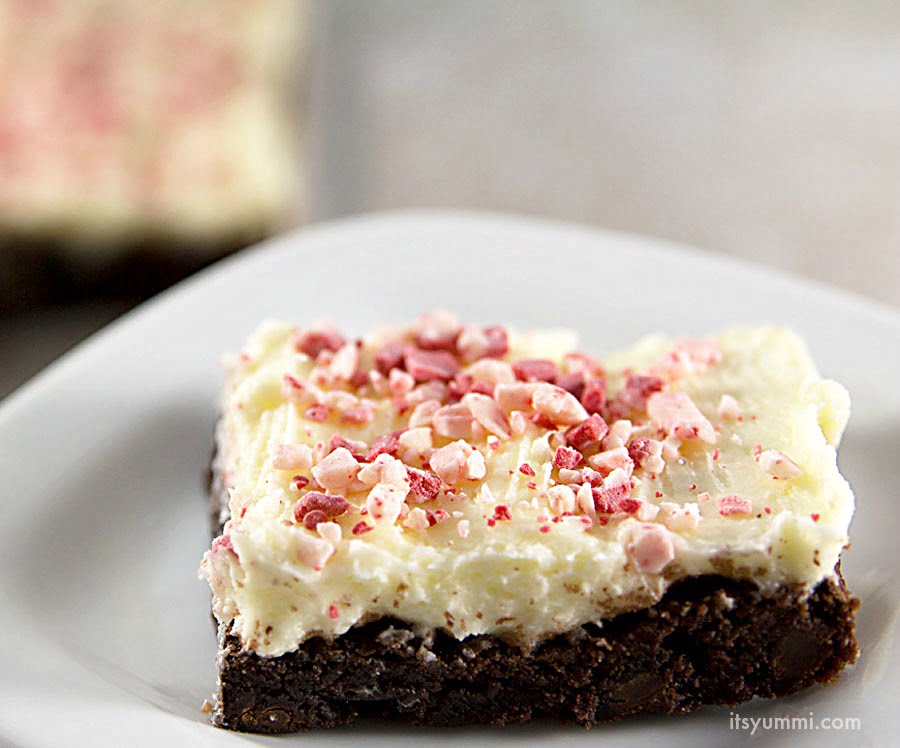 I hope you love these peppermint patty cookies!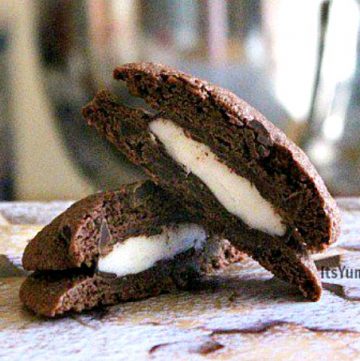 Peppermint Patty Stuffed Chocolate Cookies
Ingredients
4

ounces

bittersweet chocolate

1/2

cup

(1 stick) butter

2

large eggs

1

cup

granulated sugar

1

teaspoon

pure vanilla extract

1

cup

(130g) all-purpose flour

1/2

cup

Dutch-process cocoa

1/2

teaspoon

salt

1/2

teaspoon

baking soda

1

cup

(8 ounces) bittersweet chocolate chunks or chips

12

peppermint patty candies

unwrapped
Instructions
Heat oven to 350 degrees F. Line 2 baking sheets with parchment paper or silicone baking mats. Unwrap 12 peppermint patties and set aside.

In a medium bowl, whisk together flour, cocoa, baking soda and salt. Set aside.

In a small saucepan over low heat, melt butter and 4 ounces bittersweet chocolate together, stirring until combined. Remove from heat and add vanilla extract.

In the bowl of a mixer, combine eggs and sugar and beat at medium speed until light and fluffy, about 3 minutes. Reduce speed to low and beat in chocolate mixture until well combined.

Add flour and stir until just combined. Fold in chocolate chips or chunks.

Using a small cookie scoop, drop tablespoon portions 2-inches apart onto prepared baking sheet.

Bake for 8-9 minutes. Cookies should be slightly under baked so the interior stays chewy and soft. Remove pan from oven and transfer to cooling rack. Let cookies sit for one minute, then carefully cover half of the baked cookies with peppermint patties. Use a spatula to pick up a plain cookie and place it on top of one that has candy on it. Repeat until all cookies have been sandwiched together with a peppermint in the center.
Nutrition
Calories:
329
kcal
Carbohydrates:
45
g
Protein:
4
g
Fat:
18
g
Saturated Fat:
10
g
Cholesterol:
51
mg
Sodium:
166
mg
Fiber:
3
g
Sugar:
32
g