Chocolate strawberry parfaits recipe is part of social shopper amplification that I participated in for Collective Bias and their advertiser.  I was compensated for this post, but as always, all thoughts and opinions are my own.
Chocolate strawberry parfaits are a no bake dessert, filled with freshly whipped cream, strawberry puree, and little bites of 3 Musketeers candy bars. For a special dessert or chocolate treat, give this recipe a try!
This delicious dessert has been given the nickname, 'Fluffy Fool', and for a very good reason. I'll explain why in just a minute.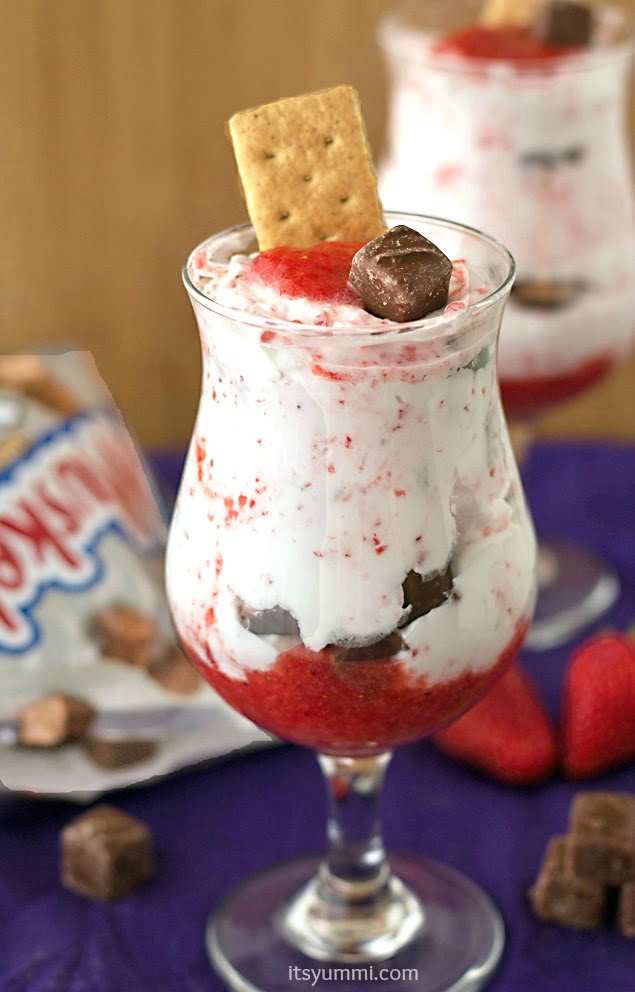 One of my favorite chocolate candy bars is a 3 Musketeers! The texture and sweetness of the fluffy nougat makes me a little giddy. Now that they're available in bite sized portions, I love them all the more. It's like the gang over at Mars knows I'm trying to lose some weight or something. They totally hit the mark with their new line of Bites!
Walmart had these goodies in their candy section when I was there over the weekend.
I don't normally peruse the candy aisle like I do the air freshener aisle, (don't tell me I'm the only one who does the "spray 'n sniff" test) but they had the 3 Musketeers Bites placed on an end cap near the candy aisle. Just around the corner, I saw the display, and couldn't resist buying them!
P.S.  M&M/Mars and Walmart: if you're reading this, it would be a genius move on your part to set up a sample table for taste testing new candy varieties when they come out. I'll even offer my free sampling services! 😉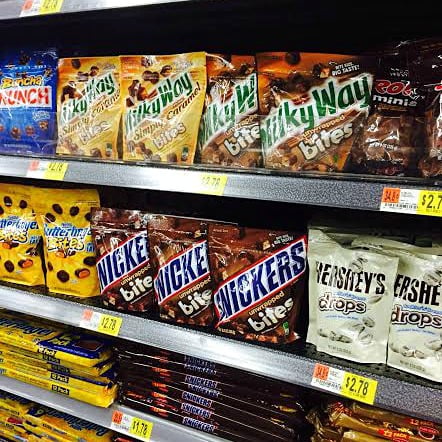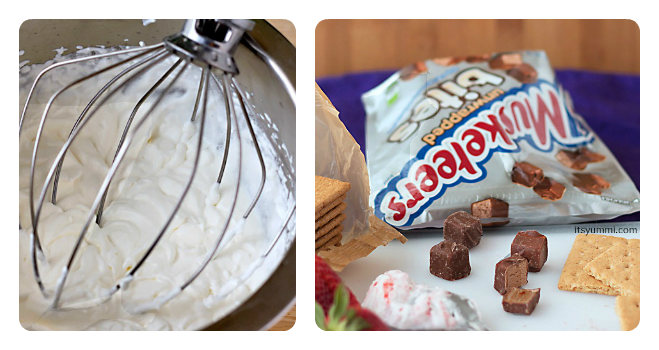 So you may be thinking, "What the heck's up with that name, Fluffy Fool?!" 
Well, I like the word 'fluffy'.  🙂
OK, that's only partially true. I do think the word fluffy is sort of cute, but also, the nougat in the 3 Musketeers Bites is incredibly fluffy! The word 'fool' comes from the fact that a fool is traditionally a French dessert.
In French, "fool" translates to "fouler", which means, "to mash", which is exactly what we do to the strawberries when we turn them into a puree.
See?  It all makes perfect sense now!
OK, are you ready to eat some of this yummi goodness?  Grab your apron and I'll meet you in the kitchen.
There are plenty of other delicious chocolate strawberry desserts and fun cupcake recipe ideas you can make, too!
Let's get our chocolate strawberry parfaits into action!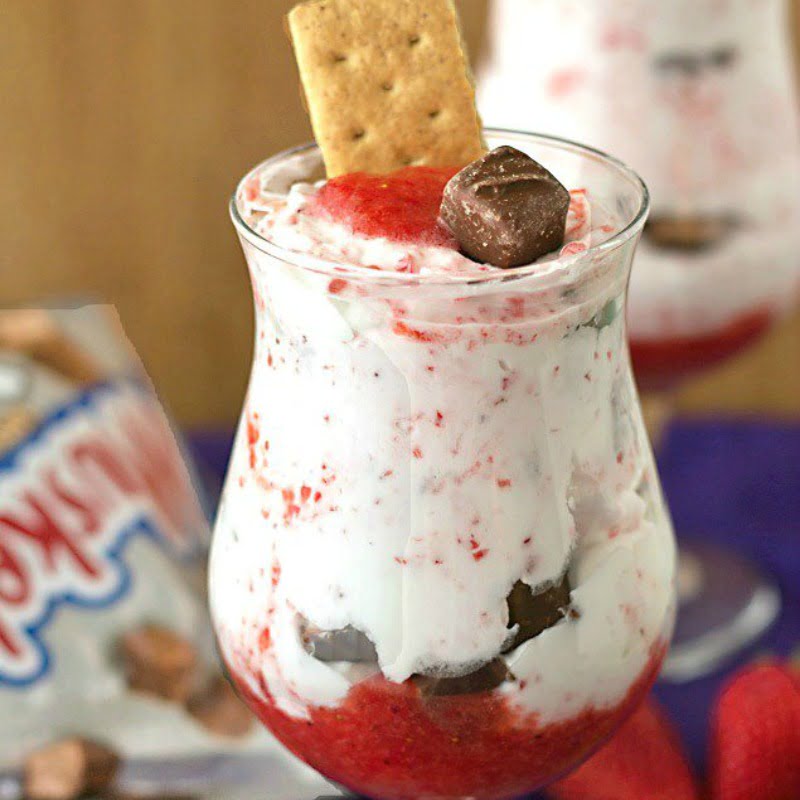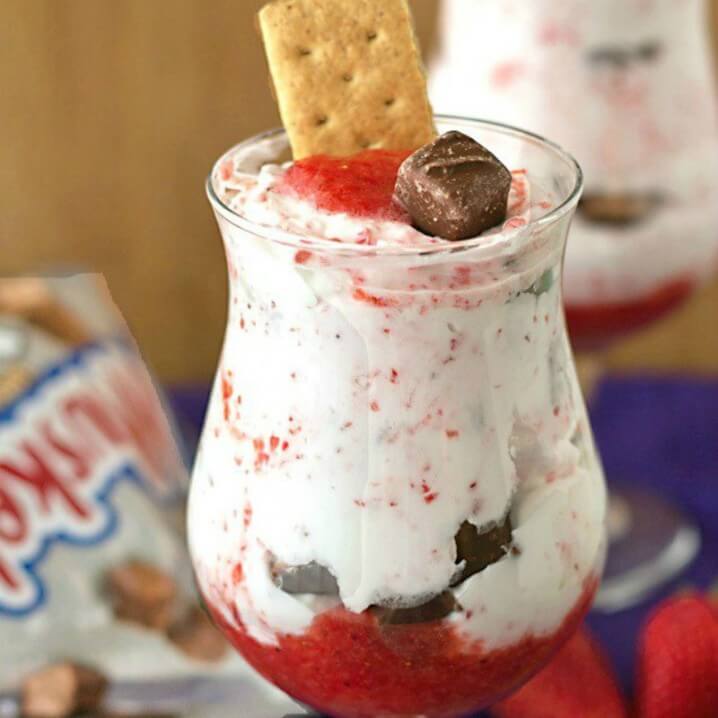 Want to make more chocolate strawberry dessert recipes, like these parfaits?
Give this one a try, too. They make perfect holiday food gifts, and of course, the best Valentine's Day starts with chocolate covered strawberries!
Citrus-Chocolate Dipped Strawberries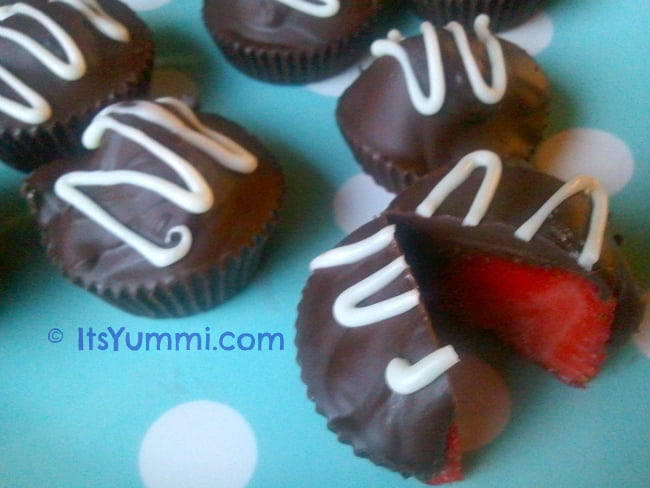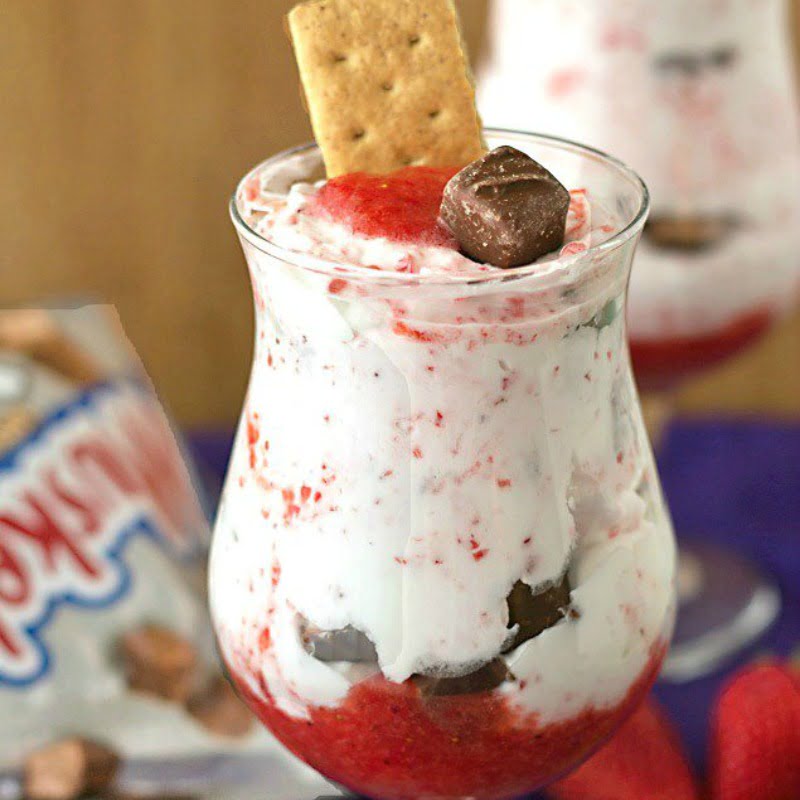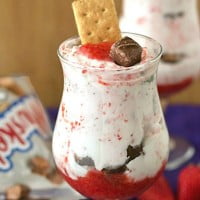 Chocolate Strawberry Parfaits
This chocolate strawberry dessert is traditional strawberry fool, packed with little pieces of 3 Musketeers Bites. Makes a light and fluffy sweet treat!
Print
Pin
Rate
Ingredients
4

ounces

(about 2/3 bag) Mars 3 Musketeers Bites

For Strawberry Puree

1

pound

fresh strawberries

,

diced (or thawed from frozen)

1/4

cup

sugar or equivalent sugar substitute

For Whipped Cream

4

ounces

(1/2 liquid cup) heavy whipping cream

2

Tablespoons

sugar or equivalent sugar substitute
Instructions
Use a sharp knife to cut 3 Musketeers Bites in half (optional)

Make Strawberry Puree

Hull and dice strawberries and place into a large bowl. Stir in sugar, then cover the bowl with plastic wrap and chill for 30 minutes.

Place strawberries and their juice in bowl of a food processor or blender and process until pureed. Taste for sweetness. If you want them sweeter, stir in 1 Tablespoon sugar, repeating if necessary, until desired sweetness is achieved. Makes approximately 1 1/4 cups of puree. Chill until ready to assemble the dessert.

Make Whipped Cream

Place whipping cream into a chilled stainless steel mixing bowl. Use a hand or stand mixer and whip cream until soft peaks form (about 1 minute). Sprinkle sugar into the bowl and continue mixing for 1-2 more minutes, until medium peaks have formed and mixture is light and fluffy.

Use a silicone spatula or spoon to gently fold 1/2 cup of puree into the whipped cream. Don't over mix or you won't see those nice specks of strawberry in the finished product!

To assemble the desserts, place 3 Tablespoons of puree into the bottom of each parfait glass. (This recipe will give you enough for 2 parfaits. Add a layer of whipped cream mixture, followed by a layer of the Bites candy. Repeat layers of whipped cream mixture and candy until the glass is full. Finish with a Tablespoon of puree on top.

If desired, garnish with graham cracker sticks and more candy Bites
Recipe Nutrition
Nutrition Facts
Chocolate Strawberry Parfaits
Amount Per Serving
Calories 530
Calories from Fat 261
% Daily Value*
Fat 29g45%
Cholesterol 81mg27%
Sodium 159mg7%
Carbohydrates 67g22%
Protein 4g8%
* Percent Daily Values are based on a 2000 calorie diet.