Chocolate Stuffed Cherry Cupcakes
When I read yesterday that it was chocolate stuffed cherry day, I was sure that someone must have had a dyslexic moment and that it was actually a day to celebrate chocolate covered cherries. You know…those ooey, gooey, cordial cherries that I eat by the boatload during the holidays. I was giddy thinking about trying to make my own non-alcoholic version of them, and I will probably do so one day. However, upon further research, I learned that there really is such a thing as a chocolate filled cherry! Who knew?! They sure are beautiful and they look quite yummilicious!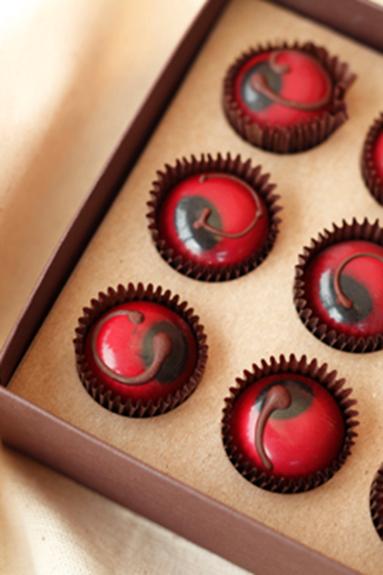 photo credit: TheNibble.com

As awesome as they looked, I wasn't really in the confection making mood yesterday, so I decided to take my own twist on the theme. I made these lovely edibles instead…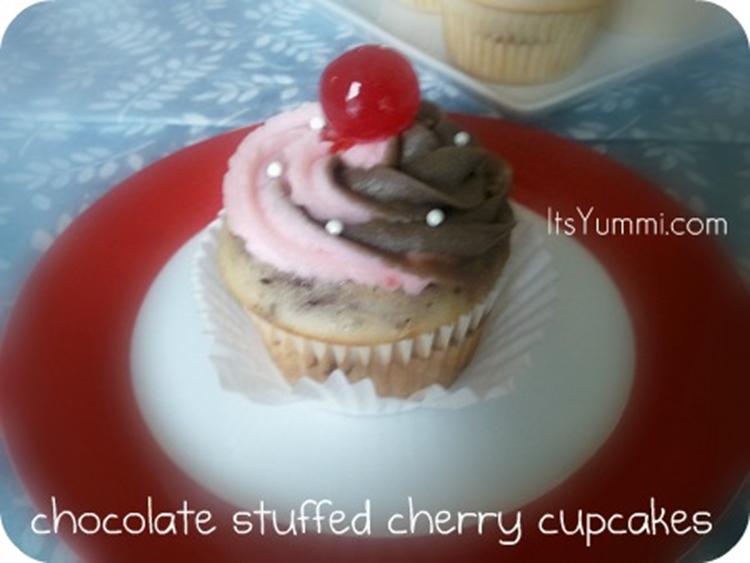 I've been meaning to try and pipe two-tone icing for a while now, and I used Katie's tutorial to help me figure out how to do it. It was so much easier than I imagined it would be! I made a traditional buttercream (1 stick of butter combined with 1.5 cups of powdered sugar) and then I added 3 maraschino cherries and a little bit of the juice to the mixture. If it seems to thin, add a little more powdered sugar. If it's too thick, you can add some more cherry juice or a little milk to thin it out. Then I made a batch of chocolate buttercream for the other color. The only mistakes I made were filling the piping bags too full and making the icing just a little bit too thick. It tasted great, but it was pretty difficult to squeeze through the piping tip. Next time I'll reduce the amount of icing per bag and thin out the consistency and it should be perfect.
(Incidentally, please forgive the blurry photos. I suffer from hand tremors and they were pretty nasty when I took these pictures. I'm saving up my pennies to buy a fancy DSLR camera and a tripod, so one day I will have some gorgeeeeeous photos to show you J
In the meantime, feast your taste buds on these chocolate stuffed bites of fluffy cherry cake and keep your smile on, because they're actually a little bit lower in fat and calories than a traditional cupcake. I substituted egg whites for whole eggs and I used a sugar-free boxed cake mix (Shhh….I'm lazy and do it from time to time. Please don't judge)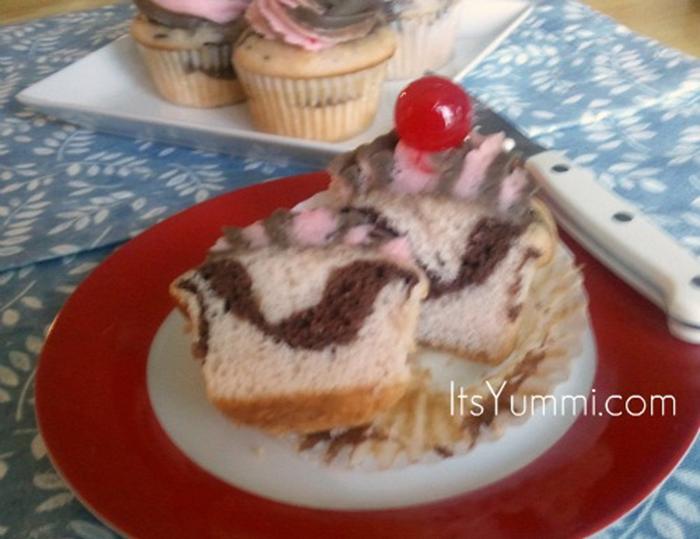 I prepared a sugar-free vanilla cake mix and then divided it in thirds. To make the cherry layer, I just added 2 Tablespoons of maraschino cherry juice to 2/3rds of the batter and reduced the amount of water that the recipe called for by 2 Tablespoons. The color was a very pale pink… pretty! If you want it to be more of a red color, you could certainly add some food coloring. To make the chocolate layer, I added 1/4 cup of unsweetened cocoa powder to the batter and then added a little water to thin it to the right consistency.
I placed a Tablespoon of the cherry batter in the bottom of each muffin tin, then placed a Tablespoon of the chocolate batter on top of it. I finished off each tin with some of the cherry batter. Bake as directed on the box. I can't tell you how easy and fun this project was, and as for the taste? Well…. The fact that I ate one for breakfast is probably a sign that they were Yummilicious. OK fine… I had two.
Sheesh… will you please stop staring at me like that?! After all, I saved some for you…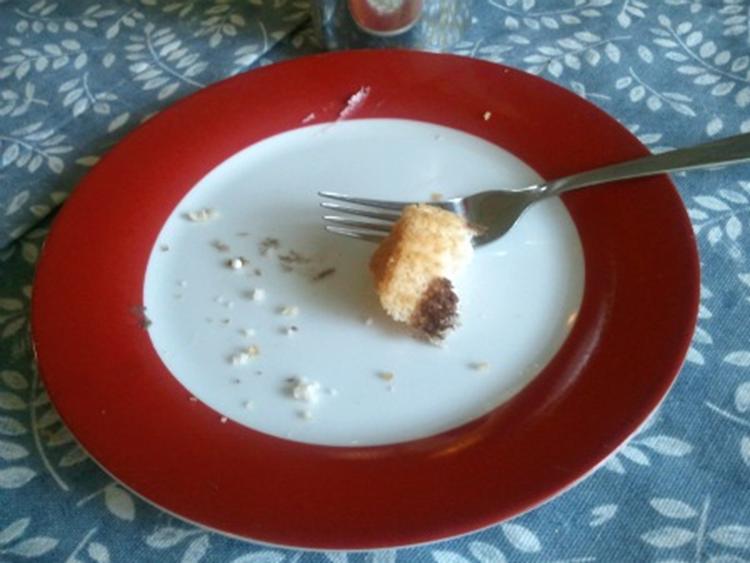 I shared this recipe on the Make Ahead Meals for Busy Moms "Melt in your Mouth Monday" blog hop!