THIS GIVEAWAY IS CLOSED
WELCOME TO DECEMBER…and PRESENTS!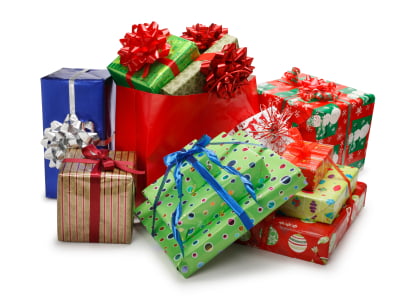 Presents for YOU… Even though it's HIS birthday!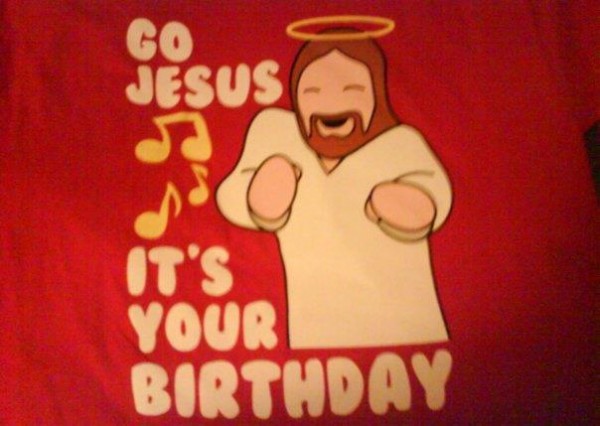 I don't think it matters if you're 8 or 80 years old, presents are always fun to receive.  When the December holidays roll around, there are wrapped gifts as far as the eye can see.  Although the REAL purpose for Christmas is to celebrate the birth of Jesus, exchanging gifts is a way for us to celebrate our love for one another… and love you, I do!
In celebration of my 1-year blogiversary (November 5th), reaching 5,000 fans on the It's Yummilicious Facebook page (November 23rd), AND the wonderful holiday coming up, I've decided to have a big 'ol giveaway to thank you for being a part of my blogging world.  The next 12 days are going to be LOADED with loot for you to keep for yourself, or pass on to someone you love.  Why?  Because YOU ROCK!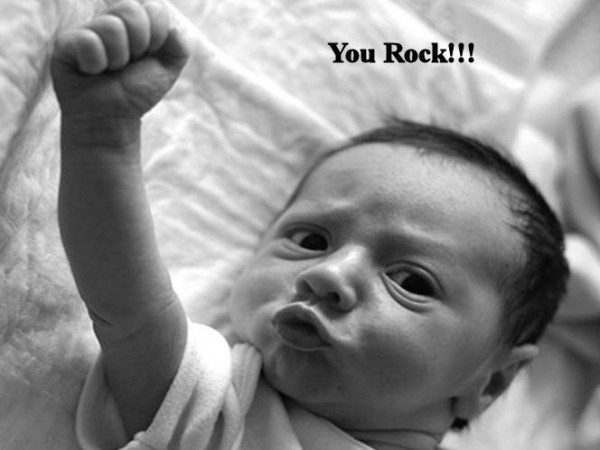 [rss-cut]
FORMALITIES of this giveaway event:
1.  As much as I adore every one of you, my thin, unemployed wallet doesn't have the funds to ship gifts overseas right now.  I'm so sorry!
2.  If the giveaway rules state that you must leave a comment, do so in the comments section under this post.  If they ask you to like a page or follow someone on Twitter, Pinterest, or other such social media sites, it's because the sponsor of the gift wants to get to know you.  They want you to get to know their products.  That means that want a long term relationship…not a one-night stand.  If you unfollow or unlike before the giveaway winner is announced, you can bet your cute self that YOU won't be the announced winner.  Comprende?  GREAT!  🙂
3.  These giveaways are in no way related to or operated by Facebook.
4.  Only one entry per person/email address is permitted.  In plain old English, if you have several email addresses, you can't use them all to place entries. Pick your favorite one and use to enter.  I want everyone to have an equal chance of winning.  Yeah, I'm stuffy like that, but it's my house, my rules.
5.  Pretty please don't break my heart by cheating.  It's so sad… and cheaters never win anyway.
OK… Are you ready to rock this party?!  Let's kick it into high gear!!
DAY ONE – 
On the first day of Christmas, your true love (that's me!) gave to you…. a wonderful baking tool that NO kitchen should be without!  A Silpat non-stick baking mat
!  *insert ooo's and ahhs here*

The great people at Demarle have graciously offered to send one very lucky It's Yummilicious fan their very own half-sheet sized Silpat.  I personally own two of these and I honestly can't say enough wonderful things about them.  They are a cook and baker's dream come true!  No more cookies sticking to your sheet pan, no more greasy messes to clean up when you're roasting veggies.  Everything that goes on the Silpat slides right off effortlessly!  It's a much more affordable option that buying rolls of parchment paper… and it's greener for the environment because there's no waste!
I bought my Silpats HERE
, and the price was affordable and they shipped right to my front door.  Buy one for the love of your kitchen, and enter here to win another, because pairs of things like this are two times as wonderful!
TO ENTER:
Use the Rafflecopter form below to do the following (IF YOU'RE READING THIS POST VIA EMAIL, YOU'LL NEED TO CLICK THROUGH TO MY WEBSITE TO ENTER):
Mandatory entries
1.  Leave a comment on this blog post (in the comments, not just on the Rafflecopter form) telling me what your biggest holiday wish is.  What do you want more than anything?
2.  Head over to Facebook and "like" the SILPAT FAN PAGE from your personal account (not a fan page)
3.  Head over to Facebook and "like" the IT'S YUMMILICIOUS FAN PAGE from your personal account (not a fan page)
NOT REQUIRED FOR ENTRY PURPOSES, but if you want to hook up with Silpat on their other social media pages, they would love to have you join them!
For EXTRA entries, share the URL to this giveaway post using your Twitter and/or Google+ account and be sure to provide the URL to the link where you shared it or your entries won't count.
This giveaway will end at 11:59 p.m. on Friday, December 7th and the winner will be announced and contacted via email on December 8th.  The winner will have 48 hours to reply to the email before another winner is drawn.
GOOD LUCK!