THIS GIVEAWAY HAS CLOSED
Welcome to DAY 3 of my 12 Days of Christmas giveaway! If this is your first time visiting It's Yummilicious or you haven't seen my posts for a while, the giveaways for days 1 and 2 can be found HERE and HERE
Those giveaways are both open for a couple more days, so be sure to get entered for a chance at some awesome gifts!
You may not be aware of this, but today is Sachertorte day.
Soccer WHAT?
Say it with me… SAH-kuhr-tohrt.  It's a wonderful type of Viennese chocolate torte with apricot jam spread between the layers.  Here, maybe a visual will help.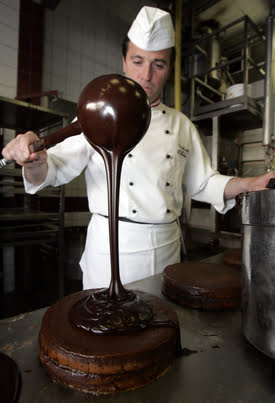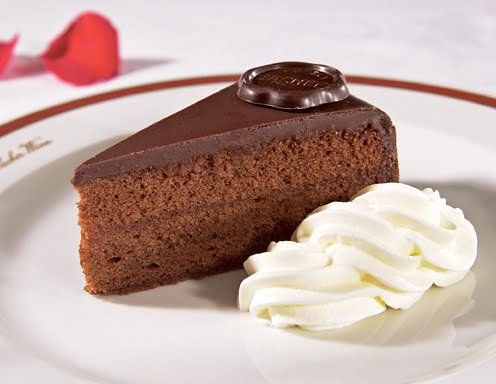 YUMMILICIOUS, right?!  Oooo, I need a sachertorte shovel or something.  Anyhoo, happy Sachertorte day, Lovelies!
Now… Let's get on with the giveaway! (If you're reading this via email or an RSS feeder, be sure to click through to the website so that you can enter the giveaway. You won't be able to do it from where you're at, sorry!
[rss-cut]
With help from today's giveaway gift, you can buy a book to help you learn how the sachertorte got its name, or how to bake one, or heck… you could probably even buy one ready to eat.  After all, Amazon.com sells practically everything!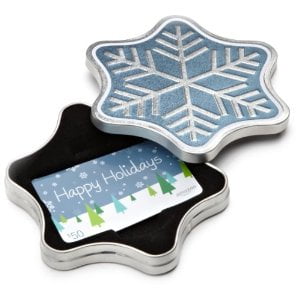 That's right, kids… I'm giving away a couple of Amazon gift cards today!  Hip hip hooray, there's some holiday shopping help comin' your way!
What's up for grabs today is TWO times the fun, because I'm giving away TWO $5 Amazon gift cards to ONE lucky winner.  That's ten bucks.  Not much shopping cash, but hey, I'm an unemployed girl.  I couldn't afford the hefty digital denomination cards this year.  The good news is, they never expire, so if you've got other ways to earn them, or someone else gifts you a few for the holidays, you can save 'em up and use these with those when you're ready.  You can use both for something special for yourself, share one with a friend, or heck… pass on the love completely to someone else.  It's your choice!  So let's get to it, shall we?
Another giveaway means another run through the rules. Sorry for the redundancy, but I wanna make sure we're on the same page…
FORMALITIES of this giveaway event:
1. As much as I adore every one of you, my thin, unemployed wallet doesn't have the funds to ship gifts overseas right now. I'm so sorry! HOWEVER, this particular giveaway IS open to residents living in the United States and Canada.
2. You need to use the Rafflecopter form to enter the giveaway. However, if the giveaway rules state that you must leave a comment, do so in the comments section under this post..not just on the Rafflecopter form. Also, if the rules state that you to like a page or follow someone on Twitter, Pinterest, or other such social media sites, it's because the sponsor of the gift wants to get to know you better. They want you to get to know their products, too. That means that they want a long term relationship…not a one-night stand. If you unfollow or unlike before the giveaway winner is announced, you can bet your cute self that YOU won't be the announced winner. Comprende? Thanks! 🙂
3. These giveaways are in no way, sponsored by, affiliated with, or operated through Facebook.
4. Only one entry per person/email address is permitted. In plain old English, that means if you have several email addresses, you can't use them all to place entries. Pick your favorite one and use it to enter. I want everyone to have an equal chance of winning. Yeah, I'm stuffy like that, but it's my house, my rules.
5. Pretty please don't break my heart by cheating. It's sad… and cheaters never win anyway.
Here's the Rafflecopter form you need to use to enter this giveaway. GOOD LUCK!

a Rafflecopter giveaway