Kettle corn is an addicting sweet and salty popcorn snack. This recipe for homemade kettle corn is taken up a notch with the addition of cinnamon. It's a delicious and easy gluten free snack!
When you're looking for something salty and sweet to snack on, nothing will the spot quite as well as kettle corn will. It's incredibly easy to make on your stove top, and it'll be the hit at your next movie night! Come on in to the virtual kitchen and I'll show you how easy it is to make!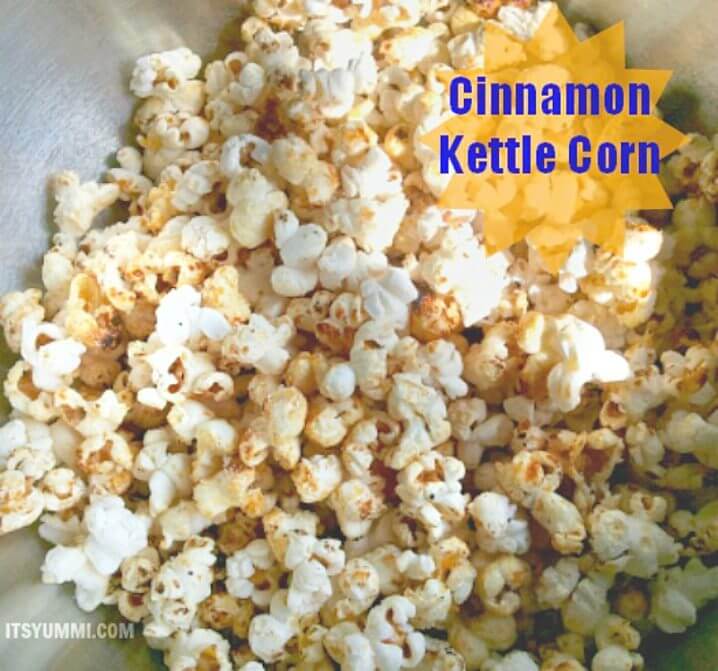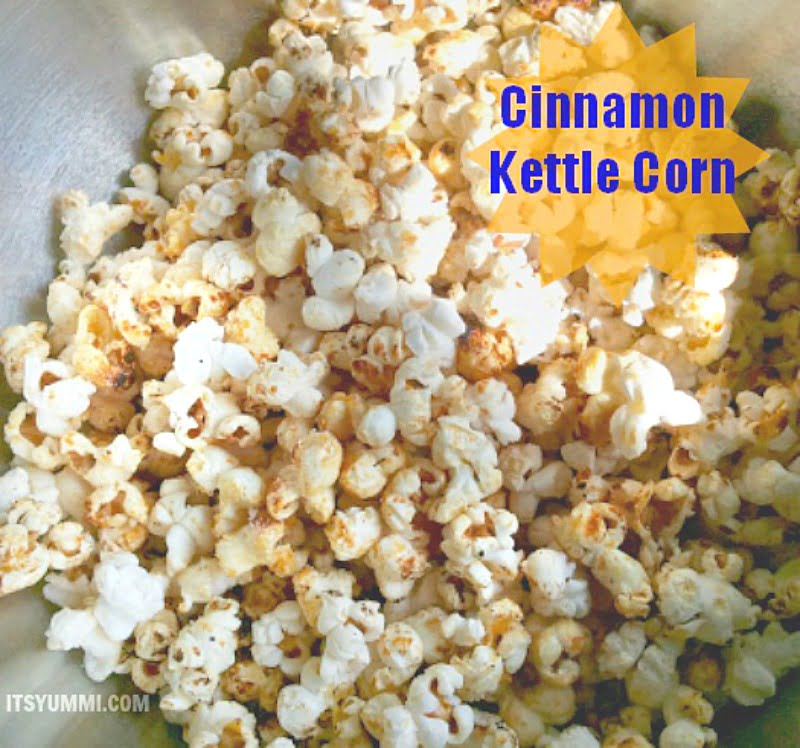 "Summer cooking implies a sense of immediacy, a capacity to capture the essence of the fleeting moment." ~Elizabeth David, food writer (1913-1992)
I love quotes about food.  I guess that's par for the course when you love to cook and bake like I do, but what amazes me is how many people use food as a topic of discussion. Last night at church, I overheard a conversation between two guys. The conversation began with a discussion (or possibly whining) about what a horrible preseason the Green Bay Packers are having. Then the conversation switched sides, the other guy complaining about what an awful round of golf he had played that morning.
Then the conversation switched gears. The golfer said, "But DUUUDE, the Italian sausage at the 19th hole rocked! I had 3 sausages and then I didn't care about my pissy round of golf so much."
That "men are from Mars and women are from Venus" thing is bunk. The author should hang around the coffee and doughnut table at church, because men are very similar to women when it comes to our love for food!
Homemade kettle corn is a snack that men and women will never argue over. It's a wonderful sweet and salty snack that's likely to turn just about any frown upside down.
I love popcorn! When you don't load it up with butter, it's actually a pretty healthy snack. I enjoy popcorn so much, I even make cookies with popcorn in them! Cinnamon kettle corn has become one of my favorite popcorn treats, though. Movie popcorn has nothing on homemade kettle corn – it's so addicting!
How to Make Homemade Kettle Corn
When it comes to cooking and baking, Joy the Baker knows all about how to transform ordinary into extraordinary. In her book, "[amazon_textlink asin='1401310605′ text='100 Simple and Comforting Recipes' template='ProductLink' store='chebecskit-20′ marketplace='US' link_id='fbe58492-93d5-11e8-aed8-19c19b127644′]
", Joy shares a recipe for making sweet and salty homemade kettle corn.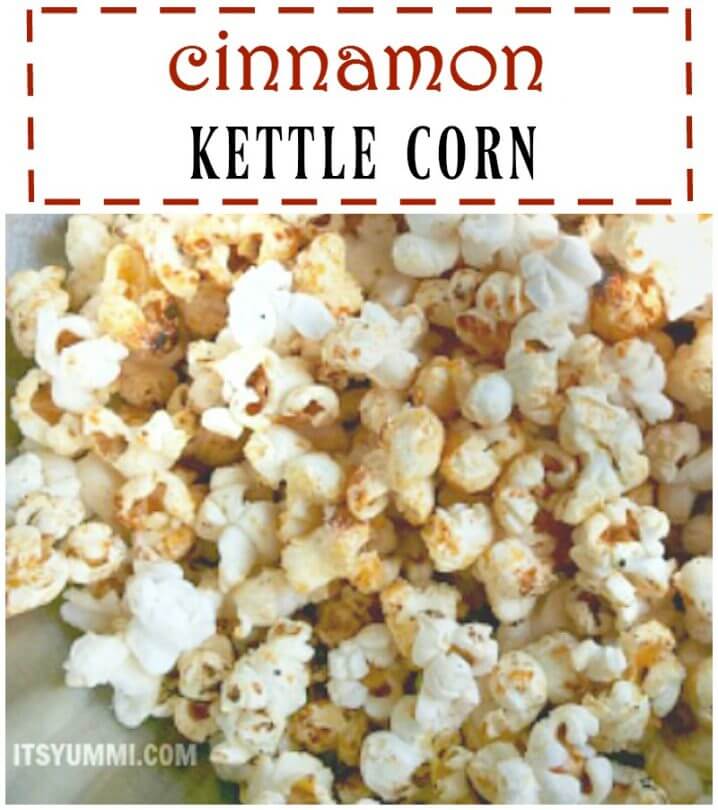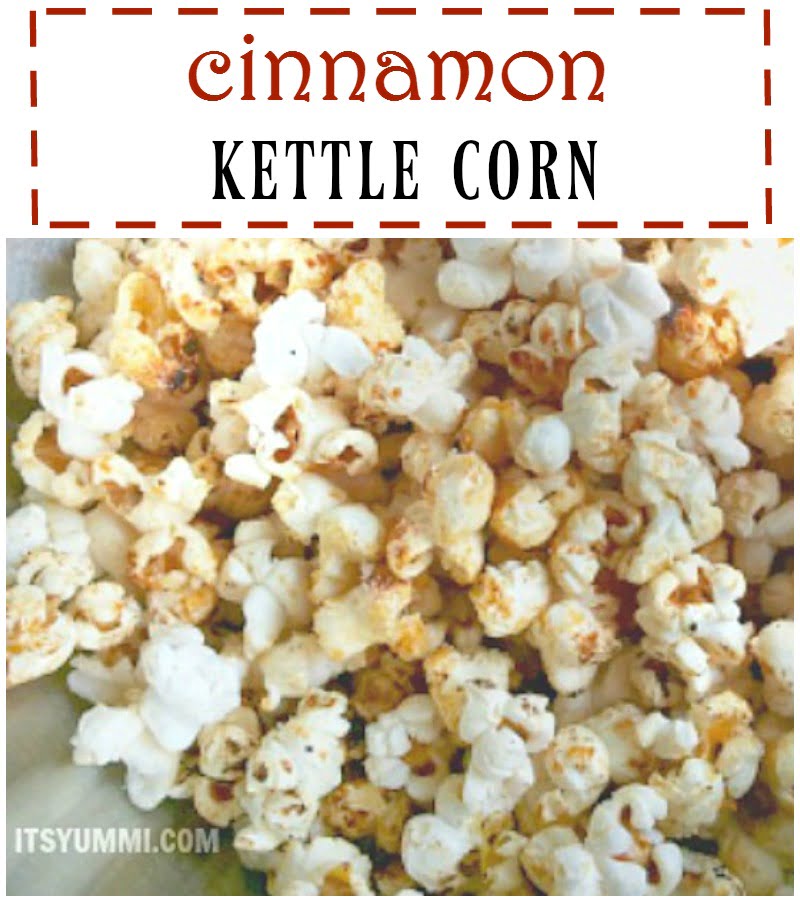 I made a slight adaption to Joy's recipe by sprinkling a little ground cinnamon onto the popcorn kernels along with the sugar and salt. The result is a delicious treat that reminds me very much of a warm security blanket – you just want to grab a hold of it and never let it go.
This recipe does have regular sugar in it, but if you're looking for a healthier snack, you can certainly use a cup-for-cup sugar substitute like [amazon_textlink asin='B000Z978SS' text='Erythritol' template='ProductLink' store='chebecskit-20′ marketplace='US' link_id='41eae766-93d9-11e8-8963-b53f6341dbab'] instead.
Slightly adapted from Joy Wilson's basic homemade kettle corn recipe, as seen in her cookbook.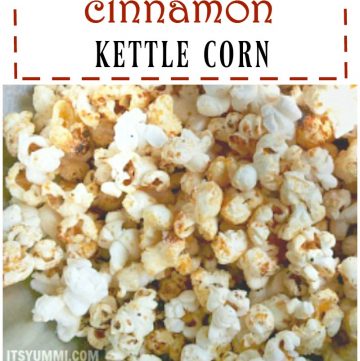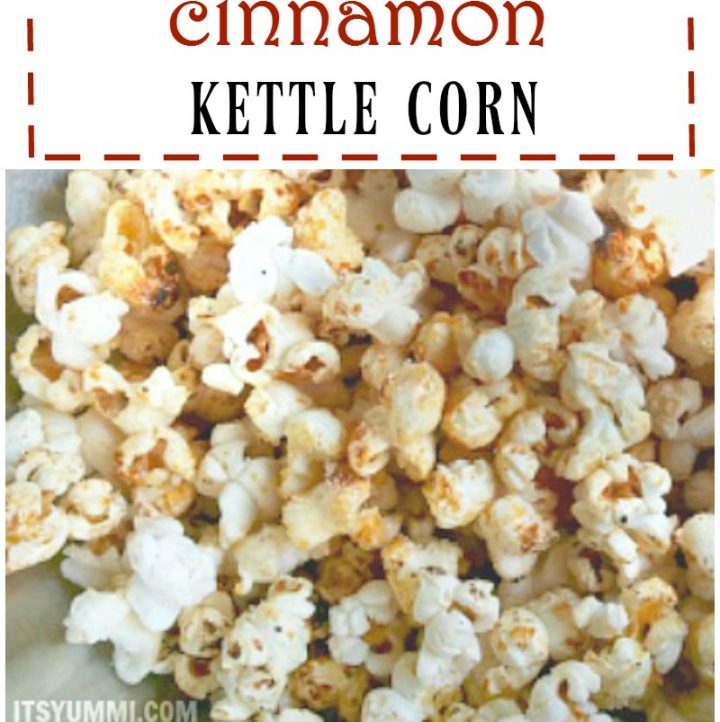 Homemade Kettle Corn with Cinnamon
A sweet and salty popcorn snack with a hint of warm cinnamon.
Ingredients
2

Tablespoons

unsalted butter

2

Tablespoons

vegetable oil

1/2

cup

popcorn kernels

3

Tablespoons

granulated sugar

1.5

Tablespoons

ground cinnamon

1

teaspoon

Kosher salt (or more/less

to your taste)
Instructions
Make sure the pan that you're using has a tight fitting lid and handles on both sides so that it's easy to lift and hold. You'll be shaking the pan during popping, so use oven mitts or pot holders to protect your hands from burns.

Heat the oil in a large saucepan or pot over medium heat. Add the butter and allow it to melt.

Add the popcorn, then evenly sprinkle the sugar and cinnamon over the un-popped kernels. Place the lid on the pot and increase the heat to medium high.

When the corn begins to pop, use the pot holders or oven mitts to hold the lid firmly on top of the pot. Holding the pot by the handles, carefully remove the pot from the heat and shake it up and down a few times. Return the pan to the heat and allow the kernels to continue popping. Shake again every 30 seconds or so to prevent the popcorn from burning.

When the popping slows down, turn off the heat and carefully remove the lid slightly to release some of the steam. To avoid being burned with steam, lift the lid away from yourself. When the popping stops completely, remove the lid and sprinkle the popcorn with 1/2 teaspoon of salt. Empty the contents of the pot into a large bowl and finish salting, to taste. The sugar will be very hot, so toss with a wooden spoon to prevent your fingers from burns.

Resist the urge to throw your face into the bowl and enjoy.
Nutrition