Cinnamon Streusel Coffee Cupcakes and More Recipes Using Cinnamon
Cinnamon, deep and earthy, paired with moist pecan coffee cake makes these cinnamon streusel coffee cupcakes one of the highlights of your weekend brunch!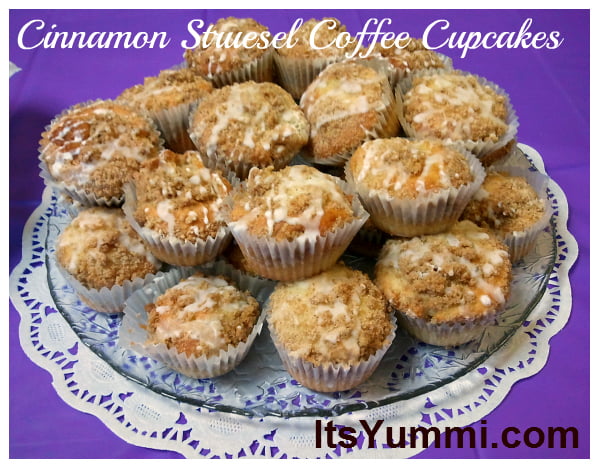 Really great cinnamon makes a magical difference in your baking.
One of the great pieces of wisdom that I was given in culinary school was shelled out by my instructor, Chef Jenn. She said, "If you put a lot of time, effort, and love into your baking, don't scrimp on the ingredients. The first taste should be the memorable experience that keeps everyone coming back for more! Buy the best quality butter, cinnamon, and chocolate that your budget allows for."
She was right, too. Until I did a side by side taste test comparison of several different types of ground cinnamon, I never realized how much taste difference exists between them. Some are smooth, some are spicy, and truth be told, others are downright disgusting. They don't taste at all like cinnamon should taste. The less expensive brands have a horrible chemical aftertaste to them.
Food Facts – Cinnamon
A good cinnamon should taste sort of spicy-sweet, and it should have a smooth after taste. There should be no chemical taste. Look for a very fine grind with a woodsy or floral tone.
I use Ceylon cinnamon (also known as Mexican cinnamon) because it's sweeter and has a lower Coumarin content. Studies have shown that high levels of Coumarin can cause liver damage (source).
Some of my favorite ways to use cinnamon are stirred into my coffee, and sprinkled over apples, like in my recipe for Apple Pie Ice Cream Bowls!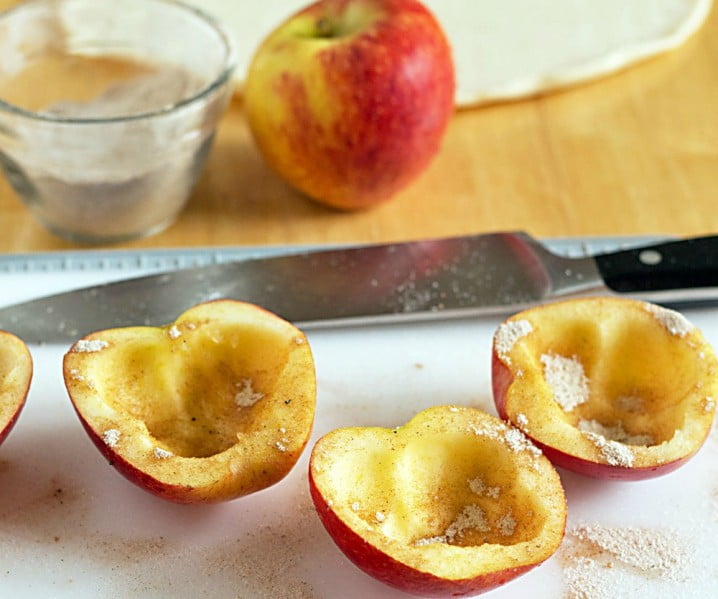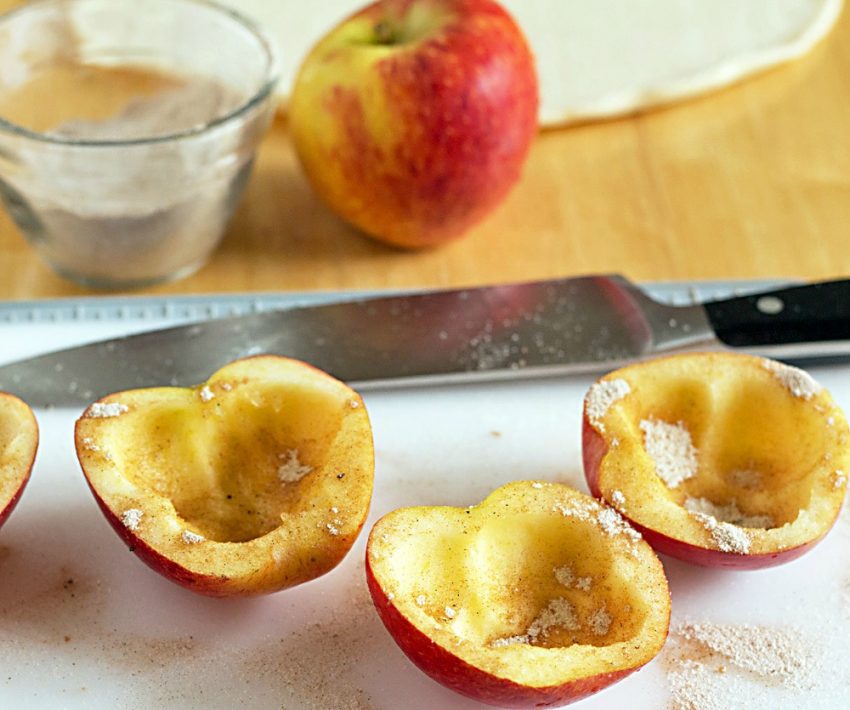 Another great use for cinnamon is sprinkled over popcorn. Mmm, Cinnamon Kettle Corn!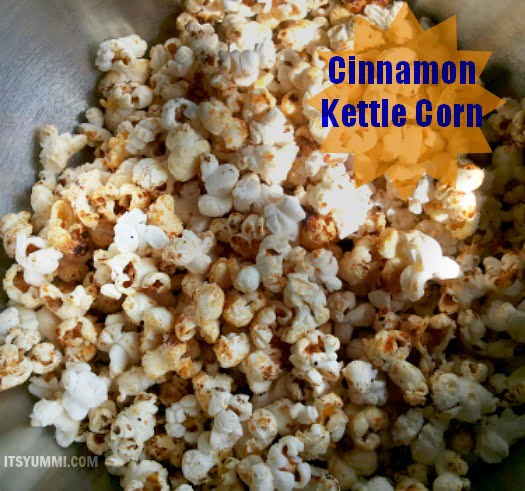 And to give a nice depth of flavor to my chocolate chip cookies, I always add about 1/2 teaspoon of ground cinnamon.
I don't call these Boo's Best Chocolate Chip Cookies for no reason!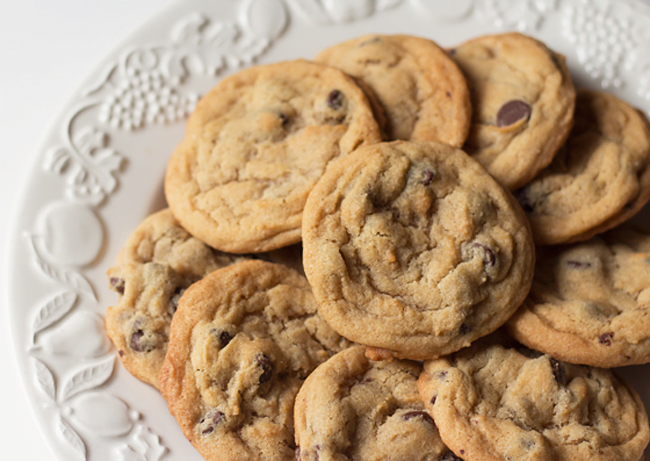 This recipe for cinnamon streusel coffee cupcakes is just one more awesome way to use cinnamon.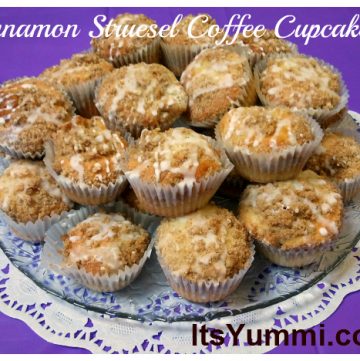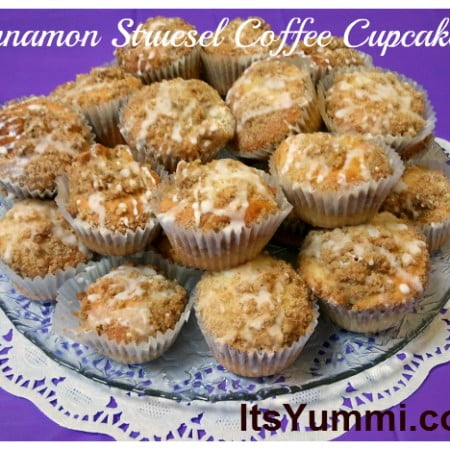 Cinnamon Streusel Coffee Cake Bites
Thick ribbons of cinnamon, sugar, and pecans are swirled into moist coffee cake, then drizzled with a deliciously sweet icing.
Ingredients
For the streusel topping and center
1 3/4

cups

(7.7 ounces) all-purpose flour

1

cup

(7.5 ounces) packed light-brown sugar

1 1/4

teaspoons

ground cinnamon

(I recommend Ceylon cinnamon)

1/4

teaspoon

kosher salt

3/4

cup

(6 ounces) cold unsalted butter

cut into small pieces

1 1/2

cups

coarsely chopped toasted pecans
For the cake
1/2

cup

(4 ounces) unsalted butter

room temperature, plus more for pan

2

cups

(8.8 ounces) all-purpose flour

1 1/4

teaspoons

baking powder

1/2

teaspoon

baking soda

1/2

teaspoon

kosher salt

1

cup

(7.5 ounces) granulated sugar

2

large

eggs

1 1/2

teaspoons

vanilla extract

1

cup

(8 ounces) sour cream
For the glaze
1

cup

confectioners' sugar

2

tablespoons

milk (any variety)
Instructions
Heat the oven to 350 degrees.

Make the streusel topping

Mix together flour, 3/4 cup brown sugar, 1 teaspoon cinnamon, and 1 teaspoon salt. Cut in butter using a pastry cutter or rub in with your fingers until small to medium clumps form. Mix in 1/2 cup pecans. Refrigerate until ready to use.

Make the streusel center

Mix together the remaining 1/4 cup brown sugar, 1/4 teaspoon cinnamon, and 1 cup pecans.

Make the cake

Butter a 9-inch tube pan with a removable bottom or place liners in 24 standard sized cupcake tins.

Sift flour, baking powder, baking soda, and 1/2 teaspoon salt into a bowl.

Beat butter and granulated sugar with a mixer on medium speed until pale and fluffy, about 2 minutes.

Beat in eggs, 1 at a time, then vanilla. Beat in flour mixture in 3 additions, alternating with sour cream, beginning and ending with flour. Continue to beat until well combined.

Spoon half the batter into pan. Sprinkle streusel center mixture evenly over batter. Top with remaining batter, and spread evenly using an offset spatula. Sprinkle streusel topping mixture evenly over batter.

Bake until cake is golden brown and a toothpick inserted into the center comes out clean, about 55 minutes for cake or 20-25 minutes for cupcakes. Transfer pan to a wire rack, and let cool completely. Remove cake from pan, and transfer to parchment.

Make the glaze: Mix together confectioners' sugar and milk. Drizzle over cake, and let drip down sides.
Nutrition
Serving:
1
piece
Calories:
315
kcal
Carbohydrates:
38
g
Protein:
3
g
Fat:
17
g
Saturated Fat:
7
g
Cholesterol:
46
mg
Sodium:
114
mg
Potassium:
104
mg
Fiber:
1
g
Sugar:
22
g
Vitamin A:
380
IU
Vitamin C:
0.2
mg
Calcium:
43
mg
Iron:
1.3
mg
For more great recipes using cinnamon, come on over and follow my boards on Pinterest!