Citrus Chocolate Covered Strawberries
Chocolate covered strawberries, with a blast of lemony citrus flavor! These homemade candies are perfect treats for Valentine's Day, Easter, or any time you want a healthier sweet treat.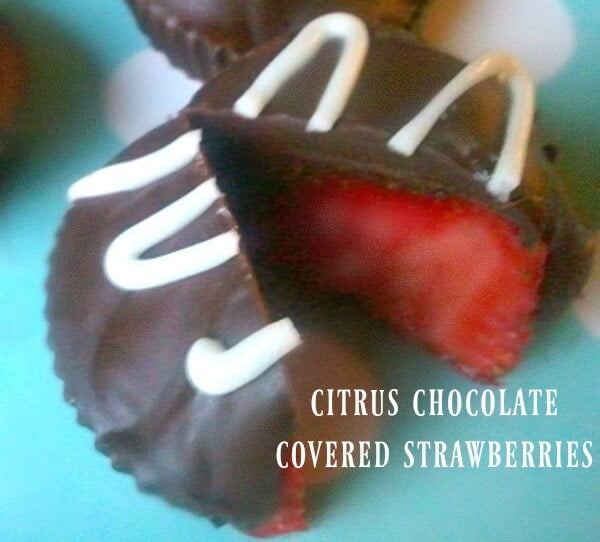 If you've been hanging around my Facebook page for the past few days, you likely heard that I've had a bit of a struggle with my health this past week.  Without divulging the yawn-worthy details, I'll just say that there's a slight chance that I'm going to have to go AWOL for a few days this week.  I'm not feeling well physically, which has now taken its toll on me emotionally.  UGH…those two illnesses do NOT go well together, so I'm going to do what needs to be done to get myself well again.  Simple as that.
Well, except for the fact that I'll be away from you for a while and I love you more than [amazon_textlink asin='B0005Z6ZK4′ text='Nutella' template='ProductLink' store='chebecskit-20′ marketplace='US' link_id='fa9cc4d3-0fd8-11e7-9d5d-bb808f11a3d8′] straight from the jar, so it's gonna be tough for me.  Real tough.  That's why I made us both some comfort food, dessert style.  You're gonna LOVE these citrus chocolate covered strawberries… I PROMISE!
In full disclosure, I must say that this treat was inspired by the wonderful, beautiful Yani from Help! Mom's On A Health Kick.  I asked her for some healthy dessert inspiration and she guided me in this direction.  I think she's brilliant!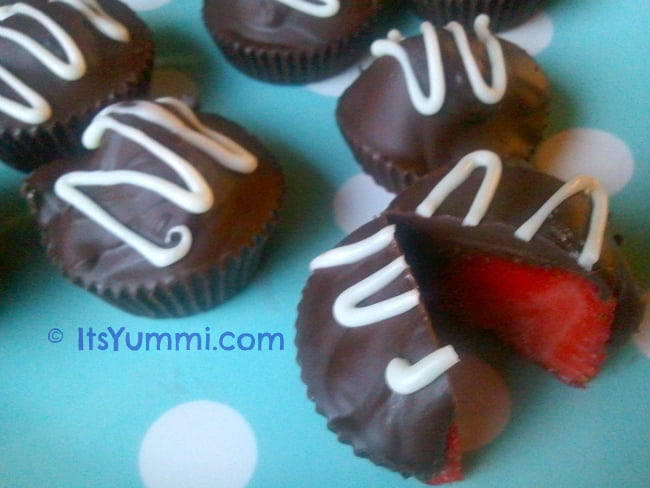 You DO like chocolate, don't you?  Heck, I like you so much, I even made us healthy dessert.  Look, there's fruit in the middle!  Fresh strawberries….yum.  Then, because I'm a kick-it-up-a-notch kinda girl, and I have crazy mad love for [amazon_textlink asin='B008GE87BG' text='True Citrus' template='ProductLink' store='chebecskit-20′ marketplace='US' link_id='469ddc5a-0fd9-11e7-9ef8-d7762e06d215′] products, I sprinkled the strawberries with some wonder powder of the citrus world: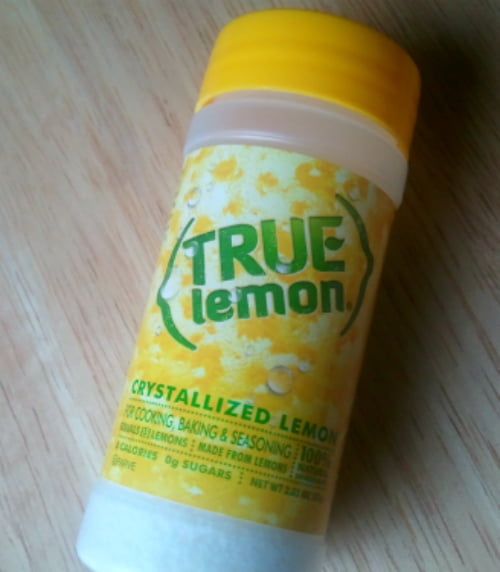 In case you're wondering, that there was a shameless, uncompensated plug for the True Lemon products…  I really do love them that much!  OK, on to the simple dimple assembly instructions.  You ready?  Let's do this!
Citrus Chocolate Covered Strawberries
Line a mini muffin tin with 12 paper liners and spray them lightly with non-stick spray.
Rinse and pat dry 12 small to medium-sized strawberries.  Trim the tops off and place one strawberry into each liner, cut side down.
Sprinkle each berry with a little True Lemon.  If you're following directions well, you should now have something that looks like this: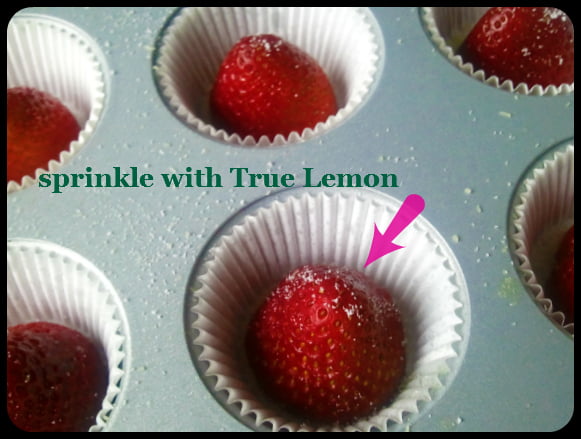 In a small bowl over a double boiler, melt about 10 ounces of 60% cacao (bittersweet) chocolate.  You can use semi-sweet or milk chocolate if you'd like, but the sweetness from the strawberries is complimented really well with a bittersweet chocolate.
Pour the melted chocolate over each strawberry, filling the liners almost to the top.  Place the pan in the fridge for about 20-30 minutes, until the chocolate has set.
By this time, you'll be going crazy to bite into one of these chocolate covered strawberries, which you are certainly entitled to do.  Quality control is encouraged.  If you want to kick them up a Yummi notch, melt 1/2 cup of white chocolate chips or candy coating and drizzle a little bit over each berry.
Back into the fridge for another couple of minutes so the chocolate can set.
Then you're ready to indulge to your chocolate loving heart's content!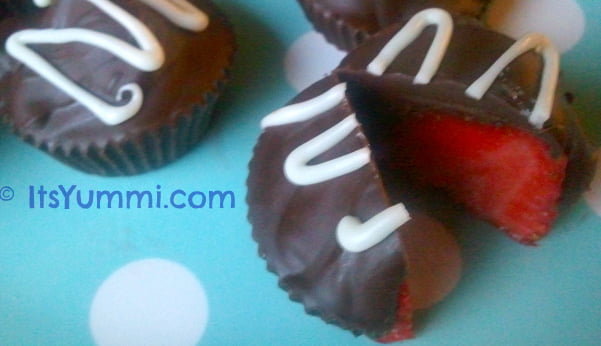 I really am going to miss being with you this week, but I promise you that when I return, I'll be a better version of my current self. We'll pick right back up where we left off and be BFF's forever and ever. Amen.
May your days and nights be filled with lots of chocolate covered strawberries and other good food for your stomach AND your spirit!


This post was shared on the MELT IN YOUR MOUTH MONDAY blog hop!