Banana Nut Cookie Butter Muffins
Did you know that today is National Potato Chip Day?  Me neither, hence the reason for today's post having absolutely nothing to do with potato chips.  Or potatoes.  Or chips, for that matter.  IMHO, I don't think potato chips deserve their own national holiday anyway.  Why take an every day treat and put it up on pedestal for the nation to rotate around for 24 hours?  Savor those holidays for special things…like bacon.  Oh, and Dairy Queen Dilly Bars.  And banana nut cookie butter muffins!!
Seriously!  Have you seen cookie butter?  Forget sight… have you TASTED the stuff?!  Aye carumba, Speculoos!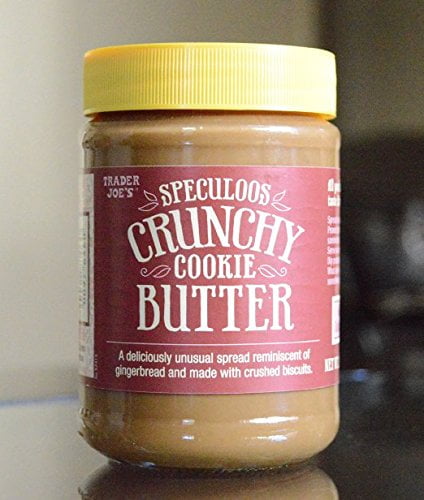 It tastes like creamy (or crunchy, if you prefer that version) gingerbread and butter all smoothed up fancy and delicious.  Since the flavor of gingerbread tends to create moaning noises from my mouth, you can trust me when I say that this stuff is much better than peanut butter.
I'm relatively certain that there's yet another pair of stretchy pants with my name on them if I continue eating this stuff, but until I get the "all good things in moderation" routine down, I'll risk snapping my elastic for these cookie butter banana nut muffins!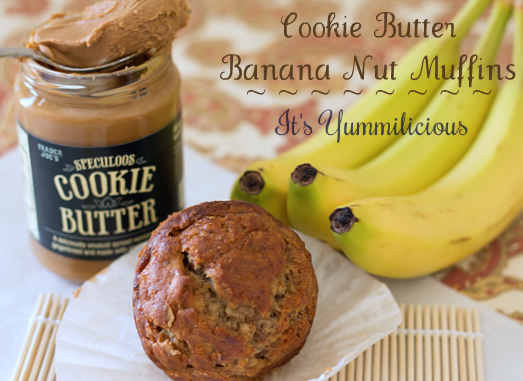 I've always been a fan of banana bread and I love the comforting, warm flavors of gingerbread, so combining the two seemed like the perfect pairing to me.  What's that? Did you say you love me?  Aww, thanks.  I love you right back.
Instead of a traditional loaf pan, I used a jumbo muffin tin to bake these.
These are some jumbo cookie butter muffins.  Easily share-able…if you're willing to part with some of this goodness.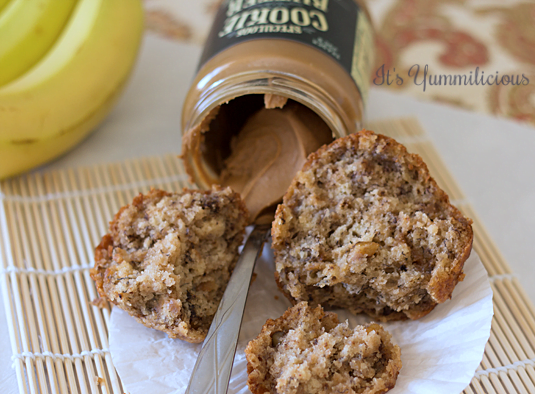 Enjoy these banana nut cookie butter muffins!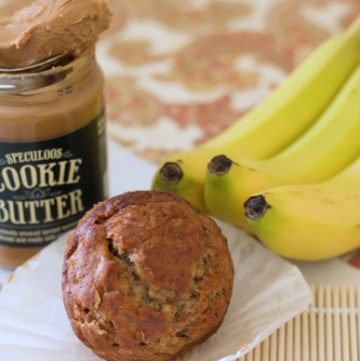 Banana Nut Cookie Butter Muffins
These cookie butter muffins taste like peanut butter gingerbread. They're a little bite of heaven.
Ingredients
3/4

cup

sugar

1/2

cup

vegetable oil

1/2

cup

cookie butter

3

overripe bananas

mashed

2

eggs

1/2

cup

milk

1/2

teaspoon

caramel flavoring

1/2

teaspoon

vanilla extract

1

teaspoon

baking soda

1

teaspoon

baking powder

1/4

teaspoon

salt

2

cups

sifted all-purpose flour

3/4

cup

chopped walnuts (optional)
Instructions
Preheat oven to 350°. Prepare Pampered Chef© Individual Serving Stone (or 2 standard sized loaf pans) by using a Silicone Basting Brush to coat the wells with melted butter.

In 3-cup Silicone Prep Bowl, whisk together oil, cookie butter and sugar.

Add the mashed bananas, eggs, milk, baking powder and baking soda. Whisk well to combine.

Mix in flour and walnuts until just combined. Try not to over mix!

Fill each well 3/4 full with batter.

Bake for 35-40 minutes, until toothpick inserted comes out clean.
Nutrition
Sodium:
400
mg
Sugar:
33
g
Fiber:
3
g
Cholesterol:
96
mg
Calories:
633
kcal
Saturated Fat:
12
g
Fat:
36
g
Protein:
8
g
Carbohydrates:
71
g