Double Chocolate Raspberry Cheesecake Tart
It occurred to me this week how much more of a fighter I've become over the past year, especially where the kitchen is concerned.  Not that I ENJOY fighting with my food, but past kitchen failures like this one did a great job of teaching me that it's more productive (and less expensive!) to stop throwing my disasters down the garbage disposal and start finding ways to turn them into a different but equally delicious treat!  The world will NOT come to an end just because something I made doesn't turn out looking like the photo in the cookbook.
I also learned that determination, persistence, and practice are all key ingredients to creating a successful recipe from start to finish.
Today's recipe is proof positive of that.  My intended project was to recreate Joy the Baker's dark chocolate ganache tart with fresh berries and sweetened cream.  It sounded heavenly and perfect for me to make, especially in celebration of my birthday this week.  I salivated as I daydreamed of silky dark chocolate sliding over my tongue with a tart and tangy raspberry chaser.  Yum!  I looked at the beautiful photo in  Joy's book
 and I knew it was going to be perfectly wonderful!
Christina Ferrare's version replicated Joy's version perfectly.  Take a look at this beauty…  Christina rocked it!
THAT is what I intended to make. THIS double chocolate raspberry cheesecake tart is what I ended up with: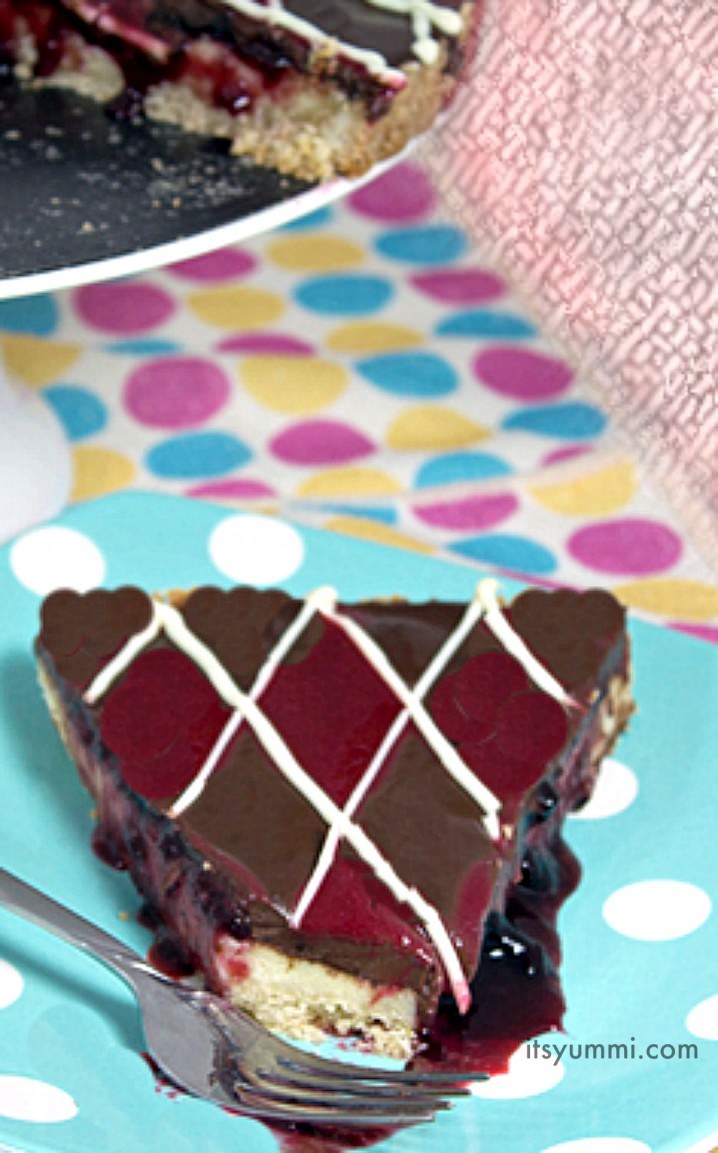 I ended up with an equally beautiful and delicious dessert, primarily because when my mind starts moving with ideas, it doesn't know when to quit.  It all started with the flour in the recipe.  Joy's recipe mentioned that the dough would be "shaggy".  Mine was just plain dry.  There wasn't enough liquid in it when I pressed it into the tart pan.  My culinary graduate brain was shouting for me to add a Tablespoon of milk to the mixture, but my desire to have a perfectly glorious tart EXACTLY like Joy's kept me from doing so.  After all, if the photo in the book was perfect, mine would be too. Or not.
LESSON LEARNED:  GO WITH YOUR GUT INSTINCTS.  If you buy the book (and you really should…you'll love it!), cut back on the flour in the recipe by 1/3 cup and add a Tablespoon of milk and you'll be great to go.
Anyhoo, to compensate for the dryness of the dough mixture, I decided to add something on top of it that had lots of fatty goodness and moisture.  Enter cheesecake batter!  The fact that I love cheesecake almost as much as I love chocolate ganache AND the fact that I thought of the idea off the top of my exceedingly aged brain made me pat myself on the back.  This would be a perfect birthday treat, indeed.  So I mixed up 8 ounces of softened cream cheese with a couple of eggs and a bit of flour and into the pan it went.  Then I decided that I wanted cheesecake AND ganache…AND all of that lovely fruit on the top, too!  What can I say?  I'm a dessert glutton.  I admit it.  Let's move on.
While my cheesecake baked in the oven and my tart crust became all pretty and golden, I went to the fridge to grab the gorgeous, plump raspberries that I would place on the top of the finished dessert.  Only plump hardly described what I found when I opened the container.  They were overly ripe and most of them were mushy.  Hardly photogenic.  UGH!
I came THIS close to tossing them in the garbage and having a hissy fit.  Then I did the whole "stay calm and have a cookie" routine and decided that I would reduce and thicken the berries on the stove top until they became a lovely puree.  I guess I can be a genius when I try.  Who woulda thunk it?
After the cheesecake had finished baking, I let it chill for about an hour in the fridge, just to make sure that when I placed the raspberry puree on top, it wouldn't get watery.  While that chilling took place, I made the dark chocolate ganache according to Joy's instructions.  I poured it over the top of my chilled tart and put it back into the fridge until it had chilled nicely…about another hour.  It's quite possible that all of the chilling isn't necessary, but I wasn't going to take any chances.  They don't call desserts like this  a labor of love for no reason!  I topped off the dessert with some melted white chocolate and a bit of the raspberry reduction and sat down to enjoy the rewards of my efforts.
Happy birthday to me…and happy baking to you!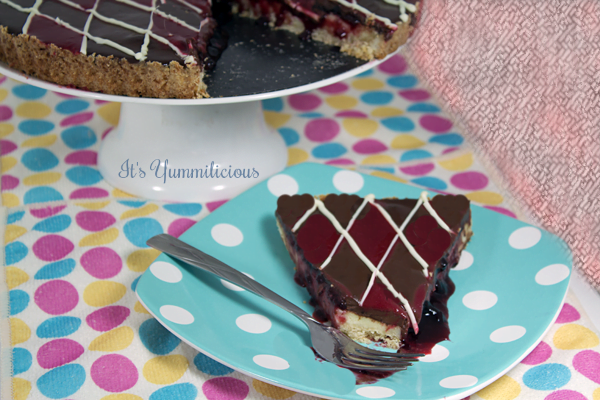 [mpprecipe-recipe:137]