Easy Chicken Alfredo with Roasted Red Pepper Sauce
I've created a delicious chicken alfredo recipe for you today, and I partnered with the Collective Bias® Social Fabric® Community and its advertiser to share it with you. I was compensated for this post, but all thoughts, ideas, and opinions are my own.
I can't believe how much my life has changed for the better over the past 2 years. It's a prayer come true for me to finally be free of most of the diseases and injuries that were robbing my body of precious years. I'm finally living healthy, eating well, and although I'm still living in this broken down body equivalent to that of of a 75 year old woman, I'm beginning to feel physically stronger, too.
Dishes like this grilled chicken and roasted red pepper alfredo pasta might LOOK sinfully unhealthy, but I'm about to blow your mind and show you how it can be made with half of the fat and calories than the traditional version!  This healthy recipe is made MORE awesome by having it ready to eat in just 20 minutes! Can you believe it?  Grab your apron and let's get cookin'!
To make things healthier, you'll need to lessen the fat and calories a bit, and to make it quick and easy to prepare, you'll want to use products that don't require much cooking time, so you might want to place these special items onto your grocery list:
~ Low fat cheese: I don't skimp on quality…I buy mine from the deli. Most of the packaged cheeses have preservatives that I don't need or want.
~ Roasted red peppers (jarred) – These are completely optional…they're just a huge time saver. They come packed in oil and you can find them in your grocery store the aisle near the olives and pickled veggies. Personally, I roast my own because I happen to love the smell and I think they're kind of gorgeous. The lighting was perfect when I shot this photo!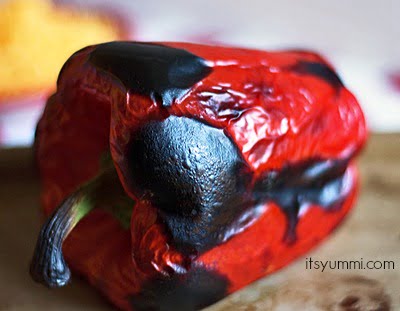 OK, back to the grocery list…
~ Precooked chicken breast strips: I use Tyson Grilled & Ready Chicken products in LOADS of my recipes, and oh my good Lordy, how I love them! I don't have to have to handle slimy, raw chicken, they've pre-cut the chicken into pieces for me, AND it's already cooked, so it's as simple as heat and eat. I seriously use them on everything from salads and soups to breakfast, lunch, and dinner entrees. Oh, and in case you're wondering, it's made from boneless, skinless white and rib meat chicken. I usually buy the big bag of grilled tenders from Walmart, but there are whole chicken breasts and other products and varieties available, too.  BONUS…Walmart has all of the Grilled & Ready products on Rollback for just $5.87 right now! I used a gift card I got for Christmas and stocked up, so now I have a quarter of my chest freezer full of them. I'm not kidding!
OK, are you ready to learn how I made this grilled chicken and roasted red pepper alfredo recipe?  I've got the recipe, but first, I want to mention something about the ingredients I used, because I'm pretty sure that some of you may be scratching your head when you see the ingredient list.
HALF 'n HALF vs. lowfat or nonfat half 'n half – I know from seeing recipes on other blogs that there's a craze for substituting the lower fat or non-fat half 'n half product to save fat and calories. It might save you a few, but I'd like you to look closely at the nutritional data AND the ingredient list from one of the most popular brands and then make your own judgement call on which product you'd like to use.  I like to avoid additives if I can, and by using a combo of half 'n half and skim milk, I've pretty much made my own low fat version anyway.  Take a look HERE and HERE for the comparison.
All of this talking has made me hungry.  I'm having some more of this for lunch today 🙂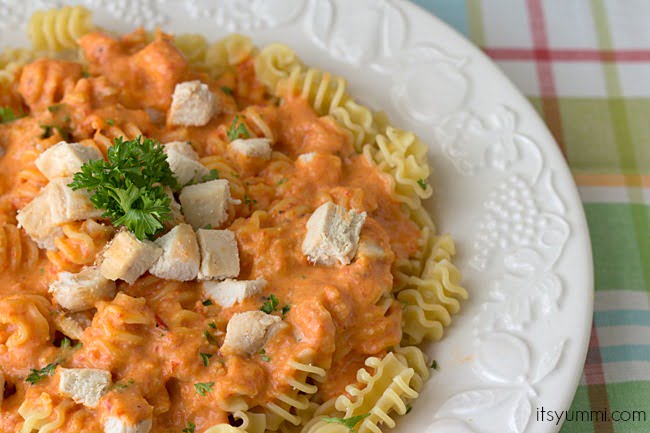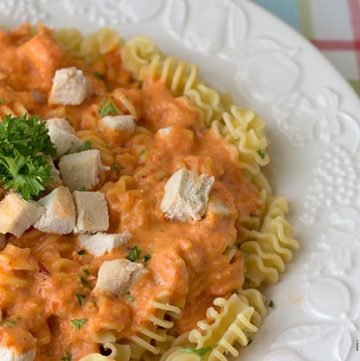 Chicken Alfredo with Roasted Red Pepper Sauce
This chicken and roasted red pepper alfredo recipe can be on your table in 20 minutes, thanks to the use of precooked, boneless, skinless chicken breast tenders!
Ingredients
8

ounces

cooked boneless skinless chicken breast,

cut into bite sized pieces

8

ounces

(1/2 jar) roasted red peppers

drained and roughly chopped

1

Tablespoon

avocado oil

or other healthy cooking oil

1

Tablespoon

all-purpose flour

1

small onion

diced medium

2

cloves

garlic

minced

4

ounces

half and half

4

ounces

skim milk

4

ounces

low fat white cheese

I used low fat white cheddar

4

ounces

grated Parmesan cheese

1/4

teaspoon

salt

1/4

teaspoon

white pepper

or black pepper

1/2

cup

(1 large bunch) flat leaf parsley

finely chopped

1/2

pound

pasta

(your favorite type) cooked to al dente
Instructions
Roasted Red Pepper Alfredo Sauce:
Heat oil in a medium sized pan over medium heat. Add onions and garlic and saute 4 minutes, or until tender. Stir in flour and cook for 1 minute.

Reduce heat to medium-low and add half and half, milk, cheese, salt and pepper. Stir until cheese has melted. Add roasted peppers to sauce.

Remove from heat and pour sauce into food processor or blender to puree, or use an immersion blender.
Finishing Steps:
Transfer sauce back into hot pan and stir in cooked chicken (reserve a little for garnishing the top) and toss with cooked pasta. Taste and adjust seasonings.

Garnish with more Parmesan cheese and chopped parsley, if desired.
Nutrition
Serving:
0.25
reccipe
Calories:
556
kcal
Carbohydrates:
53
g
Protein:
40
g
Fat:
19
g
Saturated Fat:
9
g
Cholesterol:
78
mg
Sodium:
1626
mg
Potassium:
635
mg
Fiber:
3
g
Sugar:
4
g
Vitamin A:
1405
IU
Vitamin C:
39.8
mg
Calcium:
554
mg
Iron:
2.4
mg