Halloween Rice Krispie Treats
Halloween Rice Krispie Treats are served! These Chocolate Rice Crispy Treats are the perfect Halloween party treats! This is a basic Rice Krispie treats recipe, with a drizzle of chocolate and candy corn added for a festive Halloween touch.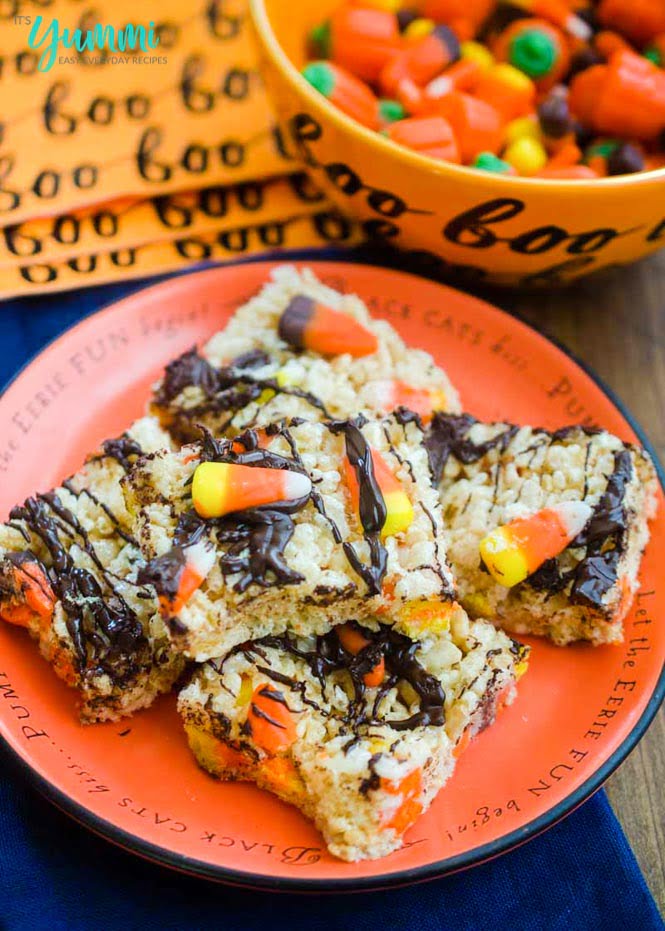 Admittedly, we are not into celebrating Halloween very much, but I do love Halloween treats! Oh, and of course, all things pumpkin! Desserts like donut spiders and are always tasty, so why not?
We are absolutely obsessed with candy corn and the candy corn pumpkins. So today we bringing together our two favorite things, candy corn and rice krispie treats!
And I've always been a fan of rice crispy treats. This is a fantastic basic rice krispie treat recipe from VeggieBalance. But since halloween and fall is coming it's time to make these festive!
These are especially delicious with chocolate added to them! So, today's recipe combines my love for chocolate rice crispy treats into an easy Halloween treat idea. Lets do this.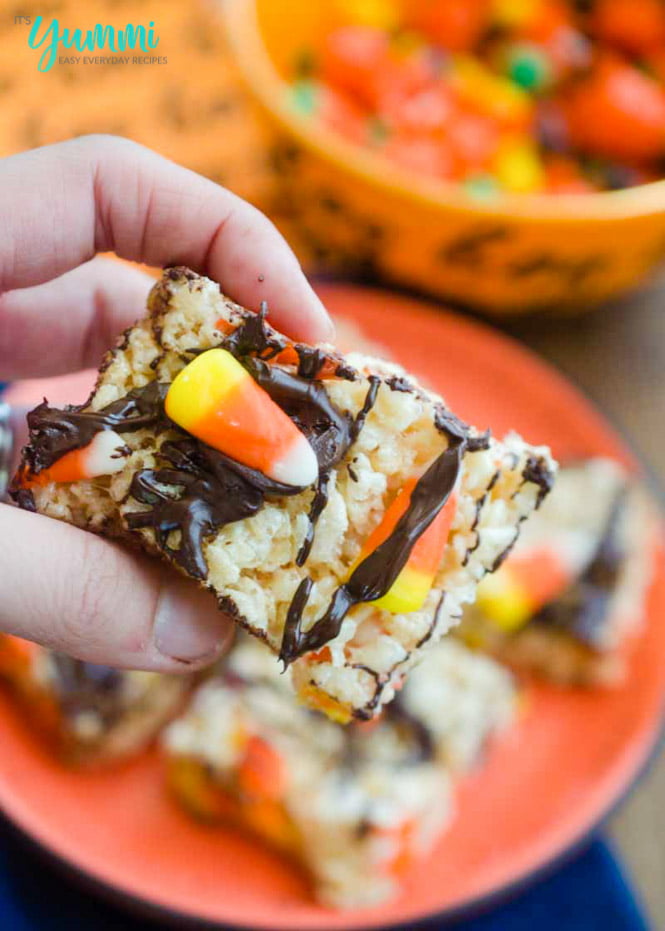 How to Make Halloween Chocolate Rice Crispy Treats
Nearly everyone I know has made rice crispy treats at least once in their life, but for those of you who haven't made them yet, now is the time!
They're so flipping easy to make – just 3 ingredients needed to make basic Krispie treats, plus chocolate and candy corn to transform them into easy Halloween chocolate rice crispy treats. You're going to need:
marshmallows (standard size or mini marshmallows will work, but mini marshmallows melt easier and faster)
crispy rice cereal
unsalted butter
candy corn
chocolate chips (whatever variety you like the best)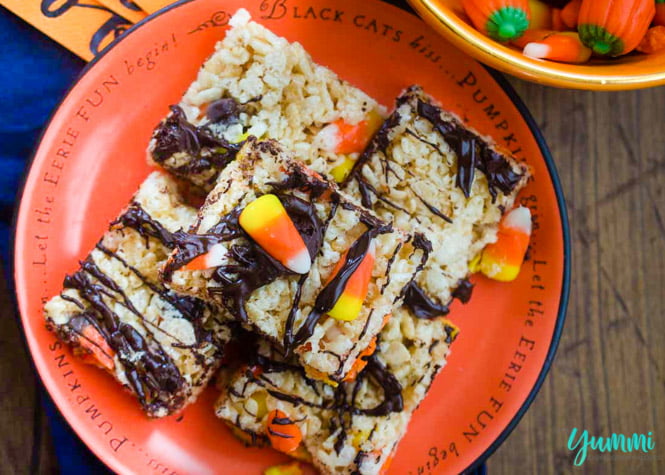 How to Make Halloween Krispie Treat Pops
If you want to make these into krispie treat pops, just make the rice crispy treats recipe as shown below, then use Halloween cookie cutters to make fun shapes. Insert a food safe popsicle stick into the bottom of each treat while they are still relatively soft.
Now below you'll see our recipe video tutorial to see how fun and easy these chocolate rice crispy treats are to make, then scroll down for the full recipe and instructions!
I hope you have fun making the chocolate rice crispy treats! Leave a comment below if you have other fun Halloween treat ideas!
I have some fun Halloween cupcake recipe ideas you might like, and Halloween party recipes and menu plan, too! Or just out these Chocolate Cauldron Cupcakes from That's Low Carb.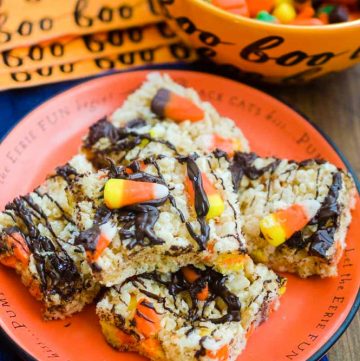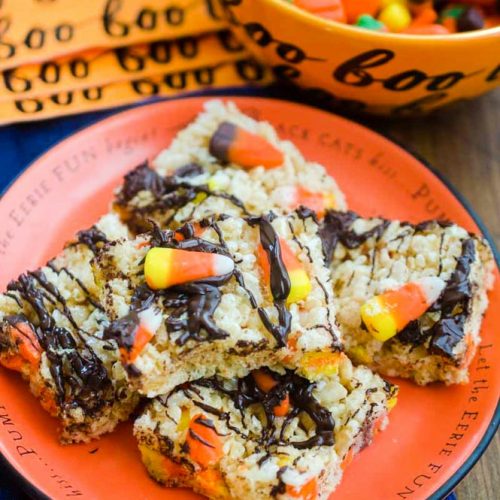 Halloween Rice Krispie Treats (Chocolate Rice Crispy Treats)
Rice Krispie Treats recipe is jazzed up with for Halloween! These chocolate rice crispy treats are made with crispy rice cereal, marshmallows, candy corn, and dark chocolate.

Instructions
Grease an 8 x 11-inch baking pan with butter or non-stick cooking spray. Set aside.

Melt butter and marshmallows in a large heavy bottomed pot over medium heat, stirring occasionally, until well combined.

Remove pot from heat and stir in crispy rice cereal to combine. Working quickly, stir in most of the candy corn, reserving about 1/4 cup for the top of the treats. Using the back of a buttered wooden spoon or your buttered hands, press mixture evenly into baking pan. While treats are still warm, press additional candy corn pieces into the top of the treats.

Using a microwave or double burner, melt chocolate chips. Transfer melted chocolate to a pastry bag fitted with a small round tip, or to a small zip top plastic bag with one corner snipped off. Drizzle chocolate across the bars.

Allow chocolate to set before slicing treats into squares. Alternatively, use cookie cutters to make fun shapes from the Krispie treats.
Nutrition
Serving:
1
square
Calories:
177
kcal
Carbohydrates:
35
g
Fat:
3
g
Saturated Fat:
2
g
Cholesterol:
7
mg
Sodium:
65
mg
Potassium:
7
mg
Sugar:
25
g
Vitamin A:
90
IU
Calcium:
7
mg
Iron:
0.3
mg
More Fun Halloween Treat Ideas
I think any of these recipes would be perfect a Halloween party, don't you?