Easy Recipe for Apple Pie Ice Cream Bowls
These apple pie ice cream bowls are made with fresh, crisp Envy apples from New Zealand, and they're begging to be filled with the ice cream flavor of your choice! This is a sponsored post brought to you by Envy apples. I was compensated for writing this post, but if you know me well, you already know that all thoughts and opinions expressed here are my own. I only speak the truth 🙂
Serious question: What goes better with ice cream than apple pie? Answer: NOTHING, which is why I combined the two and made apple pie ice cream bowls!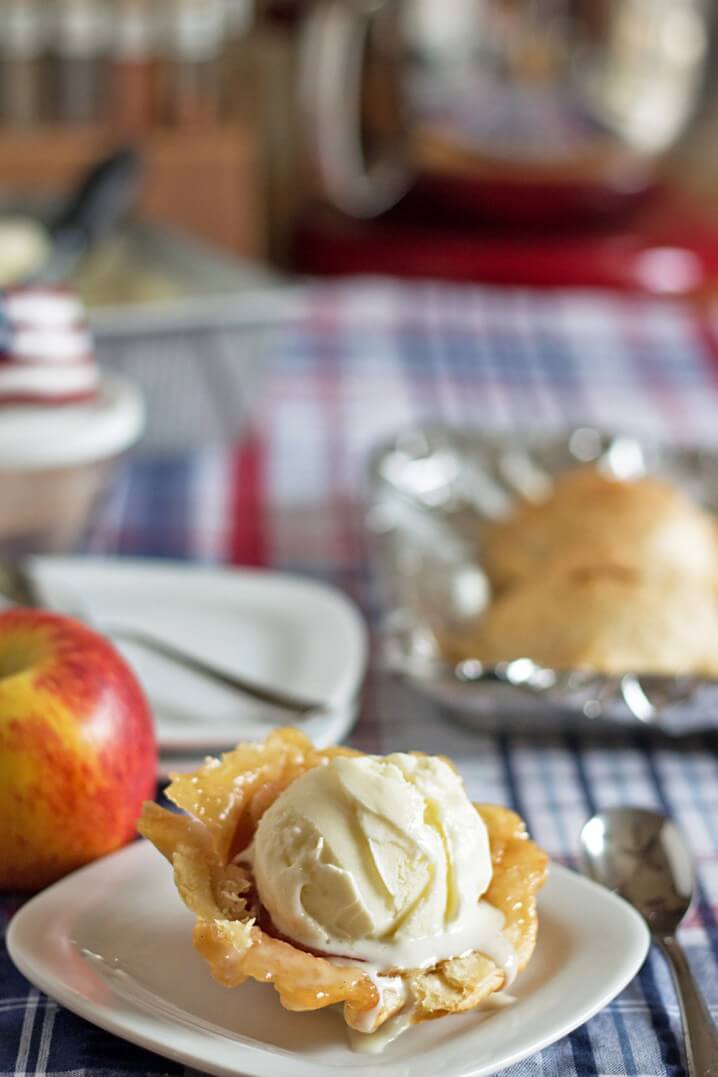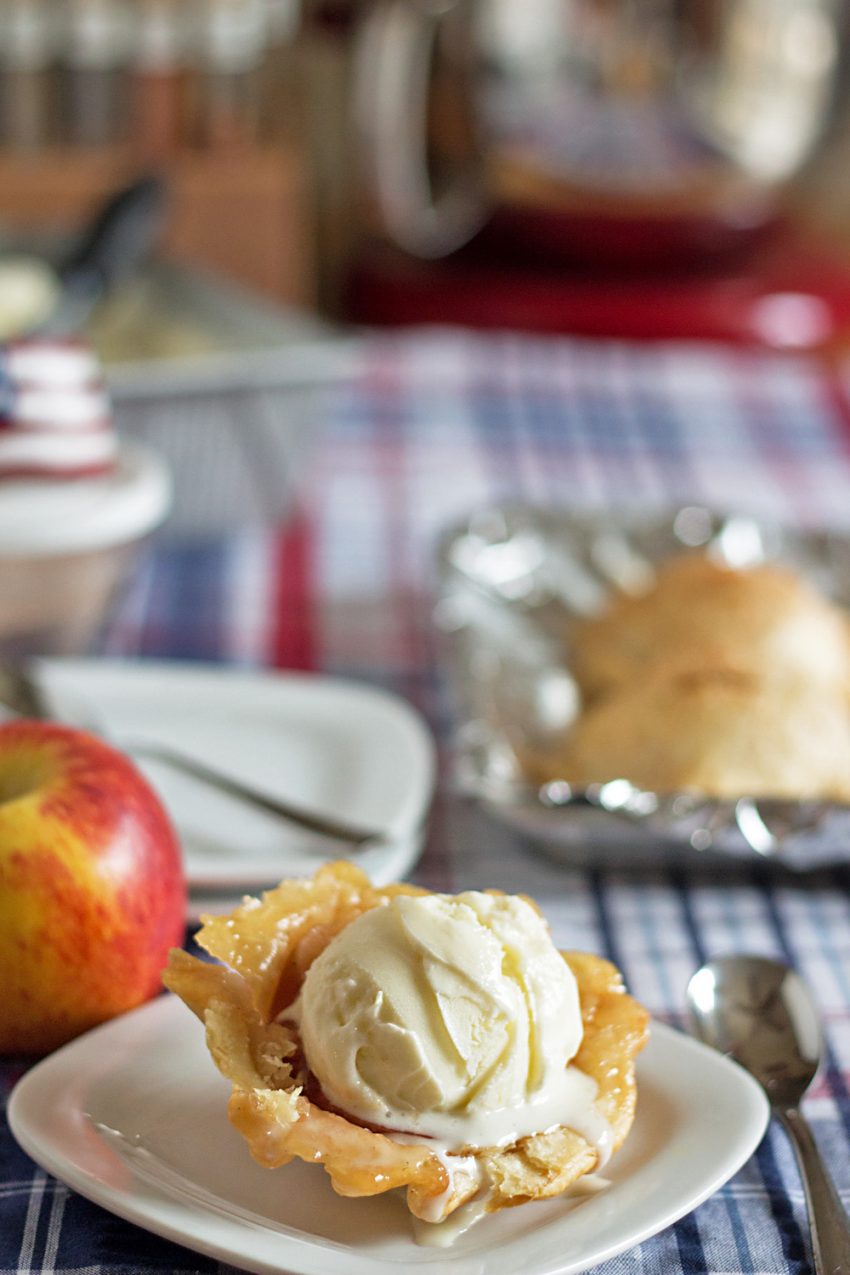 Except maybe for a slice of my Apple Cinnamon Crumb Cake, these apple pie ice cream bowls are my favorite apple recipe to date, gang. It's serious apple love, and I'm positive that the main reason for it is the Envy apples that I used to make them.  I've never had an apple quite as crunchy and sweet as this was. They're new and hard to find, but a very worthwhile discovery! They're in season from mid-June through October, so be on the lookout for them, and ask your producer manager to order them for you. If you like the crunch of Granny Smiths and the sweetness of Galas, I can guarantee that you won't be disappointed with an Envy apple!
I was sent an incredibly big box full of them, making me just a little bit giddy.  CLICK HERE to see the "unboxing" photo, that I posted on Instagram!  Speaking of social media, did you know that fruit has it's own social media pages, too?  Check out the Envy Apple Twitter account and website!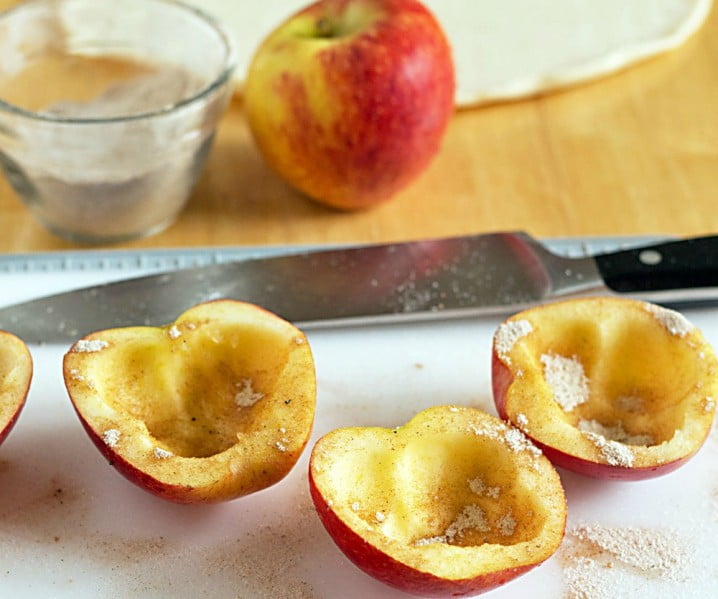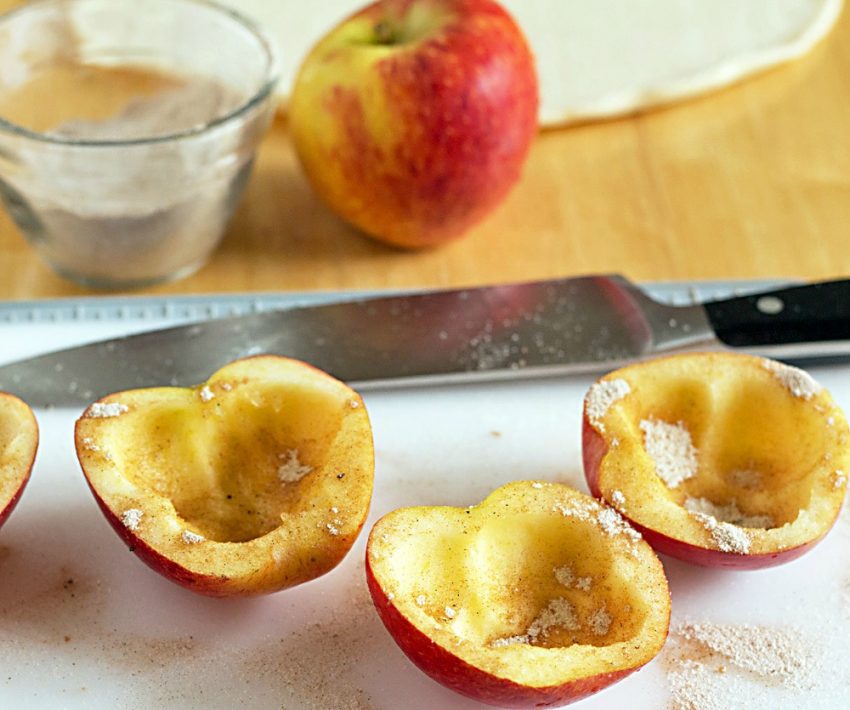 When it's summer in the United States, pears and apples are high in season in New Zealand. When you see New Zealand pears and apples in the stores this time of year, they're super-fresh and ready to eat. That's why I've teamed up with an amazing group of other bloggers to come up with delicious summer recipes featuring New Zealand fruit.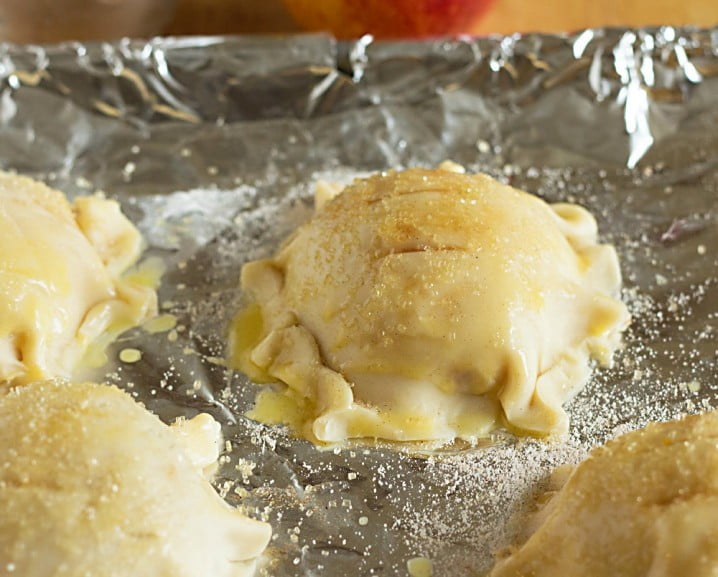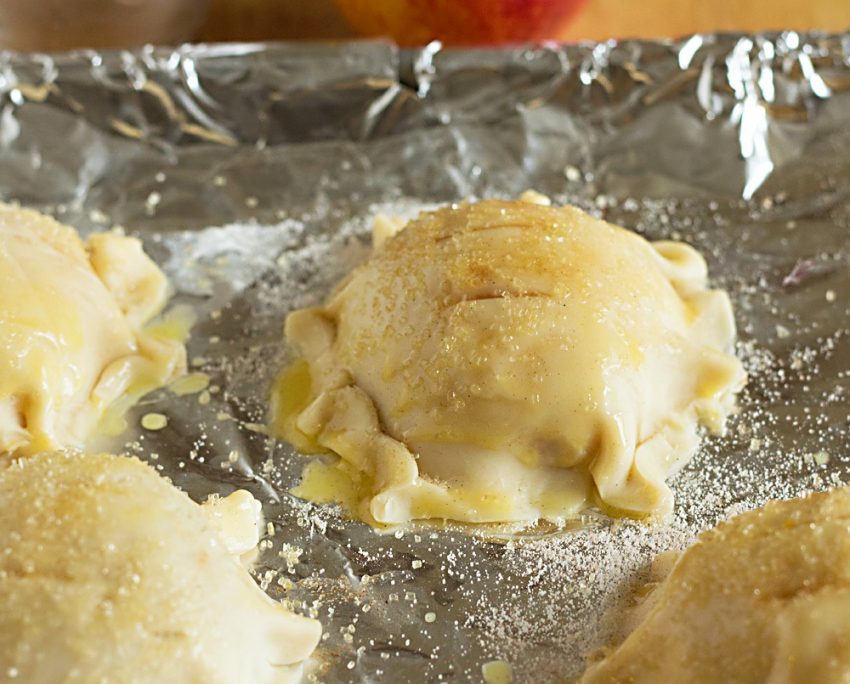 Today, we're focusing on recipes using Envy Apples. Check them all out below, and I hope you'll follow along on social media. Just enter #loveNZfruit into a search box and you'll see links to all of our posts pop up.
Don't you just love these edible ice cream bowls?!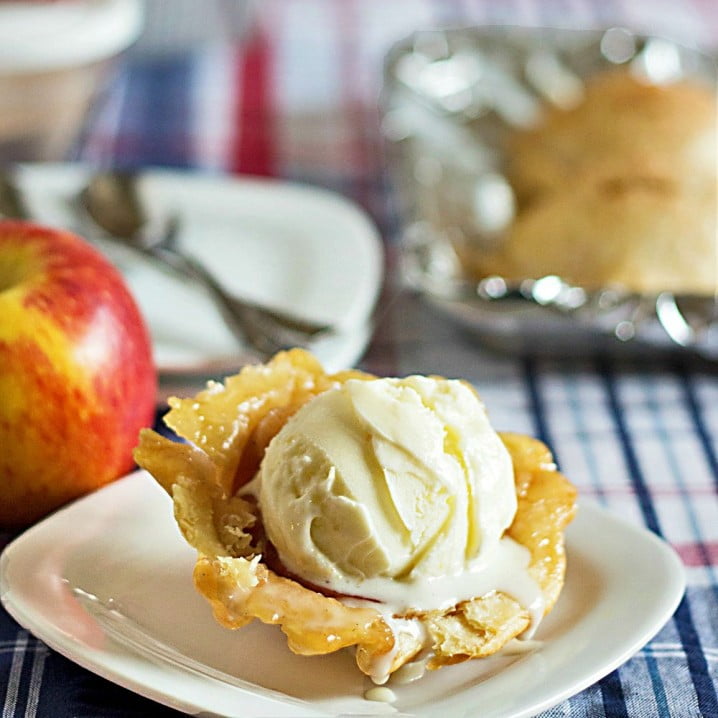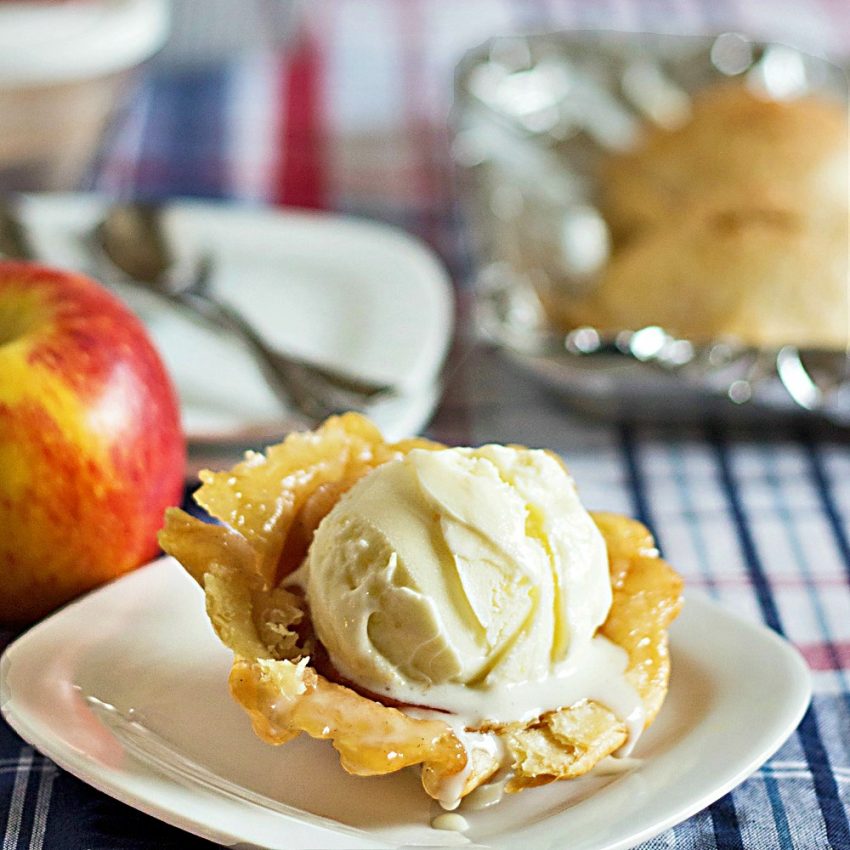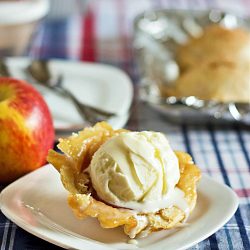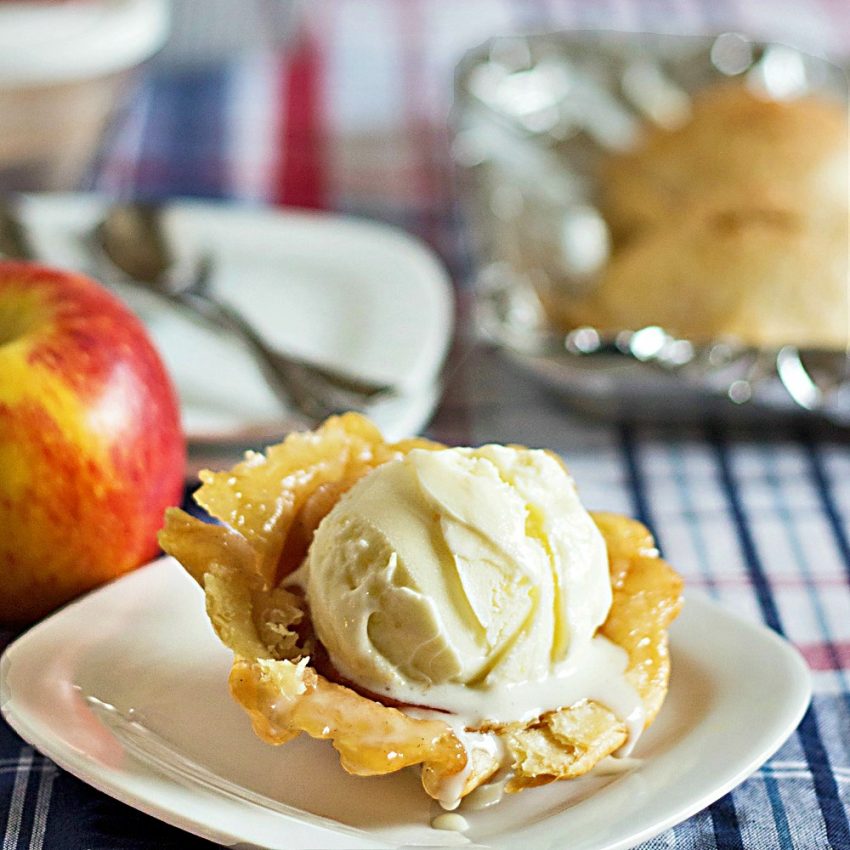 Easy Recipe for Apple Pie Ice Cream Bowls
Crisp, juicy Envy apples are sprinkled with cinnamon sugar, covered in a blanket of pastry dough, and baked up until golden brown. Serve them with your favorite ice cream. They're an awesome summer treat!
Ingredients
3

crisp

firm fleshed apples (I used Envy)

1

box refrigerated pie dough or enough homemade for two 9-inch crusts

2

Tablespoons

(approximately) ground cinnamon sugar

3

Tablespoons

unsalted butter

melted

2

Tablespoons

(approximately) organic sugar
Instructions
Heat oven to 375 degrees Farenheit (350 convection)

Slice apples through the core, from top to bottom. Use a melon baller or small spoon to scoop out the seeds, core, and most of the flesh, creating a well in each half of the apples. You want to keep some flesh, but remove enough to make room for the ice cream later!

Use a 3-inch biscuit or cookie cutter to cut 6 circles out of the pastry dough. (If you have leftover dough, sprinkle it with cinnamon sugar and bake it up to serve as garnish with your apples!

Sprinkle each apple half with some cinnamon sugar, then place the apples cut side down onto a rimmed baking sheet.

Use a pastry brush to apply a thin layer of melted butter onto each crust. Sprinkle with organic sugar and place into the heated oven.

Bake for 15-18 minutes or until pastry is golden brown. Remove pan from oven and allow apples to rest on pan for a minute before using a spatula to transfer them to plates for serving.

Fill with ice cream flavor of your choice. Would also be awesome filled with fruit compote or oatmeal for a brunch treat!
Nutrition
Serving:
1
g
Sodium:
117
mg
Iron:
0.8
mg
Calcium:
13
mg
Vitamin C:
4.2
mg
Vitamin A:
225
IU
Sugar:
17
g
Fiber:
2
g
Potassium:
124
mg
Cholesterol:
15
mg
Calories:
257
kcal
Saturated Fat:
5
g
Fat:
13
g
Protein:
2
g
Carbohydrates:
34
g
Check out the other amazing summer recipes made with Envy apples!
 Grilled Pizza with Apple and Sausage from Cook the Story
Summer Salad with Roasted Envy Apple Vinaigrette from Pastry Chef Online
Grilled Apple Turkey Burgers from Cooking with Books
Apple Pie Milkshake from Big Bear's Wife
Apple Pie Ice Cream Sandwiches from Around My Family Table
Apple Pie Bites with Caramel Dipping Sauce from Real Housemoms
Apple Trifle with Bourbon Whipped Cream + Caramel Drizzle from Climbing Grier Mountain
Apple, Sausage and Onion Kebabs with Honey Mustard from Doughmesstic
Double Berry Apple Crisp from Nutmeg Nanny
FABULOUS ENVY APPLE GIVEAWAY!
The giveaway that was originally included with this post has ended and the entry form has been removed
If you were around last month, you know that in my post for pear scones, there was a giveaway. Every entry there gave you a chance towards a brand new Vitamix blender, and today's giveaway is no different!  Enter this giveaway and you'll be eligible to win a $150 Visa gift card and a big box of Envy apples from New Zealand, PLUS it'll automatically give you an entry into the grand prize giveaway for the blender that'll be given away at the end of the summer. Awesome, right?!