Extreme Chocolate Poke Cake
Poke cake is a simple dessert that typically pairs cake and flavored gelatin. This chocolate poke cake has so many layers of chocolate, it'll blow your mind! Chocolate cake, chocolate pudding, chocolate ganache, chocolate whipped cream, and mini chocolate chips. Oh, and a drizzle of caramel on top, just because we can. This is a dessert meant for the most serious of chocolate lovers!
A minor miracle happened. I've crawled out from underneath the rock that I was apparently hiding under, and decided that it was time for me to make a poke cake.
I'm not kidding! Until I created this recipe a couple of weeks ago, not only had I never made a cake like this, I had never even tasted a poke cake before.
I'll say it again: hiding under a rock.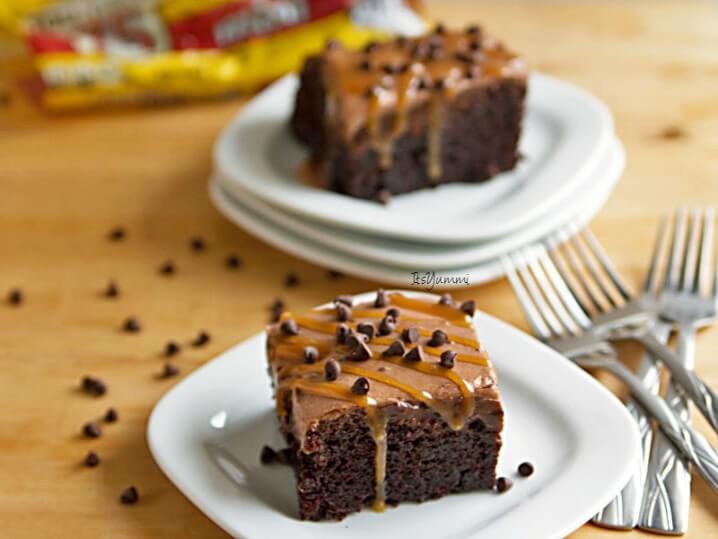 Honestly, I think the reason that this crazy awesome dessert never appealed to me before now is because the thought of eating jello and cake at the same time sounded a bit gross to me.
Besides, I really don't use boxed cake mixes very often anymore. I'd rather bake my cakes from scratch. I like the flavor better and I don't have to worry about strange chemicals and preservatives lurking in my cake.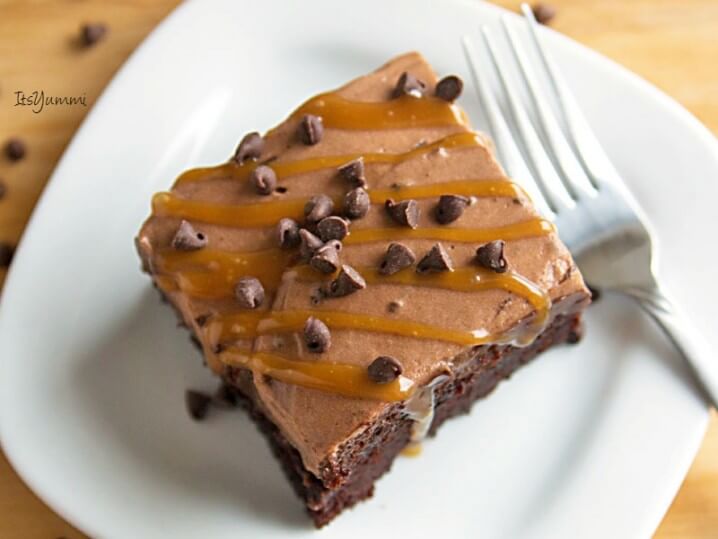 So, I never bothered to investigate the cake further. If I had, I would have realized that you don't have to use flavored gelatin in a poke cake. You can fill the holes with pudding! In the case of this recipe, homemade chocolate pudding. Now we're talking!
Most people prefer to use boxed instant pudding, so I adapted the recipe to account for that. If you'd rather use a homemade pudding recipe, by all means, please do so!
Another great component of this cake is the drizzle of caramel on the top. I had a jar of caramel sauce that the nice folks at Best Boy & Co. sent me to sample, and this was the perfect opportunity to try it. The caramel was sweet, but not overly sweet, and silky smooth. Very tasty!
I originally created this recipe as a guest post for Betsy at Java Cupcake. She's a sweet food blogger whose family has been through some personal struggles this year. She reached out to a few bloggers and asked for help in writing posts, so of course I was more than happy to help her out.
I really hope you love this poke cake!
Another delicious 'poke cake' to tray is this lemon drizzle cake from SimpleKitchenCooking.
Extreme Chocolate Poke Cake
This chocolate poke cake has five different layers of chocolate! Chocolate cake, pudding, ganache, whipped cream, and chocolate chips. This is for serious chocolate lovers only!
Ingredients
For the Cake
2

cups

granulated cane sugar (15 ounces)

1 3/4

cups

flour (7.7 ounces)

3/4

cup

unsweetened cocoa powder

1 1/2

teaspoons

baking soda

1 1/2

teaspoons

baking powder

1/2

teaspoon

salt

2

eggs

8

ounces

(1 liquid cup) milk

any variety

1/2

cup

butter (melted and cooled) or vegetable oil

2

teaspoons

vanilla extract

1

cup

boiling water

2

small (3.6 oz.) boxes instant chocolate pudding mix

divided in half

32

ounces

(4 liquid cups) milk (any variety)

divided in half

8

ounce

tub of prepared whipped topping or 2 cups of homemade whipped cream
Chocolate Ganache
4

Tablespoons

(2 ounces) unsalted butter*

4

ounces

(1/2 liquid cup) whole or 2% milk*

8

ounces

good quality bittersweet or semisweet chocolate

finely chopped

1/2

cup

prepared caramel sauce

1/2

cup

mini chocolate chips
Instructions
Heat oven to 350°F.

Lightly grease a 9-inch x 13-inch baking pan with butter or non-stick spray.

In a medium sized bowl, whisk together the sugar, flour, cocoa, baking soda, baking powder and salt.

In a large mixing bowl (or the bowl of a stand mixer), add the eggs, milk, oil, and vanilla. Mix on medium speed with a electric hand or stand mixer for 1 minute. Add the dry ingredients and mix on medium speed for 3 minutes. Stir in the boiling water. (The mixture will look very thin and runny at this point, but that's okay.)

Pour the mixture into your prepared baking dish. Bake for 35-38 minutes, or until a toothpick comes out clean or with just a few crumbs. Remove pan from oven and place onto a wire rack to cool for 10-15 minutes.

While cake cools slightly, make 2 separate batches of the chocolate pudding according to box directions, but use a large mixing bowl for one batch. To that large batch, use a mixing spatula or spoon to gently fold in the whipped cream until well combined.

Also while cake is cooling, make a batch of chocolate ganache.

After the cake cools slightly but is still warm, use the end of a wooden spoon to poke 6 rows of holes into the cake. Each of the 6 rows should have 6 holes across (total of 36 holes in the cake). Use an offset spatula or the back of a spoon to cover the cake with the chocolate pudding (not the batch with whipped cream added to it). Try to push as much pudding into the holes as you can.

Pour the chocolate ganache layer over the pudding and use the same offset spatula to spread it evenly across the cake.

Add the whipped cream and pudding mixture on top of the chocolate ganache and use a spatula to spread it evenly across the cake.

Next, drizzle caramel sauce over the entire cake and then sprinkle with chocolate chips.

Cover the pan with aluminum foil or plastic wrap and refrigerate for at least 3 hours before serving.
Notes
* If preferred, you can omit butter and milk in the chocolate ganache and instead, use 8 ounces (1 liquid cup) heavy whipping cream)
Nutrition
Sodium:
566
mg
Sugar:
64
g
Fiber:
4
g
Cholesterol:
63
mg
Calories:
658
kcal
Saturated Fat:
13
g
Fat:
30
g
Protein:
9
g
Carbohydrates:
95
g