Fruited Jasmine Rice Salad
This recipe for fruited Jasmine rice salad has just 5 ingredients and takes less than 30 minutes to prep and serve! It'll be a favorite side dish for your family meals. It's perfect for a meatless meal, too! Come on in to the kitchen and learn how easy it is to make!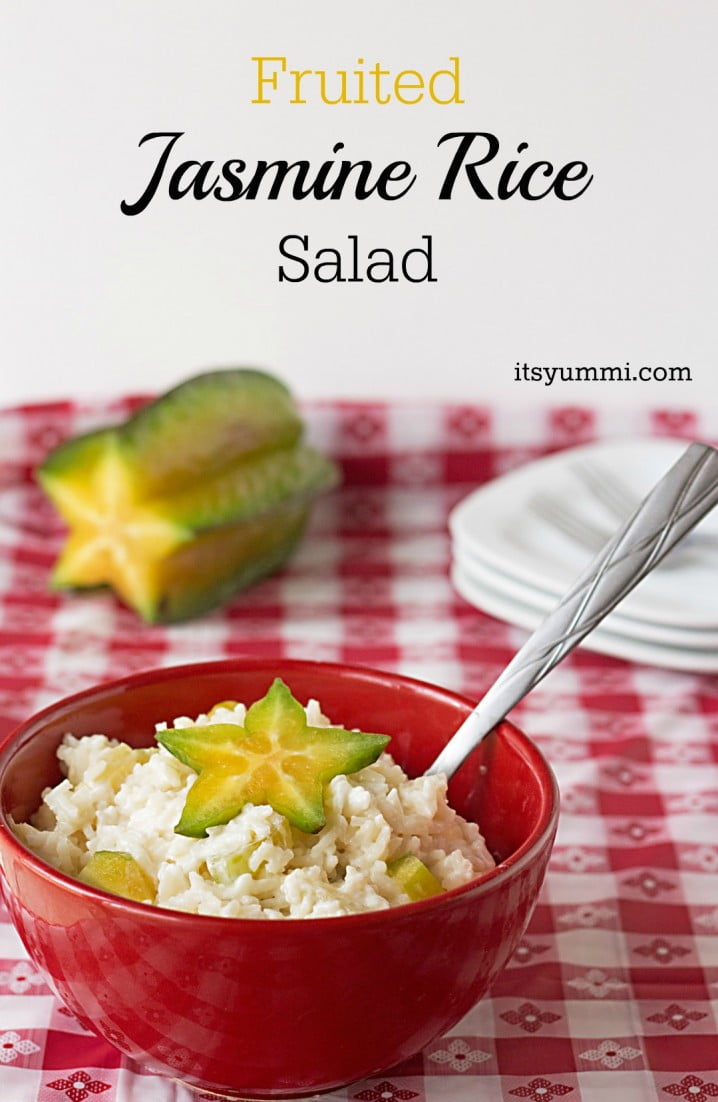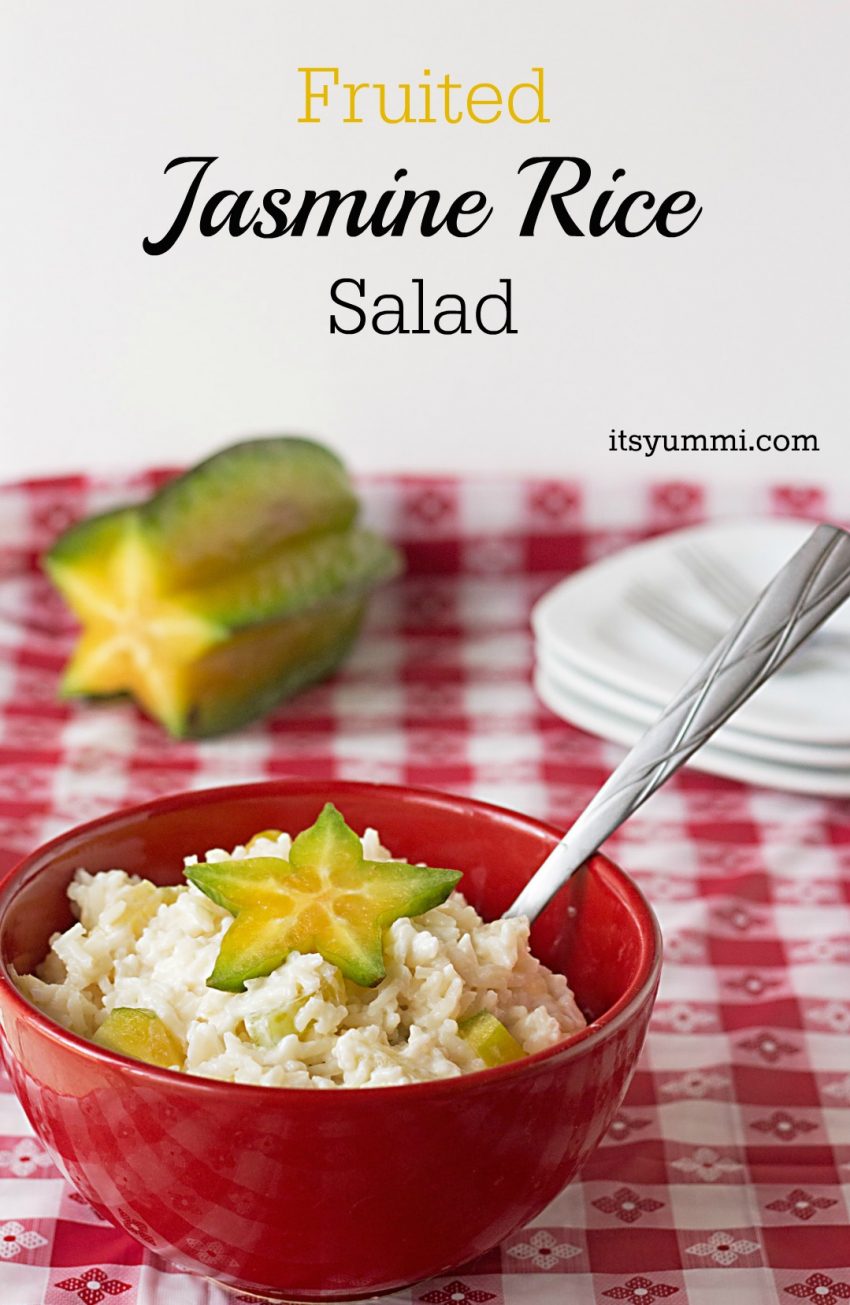 I'm a little giddy over this fruited Jasmine rice salad, gang.
For starters, it's rice.  You know… a carbohydrate.  One of those evil starches that turns to sugar as it breaks down in the body. For me, that's the junk excess calories are made of, and those calories have given me grief for the past 40 some odd years! SO, when I splurge and treat myself with carbs these days, it's a pretty big deal.
Secondly, I used a fruit in this dish that until now, I had never tried before. It's called Carambola, or more commonly, Starfruit.  My friends over at Frieda's Produce were nice enough to send a few to sample. Frieda's has a fun campaign running called #FearNoFruit. The idea is probably self explanatory from the hashtag, but basically, it's a challenge they're tossing out to everyone, encouraging us to try at least one fruit that scares or intimidates us.  Along with Carambola, Dragonfruit and fingerlimes are on the intimidation list for me, but since I think Starfruit are so pretty, I wanted to try them first.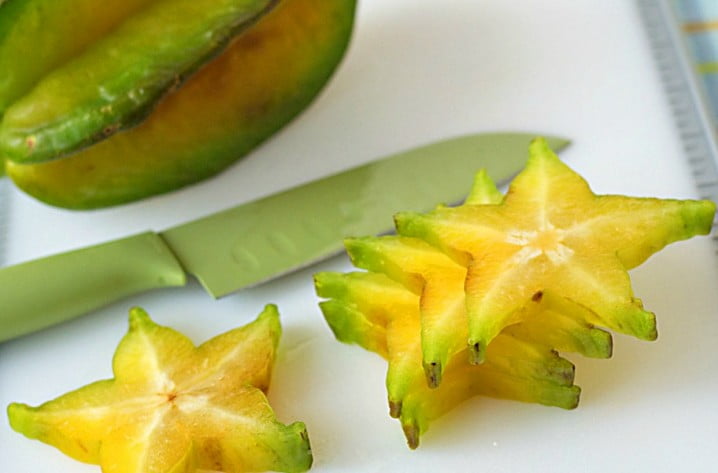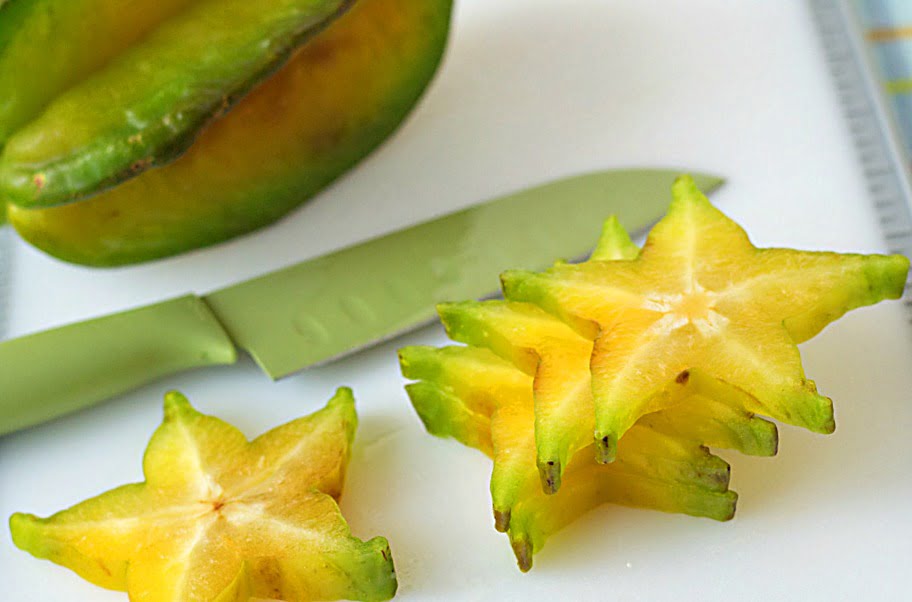 FOOD FACTS – CARAMBOLA (STARFRUIT)
Starfruit is an oblong, golden-colored fruit with five deep ridges or "wings" running down its length. When cut crosswise, Starfruit has a beautiful star shape. The thin waxy skin is edible, and it covers a golden flesh.  The flavor is tangy and sweet. It reminds me a bit of a cross between pineapple and oranges. The texture of the fruit is a little bit chewy and a little bit crisp. It's so yummi, and when you cut it crosswise, it makes pretty star shapes!  🙂
Starfruit grows on trees in tropical regions. It origins go to the Phillpines, Malaysia, Indonesia, Sri Lanka, and India. Stateside, they can be found pretty abundantly in Florida and California.
Nutritional Information
Starfruit is high in vitamin C and fiber. It's also known for it anti-inflammatory properties.
A 3-inch long Starfruit has only 28 calories, 3 net grams of carbohydrates, less than 1 gram of fat (polyunsaturated), and no cholesterol. It's a dieter's dream fruit!
Selection & Storage
Depending on the variety, Starfruit may turn a pale greenish-yellow to rich gold when ripe. They may have some dark brown along the five ridges – this is normal. The flesh should still be quite firm to the touch. Store at room temperature until ripe and then refrigerate in a covered container.  A fully ripened Starfruit will be more yellow and less green than in my photo, because mine were still a little under ripe.)
As you can see, there's absolutely NOTHING to be afraid of as far as a Starfruit is concerned, and there are lots of delicious benefits, so I encourage you to head to your local market and get one, then try it in this fruited Jasmine rice salad recipe.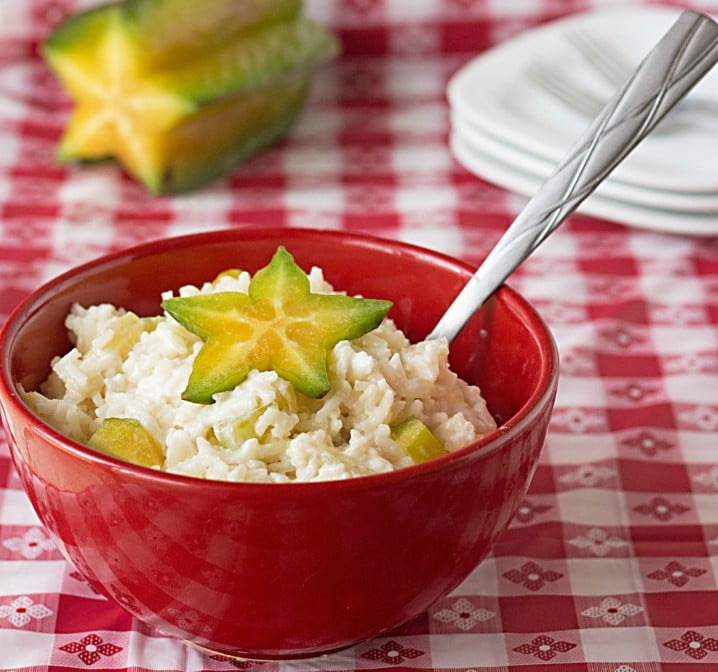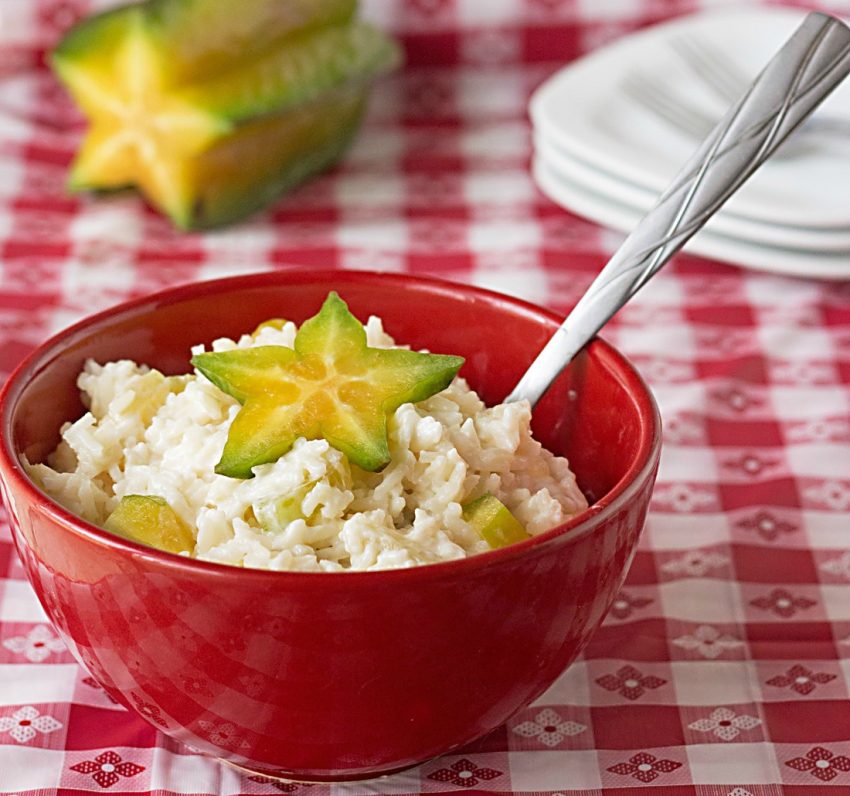 Besides the fruit, I've got MORE great things for you to love about my recipe!
EASE OF PREPARATION – This little gem has only 5 ingredients, and it cooks up in one pot.  Hello convenience 🙂
SECRET, CALORIE-STRIPPING INGREDIENT – A lot of the summer salads that you'll see recipes for use mayonnaise or sour cream as a binding agent.  While they're both delicious ingredients, they're also loaded with fat and calories.  Instead of using mayo in this recipe, I used a secret weapon of sorts… vanilla flavored, fat free Greek yogurt, and it was a CRAZY good choice!  NO fat and the vanilla flavor paired incredibly well with the fruit.  If you don't like the taste of vanilla, just use plain Greek yogurt.  In addition to the Starfruit, there's also crushed pineapple in this dish, giving the creamy rice another kick of natural sweetness.
TIME SAVER – This recipe will be ready in less than 30 minutes, and it's easily adaptable to go from side dish to a vegetarian main dish. Or just add a bit of chopped protein, like chicken, turkey, or pork, and you've got a full on meaty, delicious meal!
So what's
not

to love about this fruited Jasmine rice salad?

It's time to get back to having Sunday dinner with the whole family, AT THE TABLE, and this dish will help you get there in a yummi way!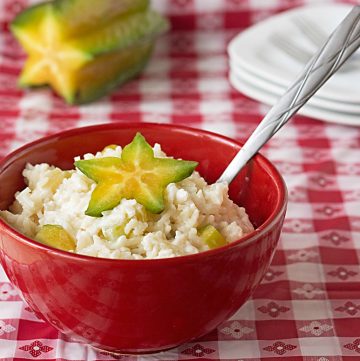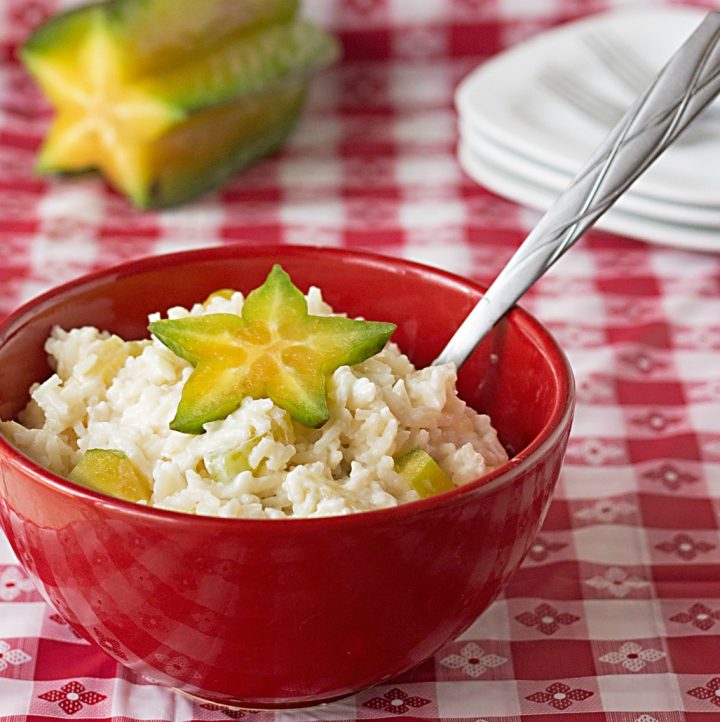 Fruited Jasmine Rice Salad
This fruited Jasmine rice salad has just 5 ingredients, is low fat, low calorie, and takes less than 30 minutes to prep and serve! It'll become your favorite side dish!
Ingredients
2

cups

cooked Jasmine rice (1 cup dry = 2 cups cooked)

3-4

Tablespoons

vanilla flavored or plain Greek yogurt

1

Tablespoon

light mayonnaise (optional)

1/2

cup

crushed pineapple (drained)

1

cup

Starfruit

diced
Instructions
Cook rice according to directions on packaging. For tastiest results, cook your rice in vegetable or chicken stock instead of water! Once cooked, remove from heat, transfer to a medium sized mixing bowl and all to cool slightly (I put mine into the refrigerator for 10 minutes while I prepped the rest of the ingredients)

Once rice has cooled, stir in remaining ingredients and serve!
Nutrition
Sodium:
13
mg
Sugar:
4
g
Fiber:
3
g
Cholesterol:
2
mg
Calories:
142
kcal
Saturated Fat:
1
g
Fat:
2
g
Protein:
4
g
Carbohydrates:
28
g