Healthy Carrot Cake with Cream Cheese Frosting
If you're looking for a rich, decadent carrot cake with less fat and calories, my healthier carrot cake with cream cheese frosting will fit the bill perfectly!
It's quite possible that I witnessed an honest-to-goodness miracle this week. I didn't think it could be done, but the big God that I keep failing to trust has helped me to live through 7 days of exercise.  SEVEN! Not the "lift fork to mouth" exercise, either. Real workouts. At the gym! With a trainer! I know… It's kind of freaky, isn't it?
I'm not sure what's happened to me, either.
Good gravy, my bones and muscles hurt, but I'm convinced that after I've gone through a few dozen trays of ice and a couple of bottles of Ibuprofen, I'll be grateful that I'm treating my body better.
I'm not about to don a swimsuit and start training for a triathlon or anything, but I'm steadily working towards my #FitBy50 goal.  That's 50 pounds less of me by the end of January, when I'll turn 50 years old.  I believe it can be done!  I'm exercising at least 3 times a week, adding more protein and veggies to my diet, and indulging in low-carb desserts like this healthier carrot cake instead of my usual carb-infested goodies.
Trust me when I say that with desserts like this one, I'm not feeling a bit deprived.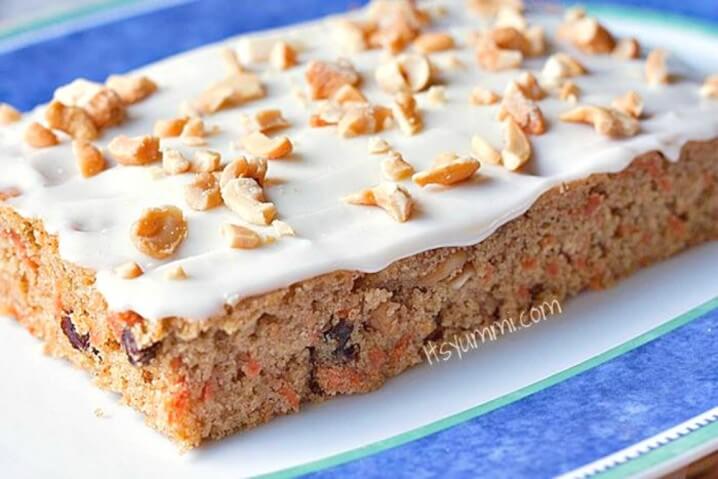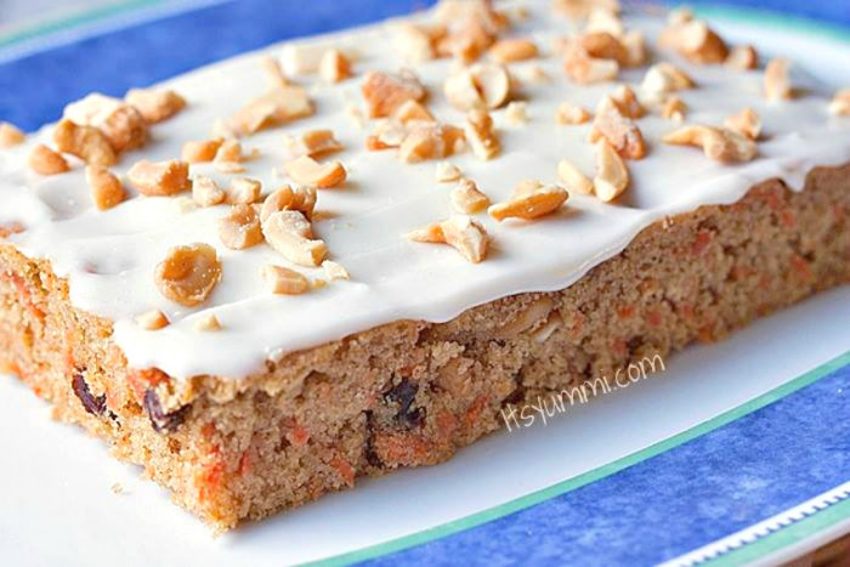 Most of you know that my sweet tooth has serious compulsive eating issues.  If  a dish has got sugar in it, on it, or even next to it, I want to plant my face into it.  That's why finding adequate sugar replacements is so important to me.  Without their help, I'm a lost cause.
I was really excited when I found this healthier carrot cake recipe on the Cooking Light/MyRecipes.com website.  I was hopeful that it would be healthier than the full fat and sugar carrot cake I've grown to love, and for the most part, it fit the bill.
My only complaint was that it doesn't call for any raisins, and the only nuts were a few crushed on top of the frosting.  That needed to change.  The carrot cake I love has raisins and is definitely nutty.  Geez, I know that raisins can carry a decent amount of sugar, but adding 1/4 cup of them to the batter barely budged the calorie content.  Adding 1/2 cup of chopped cashews did add a couple of grams of unwanted fat to the recipe, but again, not enough for me to grumble over.  Besides, I only used cashews because it was all I had on hand.  There are healthier nuts that can be used.  Almonds or walnuts would reduce the calories and fat and add in some health benefits.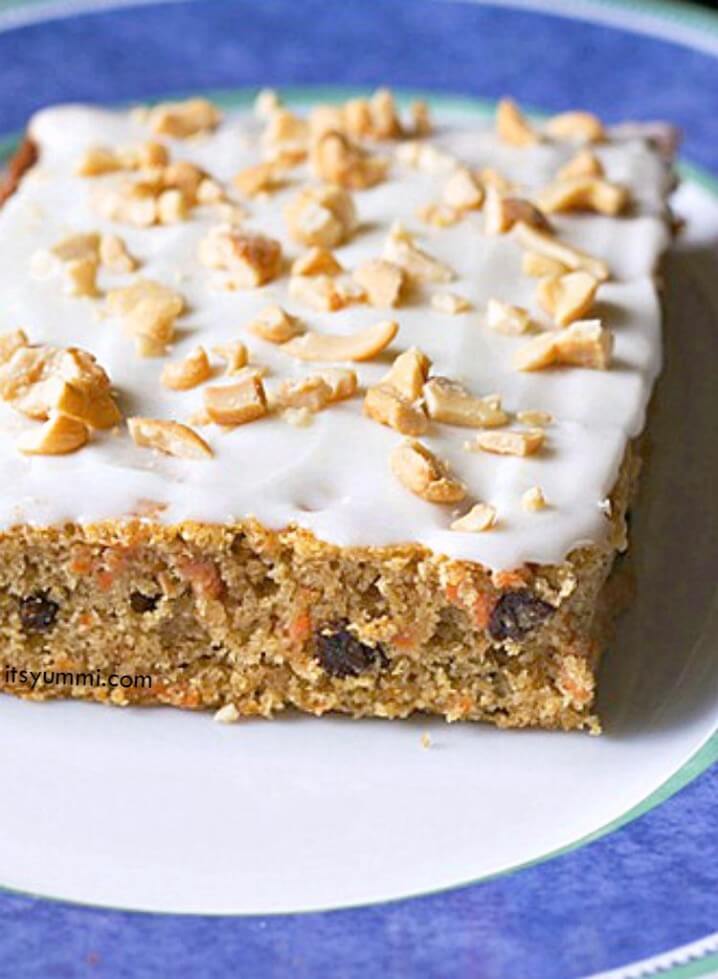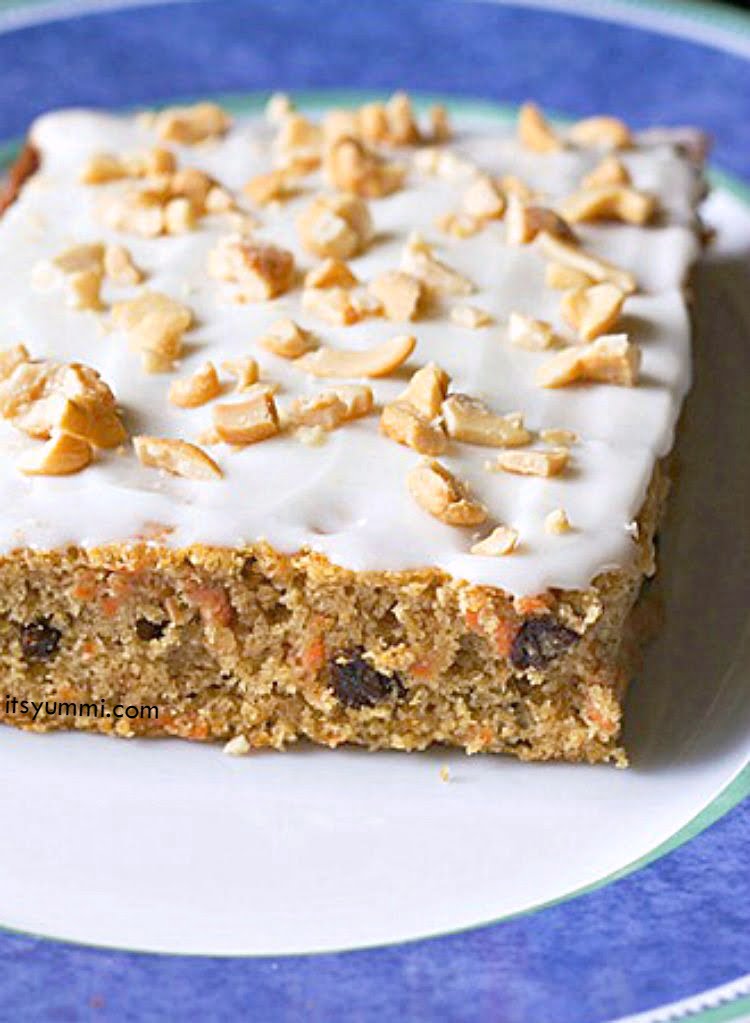 If you're really looking to cut major calories out of this cake, nix the cream cheese frosting and use fat free whipped topping instead.  Although the frosting is made with reduced fat cream cheese, it is made with loads of powdered/confectioner's sugar.  There's just no denying the sugar there!
One of the biggest differences is that I use a low carb baking mix. It's a blend of wheat flour, almond flour, flax meal, and little bits of healthier, lower carb flours. but thankfully, this baking mix does not have any coconut flour in it, because I'm highly allergic to coconut products.
I do hope you make and enjoy this healthier carrot cake.
Oh, and if you love the taste of carrot cake and you want to enjoy another healthy way to eat it, try my carrot cake steel cut oatmeal recipe. It tastes like you're eating cake for breakfast! Click the photo for the recipe!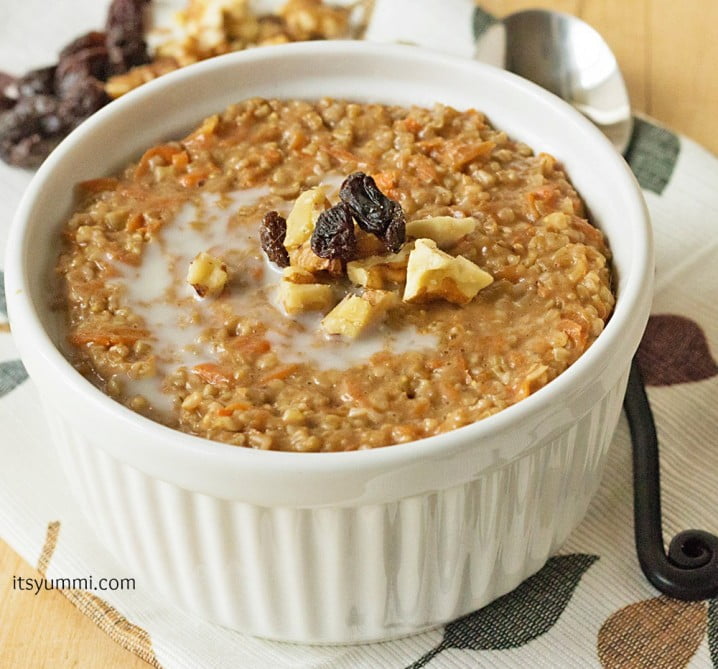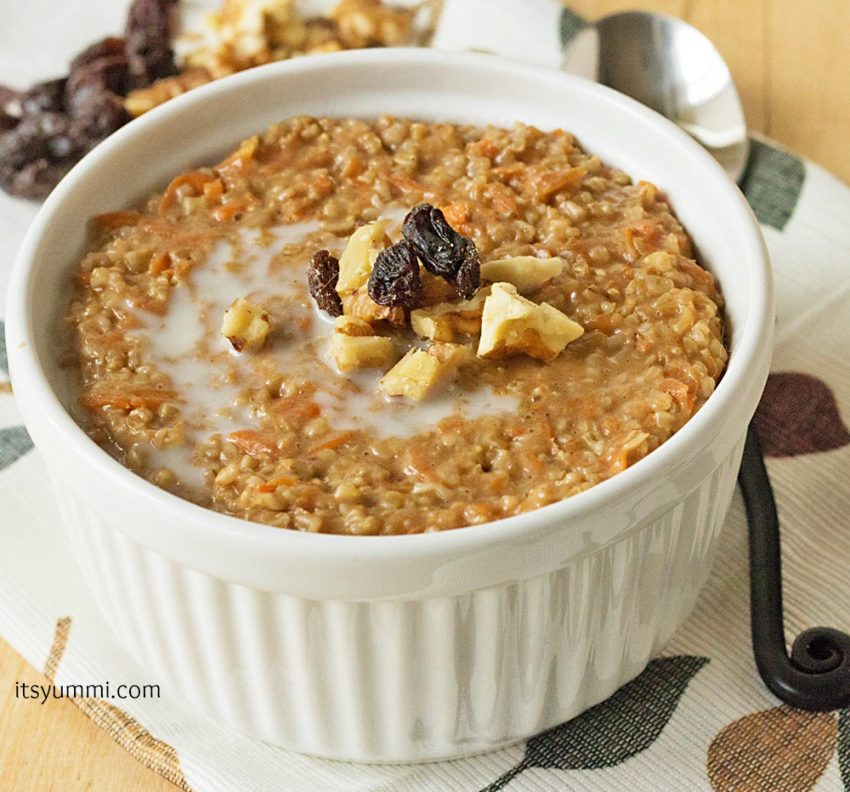 Now's let's bake, shall we?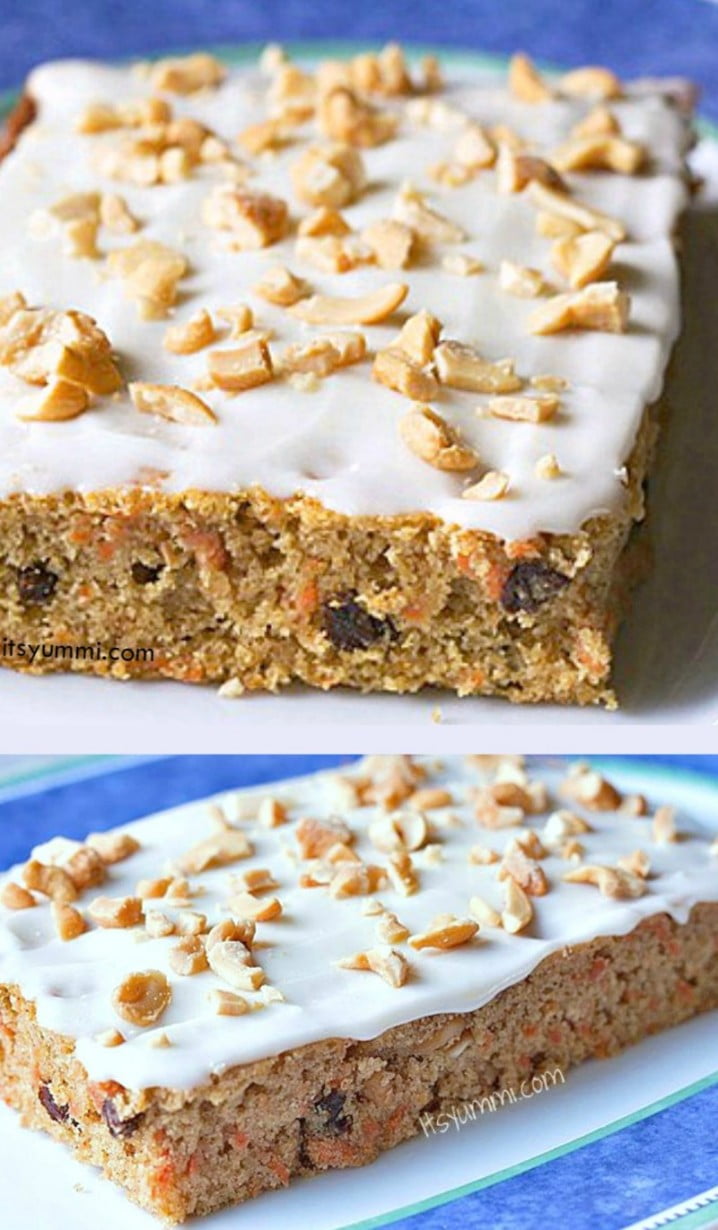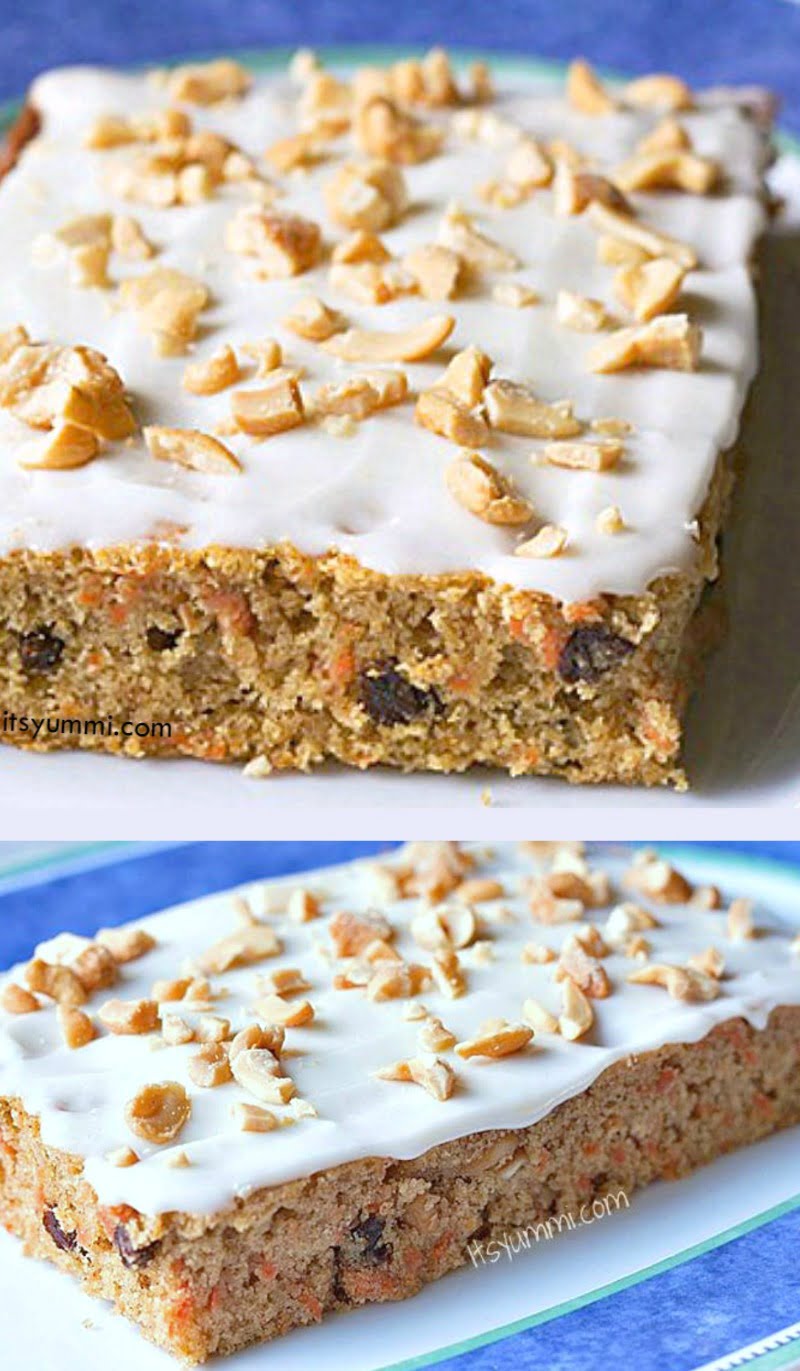 I hope you love this healthier carrot cake.
If you try the recipe, please come back and leave me a comment. I'd love to know what you think of it!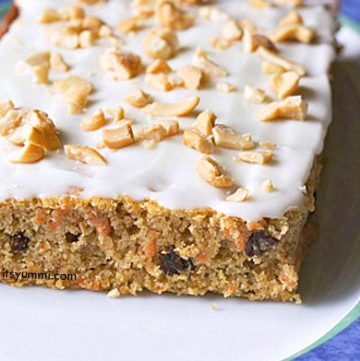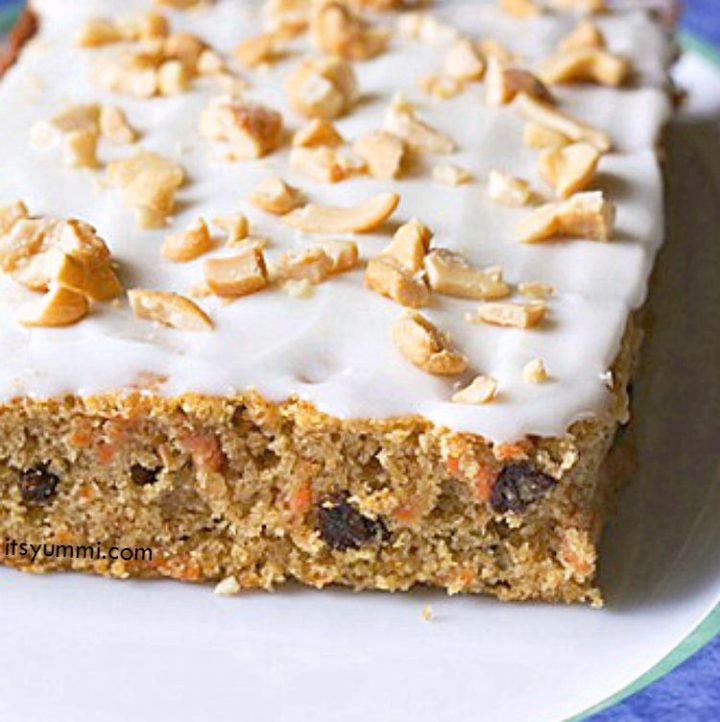 Healthy Carrot Cake with Low Fat Cream Cheese Frosting
This healthy carrot cake recipe uses low-sugar ingredients like almond flour, low glycemic sugar substitute, carrots, and raisins. It's topped off with a low-fat cream cheese frosting and a few salted nuts to give it a nice crunch.
Ingredients
For the Cake:
2 1/4

cups

superfine almond flour

(not almond meal - I use Bob's Red Mill brand)

2

teaspoons

baking powder

1.5

teaspoons

ground cinnamon

1/4

teaspoon

salt

3

cups

grated carrots

1/2

cup

raisins

optional

1/2

cup

chopped pecans

cashews, or other nut of your choice.

1

cup

Erythritol

or other cup-for-cup sugar substitute

1/2

cup

packed brown sugar substitute

(or use 1/2 cup Erythritol plus 1.5 tsp. molasses)

6

tablespoons

unsalted butter

softened

4

large

eggs

1

teaspoon

vanilla extract

4

ounces

buttermilk

cooking spray

or butter (to grease the cake pan)
For the Frosting:
6

ounces

cream cheese

softened

2

tbsp

plain Greek yogurt

2

tablespoons

unsalted butter

softened

1/2

teaspoon

vanilla extract

1/8

teaspoon

salt

3

cups

powdered Erythritol

or powdered sugar
For Garnish (optional):
1/4

cup

chopped pecans

cashews, or other nut of your choice.
Instructions
TO PREPARE CAKE
Whisk together almond flour, baking powder, ground cinnamon, and salt in a medium sized bowl. Add grated carrot, raisins, and chopped nuts, tossing to combine.

Place Erythritol, brown sugar substitute, and butter in a large bowl. Beat with a mixer at medium speed until combined. Add eggs, 1 at a time, beating well after each addition. Stir in vanilla extract. Add flour mixture and buttermilk alternately into sugar mixture, beginning and ending with flour mixture.

Spread batter into a 13 x 9-inch metal baking pan coated with cooking spray or butter. Bake at 350° for 24-28 minutes, or until a wooden pick inserted in center comes out clean. Cool cake completely in the pan, on a wire rack before frosting.
TO PREPARE FROSTING
Place softened cream cheese, yogurt, butter, vanilla extract, and salt in a medium bowl. Beat with a mixer at medium speed until fluffy. Gradually add powdered sugar substitute, beating at medium speed until combined (don't over mix). Spread frosting evenly over top of the cake. Sprinkle evenly with toasted nuts, if using.

Because dairy products are used, this cake should be kept refrigerated.
Notes
Recipe adapted recipe from Cooking Light  
Because dairy products are used, this cake should be kept refrigerated.
Nutrition
Serving:
1
slice
Calories:
383
kcal
Carbohydrates:
25
g
Protein:
9
g
Fat:
29
g
Saturated Fat:
9
g
Cholesterol:
98
mg
Sodium:
178
mg
Potassium:
306
mg
Fiber:
4
g
Sugar:
11
g
Vitamin A:
5875
IU
Vitamin C:
2.2
mg
Calcium:
131
mg
Iron:
1.6
mg
For even more carrot cake yumminess, give my orange-carrot cookies recipe a try. While they aren't a healthier carrot cake, they've got the taste of carrot cake and a cream cheese frosting. Now that's the yumminess I'm talkin' about!