Healthier Oatmeal Chocolate Covered Pomegranate Cookies
Hello all of you oatmeal cookie lovers!  You're gonna flip for this recipe for Healthier Oatmeal Chocolate Covered Pomegranate Cookies!
Happy Saturday!
It's been almost 2 weeks since I joined Weight Watchers, and I have to say that it's going MUCH better than I thought it would!  The new 360 program focuses more on a balanced eating "all things in moderation" philosophy and less on obsessing about counting each and every calorie.  It's so much easier for me to follow programs where I don't have to deprive myself of things that I love.  Like cookies.  If I really want to eat a sleeve of Thin Mints or Double Stuffed Oreos, I certainly can, but at 4-6 points per cookie, my daily 26 points would be tanked pretty quickly.  Besides, I don't need junk filled cookies when I've got treats like these cuties.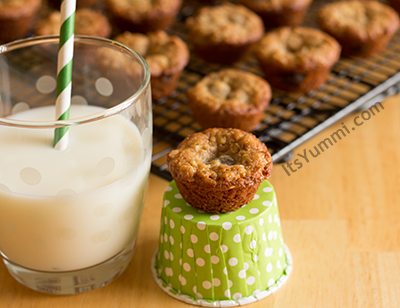 The last time I went shopping at Sam's Club, I spied a bag of chocolate covered pomegranate arils.  I'd never eaten pomegranate before (I know, apparently, I've been hiding under a rock) so I bought a bag.  I fell HARD for those little gems.  Crunchy, tart pomegranate covered with sorta good for you dark chocolate…what's not to love?  SO good!
When I decided to create a couple of low point treats last week, I knew I wanted to find a way to include the chocolate covered poms, and placing them into cookies turned out to be a magical decision.  Rather than make a traditional cookie out of them, I used my mini-muffin pan.  It prevented the cookies from spreading and it kept them really chewy, something that's a must-have in my opinion.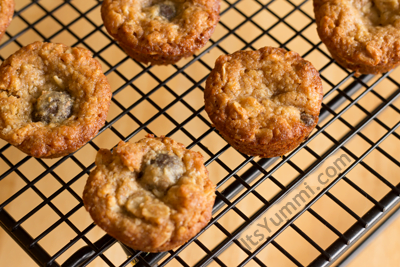 Just like last week's recipe for low-carb banana bread bites, I made this recipe using the low carb baking mix from Bob's Red Mill.  The extra fiber and protein in it helps to keep the calories and WW point value down.  Another healthier choice I made was the use of an artificial sweetener called PreSweet™ Tagatose.  I received a free sample of it a couple of months ago from a company called NuNaturals and I've been waiting for the perfect recipe to use it in.  I'm REALLY impressed with the results!  These cookies taste perfectly sweet.  There's no aftertaste and it didn't alter the baking at all.  Everything browned perfectly.  Color me perfectly delighted!  I found it very similar to the Nectresse sugar substitute I've been using.  Here's some information on the product that I found on their website:
PreSweet™ Tagatose is safe for diabetics because it will not raise blood sugar levels. It is also being studied for other health benefits.
One of the health benefits of PreSweet is that it is a prebiotic ingredient. Prebiotics feed probiotic bacteria like acidopholis found in yogurt. Prebiotics help the good bacteria in the digestive system multiply. This improves the overall health of the digestive system and may improve the general health of the body.
PreSweet Tagatose is a naturally-occurring sweetener found in milk, fruits and vegetables. It is 92% as sweet as sugar. PreSweet is a low calorie (6 calories/serving), low GI (3 on the glycemic index), and low in carbohydrates (especially considering that many of the carbohydrates are not digested).
PreSweet is anti-hyperglycemic and great for those on weight loss programs because it will satisfy your sweet tooth without adding the calories that sugar will.
Unlike sugar alcohols like Xylitol and Erythritol, PreSweet Tagatose browns like sugar. Because it brown quicker and darker than sugar, you might consider blending it with other sweeteners in cakes and cookies or reduce baking time.
While Xylitol has a unique cooling taste and Erythritol has a distinctive taste, Tagatose as a very clean, neutral taste like sugar.
If you're interested in purchasing any for yourself, check out their ONLINE SHOP
Disclaimer:  I was NOT monetarily compensated for my review, however NuNaturals provided me with a free sample to try.  All opinions expressed are my own.
So here's the recipe for Healthier Oatmeal Chocolate Covered Pomegranate Cookies that I created.  A basic oatmeal cookie recipe, made healthier with the help of some great products.  Low carb and low sugar for the win!  The chocolate covered pomegranate arils provide me with my chocolate fix, too.  It's a perfect treat.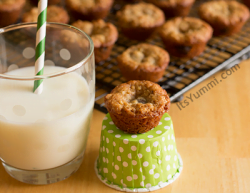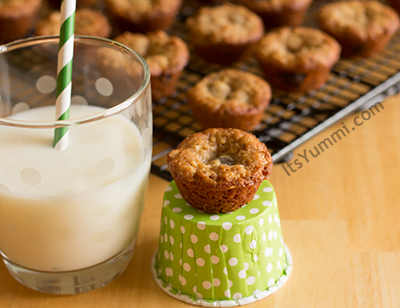 Healthier Oatmeal Chocolate Covered Pomegranate Cookies
Chewy oatmeal cookies filled with chocolate covered pomegranate arils make these low carb and low sugar cookies love at first bite!
Ingredients
1

cup

Bob's Red Mill Low Carb Baking Mix

2/3

cup

Rolled Oats (not quick cooking)

1/4

cup

brown sugar

2/3

cup

sugar substitute

7

Tablespoons

butter or margarine

softened but still cool

1

egg

1/2

teaspoon

baking powder

1/8

teaspoon

baking soda

1/8

teaspoon

salt

1/2

teaspoon

cinnamon

1

teaspoon

vanilla extract

3

ounces

chocolate covered pomegranate arils **
Instructions
Heat oven to 350 degrees F. (325 degrees F convection)

Lightly coat the wells of a mini muffin tin with non-stick cooking spray. Set aside.

In the bowl of a stand or electric hand mixer, beat butter and sugars until light and fluffy, approximately 2 minutes; Add egg and vanilla extract and beat until combined.

In a medium bowl, whisk together baking mix, oats, baking powder, baking soda, salt, and cinnamon. With mixer on low speed, add the dry ingredients and beat just until combined.

Stir in pomegranate arils with a wooden spoon.

Use a 1 Tablespoon cookie scoop or spoon to fill each well with dough.

Bake at 350 for 10-12 minutes, or until cookies are golden brown and set on the edges, but slightly glossy in the center. Remove pan from oven and allow cookies to sit in pan for 3-4 minutes before removing from pan. Transfer to a wire rack to cool completely.
Notes
** If you're unable to find chocolate covered pomegranate arils, you could substitute chocolate covered raisins or any other dried fruit of your choosing. NUTRITIONAL INFORMATION: Per the Weight Watchers Recipe Builder, each cookie is worth 2 PointsPlus
Nutrition
Calories:
73
kcal
Carbohydrates:
8
g
Protein:
1
g
Fat:
4
g
Saturated Fat:
1
g
Cholesterol:
7
mg
Sodium:
81
mg
Sugar:
5
g